WooSox & Masis Staffing Solutions to Present 3rd Annual Polar Park Job Fair on Sat. Feb. 18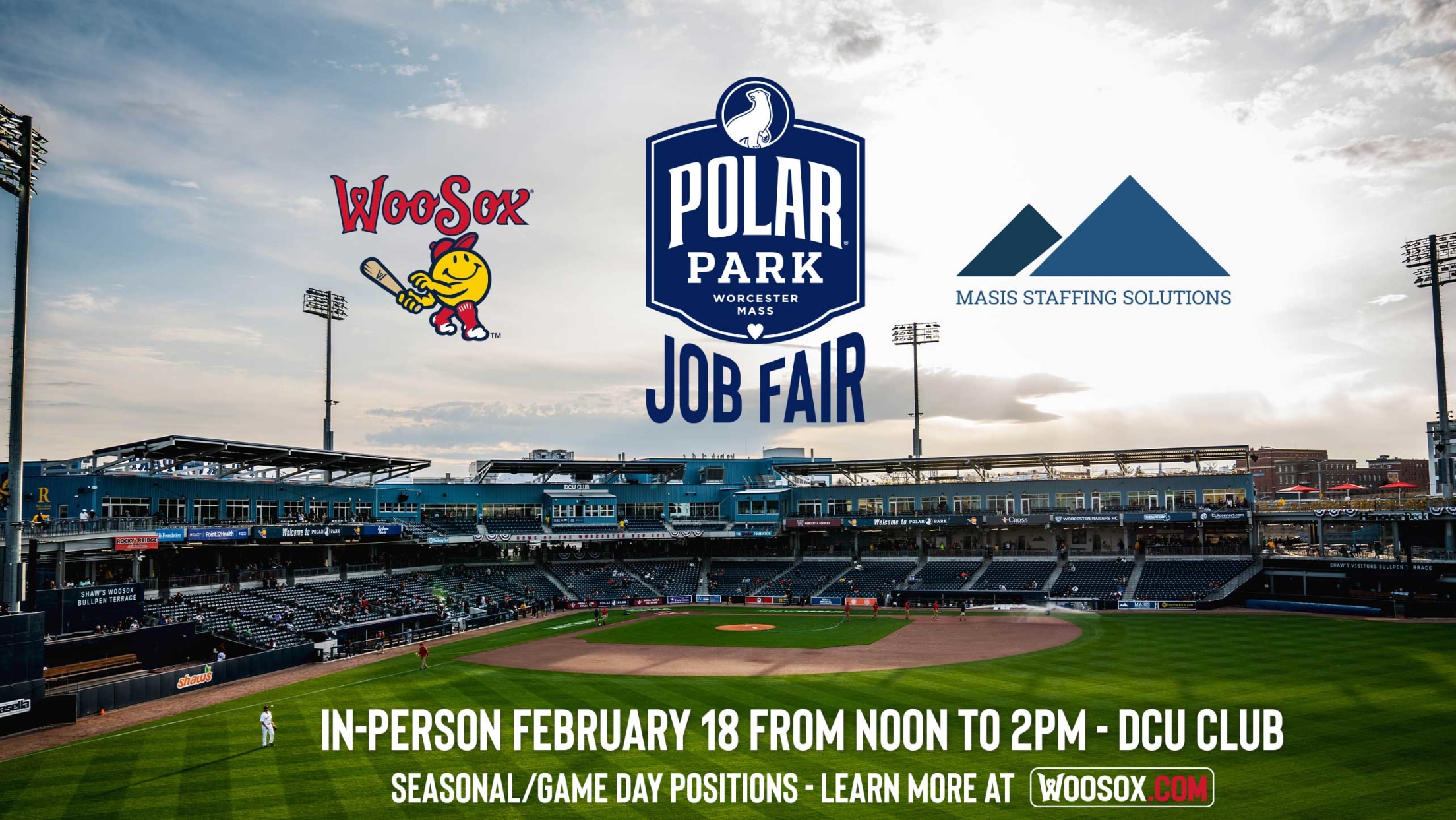 All are welcome to in-person event Saturday, Feb. 18, from 12–2 p.m.; Club intends to fill part-time, seasonal positions by early March CLICK HERE TO REGISTER AHEAD OF TIME FOR THE 2023 JOB FAIR (REGISTRATION NOT REQUIRED) WORCESTER, MA — The Worcester Red Sox and Masis Staffing Solutions will present
All are welcome to in-person event Saturday, Feb. 18, from 12–2 p.m.;
Club intends to fill part-time, seasonal positions by early March
CLICK HERE TO REGISTER AHEAD OF TIME FOR THE 2023 JOB FAIR (REGISTRATION NOT REQUIRED)
WORCESTER, MA — The Worcester Red Sox and Masis Staffing Solutions will present the third annual Polar Park Job Fair on Saturday, February 18, from 12–2 p.m. For the first time in the club's three-year history, the event will take place in person, in Polar Park's DCU Club. Registration is not required.
Within the next month, the WooSox are looking to fill several positions within Ballpark Operations, such as additional ushers and security personnel. The club will also be seeking several part-time staff members for Game Day Operations, Merchandise, Polar Park Concessions & Hospitality, WooSox Productions, and Ticket Operations. The WooSox Clubhouse and Grounds Crew are also hiring.
The WooSox Foundation also seeks to meet those who would like to volunteer for the club's philanthropic arm.
Attendees may park at the Green Island Boulevard Garage on Madison Street, located across the street from the ballpark's main entrance. Complimentary snacks and beverages will be provided throughout the event.
The WooSox recommend that attendees bring their printed résumé. Those who cannot attend on February 18 are encouraged to apply for open positions on WooSox.com. Please submit questions to [email protected].
"Part-time seasonal opportunities introduce many people from Worcester to our organization," said WooSox President Dr. Charles A. Steinberg. "For students, it's a foot in the door. For folks in the middle of their career, it's a supplemental job. And for retirees, it's a pleasant way to stay active. For the WooSox, it's a way to help ensure that our staff reflects our community. All are welcome."
Before the WooSox' Home Opener against the Syracuse Mets (Triple-A, New York Mets) at 4:05 p.m. on March 31, the club will host two training sessions for all new employees on Saturday, March 18, and Saturday, March 25. The 2023 season comprises 13 homestands (75 home games) starting March 31 through September 17.
The WooSox require employees to be fully vaccinated.
Potential Opportunities
Ballpark Operations
Polar Park Facilities Staff, Ushers, and Security
Clubhouse
Grounds Crew
Game Day Operations
Mascot Team Actors and Caretakers
Polar Park Ambassadors
Merchandise
Productions & Ballpark Entertainment
Camera Operators
Graphics Operators
In-Game Technical Directors
Productions Assistants
Replay Operators
Ticket Operations
Ticket Sellers
Ticket Takers