"Ryan Fitzgerald Bobblehead Day," Presented by Agnelli Law, Set for Sat. 9/16 During Fan Appreciation Week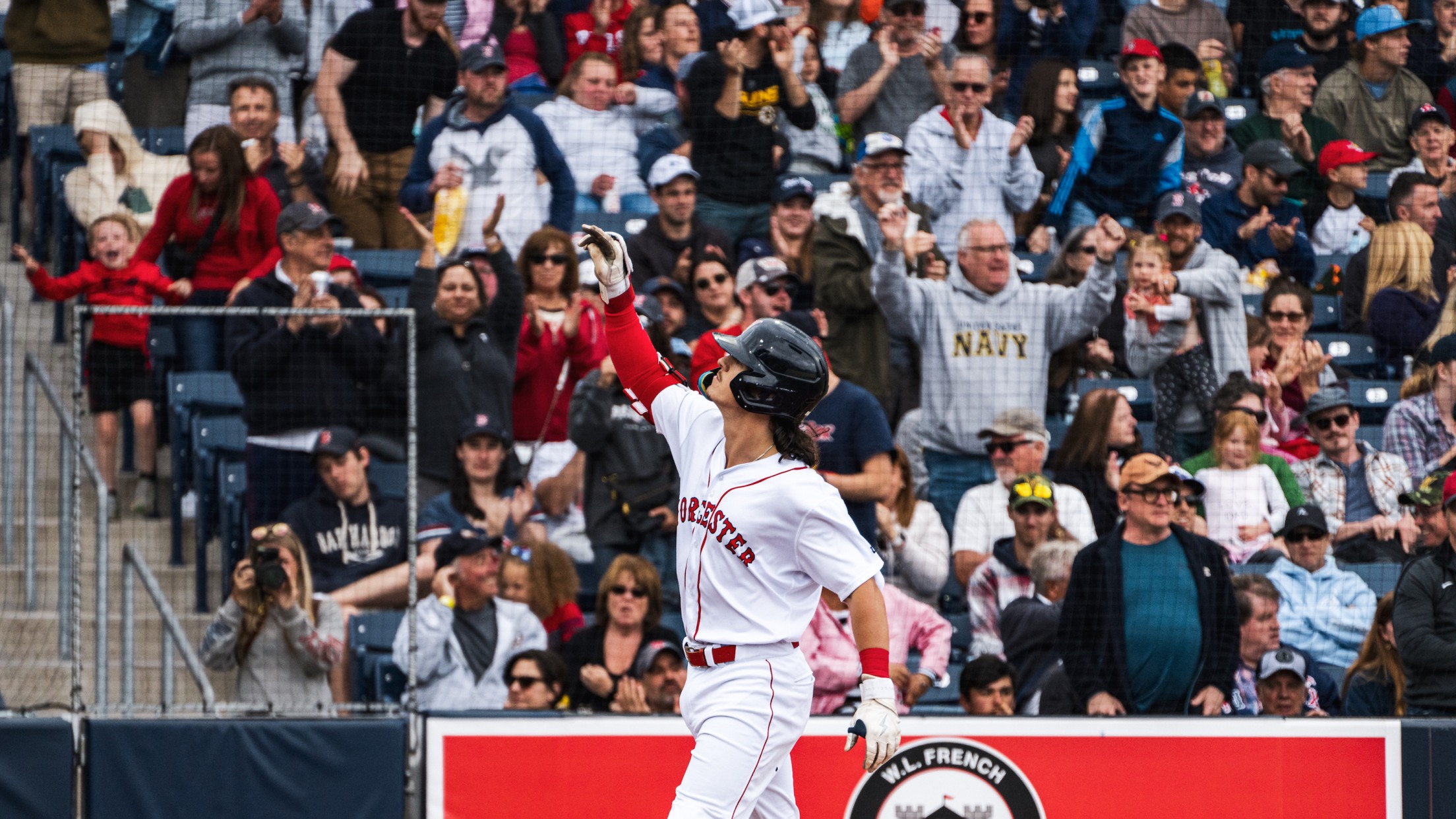 Pre-Sale of WooSox Summer Games runs through Sunday, March 5; General Sale begins this Monday, March 6, at 9 a.m. WORCESTER, MA — The Worcester Red Sox announced today that "Ryan Fitzgerald Bobblehead Day," presented by Agnelli Law, will take place Saturday, September 16. The bobblehead, a highlight of Fan
Pre-Sale of WooSox Summer Games runs through Sunday, March 5;
General Sale begins this Monday, March 6, at 9 a.m.
WORCESTER, MA — The Worcester Red Sox announced today that "Ryan Fitzgerald Bobblehead Day," presented by Agnelli Law, will take place Saturday, September 16. The bobblehead, a highlight of Fan Appreciation Week, will depict Fitzgerald's Father's Day home run on June 19, 2022, when as he crossed the plate, he used American Sign Language to say, "I love you," to his parents and two brothers in the stands. The WooSox will face the Syracuse Mets at 4:05 p.m. in the penultimate game of the WooSox' third home season.
The pre-sale of tickets for Summer Games (June, July, August, and September) runs now through Sunday, March 5. The sale of tickets to all WooSox '23 home games begins this Monday, March 6, at 9 a.m.
Fans can purchase tickets on WooSox.com, by calling (508) 500-8888, or at the Polar Park Ticket Office. The Ticket Office is open from 9 a.m. to 5 p.m. Monday through Friday and from 10 a.m. to 4 p.m. on Saturdays.
Ryan "Fitzy" Fitzgerald emerged as the face of the WooSox in 2022 after leading the team by playing 127 games. The versatile, popular, and award-winning infielder and outfielder played 37 games at third base, 36 at shortstop, 25 at second base, 17 in right field, 10 at first base, 9 in left field, one in centerfield, and one as the designated hitter. He played everywhere except pitcher and catcher.
Fitzgerald received the WooSox' 2nd annual "Heart of the Heart Award" in 2022 for his outstanding community spirit and activity, both in Worcester and throughout Central Massachusetts. Josh Ockimey won the inaugural honor in 2021.
"Ryan Fitzgerald has been an amazing ambassador for the WooSox, Boston Red Sox, and City of Worcester," said the WooSox' Vice President of Community & Player Relations, Joe Bradlee. "He's a genuine person who has consistently gone out of his way to make an impact throughout the Central Mass community, and it was a pleasure for all of us in the front office to recognize Ryan at the end of our 2022 season for all of his good deeds."
The 28-year-old from Hinsdale, IL, also recorded 99 hits, 16 home runs, and a team-high 72 RBI in 2022.
"Fitzy is an incredible teammate and friend to all inside the clubhouse, but he has endeared himself to our fan base with the way he plays the game and with his presence in the Worcester community and surrounding areas," said WooSox Manager Chad Tracy. "He is always willing to offer his time to others, and I have enjoyed watching our fans respond to him in the manner they have. This bobblehead is a well-deserved recognition!"
On August 20, 2022, Fitzy became the first player in Minor League Baseball history to create his own merchandise line, "WooSox X Ryan Fitzgerald", on sale now at the WooSox Team Store and online at WooSox.com.
Through his first six games at Red Sox Spring Training, Fitzgerald is batting .500 (5-for-10) with 4 doubles, 2 runs, and 5 RBIs. On February 26, he ripped a walk-off single to secure a 7–6 Red Sox win over the Tampa Bay Rays.
The official design of the bobblehead will be revealed in the coming months.