Mayor Petty and WooSox Surprise Worcester Native and World War II Veteran, Perry Sacco, at 100th Birthday Celebration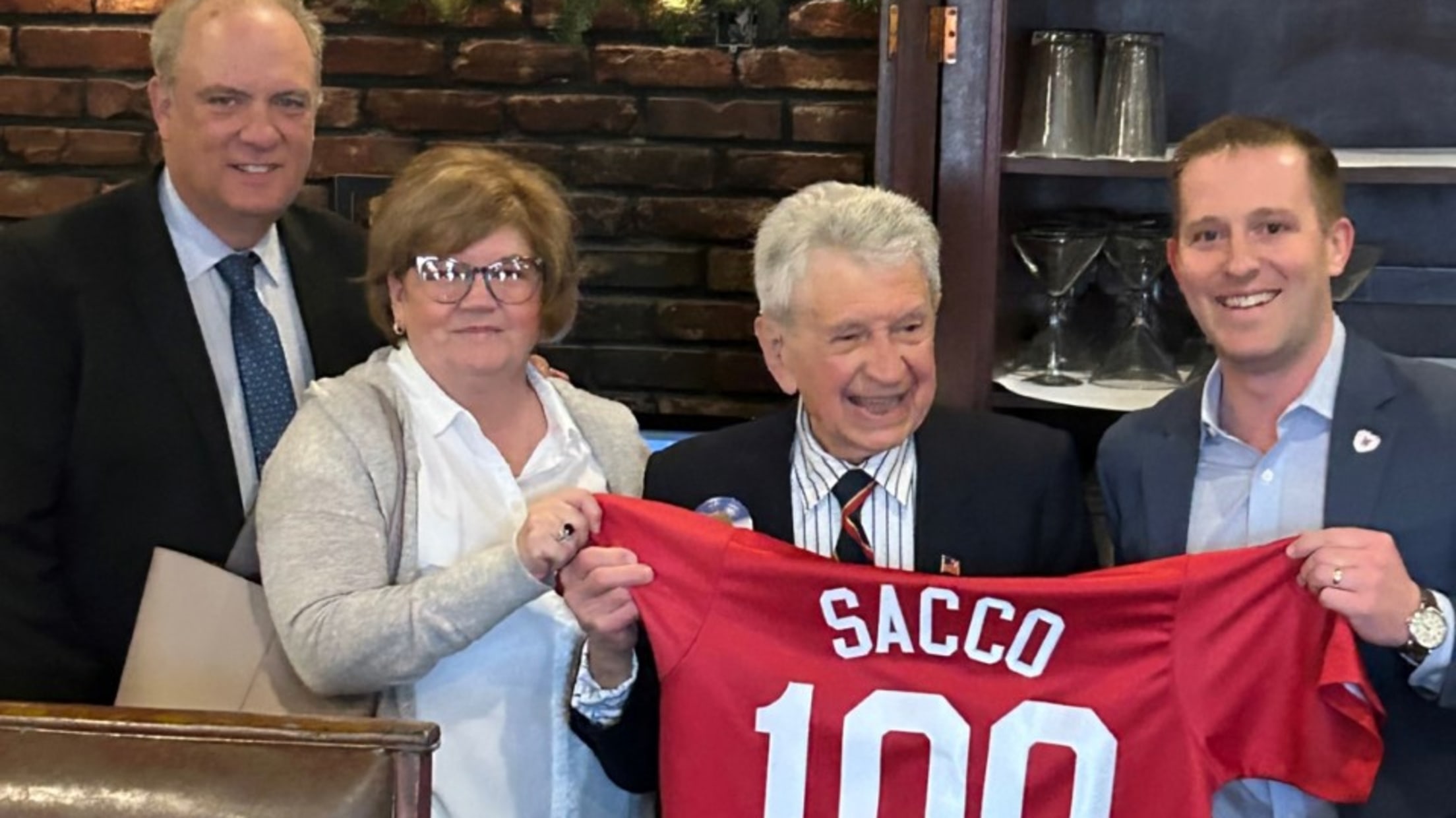 On Presidents' Day on Monday, February 20, the Worcester Red Sox attended the 100th birthday celebration of Perry Sacco, a Worcester native and World War II veteran whom the WooSox honored on Opening Day at Polar Park in 2021 and 2022. Worcester Mayor Joe Petty and City Councilwoman Candy Carlson
On Presidents' Day on Monday, February 20, the Worcester Red Sox attended the 100th birthday celebration of Perry Sacco, a Worcester native and World War II veteran whom the WooSox honored on Opening Day at Polar Park in 2021 and 2022.
Worcester Mayor Joe Petty and City Councilwoman Candy Carlson were on hand to present Sacco with a key to the city, and WooSox Vice President of Community & Player Relations Joe Bradlee surprised Sacco with a custom jersey and goodie bag of items that included a Rich Gedman-signed baseball.
Sacco was only 22 years old when he fought in the Battle of the Bulge as a United States Army T-5 Two Stripe Corporal Technician. He was awarded a Bronze Star for his heroism overseas.
"Perry Sacco is a living Worcester legend," said Bradlee. "The WooSox look forward to honoring Sacco on March 31 during our home opener against Syracuse, and we know that he'll be greeted with another standing ovation as he has for the past two seasons. We thank the Sacco family for inviting us to his birthday celebration, and we of course thank Perry for his service to our country."
The WooSox Foundation's "In Debt To A Vet" program is presented by JetBlue, and fans can nominate local veterans for the WooSox to honor by visiting https://www.milb.com/worcester/community/in-debt-to-a-vet.