Turning Tragedy into Triumph: The Improbable Story of Jonny Gomes
13-year MLB veteran described by teammates and executives as larger-than-life figure, clubhouse catalyst
13-year MLB veteran described by teammates and executives as larger-than-life figure, clubhouse catalyst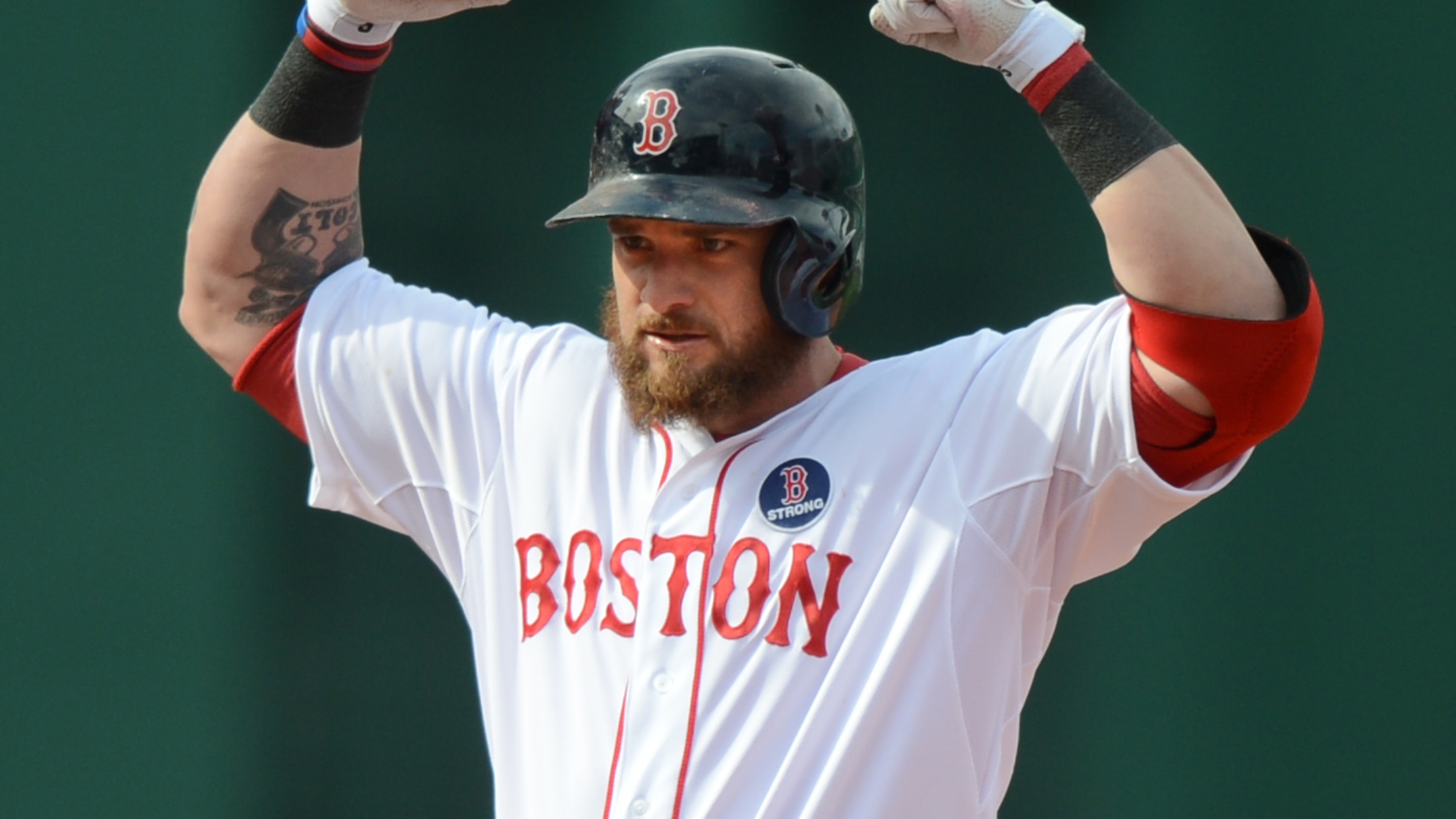 In the intimidating landscape of free agency, Major League Baseball players are defined by their production. Front offices look for tangibility in statistics—the pitcher with 200 innings in the tank or the slugger capable of 30 home runs—shaping their rosters destined for October. Yet in the 21 century of America's pastime, a burly left fielder from Petaluma, California, carved out his own niche conducive to winning: his personality.
Described by 2013 co-World Series champion Will Middlebrooks as "almost a fictional character," Jonny Gomes' indomitable person played a part in seven organizations, made four postseason runs, and won two World Series rings. He captured the infatuation of fan bases and endearment of clubhouses on both coasts and multiple cities in between.
Gomes' career is not best remembered by his on-field heroics, although there were many. Not for his 2005 third-place Rookie of the Year campaign nor his 2013 World Series Game 4-winning home run. Not even for his participation in multiple brawls, including a 2008 episode where he landed multiple punches on Coco Crisp.
Instead, Gomes is remembered as the epitome of the "clubhouse guy." With grit and attitude, Gomes proved to rally the men around him and earned his legacy as the ultimate fan-favorite and teammate.
"Gomes was—outside of Dustin Pedroia and Big Papi—the heart and soul of our team," Middlebrooks said. "If you look at the back of his baseball card, it's not going to jump off the page. He's not that guy. He could have literally had zero hits the whole season and still been the most important guy."
Gomes' eclectic and beloved personality was not born, but bred. Homeless as a teenager and raised by a single mother, Gomes survived multiple near-death experiences on the road to becoming the "most important guy" in the clubhouse.
Jonny Gomes: The Man, 1980-2003
Before he could decorate the same clubhouse he would lead with champagne or shake the hand of President Barack Obama wearing a stars-and-stripes suit at the White House, Gomes was just a kid from Northern California with a dream.
Gomes grew up in Petaluma, California, and was raised by single mother Michelle, alongside his older brother Joey. In an article by Sports Illustrated, the Gomes brothers recalled their difficult upbringing.
The Gomes family lived in a house without heat, Jonny sleeping by candlelight in a sleeping bag atop a bare mattress. One month as a teenager, the Gomes' lived in a homeless shelter. An unrelenting spirit, Jonny ran a paper route to help his single mother pay bills.
While life was difficult for the adolescent Gomes, he seeked true refuge in sport. For Jonny, the team setting was a needed reprieve. The uniforms they wore were all the same brand, and no one's situation off the diamond mattered.
"Bigger than pursuing baseball, I was actually pursuing life," Gomes said. "I almost had that pulled from me. What made me happy from a young age was sports in general. You have to find your niche, and for me, that was baseball."
Able to leave all that they could not control off the diamond and focus exclusively on what they could, Joey and Jonny were standout athletes at Casa Grande High School. A remarkable hitter, Joey received a DI scholarship to play ball at Santa Clara University upon graduation. Meanwhile, Jonny continued to excel for the Gauchos, until another life tragedy struck.
Jonny was 16 when he got in a car accident, killing his teammate and best friend, Adam Westcott. According to SI, Gomes and Westcott flipped a coin over who got to sit where in the car. Westcott's coin-flip fortune was ultimately what allowed Gomes to walk away barely injured.
The following season, Jonny's high school baseball coach died at age 31 due to terminal cancer of the mouth and jaw. It was just nine days after the team won the section championship.
An early life marked by tragedy and hardship, Gomes was still driven to play baseball. Without the hitting pedigree of his brother, Gomes played at Santa Rosa Junior College, hitting a miserable .127 statline, and striking out 23 times in 55 plate appearances freshman year. Gomes, still undeterred, followed that up with a nuclear sophomore year, batting .356 with nine home runs.
Gomes was later drafted in the 18th round of the 2001 MLB Draft. He immediately told the Tampa Bay Devil Rays, "You've got the wrong Gomes."
Although the Devil Rays selected Joey the following year, they, in fact, had the right Gomes. Jonny shot through the minor leagues and was invited to Devil Rays spring training camp in 2003.
Yet as his baseball career began to take off, adversity once again struck as Gomes suffered a heart attack on Christmas Eve in 2002. Despite his excellent physical condition, one of Gomes' valves clogged.
Gomes survived, again, and made his debut in The Show in September 2003, playing his first full season in 2005. The arduous uprising to "professional big leaguer" had finally arrived.
"When you've got your back against the wall, and you've got to fight out of it or fight for it—it's groomed me in a way not to shy away from going face-to-face with tragedy to triumph."
Jonny Gomes: The Myth, 2005-2012
Despite playing just 101 games in 2005, Gomes paced all other American League rookies, the likes of Robinson Cano and Nick Swisher, in home runs (21) and OPS (.906). He would have led all MLB rookies if not for Ryan Howard (22 HRs, .922 OPS). Gomes finished third in AL ROY voting behind Cano and Houston Street, who boasted a 1.72 ERA and 1.009 WHIP for the Oakland Athletics.
Gomes was a major part of the rebuilding Devil Rays, playing with Tampa for parts of six seasons. In 2008, ditching the "Devil" in their name, the Rays made the World Series for the first time in franchise history. Although Gomes was not on the playoff roster, his 2008 exploits are well-remembered.
At Spring Training that year, New York Yankee Shelley Duncan made a hard, cleats-up slide into Rays second baseman Akinori Iwamura. Gomes, defending his teammate, sprung from the dugout and tackled Duncan. A scrum ensued.
Later that year, when Rays blossoming ace James Shields plunked Red Sox outfielder Coco Crisp, Crisp retaliated by charging the mound. Gomes was once more the first on the scene, laying haymakers on Crisp, who was pinned to the ground by Rays backstop Dioner Navarro.
Gomes was growing his legend, not for his on-field exploits with a bat or glove, but with his fists. He was not getting the reputation for a brawler, but the guy who will dive head first into brawls for his teammates. Growing up with a single mom and older brother, Gomes' childhood longing for extended family helped him create a new role for his teammates.
"Why not treat it like a family?" Gomes said. "Why not care and help each other out? Creating an organic family atmosphere within the clubhouse was very easy for me to do. Maybe not for others, but for me, that was my extended family."
The Rays lost the Fall Classic in five games to the Philadelphia Phillies. That offseason, Gomes lost his first extended family too, as he signed with the Cincinnati Reds. A strong 2009 gave way to 2010, where Gomes played a career-high 148 games en route to the first Reds playoff berth and divisional crown in 15 years.
For longtime Reds catcher Ryan Hanigan, Gomes was an immediate catalyst for the Cincinnati locker room.
"Gomes brought an element that is very rare," Hanigan said. "He's such an eccentric personality. He's really funny, quick-witted, and sharp, in a kind of rock and roller way. You see all the tattoos, the mohawk, the big personality, and you think, 'Oh, this guy looks like a biker.' But that translates—any player in the clubhouse just feeds off that day in and day out."
According to Hanigan, accompanying Gomes' eclectic soul was leadership, wise beyond the years of the 29-year-old. His love for the game translated to a no-nonsense approach to his team.
"He was always taking guys out for drinks or dinner, making everyone feel like they're a part of what's going on," Hanigan said. "And then he was the enforcer. If you're acting stupid or not doing things right, he lets you know and makes sure you've got your act together."
Gomes credits his early years in Tampa, building a clubhouse culture through small lessons he learned playing with multiple veterans at his first Spring Training, including Hall of Famers Fred McGriff and Tino Martinez.
"I took a little piece of the puzzle from all these guys," Gomes said. "Then I was able to start having a voice, caring, wanting to win, wanting to take the organization to the next level."
After being swept by the Phillies in the NLDS in 2010, Gomes was traded to the Washington Nationals at the 2011 trade deadline. Gomes was a major influence on Hanigan's career, despite the two being the same age.
"It sucked," Hanigan said. "A guy like that was such a valuable aspect to our team. You get used to that in baseball. Guys get traded mid-season, but he went on the next year with the A's and made the playoffs with them. Friggin' playoff October baseball every year."
Gomes signed with the Oakland Athletics in 2012, and helped them to their first playoff berth since 2006. Up to this point, Gomes had now helped three separate franchises realize playoff contention for the first time in a while. His reputation for winning was unbecoming and caught the eye of the struggling Boston Red Sox in the 2012 offseason. The only thing missing from Gomes' winning ways was the Commissioner's Trophy.
"[The Red Sox Front Office] said that they knew that he had one of those intangible qualities about him, which was chemistry and being a good clubhouse presence," said Michael Silverman, who covered the 2013 Red Sox for the Boston Herald.
Before Boston, Gomes was a remarkable teammate with a habit for October baseball. Once in Boston, the true legend of "Hacksaw Jonny Gomes" was born.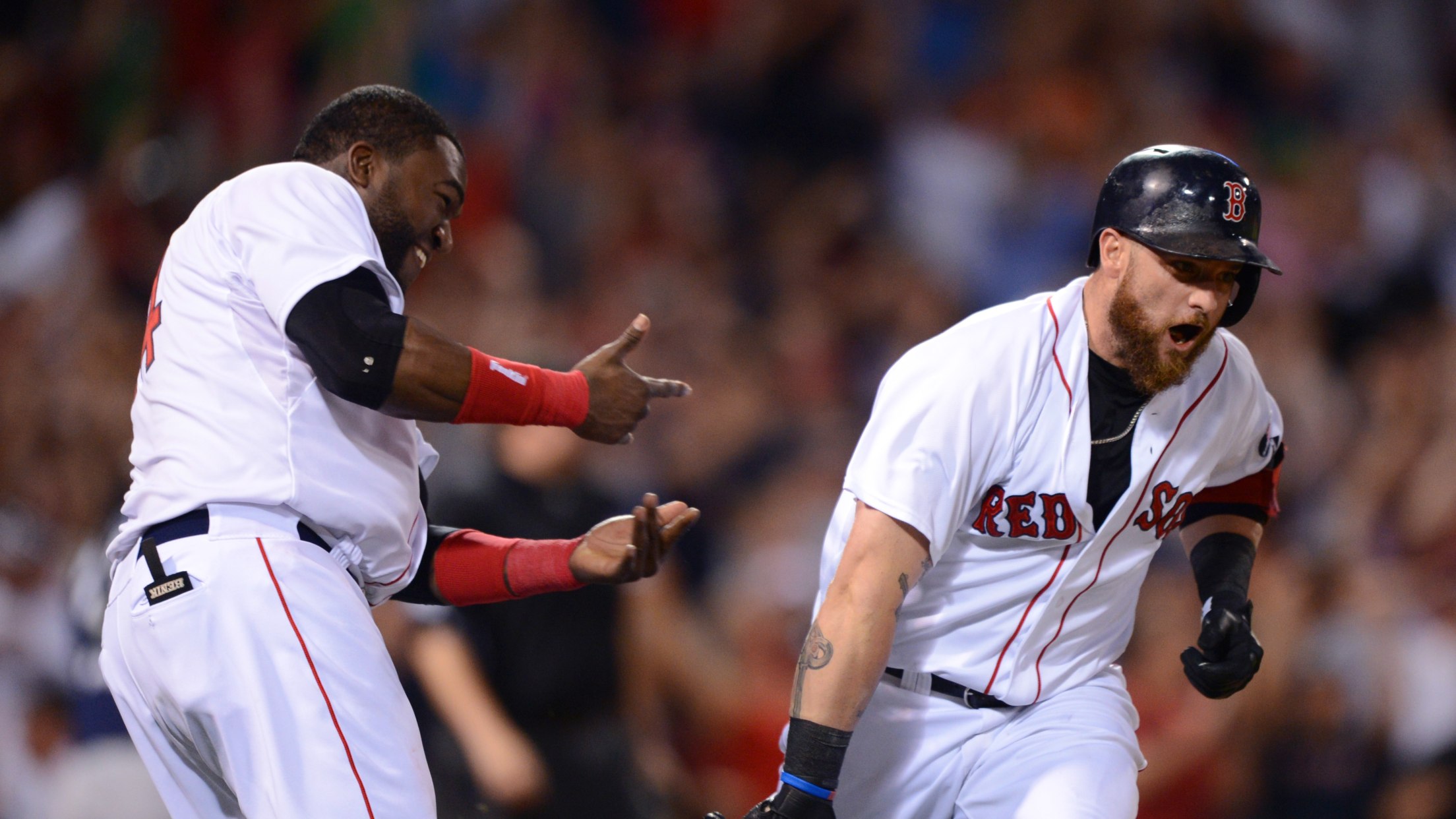 Jonny Gomes: The Legend, 2013-present
"Going into 2013, expectations were low, probably as low as you can go," said the Red Sox' former Executive Vice President Charles Steinberg. "Nobody really paid much attention to the seven free agents that Ben Cherington signed over the winter because they weren't big-name, gaudy stars. What we would see was they were all winners."
Alongside Gomes, the Red Sox signed Shane Victorino, Ryan Dempster, David Ross, Stephen Drew, Mike Napoli, and Koji Uehara. Steinberg remembers one of Gomes' first interactions with the team at Spring Training in March 2013.
"Some may have thought that he was mocking the team when Gomes walks into the players dining area and replies to Ryan Dempster's innocent question, 'Hey, how are you?' with 'One day closer to the parade,'" Steinberg said.
Middlebrooks, who was preparing for his second major league season, had a similar early interaction with Gomes.
"The second day of spring training, Gomes said, 'Hey, we're gonna grow out our playoff beards now, so it's really nice for when later in the season gets here,'" Middlebrooks said. "'And oh, by the way, we're not just doing the playoffs. We're gonna win the World Series.'"
On day two of spring training, Jonny Gomes had not just arrived, but had already infiltrated the roster and planted the bearded culture, which would define the 2013 season. For Gomes, a faith in success was conducive to winning.
"If you don't believe, you're just not going to do it," Gomes said. "This isn't like a frickin' Disney story, you need to believe you're going to do it. You sure as hell can't do it unless you do believe."
By April 2013, as the Red Sox were 8-4 to start the season, and amidst a Patriots Day walk-off win, tragedy once again struck. Not just for Gomes this time, but for the entire city of Boston.
The team heard news of the Boston Marathon Bombing on April 15, 2013, when they landed in Cleveland. Steinberg credits Gomes and catcher Jarrod Saltalamacchia for creating the 'Boston 617' jersey, which the team erected in the dugout at each game. He also claims Middlebrooks popularized the #BostonStrong Twitter tag.
"And so a jersey would say 'Boston 617 Strong,' thanks to Johnny Gomes, Jarrod Saltalamacchia and Will Middlebrooks," Steinberg said. "And they hung that gray jersey in the Cleveland dugout the rest of the trip. Those jerseys hung for the rest of the season."
Gomes credits his NorCal upbringing, where congregation around a zip code like Boston's 617 would mean a strengthened sense of community. Middlebrooks says the team, 12 games in, was prepared to adopt an entire city.
"He's from California, I'm from Texas, we have the Dominicans, we have Venezuelans, but when all that went down, all of a sudden, we were all Bostonians," Middlebrooks said. "We knew how important Boston sports were to the city, so we took it upon ourselves to give them a distraction from the madness, give them something to be happy about."
"We already knew we were going to win the World Series, but now we knew we were going to win the World Series, and we were going to put on a show," Middlebrooks said.
The Red Sox would finish 97-65 atop the AL East. They would defeat the Rays in the ALDS, and the Tigers in the ALCS. By Game Four of the World Series against the St. Louis Cardinals, the Red Sox were down 2-1.
Gomes, to this point, was a platoon left-fielder with Daniel Nava. Ahead of Game Four in St. Louis and forced to play David Ortiz at first base, Manager John Farrell threw caution to the wind and started Gomes over Mike Napoli.
"You sure know that if Jonny Gomes is in there, he makes something happen," Steinberg said.
In the 6th inning, with two men on and two outs, and fearing going down three games to one, Jonny Gomes strolled to the plate. According to Middlebrooks, Gomes relished the big moment, imparting how not to fear it, but crave it.
Before the at-bat, Gomes had walked and grounded into a double play. With the Cardinals changing lefty Lance Lynn for right-handed reliever Seth Manness, Gomes remembers fearing Farrell would pitch-hit Napoli—"the right move on paper," according to Gomes.
"It was everything in my power to extend myself from the dugout," Gomes said. "I was taking my practice swings as close as I could to first base so I wouldn't get called back. The one thing that I've always wanted was the opportunity, and I knew it was right in front of me. But it was a roller coaster of emotions: 'Don't get called back, stay in the fight.' And as soon as Manness threw his last pitch, I ran to the plate so I couldn't get called back."
Battling Manness to a 2-2 count, Gomes proceeded to hit a 387-foot blast into the St. Louis night. Fixing the scoreline at 4-2 Red Sox, Gomes ensured the series' return to Boston.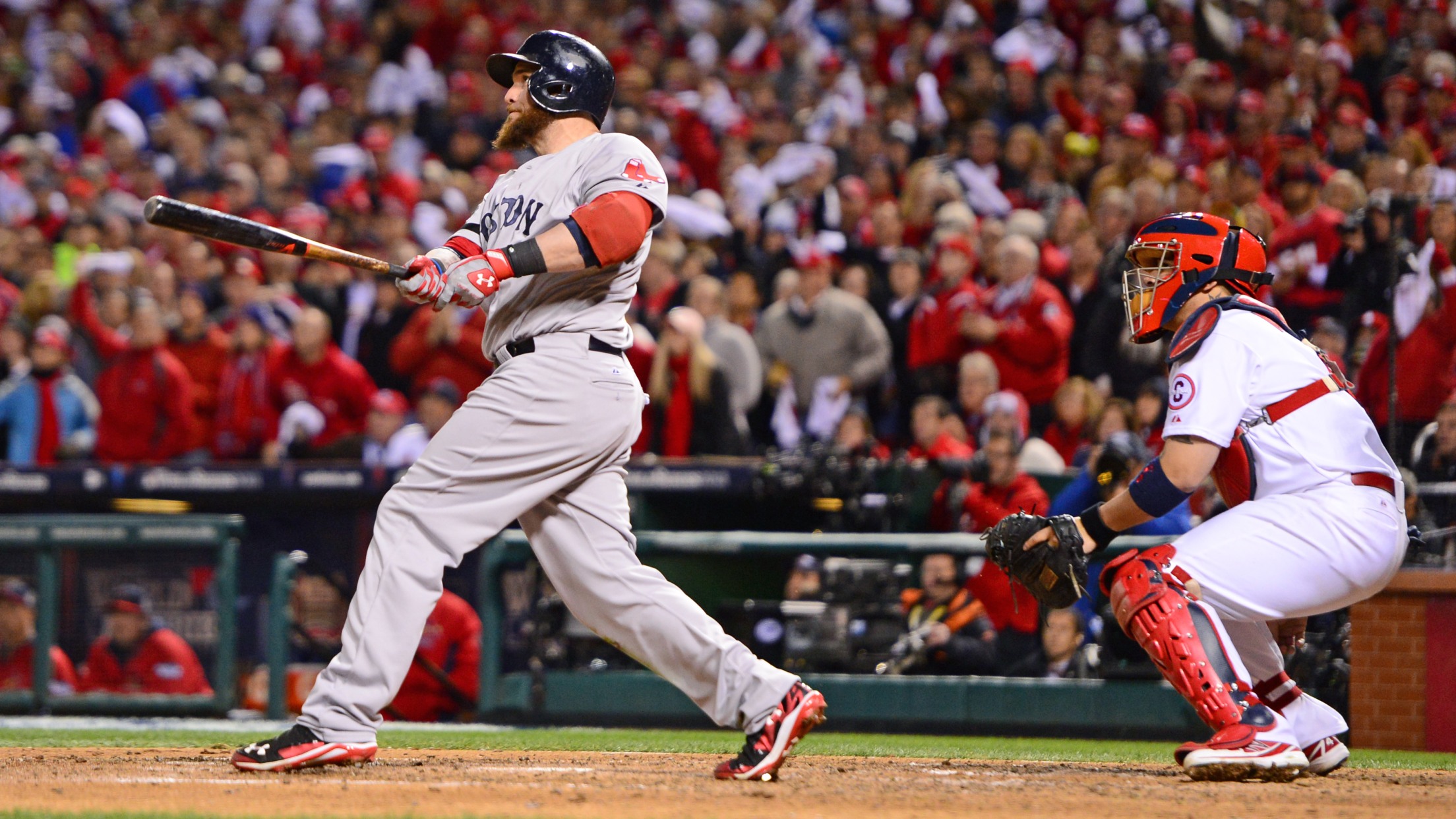 An expedient Games Five and Six spelled a World Series victory for the Boston Red Sox.
According to Silverman, upon the final out in Game Six, Gomes celebrated in the outfield, shirtless, and wearing an army helmet.
"I think to succeed in Boston, you have to adapt to the city the second you sign up with them," Gomes said. "Winning is forever. The only anniversary in baseball that we celebrate five or 10 years after winning is the World Series. So after that Game Six win, the emotions will last forever, my entire lifetime."
Gomes' oracle-like parade prediction had come true, yet enlivened by the city of Boston, Gomes' character was not done shining. Along the duck boat-laden parade route, the Red Sox stopped at the Marathon finish line. What happened next, for Steinberg, spells history.
Gomes, alongside Saltalamacchia, set the World Series trophy on the finish line, meticulously folded the 'Boston 617 Strong' jersey, and placed it within the spokes of the Commissioner's Trophy. Gomes says he didn't know he would be getting off the parade boat until he was handed the trophy and directed to the finish line, making his gesture to Boston entirely authentic.
Weeks later, Steinberg would ask Gomes about this unplanned moment, frozen in time.
"He said, 'I wanted to take a scene of tragedy and also make it a scene of triumph,'" Steinberg says. "When I walk to the finish line now, I always think of the marathon tragedy. And I always think of how we came back from that. Johnny Gomes showed that he was much more than a left fielder, much more than a baseball player, from wire-to-wire, from the beginning of Spring Training through that rolling rally. He did so much with his mind and heart and character to help this city heal."
Jonny Gomes: The Fighter
Gomes left Boston via trade in 2014. He returned to his hometown-A's to aid another playoff push, and spent 2015 with the Atlanta Braves and the Kansas City Royals, who would go on to win the World Series. Today, Gomes works within the Arizona Diamondbacks organization.
As Steinberg says, Gomes was so much more than just a baseball player. Gomes was a fighter. Marred by personal tragedy, Gomes always found triumph. Both on the diamond, and off.
"Jonny's lived a tough life in terms of his upbringing," Hanigan said. "He had nothing and he had to work for everything he ever got. He's just that guy, such a hardworking, intense, all-encompassing type of guy. That's just who he is as a person."