Worcester Red Sox Hold Zoom Chat With WooSox Rewards Members To Discuss Ballpark Improvements in 2023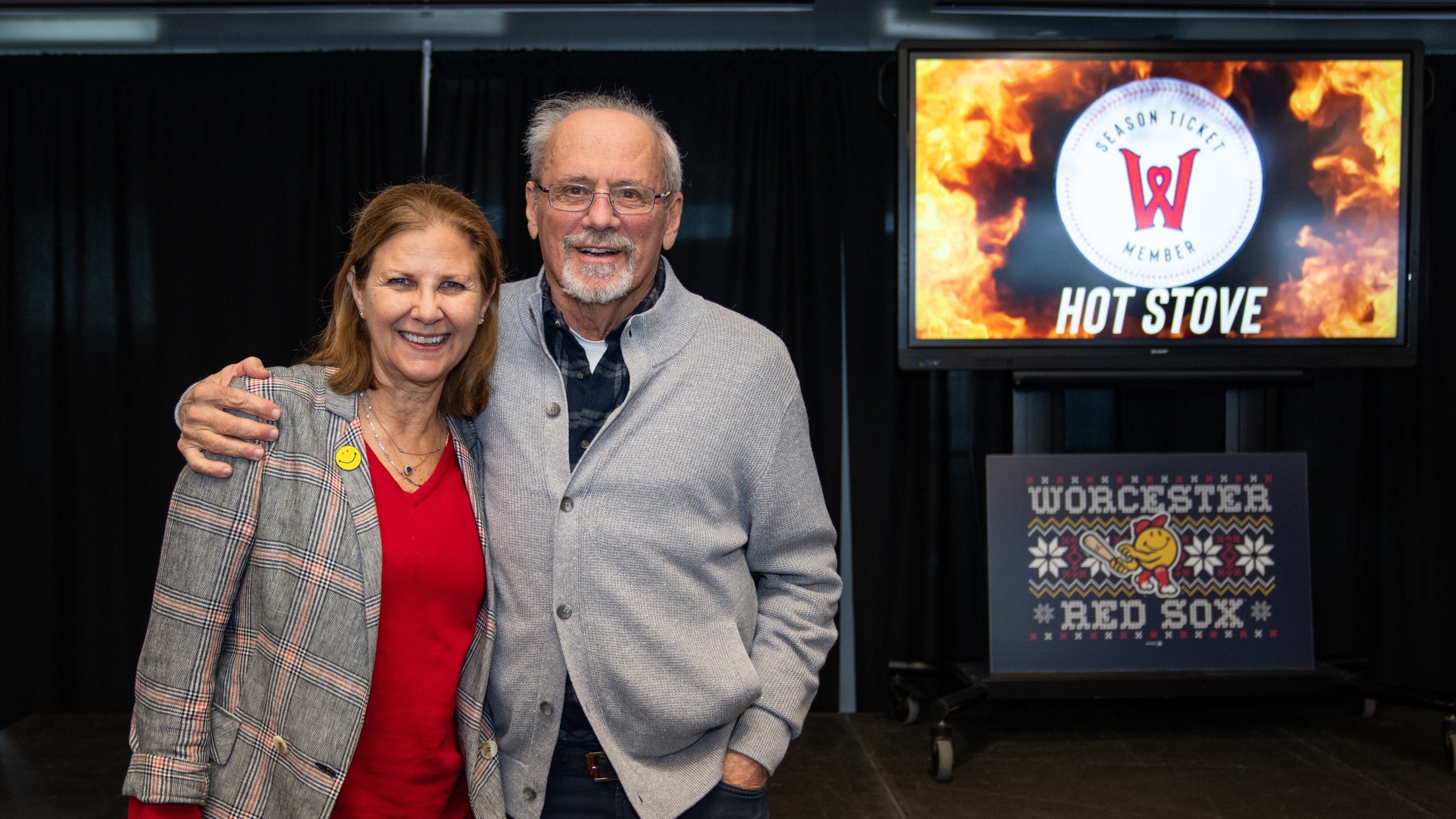 (Ashley Green)
Worcester Red Sox Rewards Members were joined on Monday, February 13, by Larry Lucchino, Janet Marie Smith, and Dr. Charles Steinberg via Zoom to discuss several renovations and initiatives coming to Polar Park in 2023. The hour-long Zoom call began with a short video from January 26, when the WooSox
Worcester Red Sox Rewards Members were joined on Monday, February 13, by Larry Lucchino, Janet Marie Smith, and Dr. Charles Steinberg via Zoom to discuss several renovations and initiatives coming to Polar Park in 2023.
The hour-long Zoom call began with a short video from January 26, when the WooSox held a Hot Stove Luncheon for Season Ticket Members in the DCU Club. The video introduced several new changes coming to Polar Park that fans can look forward to before the season starts on March 31. Some of the impending additions include heaters on the concourse, more food options, and televisions in the restrooms.
One of the largest differences between this WooSox season and last will be the addition of the Fan Deck beyond the left-field wall. According to WooSox President Dr. Charles Steinberg, the temporary spectator area will include Adirondack chairs, cabanas with tables and chairs, a corn hole area, a bandstand, and eventually a swing set on the 8th Hill until the building in left field is completed.
In addition to the Fan Deck, fans can also take advantage of an increased number of Blue Woo shuttles. There will now be 5 vans shuttling people in and out of the ballpark to their parking spots, train stations, or bus stops around Worcester.
Janet Marie Smith, the renowned ballpark designer and architect behind several Major and Minor League ballparks in the country, said the WooSox organization has continued to learn as the club heads into its third year.
"No matter how much you plan, you always learn by observing how fans are using a place, how our broadcasters respond to things, how it looks at the ballpark when it's not hosting a game..." Smith said. "Much of what we're trying to do is respond, not only to the adjustments that we can make having now seen [Polar Park] in action—it was great to finally have a whole season with no restrictions last year—but also as the area grows up around us and becomes more robust and there's more residential, more retail, less parking—that's the shuttles—it's really important to sort of respond to the whole atmosphere around Polar Park, not just the park itself."
In regard to ballpark improvements, WooSox Principal Owner and Chairman Larry Lucchino said the club is happy to introduce new things in '23 to maintain being "one of the leading teams in Minor League Baseball."
"As far as I'm concerned, we as custodians of the ballpark have an obligation to make it new and different and better and more attractive for people," Lucchino said. "What we've learned in year one and year two are certain deficiencies that we need to solve. That way we can keep the ballpark new and interesting and available to our fans in the third year."
Because the event was held on Zoom, fans in attendance were able to ask Lucchino, Smith, and Steinberg about Polar Park and offer their own ideas for further improvements by using the chat feature. Along with suggestions pertaining to WooSox Market sales, vintage ballparks, and a possible rivalry week with the New York Yankees' Triple-A affiliate, the Scranton/Wilkes-Barre RailRiders, questions revolved around the new WooSox Rewards program, the possibility of an automatic ball-strike system (ABS system), and Polar Park concerts.
Formerly titled the WooSox Booster Club app, the new WooSox Rewards app is being updated automatically in real time, according to WooSox Vice President of Marketing Steve Oliveira. He said fans who are already in the WooSox Booster Club (either on the app or the website) will start to see updates over the next few days. By March 1, the app and website will be completely transformed in order to work out any issues before Opening Day.
Although Polar Park has not yet seen the ABS system, Lucchino said it is possible that Minor League Baseball could be used as a "testing ground" before the system is implemented at a higher level. Perhaps more likely is the chance that fans will see a concert at Polar Park in 2023.
"We are trying desperately to get a concert for the ballpark that is suitable for the area and will galvanize our support group and show that this ballpark is more than a ballpark," Lucchino said.
Even with more to do and see in WooSox '23, Smith said her long-term goals for Polar Park expand outside the ballpark.
"One thing that's on my wish list as Madison [Street] grows up and there's more activity along the street and the retail and residential on the south side opens up, [is] that we'll be able to complete the retail corridor along the north side that we had envisioned when we first opened the team store there," Smith said. "You may be aware that there are some additional spaces there for retail, so we'll be shopping for some good ideas soon, I hope."
Both Smith and Lucchino stressed the significance of Worcester's personality at Polar Park. According to Lucchino, the WooSox are pleased if the ballpark looks, feels, smells, and tastes like Worcester. Smith emphasized the importance of the city's involvement and of the fans themselves.
"I hope all of you feel as much pride in [Polar Park] as we do, because it really is your ballpark," Smith said. "We're lucky to be stewards of it for the moment, but it's really Worcester's ballpark, and Worcester being the Heart of the Commonwealth means that our circle and the waves of influence move out exponentially."
The one-hour 2023 WooSox Hot Stove Show will be played on NESN+ tomorrow (Friday) at 11 p.m. and Tuesday, February 28, at 10 p.m. The special will also be played on NESN on Monday, February 27, at 4:30 p.m., following the Red Sox Spring Training game vs. the Minnesota Twins.