T-Rat Talk: Matt Wood
2022 Draft Class Continues to Pay Dividends for Wisconsin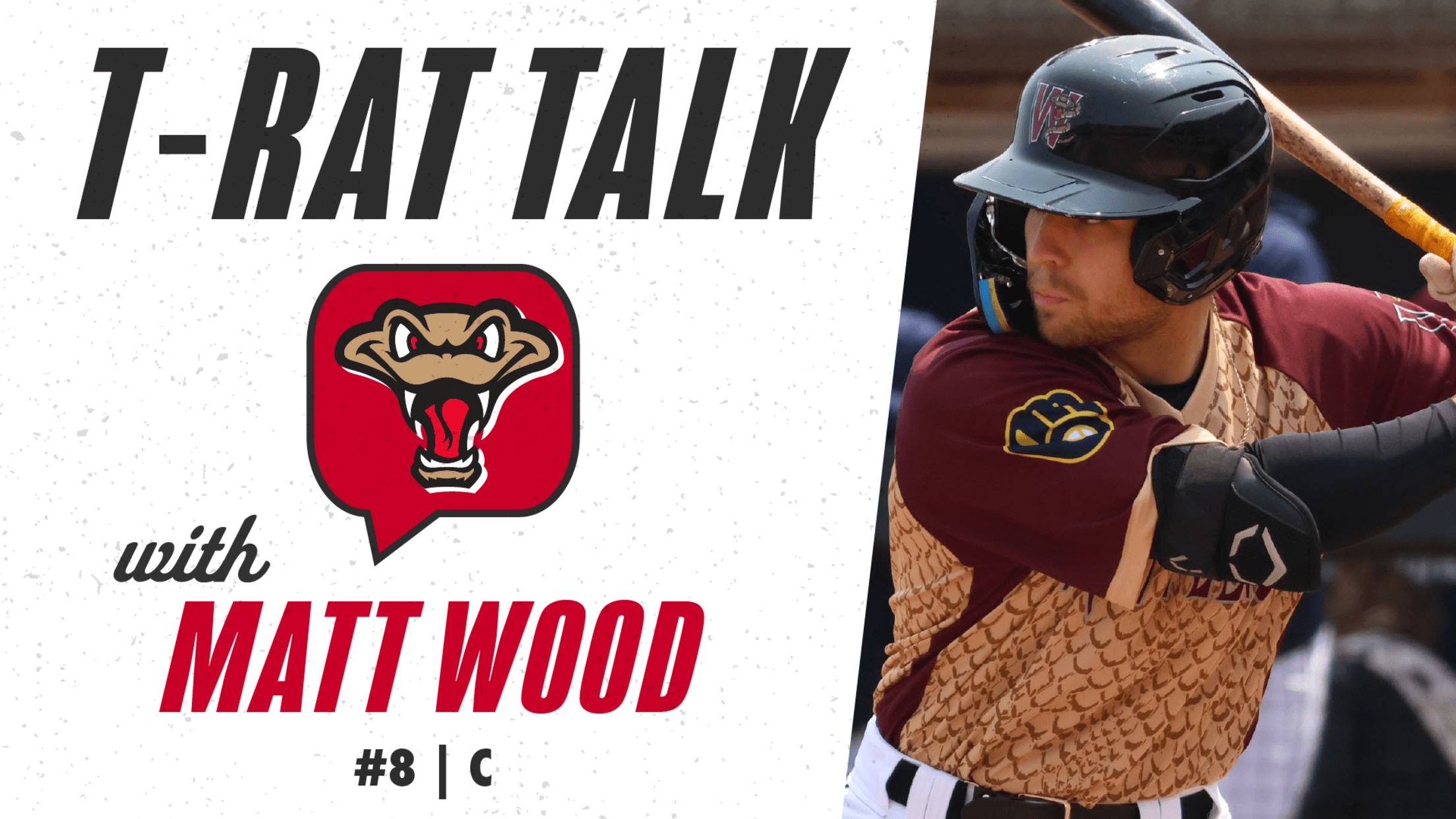 In this edition of T-Rat Talk, Kyle Lobner's subject is Timber Rattlers catcher Matt Wood. First up is the Lightning Round, in which Matt shares a terrific and accurate Halloween costume. In the story, Kyle reveals Wood's connection to a recent Pittsburgh Pirate star, Matt's father's connections to the Fox
In this edition of T-Rat Talk, Kyle Lobner's subject is Timber Rattlers catcher Matt Wood. First up is the Lightning Round, in which Matt shares a terrific and accurate Halloween costume. In the story, Kyle reveals Wood's connection to a recent Pittsburgh Pirate star, Matt's father's connections to the Fox Valley area, and his adjustments to the Midwest League since his promotion from Carolina.
It's a long way from suburban Pittsburgh to northeastern Wisconsin, but Timber Rattlers catcher Matt Wood's family knows the route. Wood's father works for McCain Foods and has visited Neuroscience Group Field at Fox Cities Stadium on previous trips for business. The next time he's in town, he'll be able to watch his son play.
"He hasn't been up yet, but he sees the signs in the outfield about McCain and he always makes sure to text me. He'll be up soon, definitely," Wood said.
Wood was the Brewers' fourth round selection in the 2022 draft and he's moved quickly up the organizational ladder. He made his professional debut in the Arizona Complex League last season before hitting .293 with a .468 on-base percentage and .488 slugging in 25 games for Carolina this spring and earning a promotion to the High-A level despite having played just 27 games as a professional. Wood is the sixth member of the 2022 draft class to appear in a game for Wisconsin, joining first round pick Eric Brown Jr., second round pick Robert Moore, sixth round pick Tyler Woessner, seventh round pick Ben Metzinger and eleventh round pick Cameron Wagoner.
"It's definitely what you want to do. You want to keep moving up the ladder, so I'm excited that I'm getting that opportunity," Wood said of the promotion. "It definitely can be overwhelming, packing up your stuff and moving and getting with a new team and everything like that, but that's also part of the fun. Luckily, coming up here and having such great people like Joe (Timber Rattlers manager Joe Ayrault), some of the guys too, some the guys I came in with, definitely made it easier but moving up's been fun, that's what you want, that's the goal."
Webster's Dictionary definition of clutch - @Mattwood_59 pic.twitter.com/X122iQZl3W

— Carolina Mudcats (@CarolinaMudcats) April 29, 2023
In his limited opportunities Wood has already impressed his new manager. Until these last two weeks Ayrault hadn't managed Wood at the professional level, but he did have a chance to get to know him during spring training.
"Quality at-bats and a good leader from behind the plate," Ayrault told the Timber Rattlers Review podcast after Wood's first Midwest League hit on May 17. "Pitchers like throwing to him, he does a good job receiving. At the plate he just gives you a quality at bat. Real good swing decisions, can make some contact and he'll do some damage for you as well."
Wood has played in all 12 games, including eight at catcher, since making the move to Wisconsin. He has 13 hits in those 12 appearances, including his first professional triple.
"The competition is good. I knew coming up that every day was going to be a grind and you've just got to stick with it. That's what it's been, and I'm learning a lot and having a lot of fun too," Wood said.
New Timber Rattler Matt Wood TRIPLES in the 7th 🙌 #TRatNation pic.twitter.com/EM49gBn4jf

— Wisconsin Timber Rattlers (@TimberRattlers) May 19, 2023
The workload of his first full professional season is going to be a new challenge for Wood. Entering this season Wood had never played more games in a calendar year than the 71 he accumulated between Penn State and the New England Collegiate Baseball League's Newport Gulls in 2021. This year he was more than halfway to that number in May.
"It's definitely different, because in college you're catching three days in a row but it's mostly only on the weekend. Here it's spread out throughout the entire week, so you've got to learn a lot about how your body works and what you need to do to protect your body and take care of it," Wood said. "So I think that's been the biggest adjustment so far, is just finding out what I need to do to get myself to be ready to play every day and I think I've been doing a pretty good job."
Changing levels can be a challenge for any professional player but it's even harder for a catcher, as moving up means having to learn an entire new pitching staff. Wood said he hadn't caught many of his new teammates in a game before joining them in the Midwest League, but he's enjoying the challenge of learning how to work with them.
"It's been fun, learning about these guys' arsenals and working with Drew (Timber Rattlers pitching coach Drew Thomas) a lot on what these guys like to do in certain situations. It's been cool," Wood said.
All catchers face the challenge of having to balance their preparation to catch and development of a game plan to attack opposing hitters with the work they need to be ready to perform at the plate. That's doubly true for a catcher that's new to a team, as they're still getting to know their pitchers as they prepare to catch them.
"You have to find a happy medium," Wood said. "You don't want to overkill yourself, where you're always studying and doing all that, but you need to be prepared. It's definitely a lot, and it's important, but I also want to stay loose and relaxed and go into the game and just play, because I think that's when I'm at my best. I've definitely done more in terms of scouting and preparing to catch, because that's important and you need to be able to have that in your back pocket so your pitchers can trust you."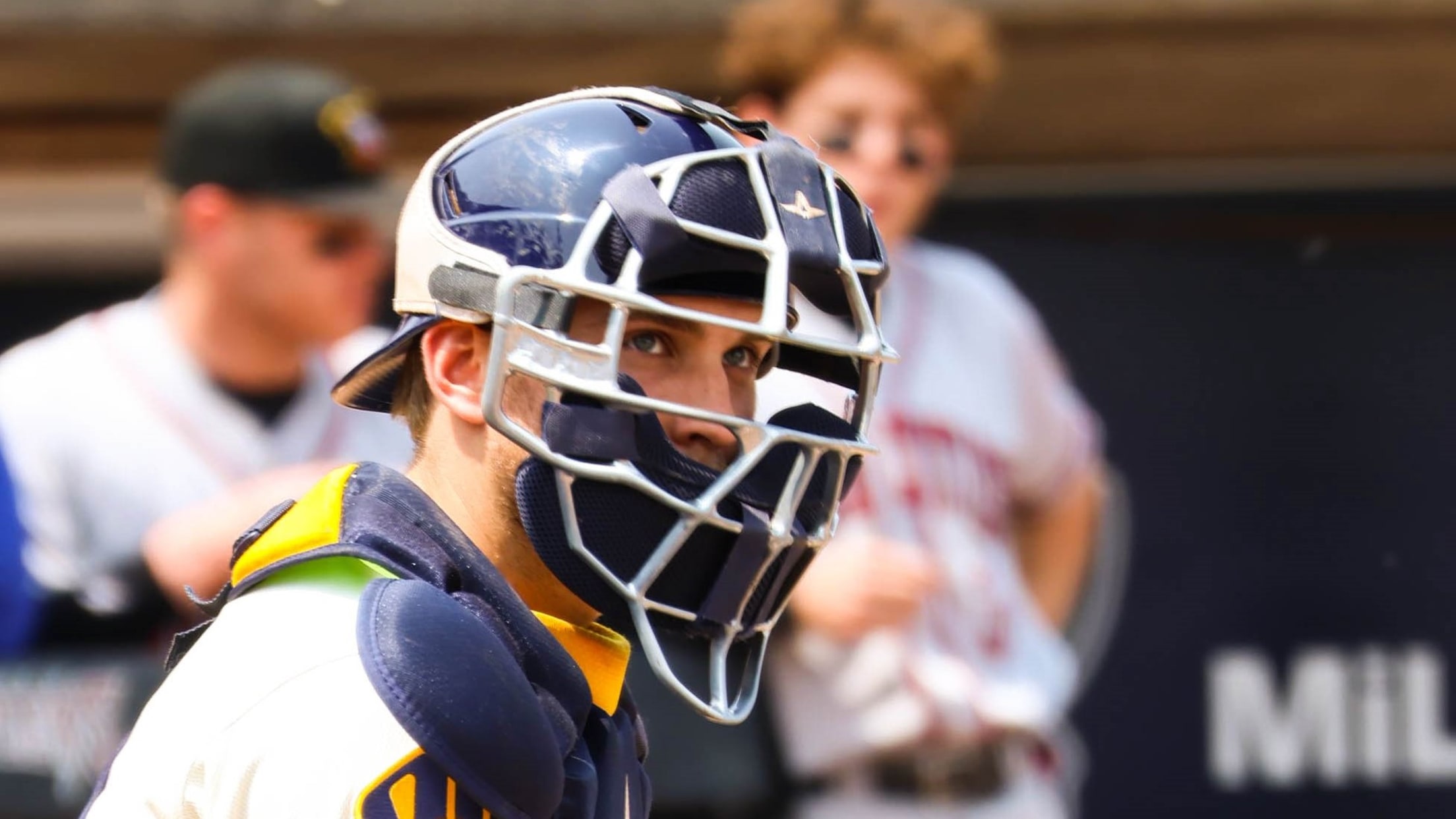 Wood joined a Timber Rattlers team that already had two active catchers in returning players Darrien Miller and Alex Hall. Getting all three regular work is going to require some flexibility and planning from everyone involved.
"We'll be mixing around. I know Alex Hall has played some in the outfield, he's going to be playing some at first base. We'll be dabbling in a bunch of things, adding versatility to their game," Ayrault said.
Coming out from behind the plate would be a relatively new challenge for Wood, who has been the catcher in every game where he's played on defense since his freshman year of high school. It's a challenge he said he'll take on, however, if needed.
"I'm definitely willing to do whatever," Wood said. "I love catching, it's my passion, it's the position that I grew up playing and I have a lot of pride in so being able to catch is definitely the goal. But being versatile is also important, and I want to have that in my back pocket and be able to do as many things as you can at the professional level."
Meanwhile, Wood grew up in the shadow of another longtime catcher who moved into the field during his professional career. Neil Walker, who played 1306 games in the infield across 12 MLB seasons from 2009-20, is also an alum of Wood's high school.
"Especially him playing in Pittsburgh, where we're from, you hear a lot about Neil. He's definitely somebody I looked up to a lot because he was a catcher in high school. It was pretty cool, and being able to meet him and talk to him back home was pretty cool too because you kind of see him as that huge figure, and being able to say I know him and talked to him was pretty cool," Wood said.
At the collegiate level, however, Wood is hoping to be a part of a new legacy. Since 2006 there has only been one Penn State alum to reach the majors: Reliever David Aardsma started his college career with the Nittany Lions before transferring to Rice. The last player drafted from Penn State to reach the majors was pitcher Nate Bump, a 1998 first round pick who last pitched at the MLB level in 2005.
"I have a lot of pride in going to Penn State and we have a decent amount of guys that are playing professional baseball right now, but just pushing the program forward in that sense is something that I definitely take a lot of pride in. I'd love to be able to represent Penn State in that way," Wood said.
@Mattwood_59 for BIG 10 POY! Hands down the most deserving baseball player out there . @PennStateBASE pic.twitter.com/aVlA1xQznD

— Kat Haseleu (@kathleenhaseleu) May 20, 2022
Wood is well on his way to achieving that goal, but for now he's just focused on staying healthy and productive through the longest season of his career.
"Honestly, just staying healthy, playing every day, that's my main goal. Learning as much as I can but also producing on the field, I just want to be somebody people can trust, keep moving forward and keep being myself. Not trying to do too much, just do what I do best and stay on the field," Wood said.
Let's go!!!!!!!!! Pumped to be a Brewer! Let's do this thing @Brewers !!! https://t.co/TV3jYimHuE

— Matt Wood (@Mattwood_59) July 18, 2022