Drillers to Open Season on Thursday, April 6 at ONEOK Field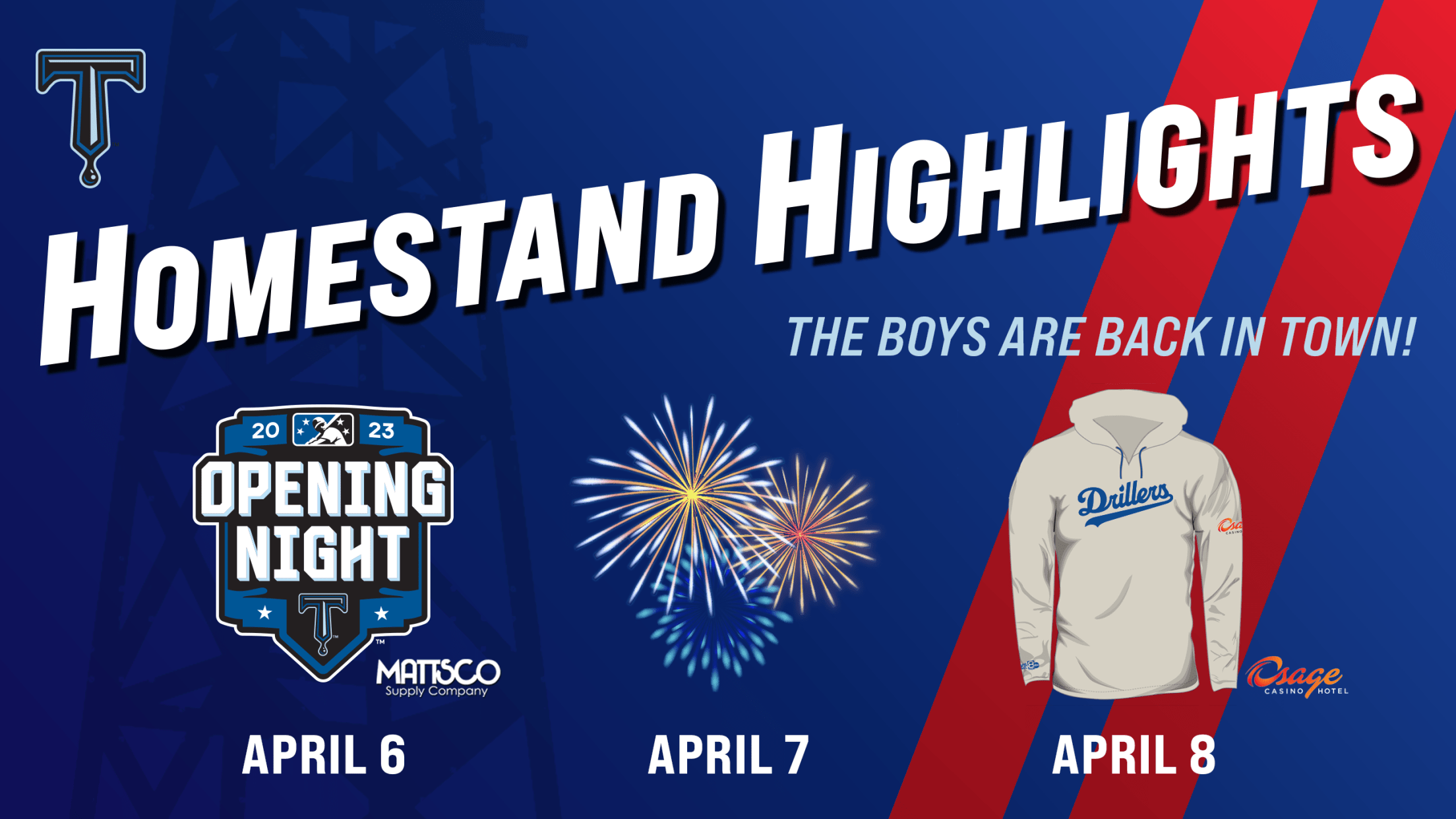 Baseball is officially back with the Tulsa Drillers opening the 2023 season at home against the San Antonio Missions (San Diego Padres) in a three-game series at ONEOK Field. Opening Night of the season will take place on Thursday, April 6 when the Drillers and Missions will begin play at
Drillers announce the return of Oily the Oiler!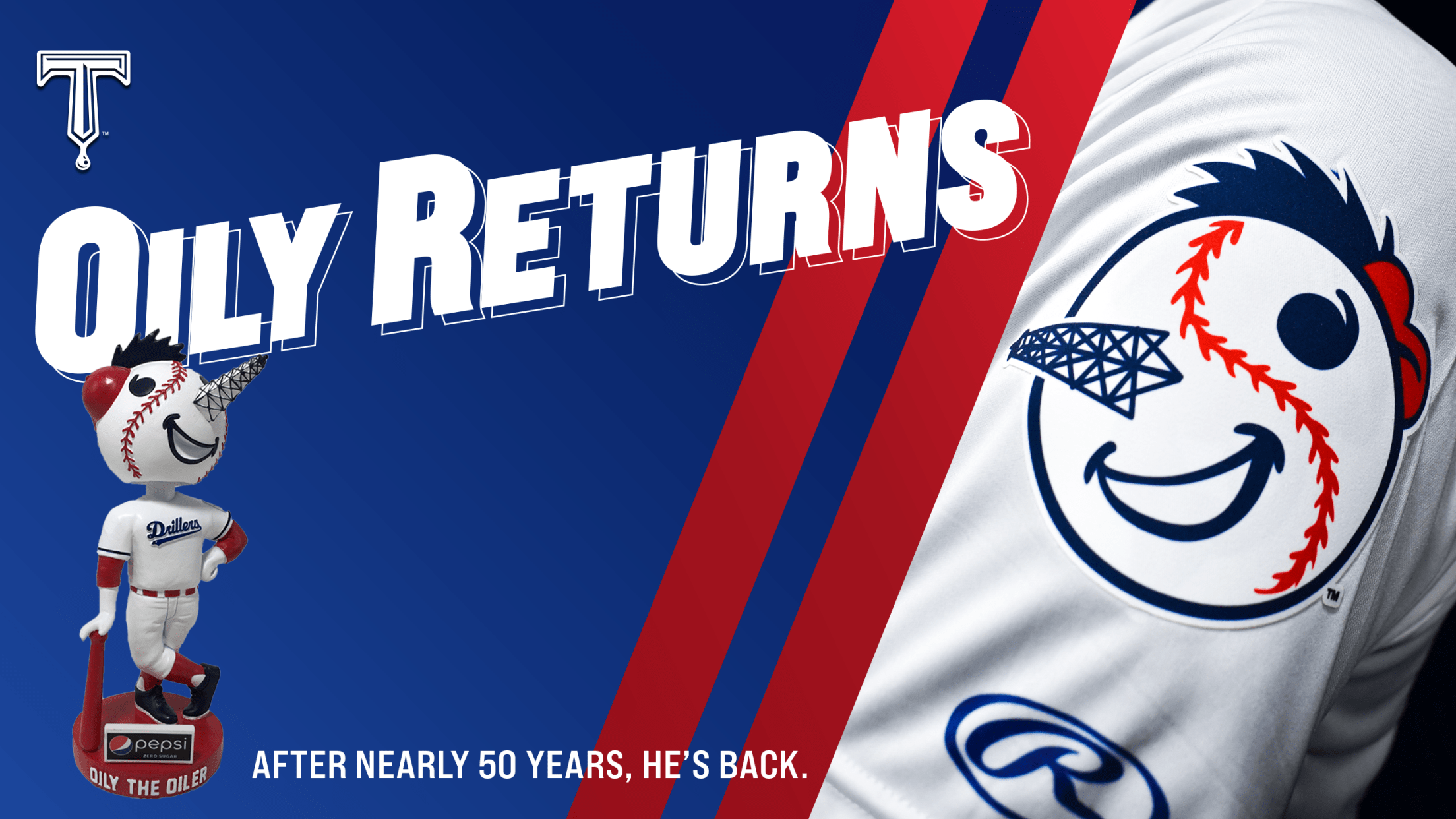 After nearly 50 years, the Tulsa Drillers announced today the return of the iconic Tulsa Oilers character, Oily the Oiler! Originally introduced to Tulsa in 1952, Oily the Oiler was a popular representative of Tulsa's professional baseball team for years.
Drillers Games to Air on AM 1430 The Buzz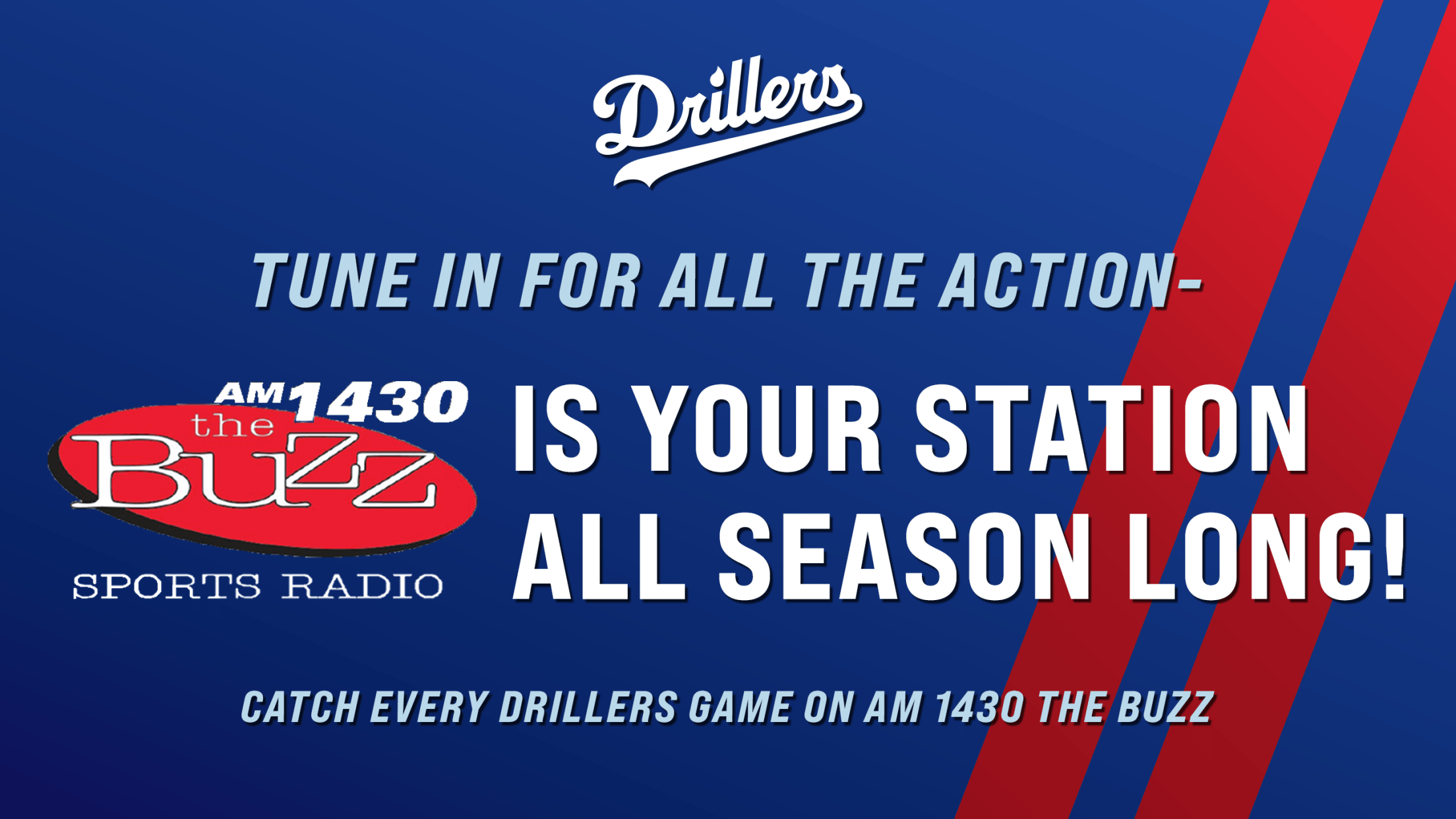 Tulsa Drillers broadcasts will return to the airwaves this season on iHeartMedia's AM 1430, The Buzz with every game of the Drillers 2023 season, both home and away, airing live. The broadcasts will also be available through Minor League Baseball's official First Pitch app, with links through the Drillers listing.
ONEOK Field to Host Black Wall Street Diamond Classic on Saturday
Philander Smith College and Dillard University to play a doubleheader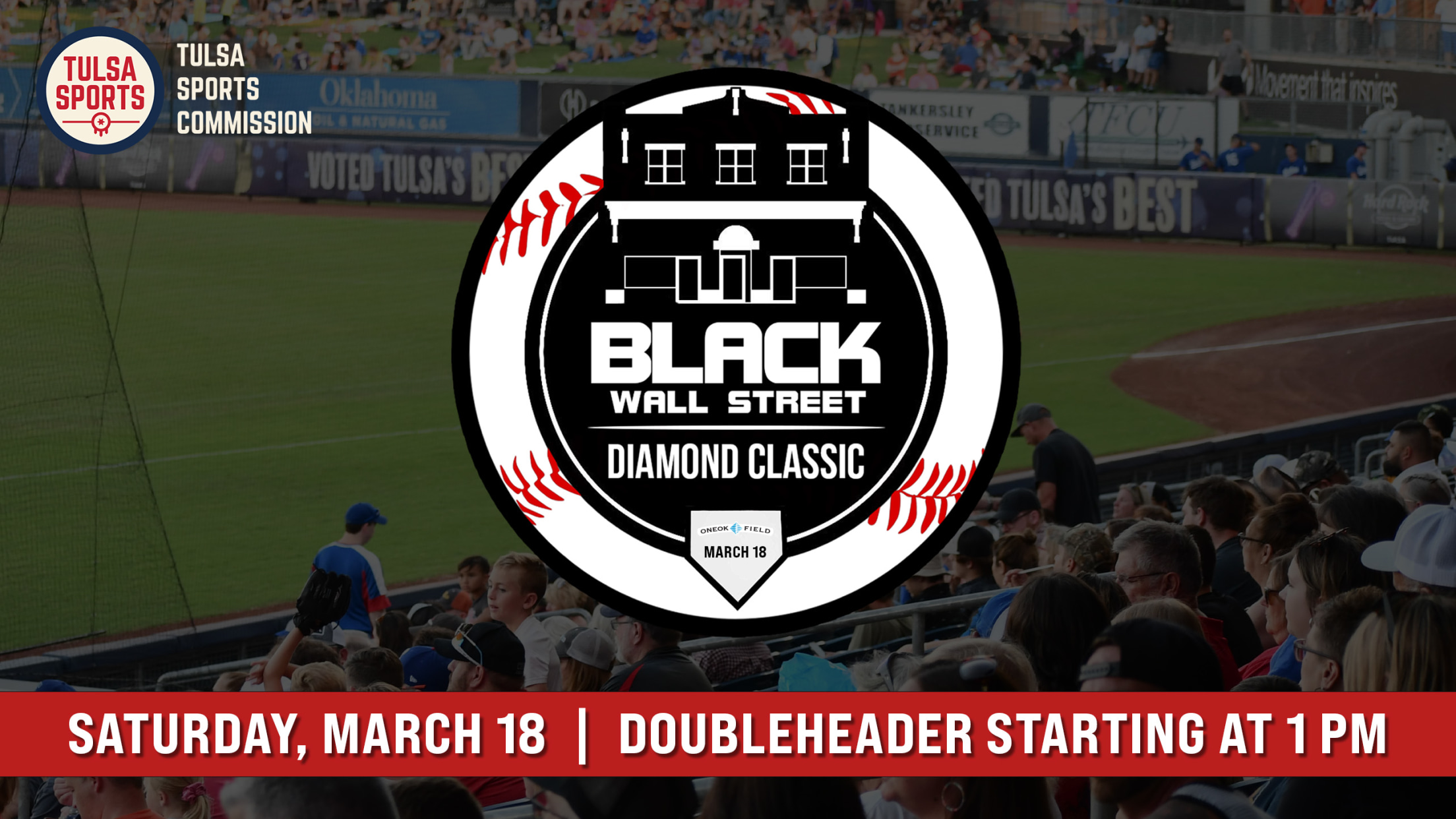 ONEOK Field and the Historic Greenwood District will host a special HBCU baseball event on Saturday when Philander Smith College (Little Rock, AR) and Dillard University (New Orleans, LA) will meet in the first-ever Black Wall Street Diamond Classic. The teams will play a doubleheader with the first game starting
High School Baseball Series Games Scheduled for March 11 Canceled
The Tulsa Drillers have announced that both High School Baseball Series games scheduled for today, March 11, between Oologah vs. Catoosa and Catoosa vs. Edison Prep have been canceled. The cancellations are due to wet infield conditions at ONEOK Field. The Drillers and the high schools will attempt to reschedule
Drillers Announce Promotional Lineup for the 2023 Season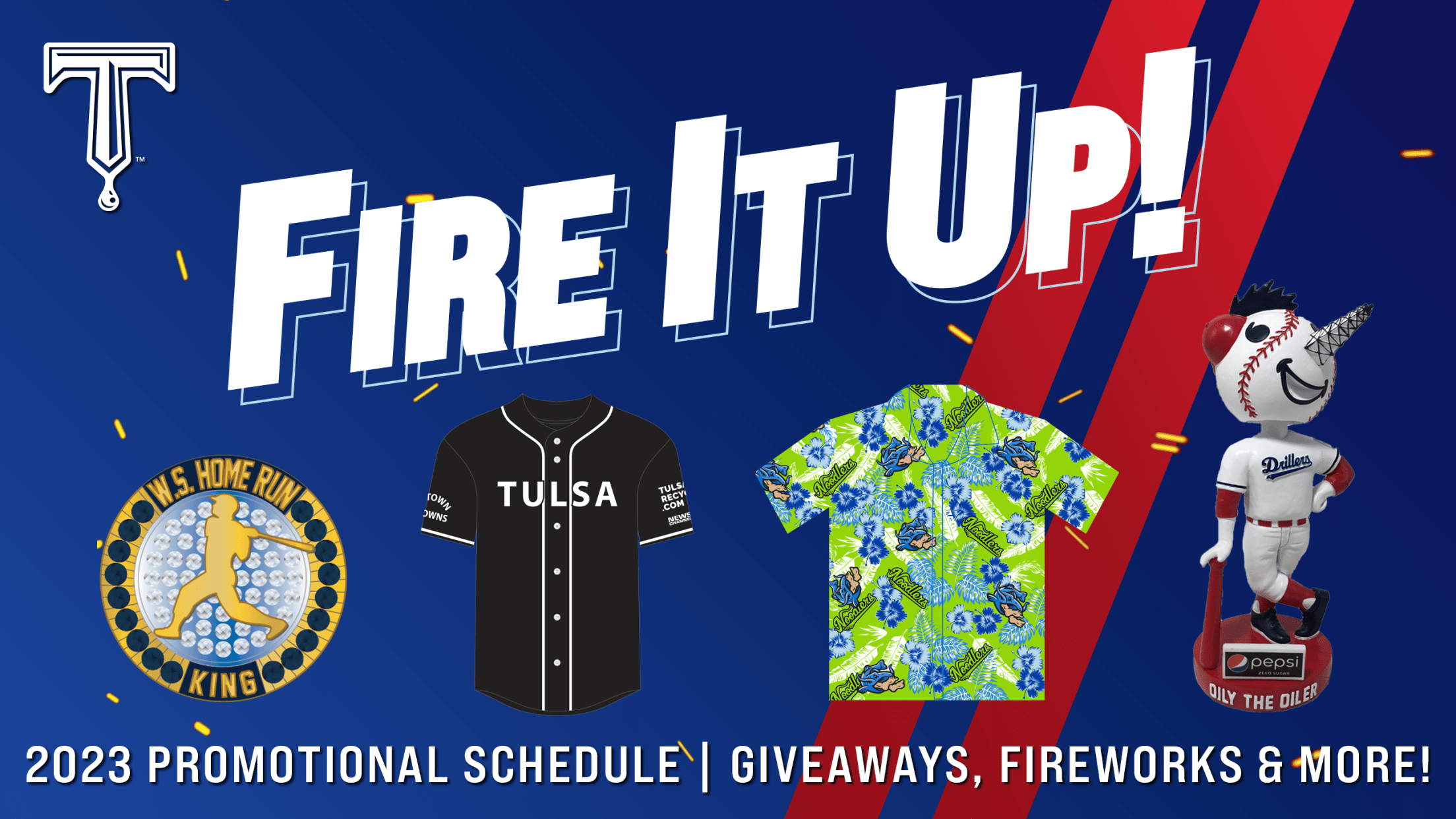 The start of the 2023 season for the Tulsa Drillers is just under one month away, and today the club announced the details on an exciting list of promotions that will accompany the schedule. The promotional lineup is headlined by the most Fireworks Shows ever at ONEOK Field with 23
Tulsa Drillers to Host High School Baseball Series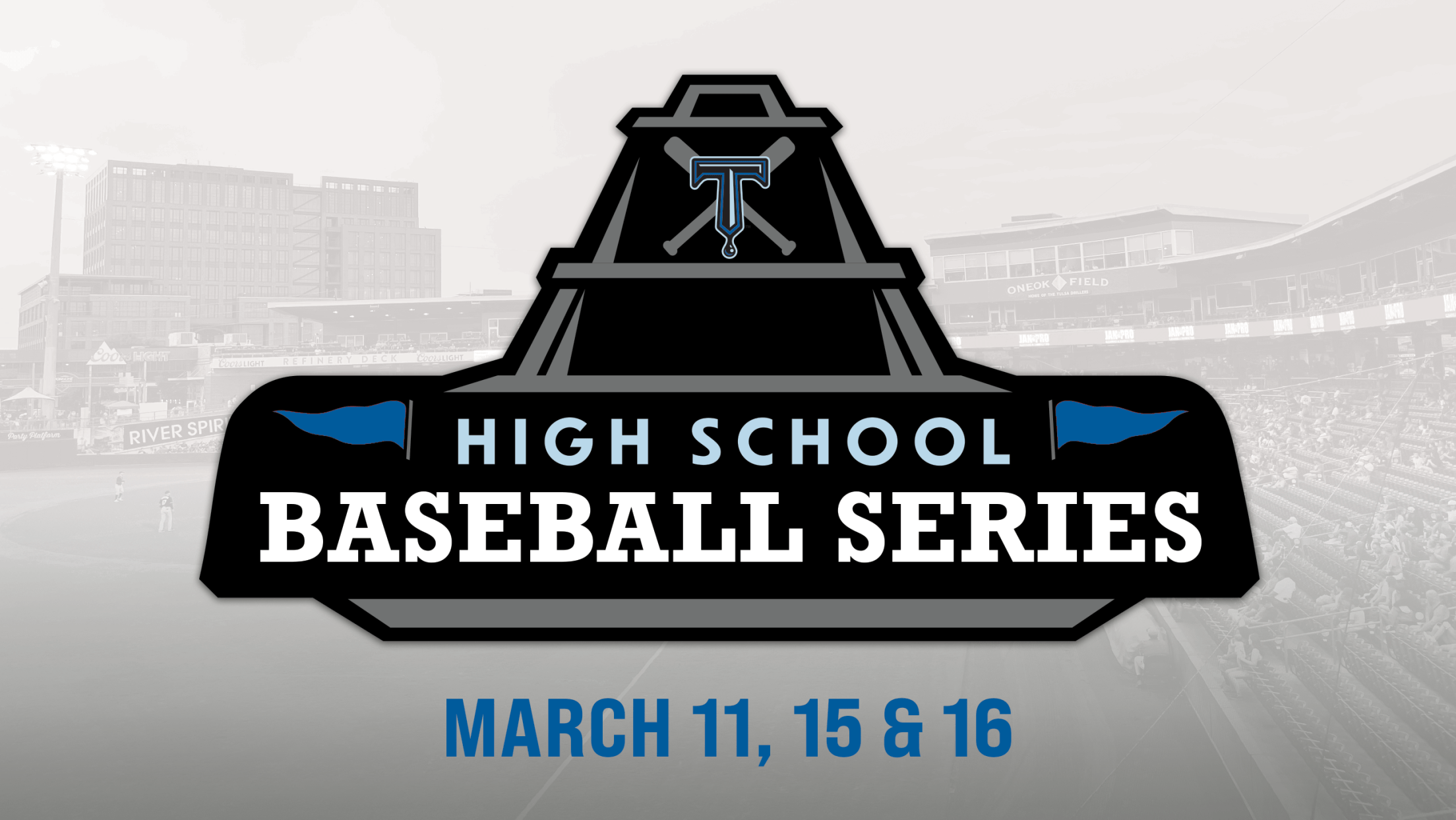 The Tulsa Drillers Double-A baseball team will begin its 2023 season on April 6 at ONEOK Field, but there will be baseball action in downtown Tulsa prior to that game. The Drillers High School Baseball Series will return with games taking place on three different days during the month of
DRILLERSFEST 2023 SCHEDULED FOR MARCH 11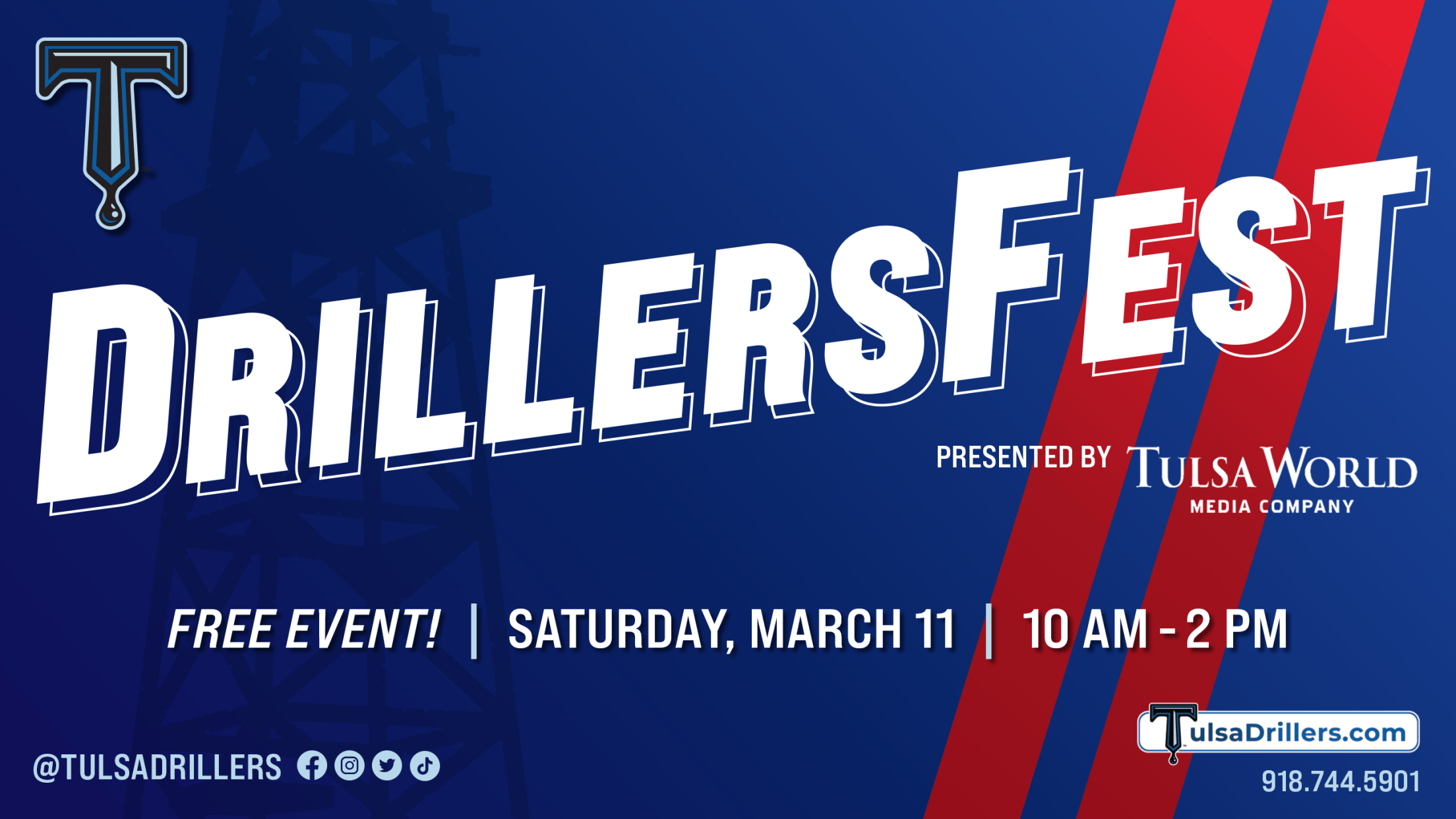 The Tulsa Drillers will host DrillersFest 2023, presented by the Tulsa World Media Company, at ONEOK Field on Saturday, March 11 from 10:00 a.m. until 2:00 p.m. DrillersFest is the team's inaugural event for the upcoming season and will offer all season ticket holders the opportunity to receive information and
Black Wall Street Diamond Classic Coming to ONEOK Field March 18
Philander Smith College and Dillard University to bring collegiate baseball to downtown Tulsa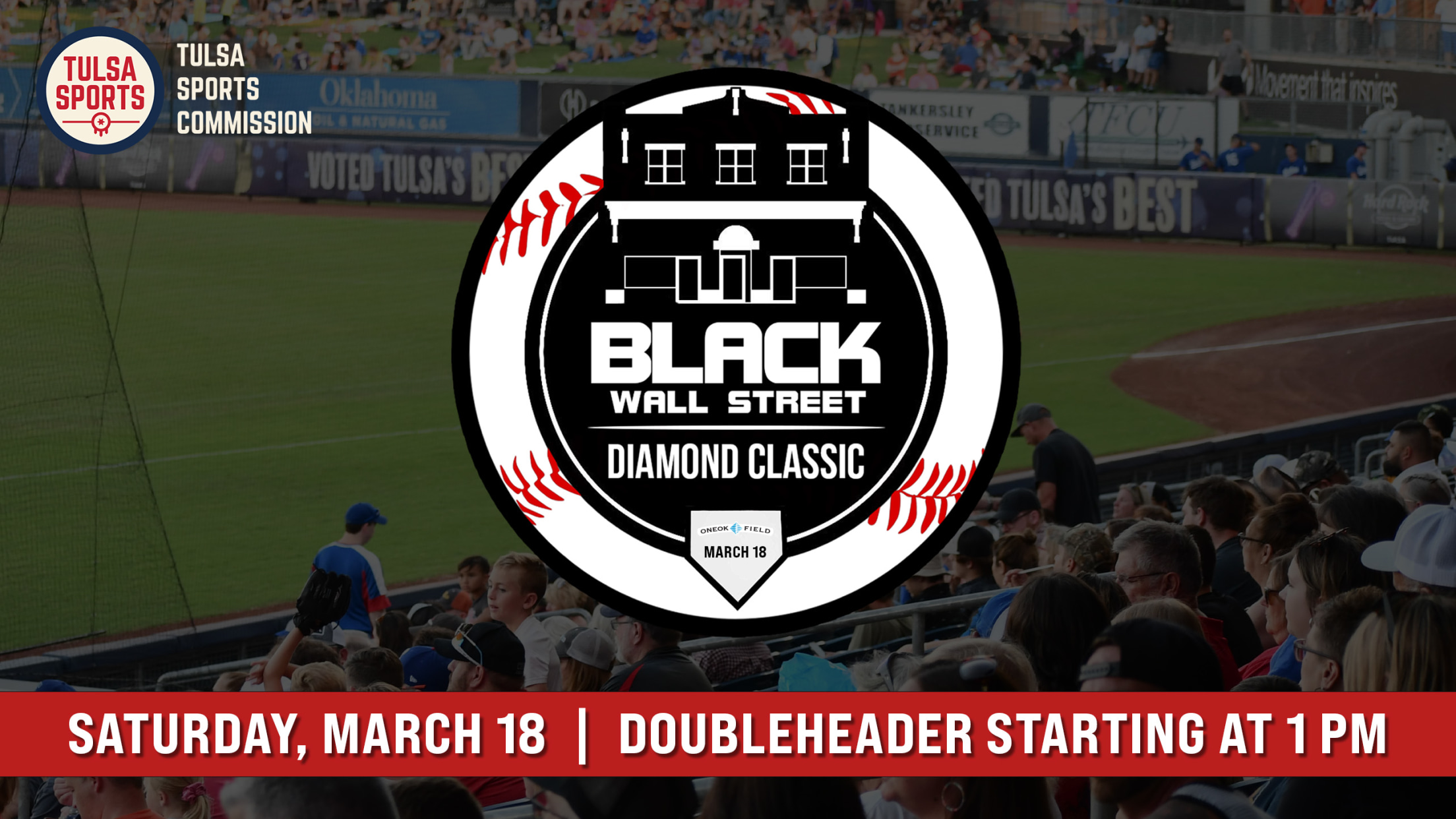 ONEOK Field and the Historic Greenwood District will host a special HBCU baseball event in Tulsa this spring. The Tulsa Drillers announced today that Philander Smith College and Dillard University will meet in the first-ever Black Wall Street Diamond Classic. The teams will play a doubleheader at ONEOK Field on
Hennessey Headlines Drillers 2023 Coaching Staff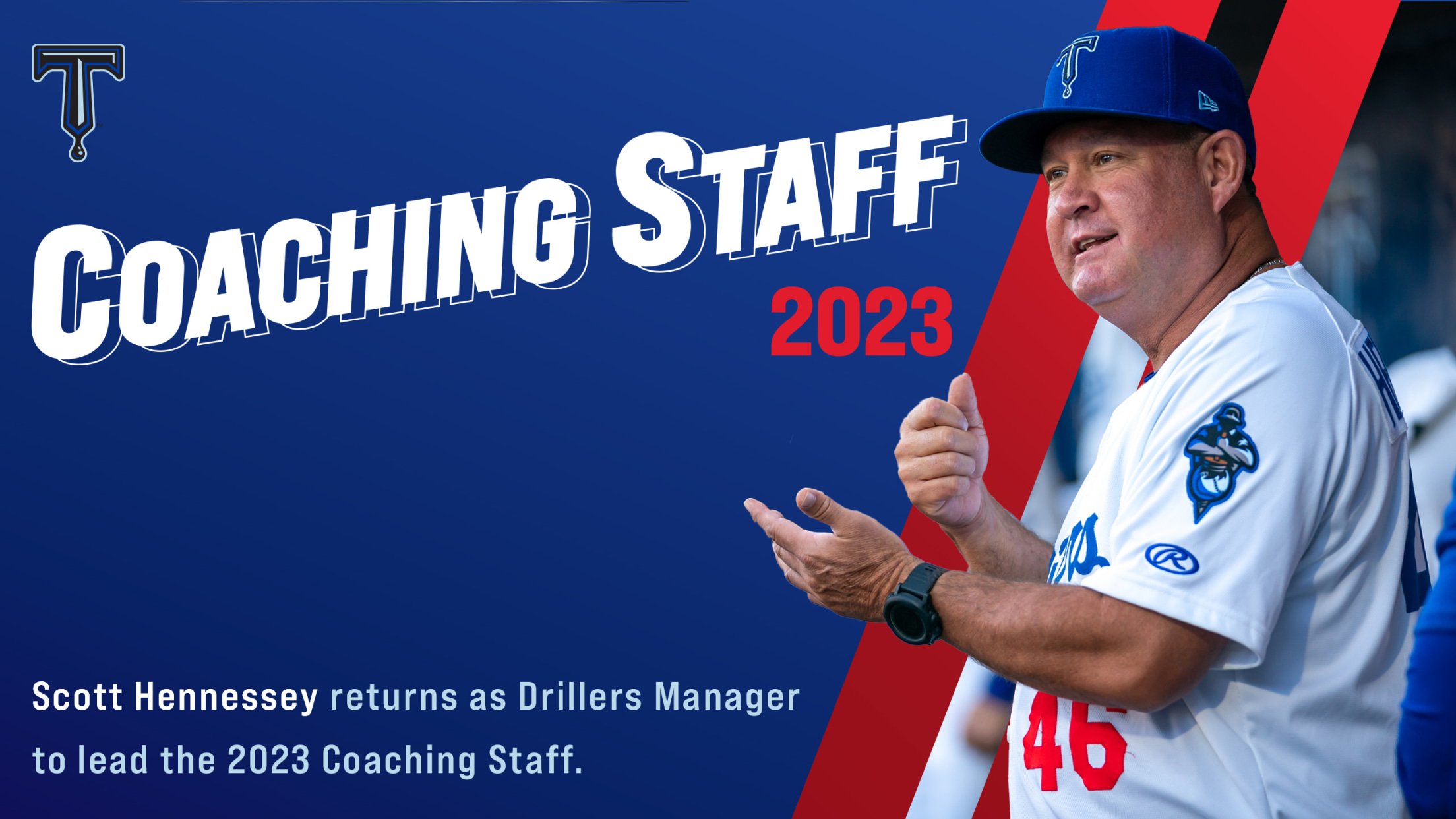 The Tulsa Drillers are just under two months from the first pitch of the 2023 season at ONEOK Field. As preparations continue, one piece of the puzzle has been put into place as the Drillers, in conjunction with the Los Angeles Dodgers, announced today that Scott Hennessey will return as
Drillers to Host Job Fair Tuesday, February 7 at ONEOK Field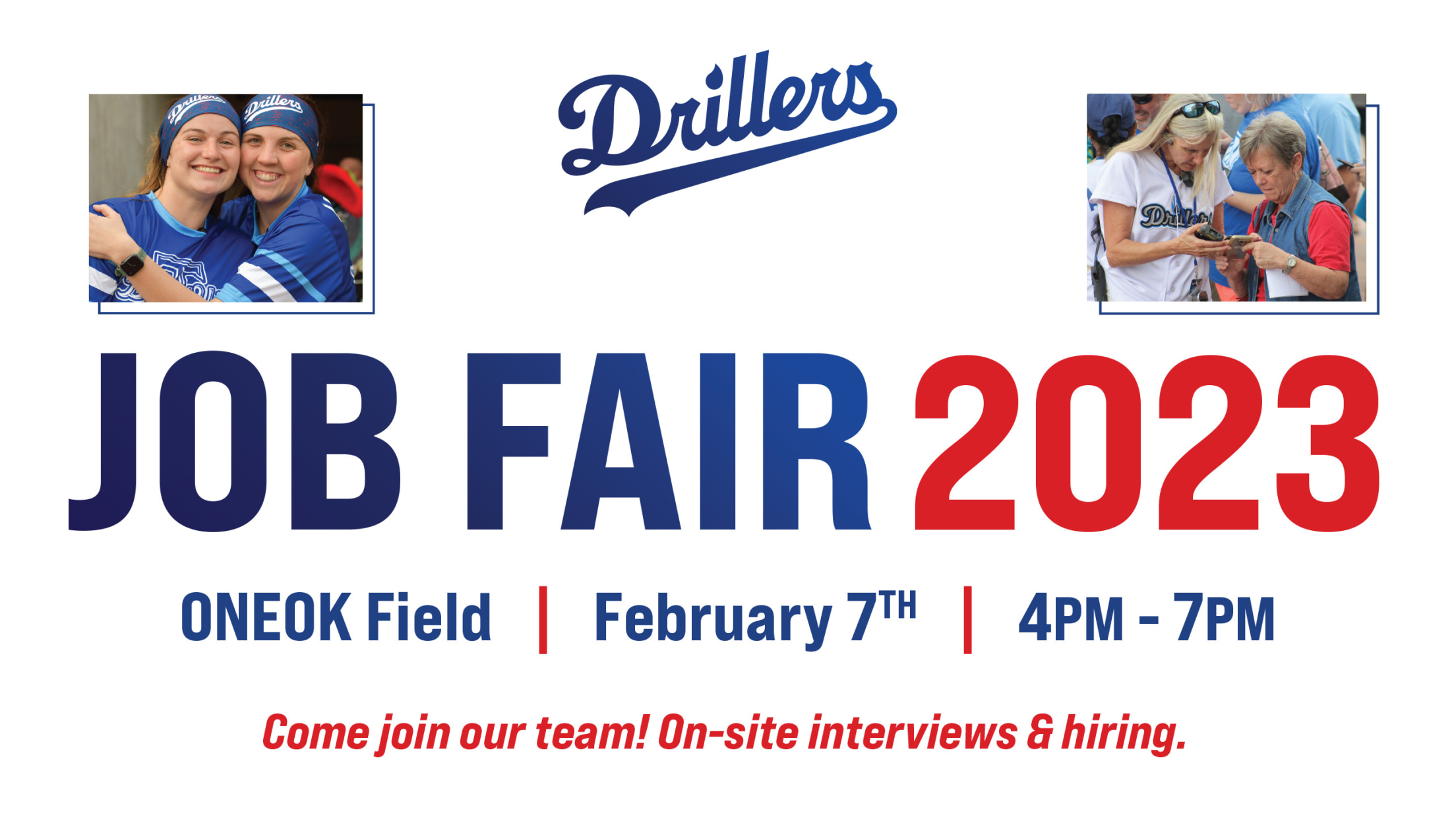 The time has finally arrived! This coming Tuesday, February 7, the Drillers will be hosting their annual Job Fair. Do you know someone who is looking for a fun, part-time summer job? Would you like to earn some extra money by working evenings & weekends at one of the coolest
Drillers to Begin Scholarship Program for Area Athletes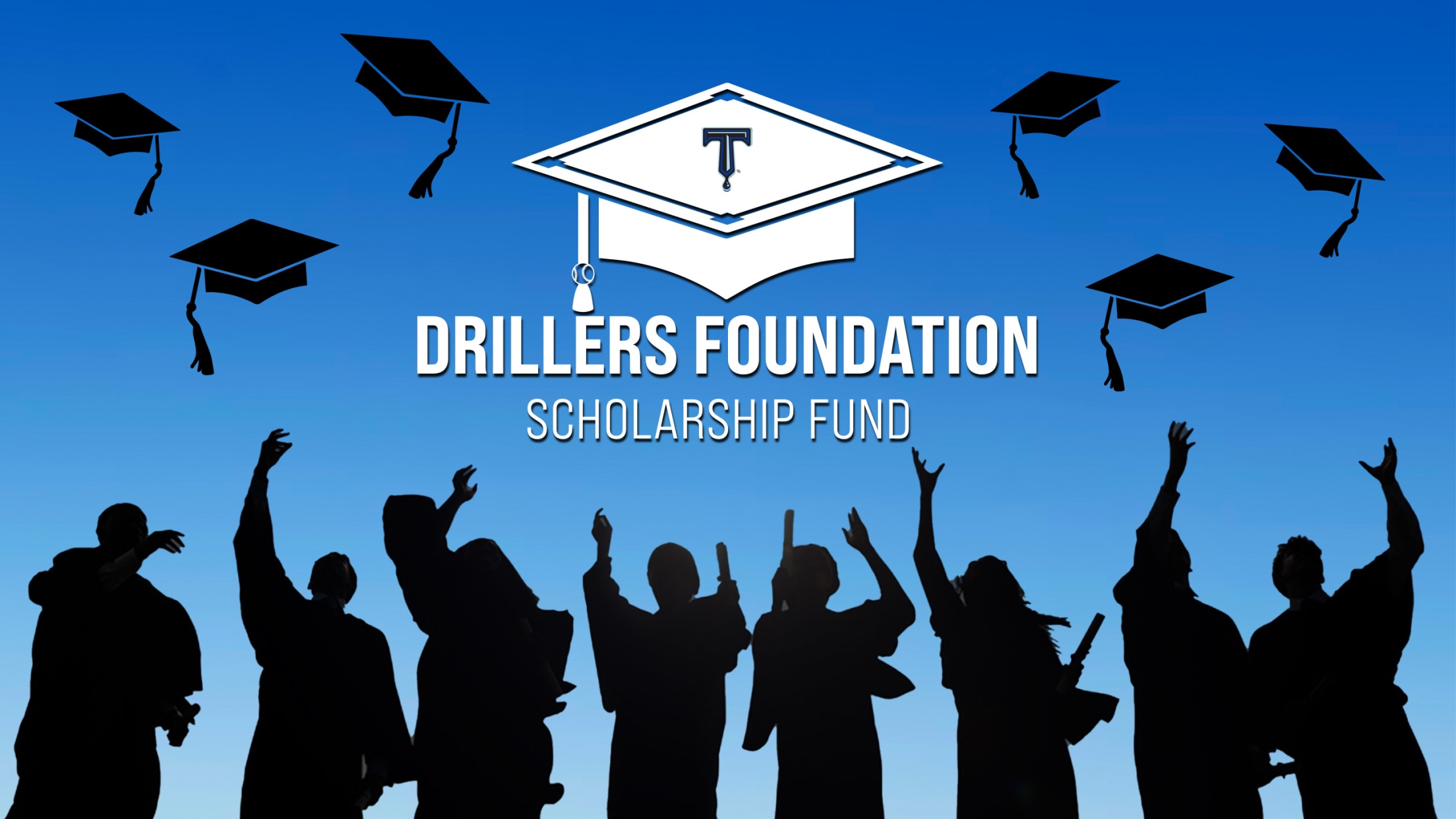 The Tulsa Drillers today announced the creation of the Tulsa Drillers Foundation Higher Education Scholarship Awards. The awards will be presented annually to a pair of high school seniors who participated in at least two seasons of high school baseball or softball. The awards will consist of $2,000 scholarships for
Drillers Announce Start Times for the 2023 Season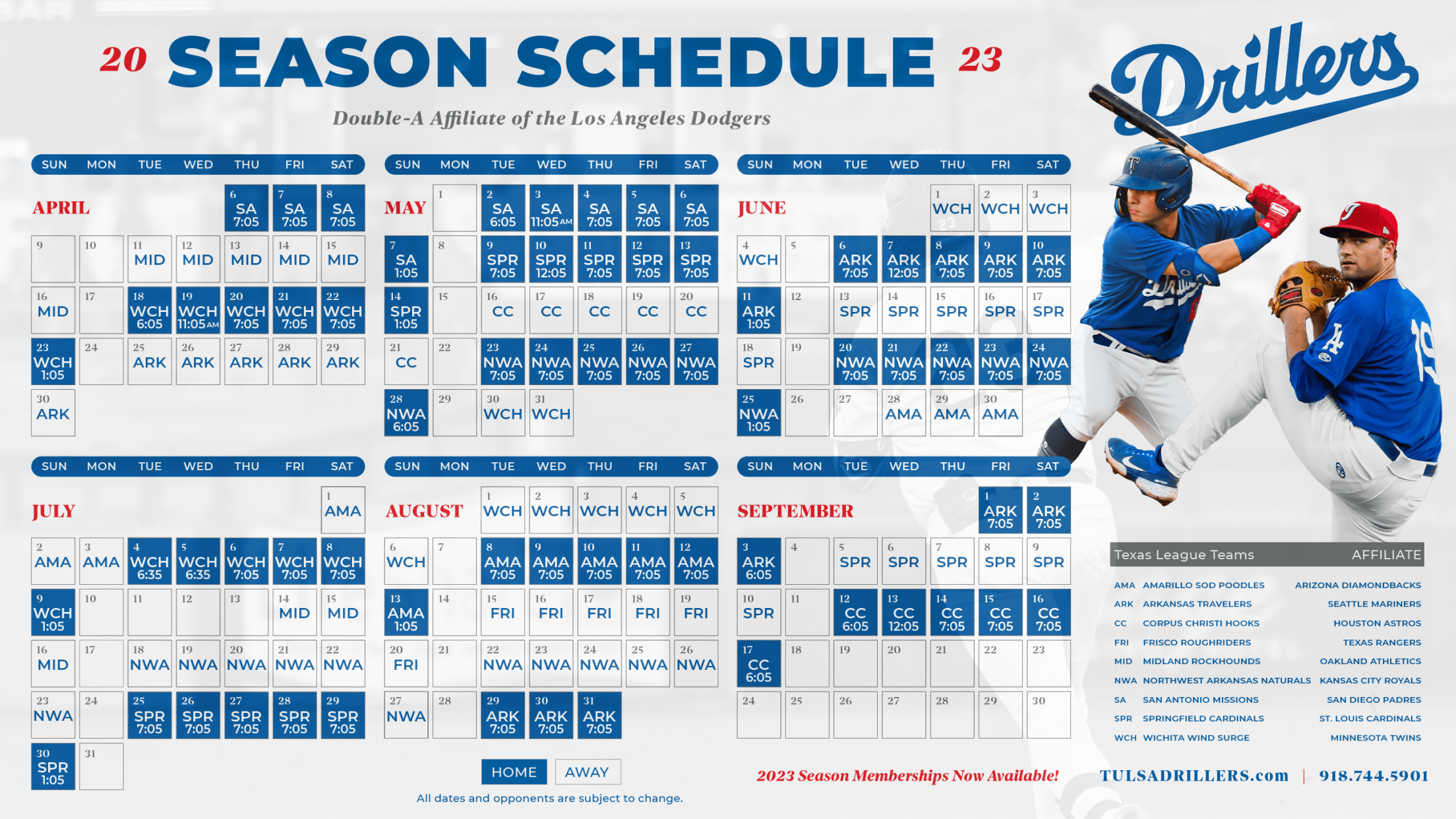 The Tulsa Drillers have announced start times for their home games during the 2023 season, and they will be very similar to this past season. The standard starting time at ONEOK Field will remain at 7:05 p.m. for most games played Tuesdays through Saturdays. The majority of Sunday home games
Tulsa's Guffey Named Athletic Trainer of the Year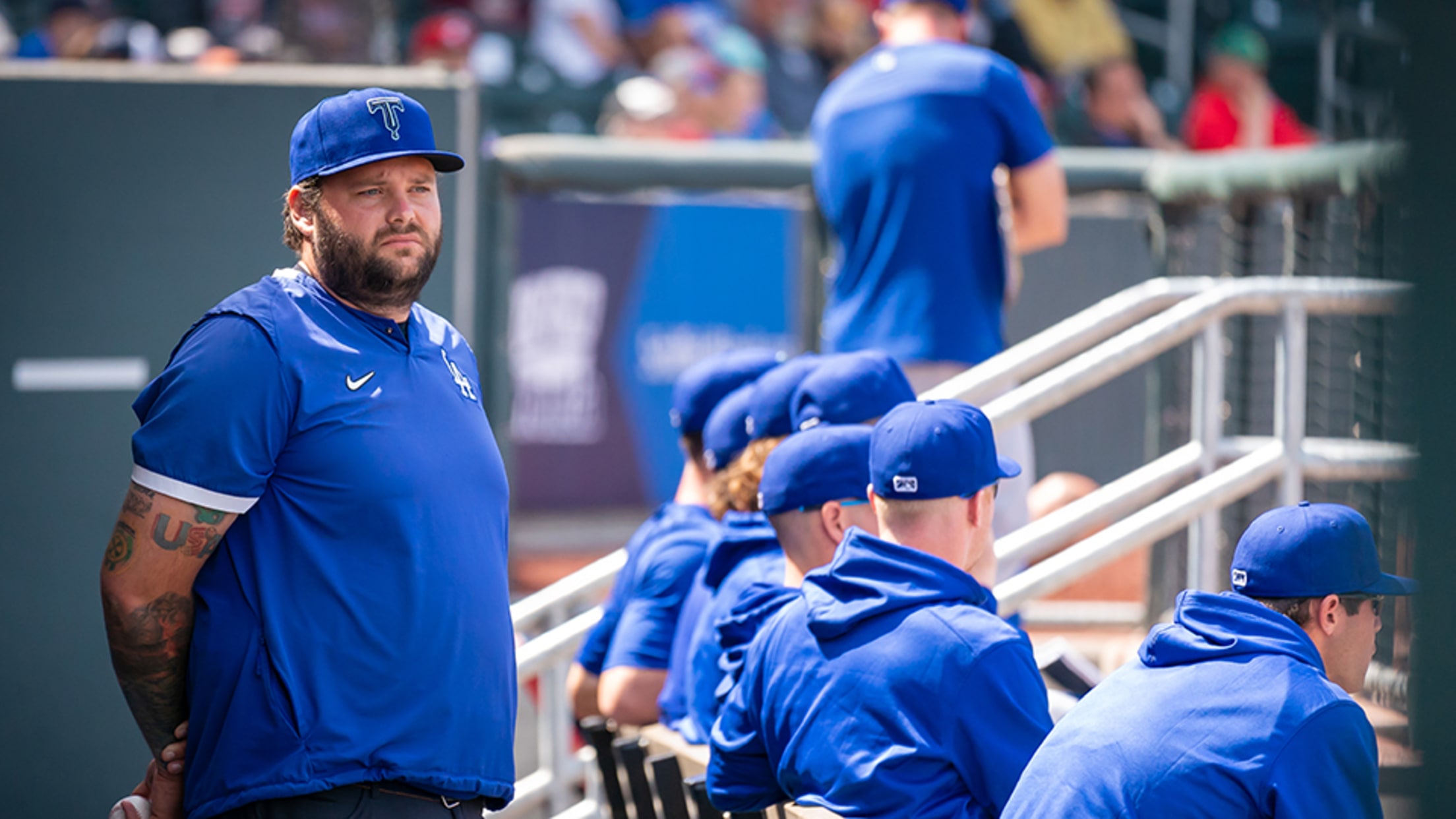 Tulsa Drillers athletic trainer Jesse Guffey has been named the 2022 Texas League Athletic Trainer of the Year by the Professional Baseball Athletic Trainers Society (PBATS). Guffey was in his first season with the Drillers. The PBATS Minor League Baseball awards are given annually to one member of each of
Bringing Banana Ball: World's Fastest and Most Outrageous Game of Baseball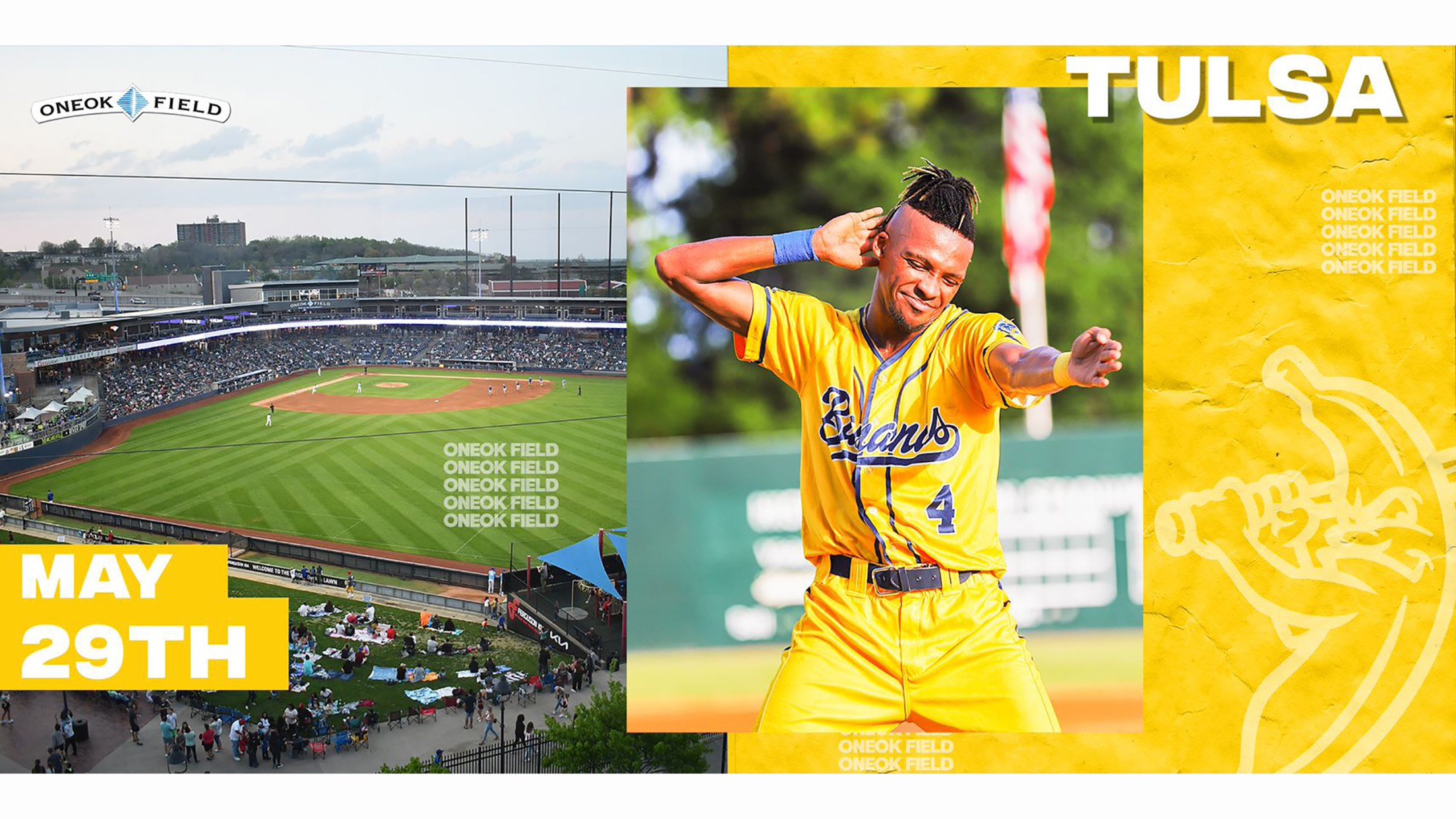 The Savannah Bananas are bringing their "World Famous Baseball Circus" to ONEOK Field on May 29, 2023. Affectionately referred to as 'The Greatest Show in Sports" by ESPN with an atmosphere that would make most MLB teams jealous (Sports Illustrated), the Bananas have reimagined the baseball experience and the game
Drillers Season Ends in Game Two Loss to Wind Surge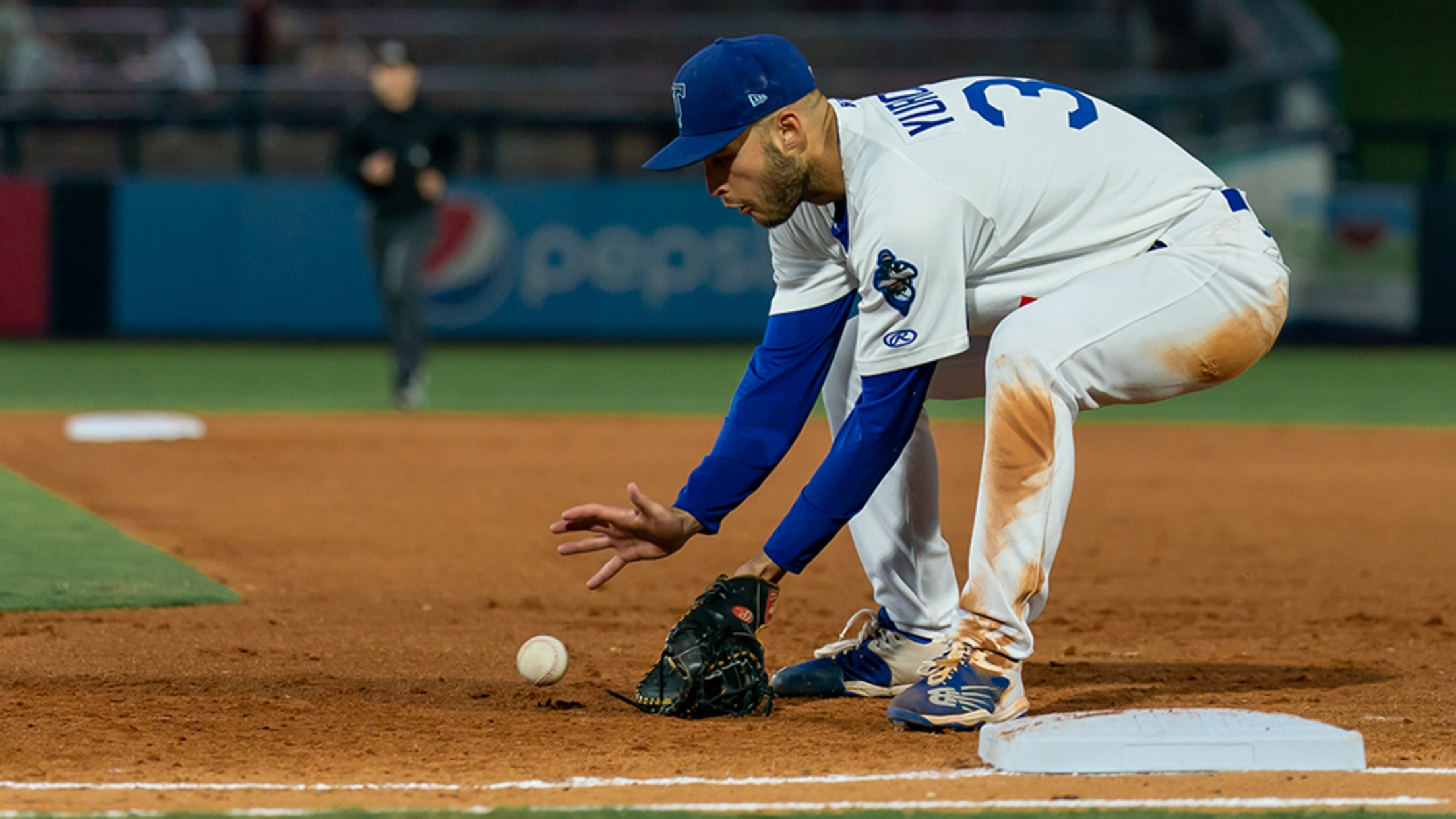 TULSA, OK – The Tulsa Drillers 2022 season came to an end Thursday night with an 11-1 loss to Wichita at ONEOK Field. The victory gave the Wind Surge a two-game sweep of the best-of-three North Division playoff series. While the result ended the Drillers season, Wichita will advance to
High School Baseball Returning to ONEOK Field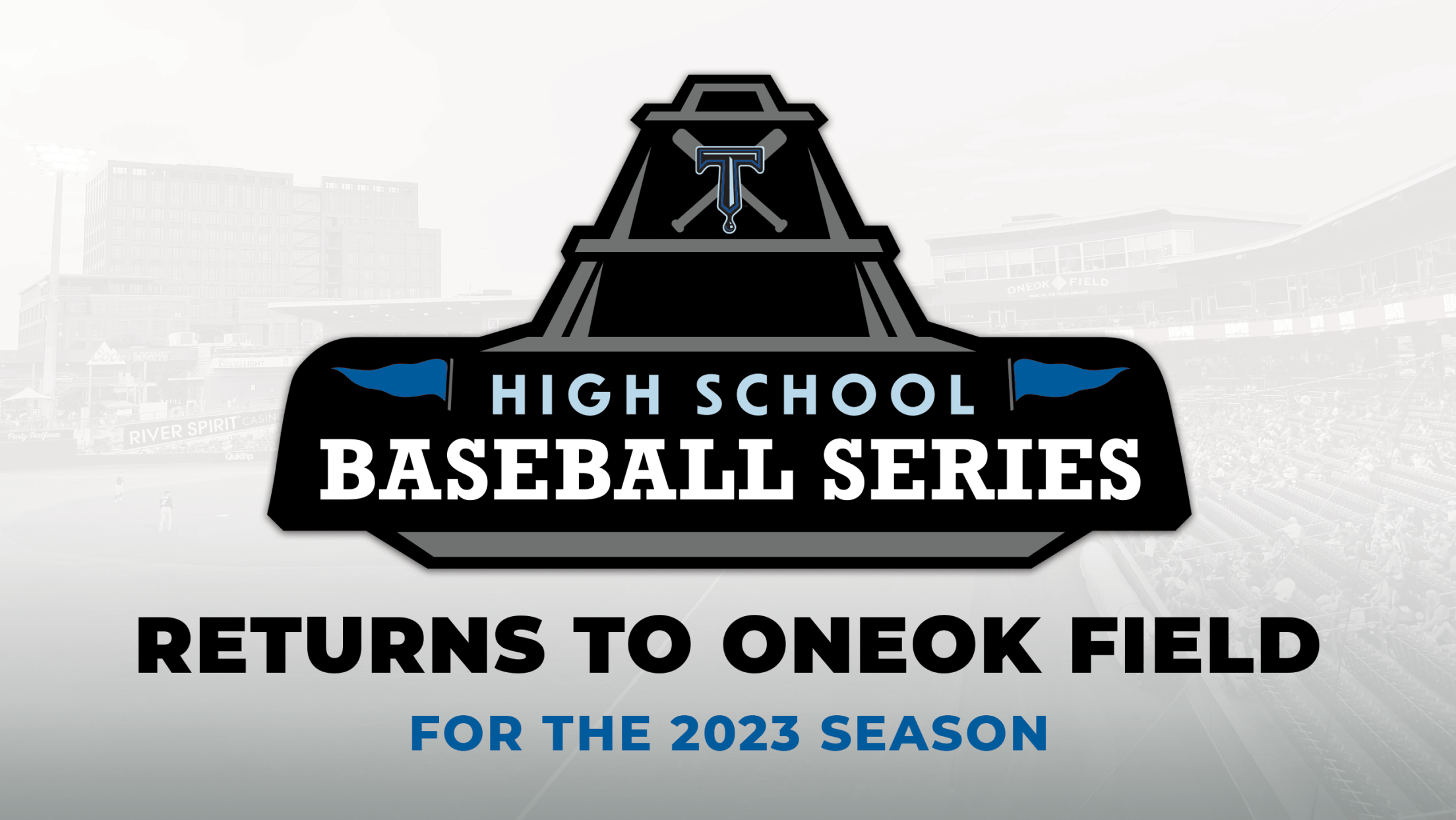 High school baseball is returning to ONEOK Field in 2023. The Tulsa Drillers announced today that for the third straight year the club would host a series of high school games at the downtown stadium. The games are scheduled to be held from March 10-16, during the week of spring
Drillers Suffer Tough Loss in Playoff Opener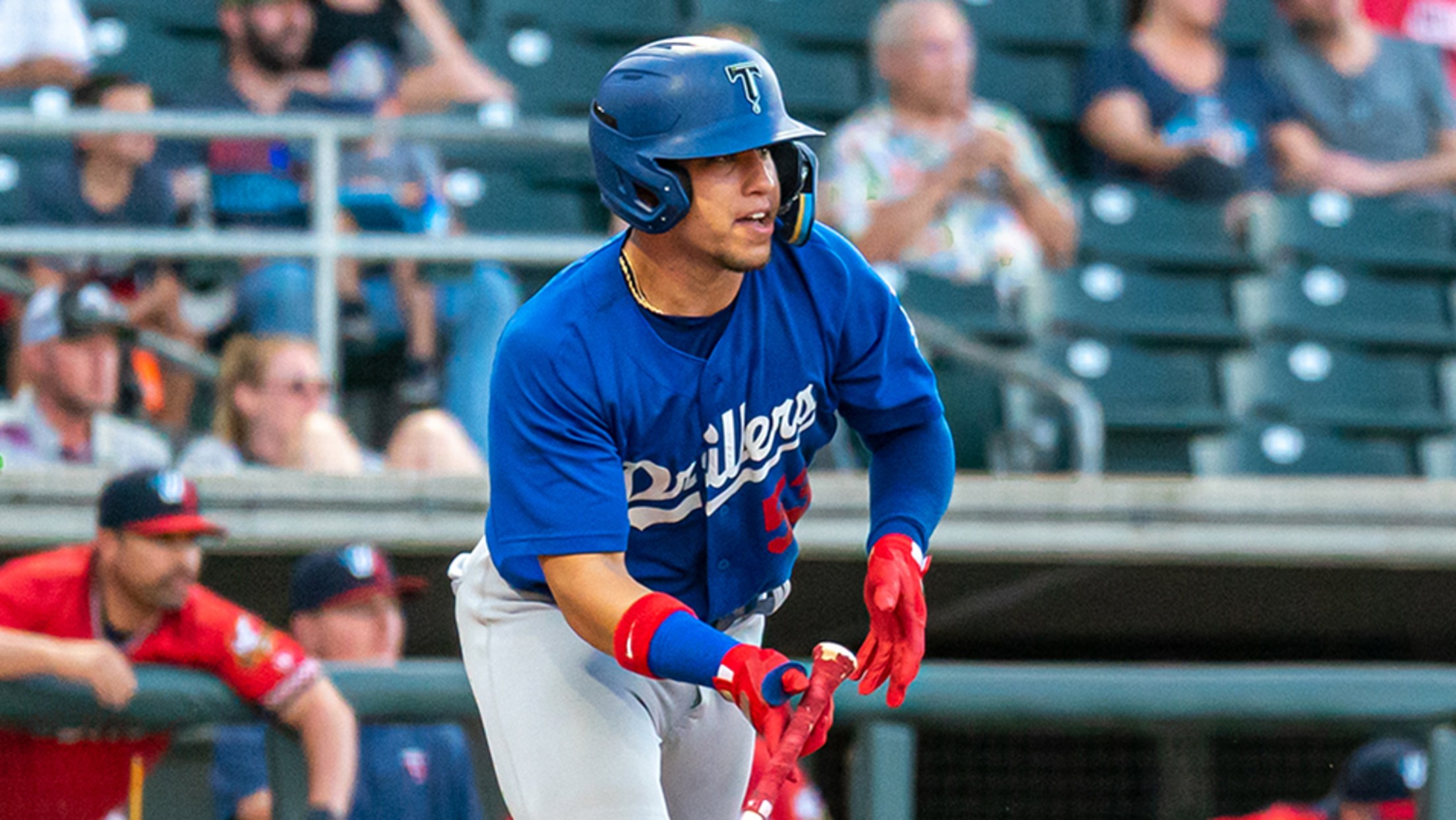 WICHITA, KS – After one postseason game, the Tulsa Drillers task for advancing in the 2022 Texas League playoffs has been simplified. Following a 17-1 loss Tuesday night to Wichita in game one of the North Division Series, the Drillers will need to win two consecutive games in order to
Drillers and Wichita to Meet in First Round of Playoffs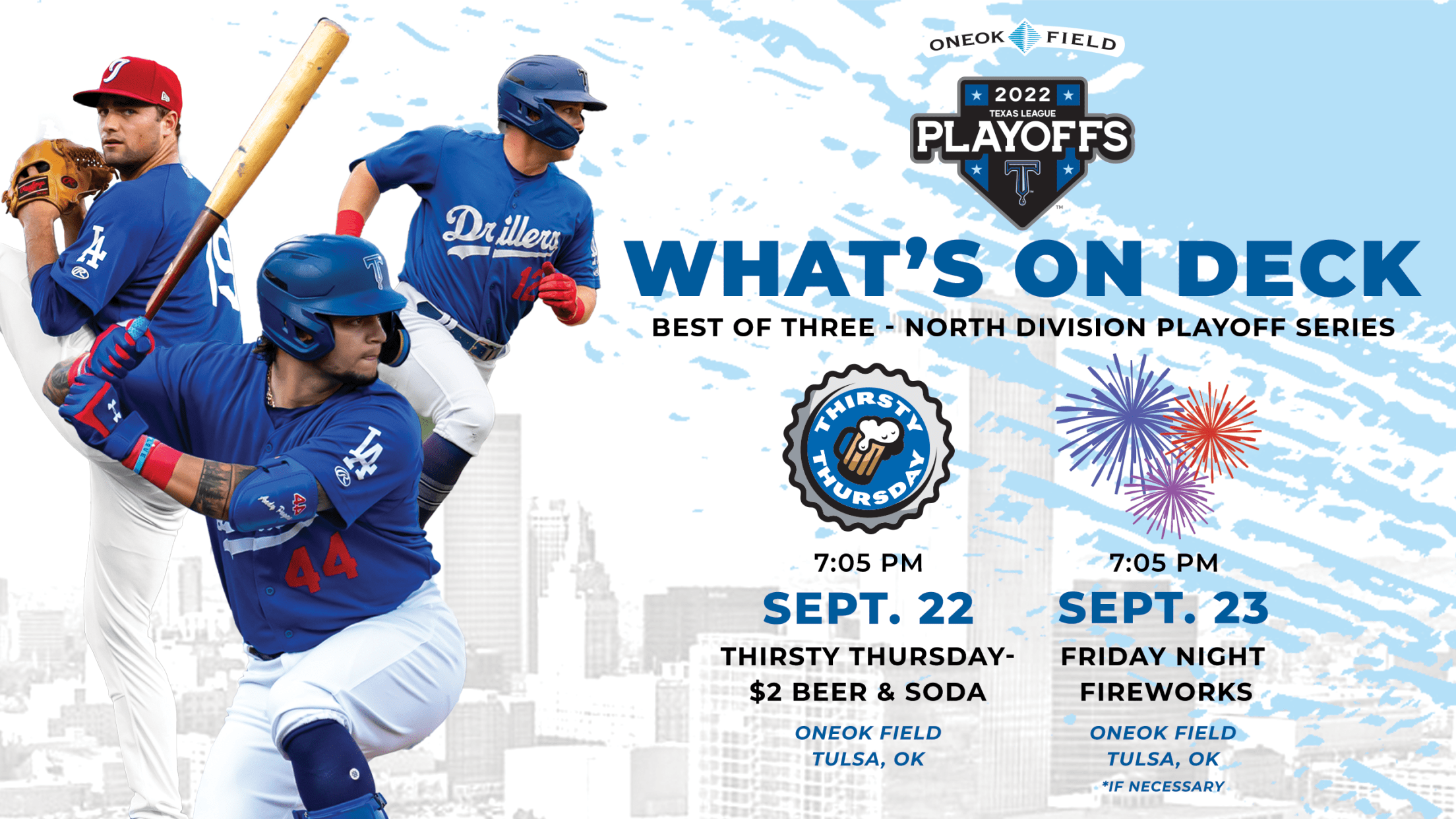 The Tulsa Drillers clinched their spot in the 2022 playoffs nearly three months ago, and on Tuesday night in Wichita, they will finally begin their quest for the franchise's fifth Texas League Championship. The Drillers will face the Wind Surge in the best-of-three North Division Playoff Series, with the winner
Drillers Beaten by Cards in Regular Season Finale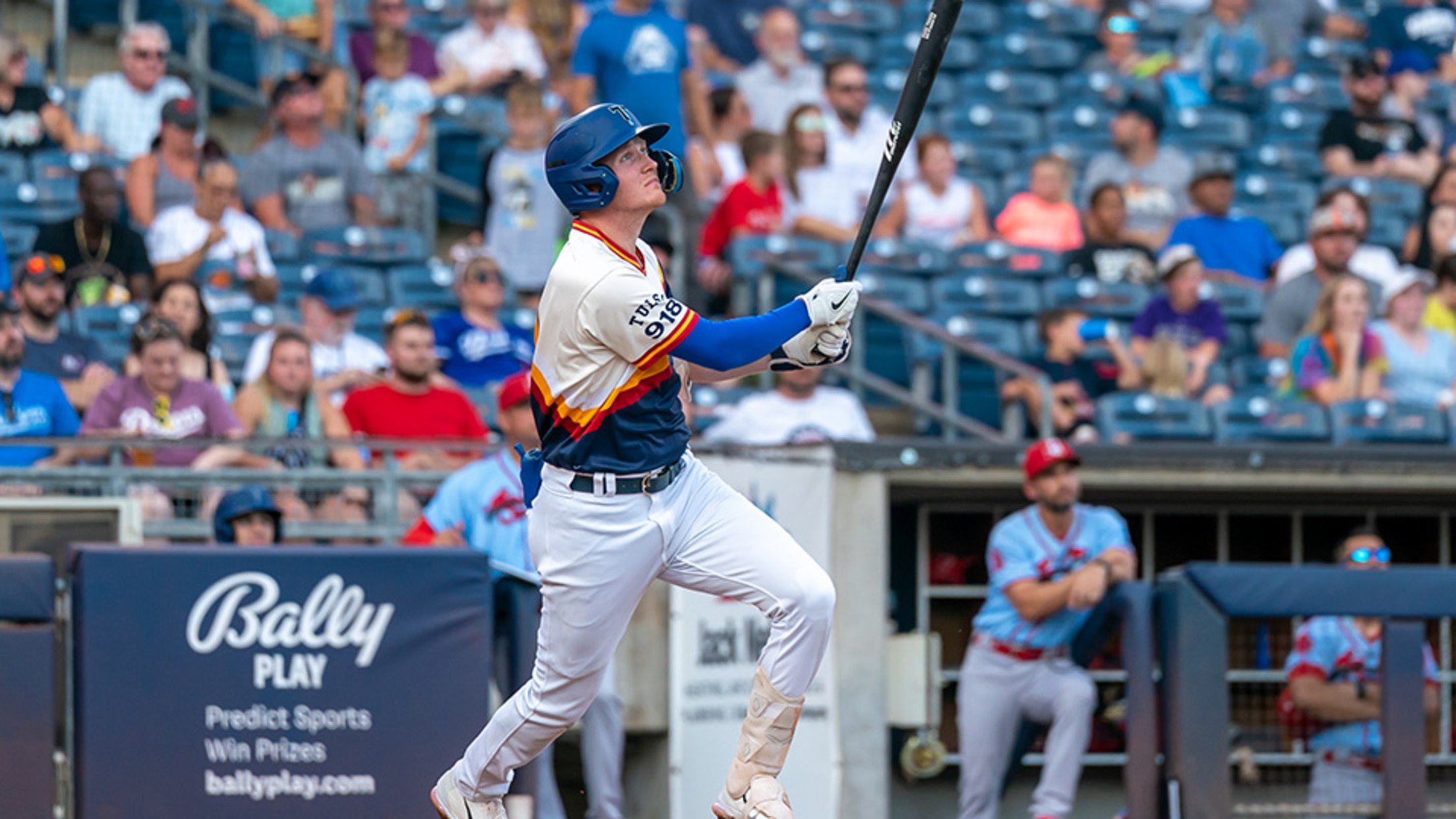 TULSA, OK – The Tulsa Drillers played the final game of the 2022 regular season on Sunday night at ONEOK Field, and they fell victim to the Springfield Cardinals and highly-touted prospect Jordan Walker. Walker delivered the biggest hit of the finale, belting a three-run homer that overturned an initial
Drillers Snap Skid in 7-3 Saturday Win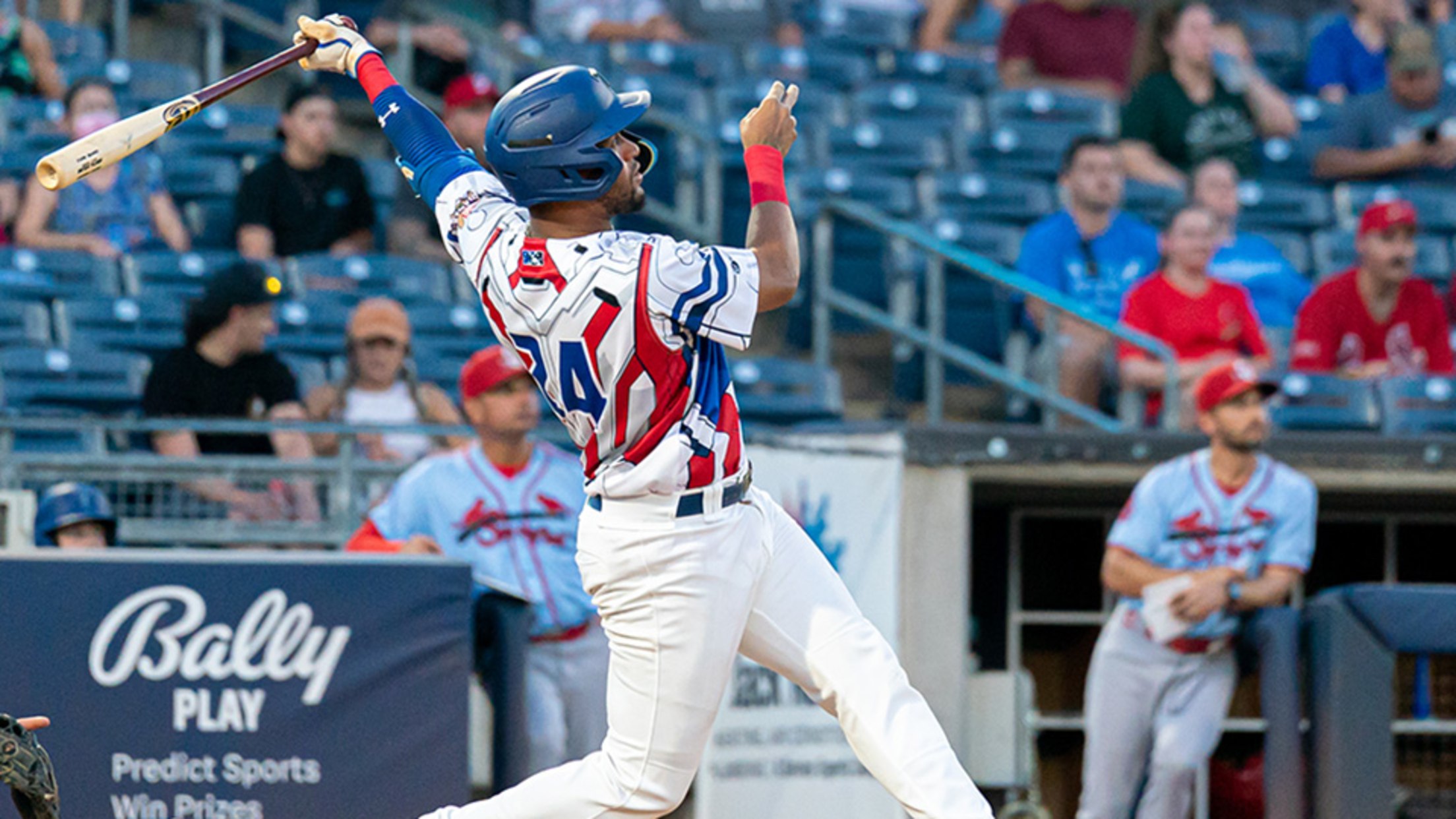 TULSA, OK – On his 26th birthday, Tulsa Drillers first baseman Justin Yurchak had a game to remember. Yurchak earned three hits and was responsible for three of the Drillers runs in a 7-3 win over the Springfield Cardinals on Saturday night at ONEOK Field. The win snapped Tulsa's three-game
Drillers Fall to Cardinals In Ten Innings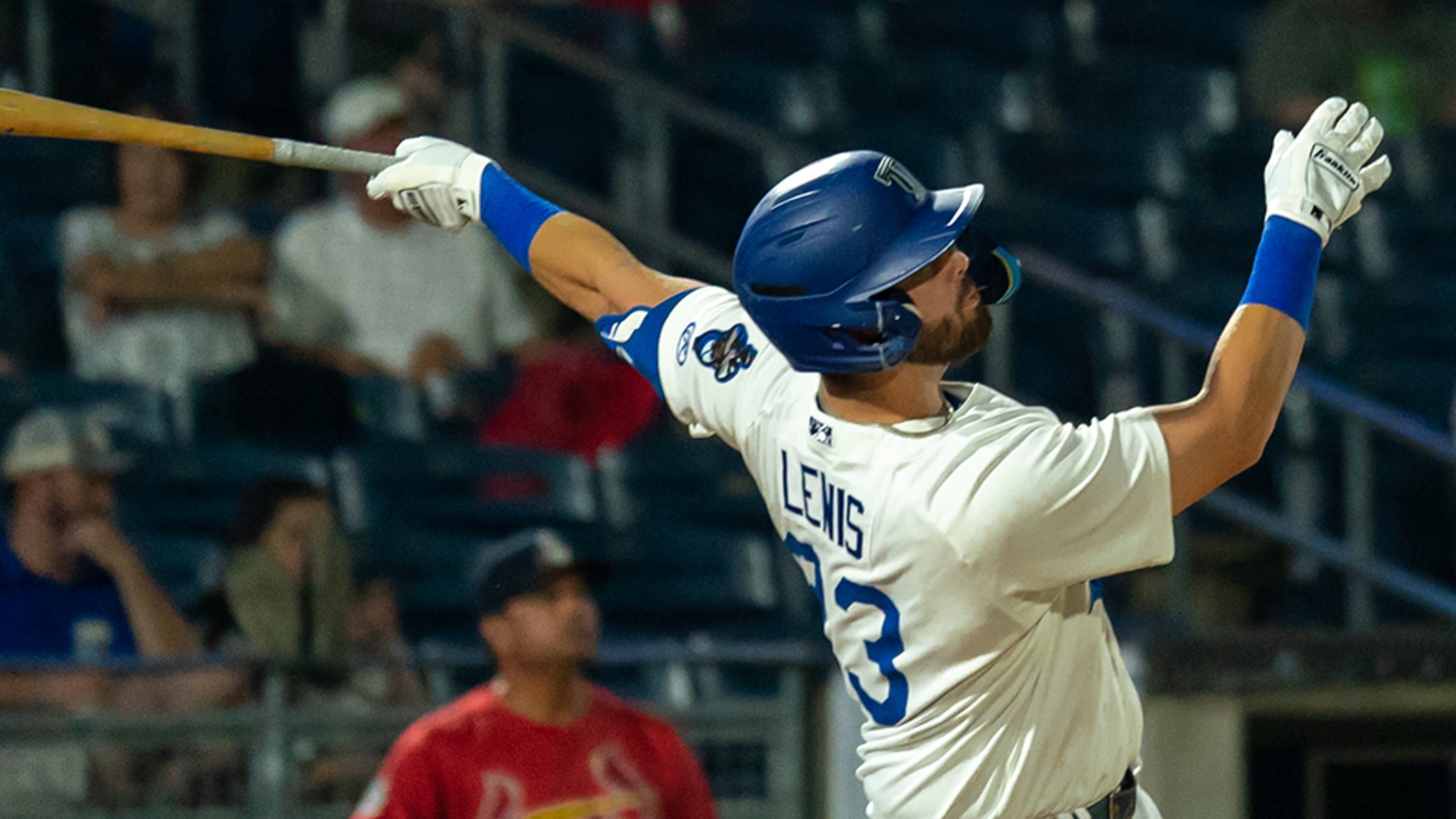 TULSA, OK – The Tulsa Drillers brought some excitement to Friday night's contest against the Springfield Cardinals at ONEOK Field. Trailing 4-2 in the seventh inning, Brandon Lewis delivered a big, go-ahead home run that gave Tulsa a 5-4 lead. However, the Drillers lead would not last as the Cardinals
Drillers Shut Out by Graceffo and Cardinals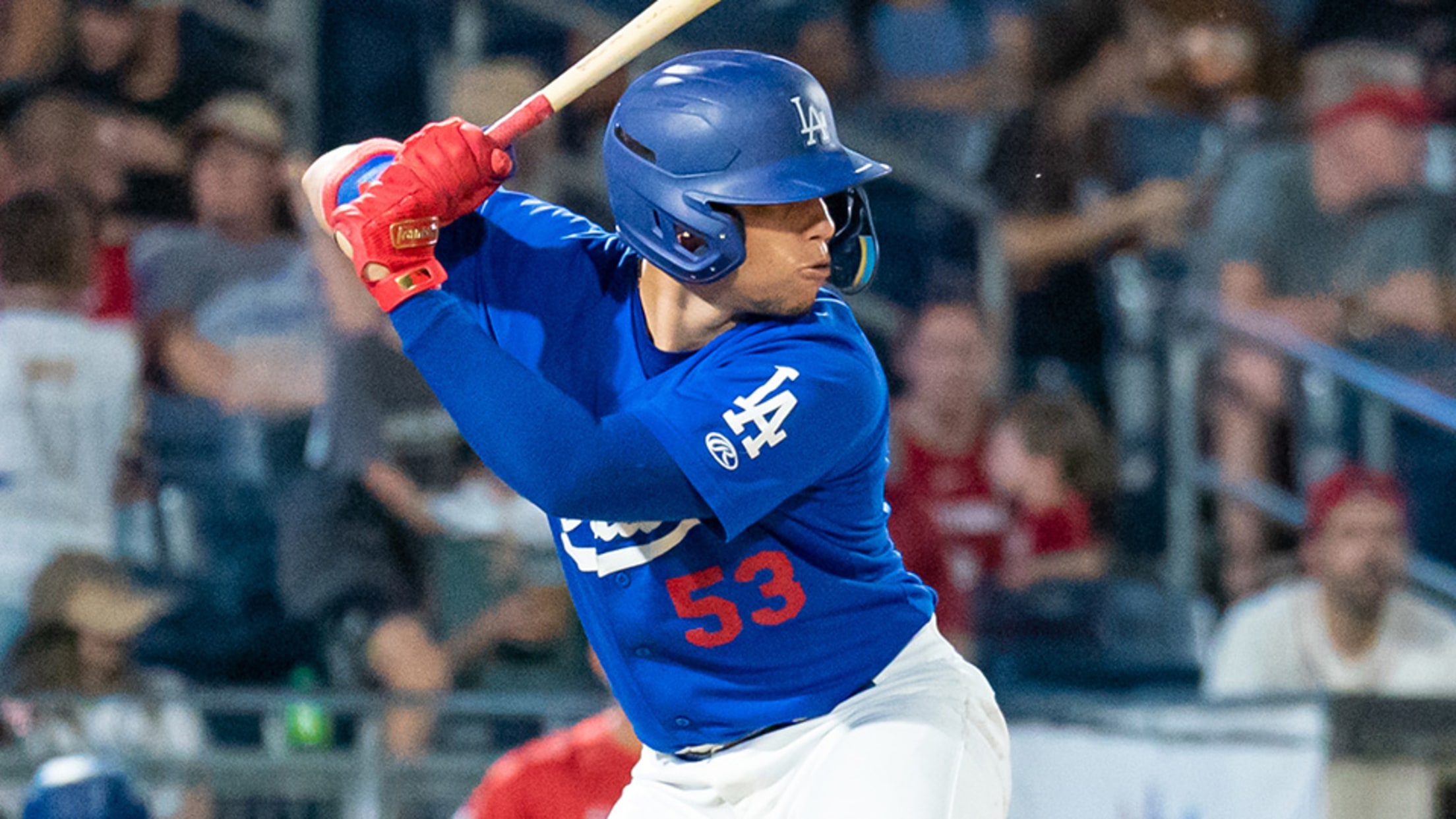 TULSA, OK – The Tulsa Drillers dropped their second straight game to Springfield Thursday night at ONEOK Field. The Cardinals took control early, scoring two runs in the top of the first inning, while the Drillers struggled to get anything going offensively against Gordon Graceffo. The Springfield starting pitcher retired
Drillers Announce 2023 Schedule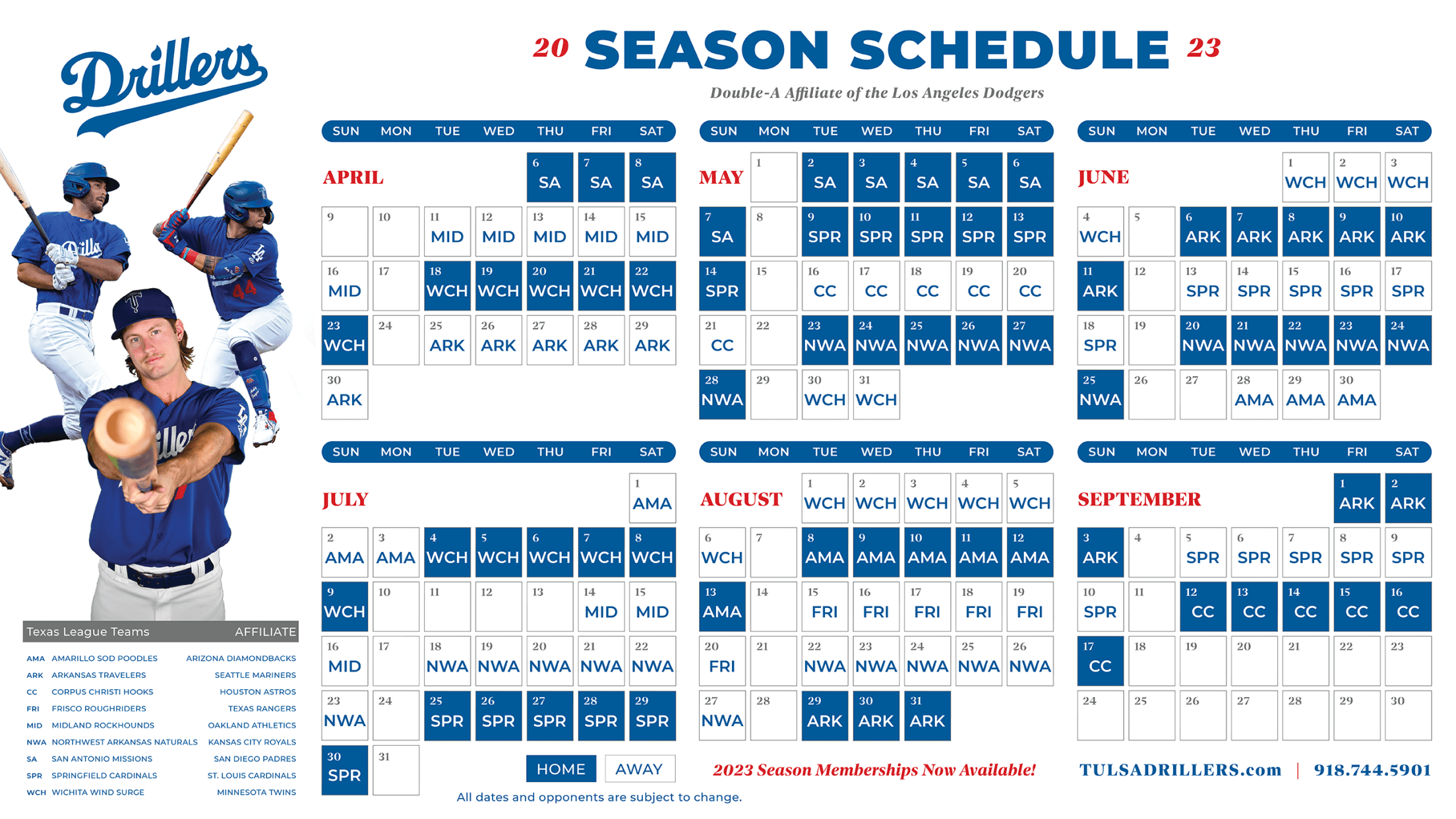 The Tulsa Drillers still have games to play in the 2022 regular season and Texas League Playoffs, but today the team announced its full schedule for the 2023 season. The Drillers will open the 2023 campaign at home by hosting the San Antonio Missions at ONEOK Field on Thursday, April
Drillers Lose Home Run Battle to Cards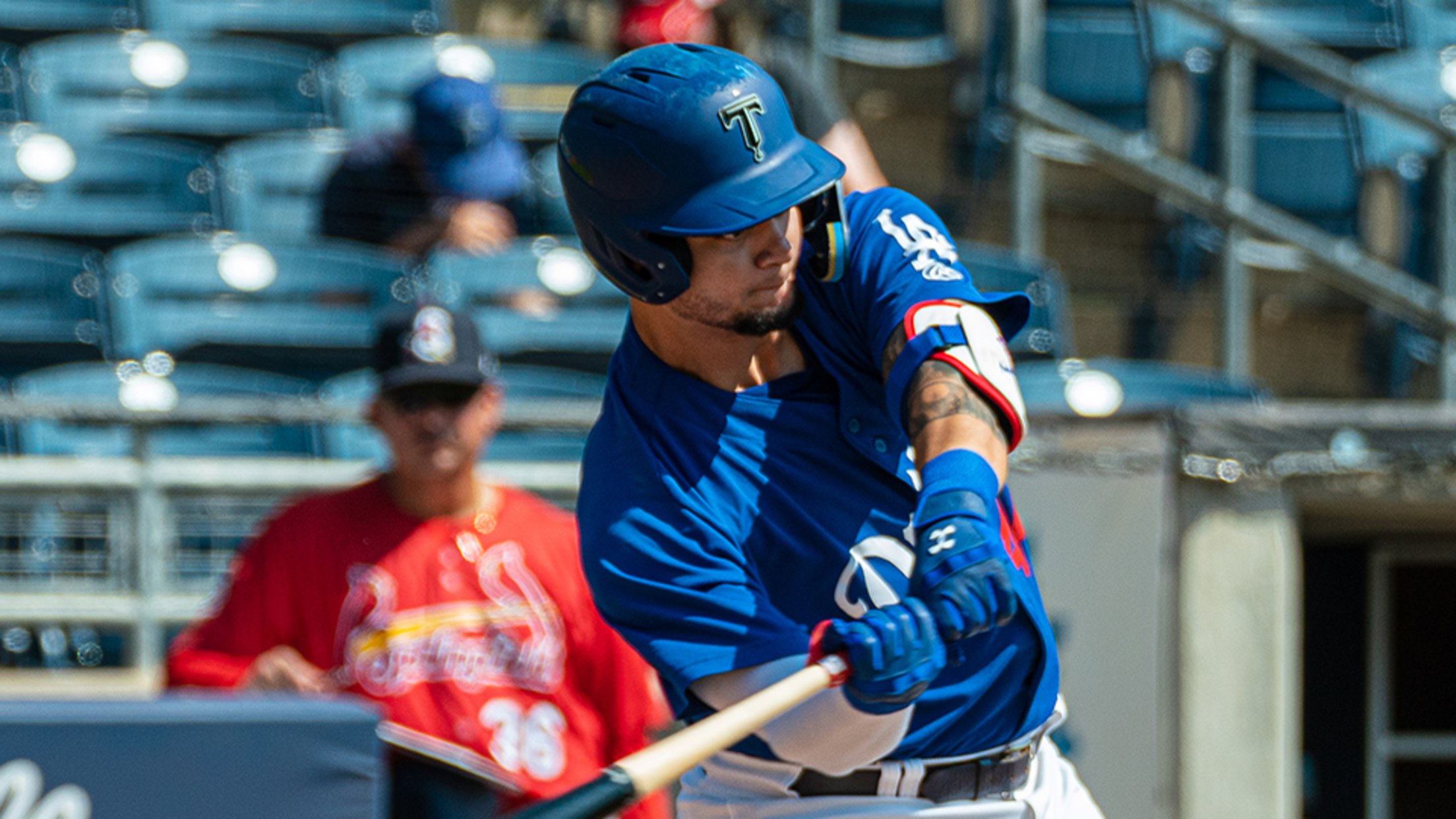 TULSA, OK – The Tulsa Drillers played their final afternoon game of the season on Wednesday at ONEOK Field, and it ended with a loss to the Springfield Cardinals. The game was a home run battle with six being hit, three from each team. However, Springfield's blasts included a two-run