Tri-City Toppled by Late Hillsboro Hits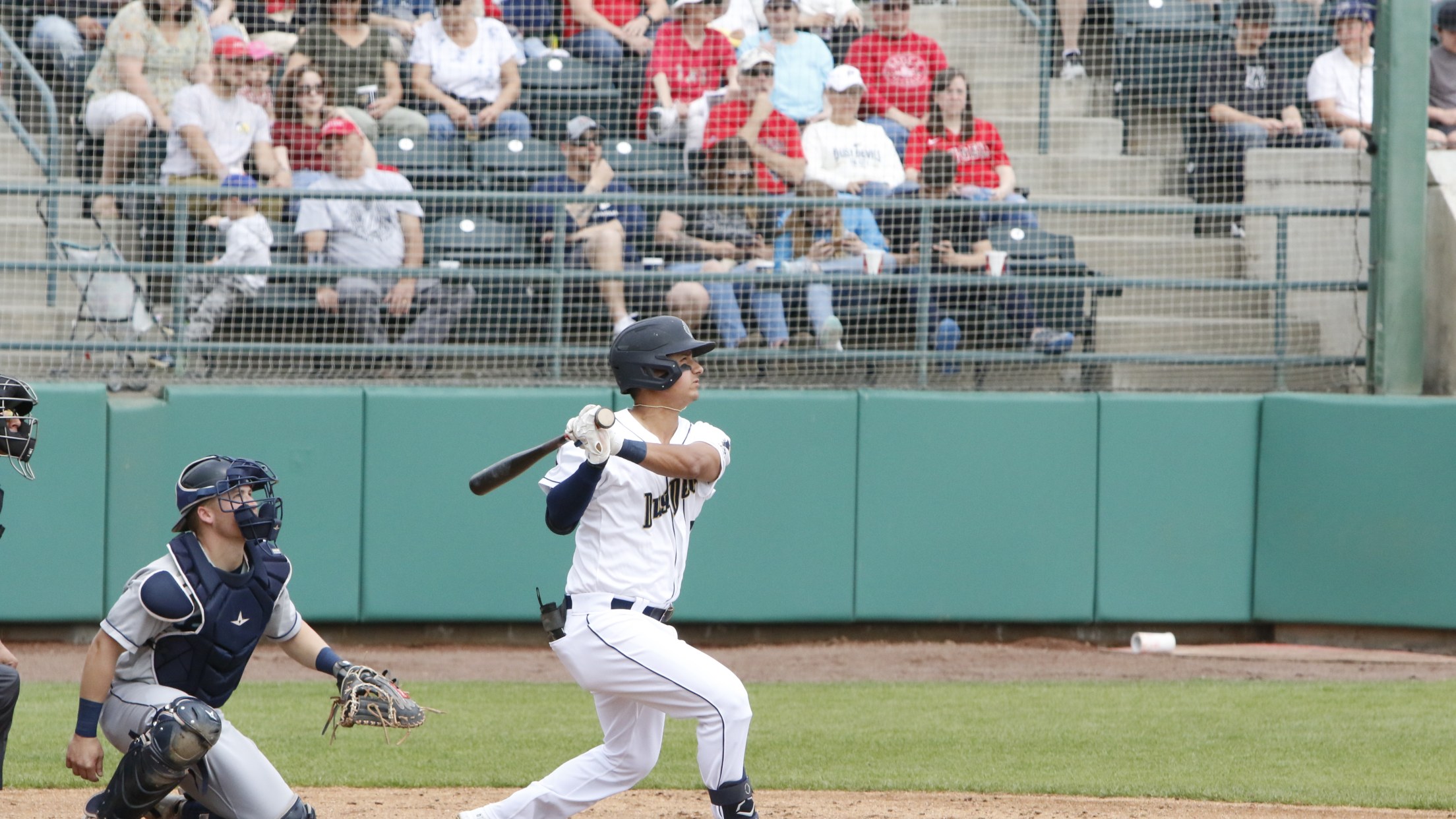 Three different leads slipped through the grasp of the Tri-City Dust Devils (24-35 2H, 53-69) Saturday night, as the Hillsboro Hops (27-32 2H, 56-67) rallied for a 6-4 win at Ron Tonkin Field. The Dust Devils scored in their first at-bat for the third straight game. 2B Kyle Kasser drew
Three different leads slipped through the grasp of the Tri-City Dust Devils (24-35 2H, 53-69) Saturday night, as the Hillsboro Hops (27-32 2H, 56-67) rallied for a 6-4 win at Ron Tonkin Field.
The Dust Devils scored in their first at-bat for the third straight game. 2B Kyle Kasser drew a leadoff walk, stole second base and made his way around on a flyout and an RBI groundout by CF Joe Stewart to score for a 1-0 1st inning lead.
That lead, for the third straight game, was short-lived in an eerily similar fashion. Hops 2B Cam Coursey drew a leadoff walk and moved to third base on a double by Hillsboro 1B Caleb Roberts. 3B Deyvison de los Santos then struck an RBI grounder to second, scoring Coursey to tie the game at 1-1.
The Hops took the lead in the 3rd inning, with Roberts reaching via a two-base error on a ball hit to Tri-City 1B Gabe Matthews. A groundout and a sacrifice fly by C Adrian del Castillo plated Roberts for a 2-1 advantage.
The Dust Devils retook the lead in the top of the 4th inning. Matthews doubled to right center field, and LF Casey Dana singled to right field to put runners on the corners with no one out. C Straton Podaras drew a one-out walk to load the bases, and RF Steven Rivas followed by hitting a slow grounder toward first base, legging out an RBI fielder's choice to score Matthews for a 2-2 tie. Dana scored later in the inning on a wild pitch, giving Tri-City a 3-2 lead.
Dust Devils starter Victor Mederos got going after some early issues, getting through five innings with the lead. The Oklahoma State alum gave up two runs (1 ER) on 3 hits, striking out four and walking two.
The lead held to the bottom of the 7th inning when Hillsboro tied the game at 3-3 on a two-out RBI single by del Castillo. Tri-City would get the lead right back, though, in the top of the 8th. DH Dylan Phillips drew a leadoff walk, then advanced two bases on a wild pitch bouncing far away from del Castillo. Rivas again came through with a slow grounder to the left side, scoring Phillips to give the Dust Devils a 4-3 lead.
The Hops dashed hopes of a third straight Tri-City victory in the bottom of the 8th inning. Dust Devils reliever Hayden Seig (3-2) bookended a walk to SS Channy Ortiz with two outs, and induced 2B Jarrod Watkins to hit a grounder to the left side. 3B Christian Molfetta and SS D'Shawn Knowles miscommunicated on the play and neither infielder gloved the ball, which rolled into center field for a single.
Cam Coursey came up again, and this time made Tri-City pay with a two-out double down the left field line, scoring both Ortiz and Fox Semones, who pinch-ran for Watkins. The double gave the Hops a 5-4 lead. A wild pitch and passed ball got Coursey home for the final score of 6-4.
Hillsboro reliever Conor Grammes (1-1) got the win in relief. Christian Montes de Oca got his eighth save in as many attempts by holding the Dust Devils off the scoreboard in the 9th.
Tri-City will look to grab a split in the series finale, scheduled for 1:05 p.m. Sunday afternoon at Ron Tonkin Field. Southpaw Nick Mondak (3-7, 5.63 ERA) starts for the Dust Devils, with righty Luke Albright (6-9, 5.42 ERA) expected to get his second start of the series for the Hops.
The game broadcast begins with the King Beverage Budweiser Pregame Show at 12:50 p.m. at dustdevilsbaseball.com and the MiLB First Pitch app.
Tickets for Tri-City's final home series of the regular season, September 6-11 vs. Spokane, are on sale now with special ticket rates are available for groups of 20 or more. For more information on Dust Devils single game, season, mini-plan (11, 22, 33) and group tickets, visit dustdevilsbaseball.com or call 509-544-8789.