Thunder Pitching Starts and Finishes Sweep of Crosscutters
7,286 return to Trenton Thunder Ballpark as first homestand continues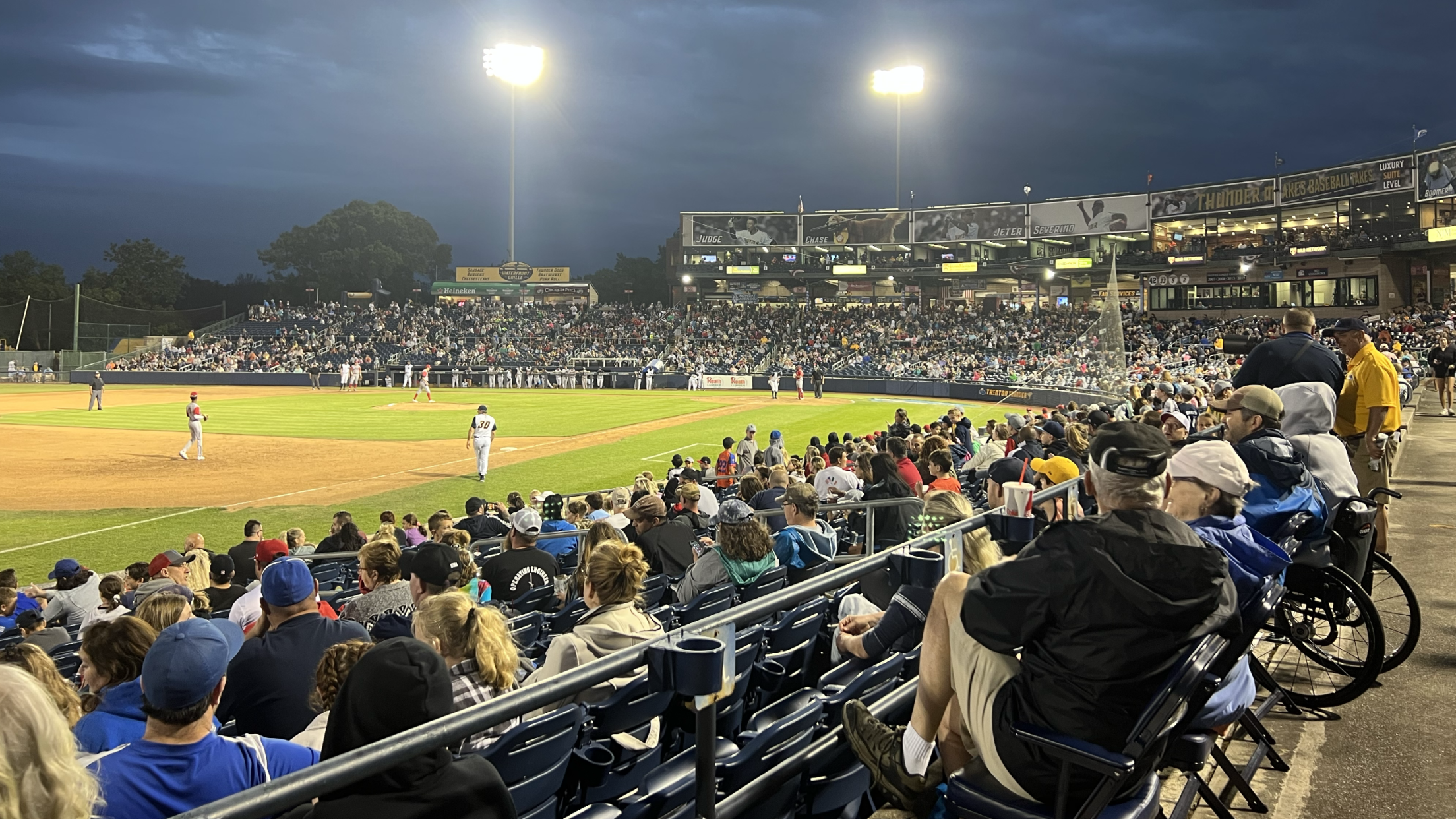 (Trenton, NJ) – It took a week, but the Trenton Thunder (4-3) jumped over the .500 mark with a 7-6 win against the Williamsport Crosscutters in front of 7,286 fans at Trenton Thunder Ballpark on Thursday night. The Thunder got a third straight night of terrific starting pitching, and just
(Trenton, NJ) – It took a week, but the Trenton Thunder (4-3) jumped over the .500 mark with a 7-6 win against the Williamsport Crosscutters in front of 7,286 fans at Trenton Thunder Ballpark on Thursday night. The Thunder got a third straight night of terrific starting pitching, and just enough offense for their second one-run win in the series. *Joe Joe Rodriguez *became the first starter to make it into the fifth inning, and *Joan Gonzales *extinguished any thought of a Crosscutters comeback by striking out three in a two-inning save to complete the sweep.
Williamsport never led in this series, and the Thunder hit back against Tiaga Yamane *in the home second. *Jorge Bojorquez *led off with a single and then scampered to third on a double down the left field line from *Gus Sosa. A wild pitch and a balk made it 2-0 quickly, and number nine hitter *Mason Hammonds *provided the first RBI with a single for a 3-0 advantage.
In the third, Edgardo Martinez *moved into scoring position with a one-out single and stolen base before Bojorquez reached on a walk that chased Yamane (0-1). Sosa's second hit was a single to greet lefthander *Luke Allain, making it 4-0 for a locked in Rodriguez. The righthander retired the first 11 batters he faced before surrendering his first hit to Eddie Micheletti with one out in the fourth. The St. John's University product came within one out of the decision, but was pulled by manager *Jeff Manto *after walking in Williamsport's first run that made it 6-1.
*Cole Evans' *bases loaded walk with one out in the sixth got the Crosscutters within four, but *Alec Whaley *(2-0)dialed it in and recorded the next two outs after winning Tuesday's home opener. A short time later, in his best performance of the season, Thunder first baseman *Calvin Rucker *came through with a two-out RBI single in the sixth that extended the lead to 7-2. Rucker came into the ballgame just 1-for-14, but finished with two of Trenton's eight hits.
Taking a page out of the Thunder playbook of working walks, the Crosscutters showed patience in the seventh and scored four runs with just one hit. *Luke Piper's *double plated two, plus a *Logan Flood *RBI groundout and a wild pitch made it 7-6 with the tying and go-ahead runs in scoring position. But for the second straight inning, number nine hitter *Dante Leach *made the final out as the Crosscutters stranded all nine baserunners in a span of just four innings.
Thunder reliever *Joan Gonzales *had another impressive outing in his second appearance of the season. The only hiccup was a leadoff single from *Josue Urdaneta *in the eighth, which quickly disappeared when catcher *Socrates Bardatsos *threw him out from a knee on a steal of second. Gonzales retired the next five hitters quickly for a two-inning save, ending the 7-6 ballgame in a flourish with back-to-back strikeouts for the three-game sweep.
Your Trenton Thunder continue their first homestand against the Frederick Keys with a weekend series starting on Friday, June 10 at 7:00 PM. It's the first Pork Roll Friday of the season, and fans can enjoy $2 Case's Pork Roll sandwiches all game long! The Thunder is once again honored to host our Breast Cancer Awareness Night, and the first 1,500 fans ages 13+ will receive an RAI Breast Cancer Awareness Pink Hat. To purchase tickets, call (609)-394-3300, Opt 4 or visit trentonthunder.com.
#
New Jersey's Baseball Team | Big League Futures. Major League Fun.
The Trenton Thunder have drawn over 10 million fans over 28 years and have won the three major awards that Minor League Baseball teams can win; the Johnson Trophy for the "Nation's Best Franchise" (2005), the Larry MacPhail Trophy for Outstanding Club Promotion (2003) and the Bob Frietas Award for Long-Term Success (1998, given by Baseball America). The team has given back over $7.5 million worth of goods, services, and monetary donations through Trenton Thunder Charities, under the Grand Slam We Care Foundation umbrella. The Thunder can be found online at trentonthunder.com, facebook.com/trentonthunder, twitter.com/trentonthunder, and on youtube.com/AATrentonThunder.