Walk-off Wednesday: Ramirez wins it for Tampa in extras, 2-1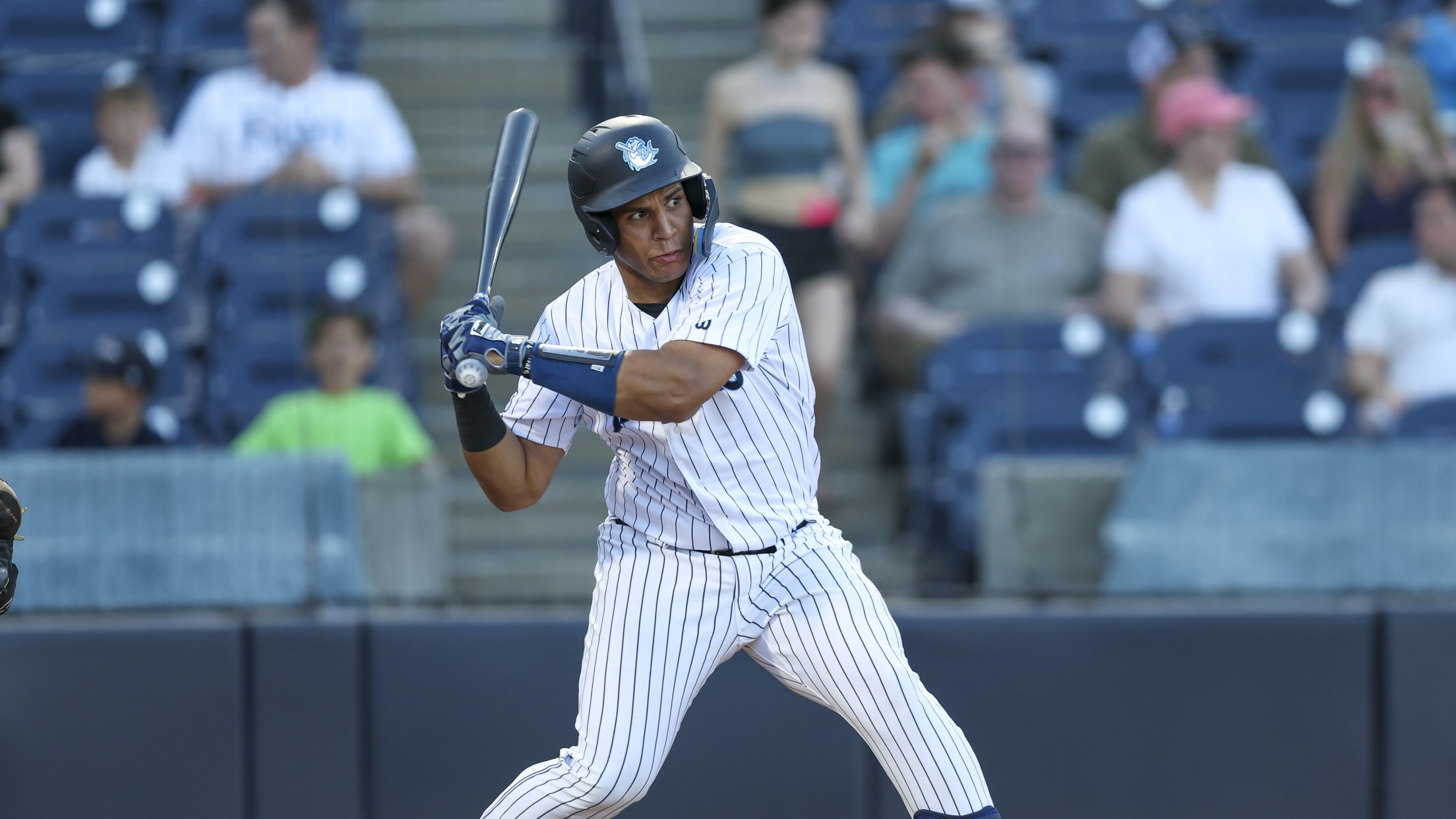 Agustin Ramirez sent the home crowd happy with a walk-off hit in the bottom of the 10th inning Wednesday night at GMS Field. (Mark LoMoglio)
TAMPA, Fla. - Following an hour and fifteen-minute rain delay, the Tampa Tarpons (20-27) defeated the Bradenton Marauders (24-23) at George M. Steinbrenner in a thriller, 2-1. C Agustin Ramirez played hero, lacing the game-winning walk-off hit in the bottom of the tenth inning. The victory extends the Tarpons' win
TAMPA, Fla. - Following an hour and fifteen-minute rain delay, the Tampa Tarpons (20-27) defeated the Bradenton Marauders (24-23) at George M. Steinbrenner in a thriller, 2-1. C Agustin Ramirez played hero, lacing the game-winning walk-off hit in the bottom of the tenth inning. The victory extends the Tarpons' win streak to three, while they have also taken eight of their last ten games.
RHP Kris Bow (3.1IP, 4H, R, BB, 6K) took the hill for Tampa and pitched his best game of the season. He only allowed one run in his 3.1 innings of work. Bow primarily relied on two pitches Wednesday night: his sinker and slider. He used the sinker 50% of the time and the slider 40% of the time while sprinkling in his changeup. Overall, all his pitches worked for a whiff rate of 33%, which led to six strikeouts.
Despite Bow's dominance, he got off to a bit of a shaky start to begin the game. After the lengthy delay, the Marauders loaded the bases in the first with no men out. Bow found his rhythm and struck out the next three batters to leave the bases loaded and keep the game scoreless.
Tampa's bullpen cannot be overlooked in Wednesday night's victory. The bullpen combined for 6.2 scoreless innings while only surrendering a total of three hits. RHP Cole Ayers (1-1) came up clutch for Tampa, escaping a bases-loaded jam in the top of the tenth.
Bradenton opened the scoring in the second inning when Tanner Tredaway legged out an infield single. Treadway stole second base and came around to score when Geovanny Planchaert singled to left field.
Tampa answered right back. CF Nelson Medina lined a single to center to open the home half of the second and 1B Omar Martinez followed him up with a single of his own to set the table for the Tarpons. A double steal and a walk to LF Tayler Aguilar loaded the bases with no outs. 2B Jared Serna knotted the game at one when he lifted a SAC-fly to left.
Cue the Sinatra! After two quick outs to start the bottom of the tenth, Ramirez found himself down in the count 0-2. He worked the count full and then laced the game-winning single over Tredaway's head in right field. As the ball soared into right, the Tarpons dugout rose to their feet and rushed their way to the infield, where they celebrated Ramirez's game-winner. The vibes were high as the Gatorade came flying out of the cooler and onto Ramirez's head. The single was 98 MPH off the bat and sent all the fans home happy.
The Tarpons will host the Marauders for the middle game of the six-game set tomorrow at 6:30 p.m. at GMS Field. Tampa will look to LHP Brock Selvidge to keep the winning streak alive.