Marauders halt Tarpons' win streak with a late rally, 7-2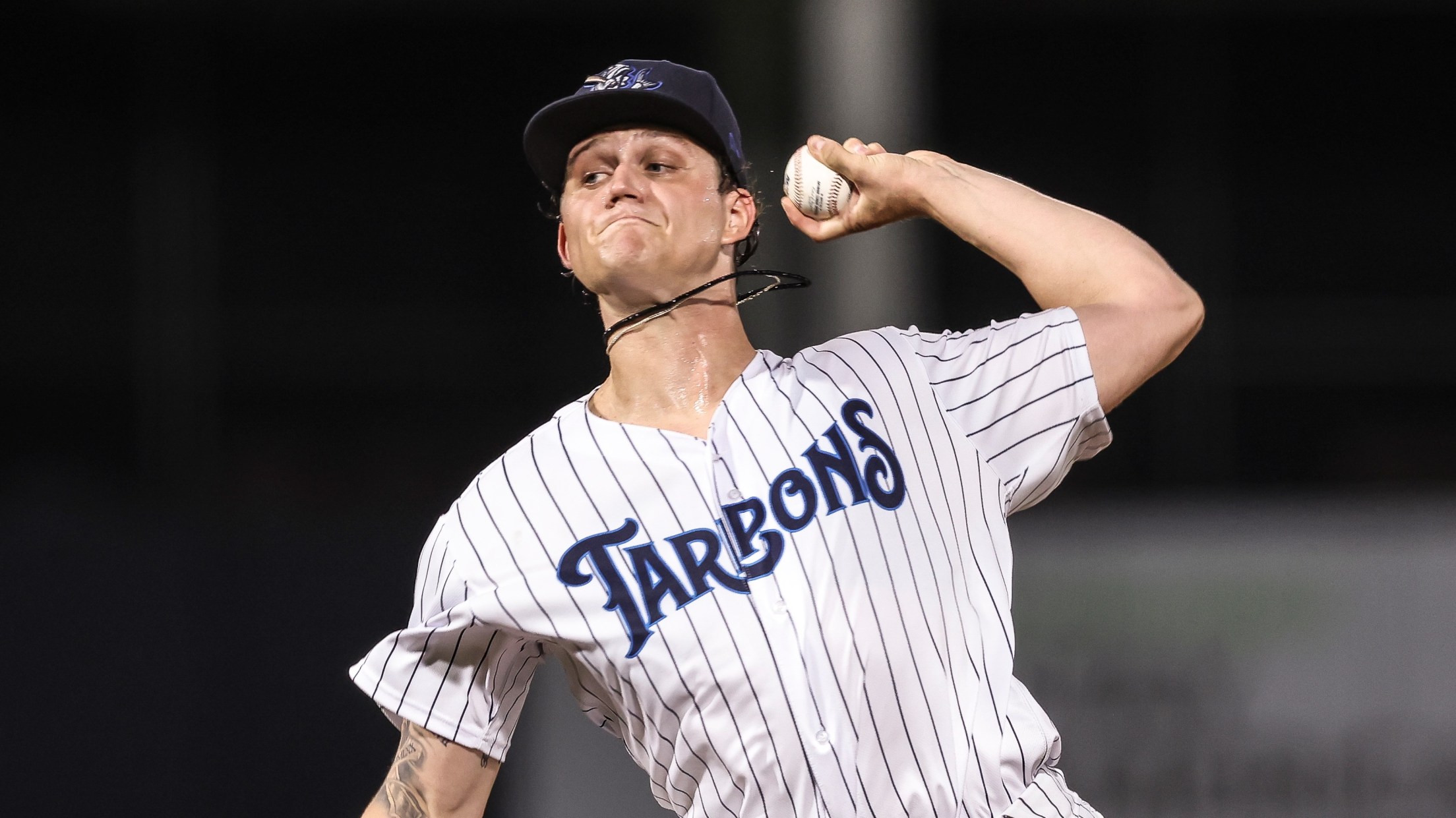 Brock Selvidge fires home after a two hour rain delay on Thursday night at GMS Field. (Mark LoMoglio)
TAMPA, Fla. - The Tampa Tarpons (20-28) three-game win streak came to an end against the Bradenton Marauders (25-23) Thursday night at George M. Steinbrenner Field. Tampa held the lead into the seventh inning, but the bullpen faltered, giving up six runs in the final four frames. LHP Brock Selvidge
TAMPA, Fla. - The Tampa Tarpons (20-28) three-game win streak came to an end against the Bradenton Marauders (25-23) Thursday night at George M. Steinbrenner Field. Tampa held the lead into the seventh inning, but the bullpen faltered, giving up six runs in the final four frames.
LHP Brock Selvidge (6.0IP, 4H, R, 2BB, 8K) made his eighth start of the season and was dominant in his six innings of work. Selvidge carried over his A stuff from his last start into this one. The two-pitch mix of his fastball and slider was enough to hold Bradenton to one run. Selvidge averaged 2469 RPM on his slider, which resulted in six swings and misses on the pitch.
In the first, CF Anthony Hall reached second base safely on an error by Wilber Dotel, advanced to third on a passed ball, and plated the game's first run on a 104 MPH RBI single from last night's hero DH Agustin Ramirez.
Ramirez reached base for the second time, drawing a free pass to open the third. After a single by LF Christopher Familia, C Jesus Rodriguez drove in Ramirez on a line drive single to right field. Bradenton pulled off an impressive relay on the single to nab Familia at third base.
Termarr Johnson just missed a home run by a matter of feet, settling for a 412-foot double in the sixth. He stole third base for his second stolen base of the season and crossed the plate to bring Bradenton within one when Rodolfo Nolasco grounded to short.
Tampa called on RHP Ocean Gabonia in the seventh, and Nick Cimillo took him deep on his very first pitch of the night. The game-tying homer left the bat at 102 MPH and traveled 368 feet. Tanner Tredaway singled and swiped second, but Gabonia was able to record back-to-back strikeouts to keep the game tied.
Bradenton took the lead in the eighth on some sloppy play from Tampa. After Rodriguez gunned down Johnson trying for second, Nolasco singled and advanced to third on back-to-back balks from RHP Adam Stone. Javier Rivas hit a high pop-up just behind the infield grass but Escanio stared at Familia, who was hustling in from left as the ball fell in between the two, gifting Bradenton the lead.
RHP Alex Bustamante took over in the ninth and could not find his control. He hit the first two batters he faced and walked the third to load the bases with no men out. Jesus Castillo gave Bradenton two insurance runs with a single to right field that would put the game on ice. After a walk to Johnson, the bases were loaded again, and Bustamante drilled his third batter of the inning to grow the lead to four. After RHP Shane Gray came in relief, Shalin Polanco lifted a SAC-fly to right field to pad Bradenton's lead, which would hold in the ninth.
The Tarpons will look to get back to their winning ways as they take on the Marauders Friday night at GMS Field. RHP Sean Hermann will get the ball on Lou Gehrig Day with first pitch at 6:30 p.m.