Hernandez' late inning heroics push Blue Jays past Tarpons, 4-3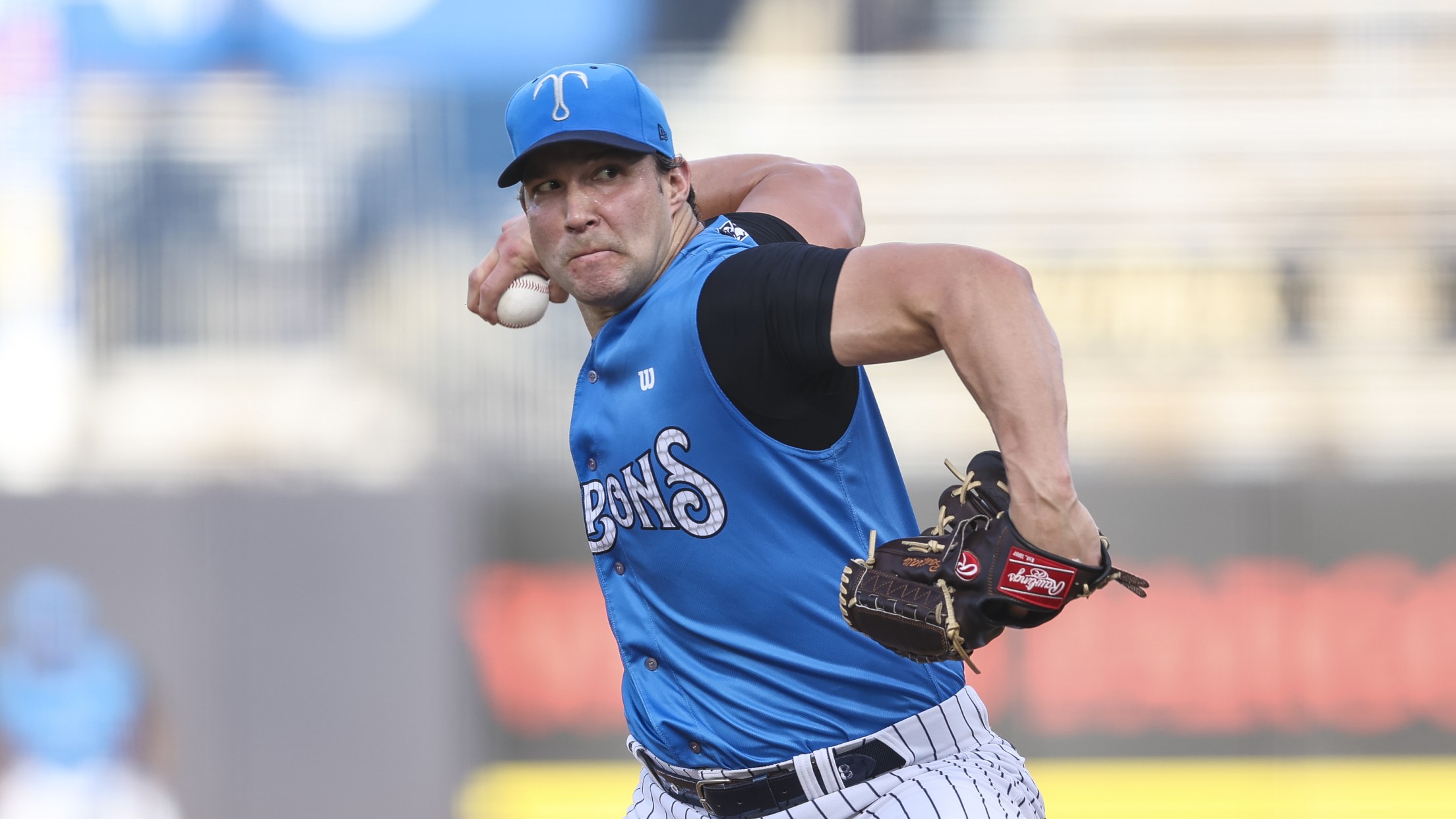 Tommy Kahnle fires home during his first rehab assignment of the season Thursday night at GMS Field. (Gerardo LoMoglio)
TAMPA, Fla. - The Tampa Tarpons (12-24) dropped a close one Thursday night against the Dunedin Blue Jays (20-16) at GMS Field, 4-3. The Tarpons grabbed the lead twice during the course of the game but were unable to hold it as Sam Hernandez and the Blue Jays stormed back
TAMPA, Fla. - The Tampa Tarpons (12-24) dropped a close one Thursday night against the Dunedin Blue Jays (20-16) at GMS Field, 4-3. The Tarpons grabbed the lead twice during the course of the game but were unable to hold it as Sam Hernandez and the Blue Jays stormed back to complete the come-from-behind victory.
RHP Tommy Kahnle (1.0IP, K) made his first rehab appearance (right biceps tendonitis) on his road back to the Bronx. He pitched a perfect first inning while effectively mixing his fastball and changeup. Kahnle's velocity was right where it should be. He averaged 95 MPH on his fastball and 90 MPH on his changeup, which is in line with his yearly average. His signature pitch, the changeup, was even up 530 RPM from his yearly average.
After a bloop single to center field in the first inning by CF Daury Arias, DH Agustin Ramirez supplied the power. He blasted a 389-foot home run off the left field foul pole to give Tampa an early two-run lead.
After Kahnle's one inning of work, LHP Brock Selvidge took over as the bulk pitcher for the Tarpons. Peyton Williams reached first base to open the second inning when SS Jared Serna could not come up with a ground ball up the middle. Ryan McCarty lofted a double to deep right field to put two runners in scoring position for Dunedin with no outs. Selvidge was able to strand both runners in scoring position while racking up two strikeouts to hold Tampa's lead.
Jalen Rudd cut into the deficit by lifting his second home run in as many days. This one traveled 361 feet and landed on top of the bar in right field, similar to last night's blast.
Williams led off the fourth with a single but got caught trying to steal second base. After a strikeout, Dunedin rallied with two away. They put two runners in scoring position, but Selvidge was able to work out of another jam, inducing Roque Salinas to fly out.
Dunedin took their first lead of the night in the sixth. McCarty worked a walk and came around to even the score on some sloppy defense by the Tarpons. Robert Robertis lined a single to CF Daury Arias, and he was unsuccessful trying to throw out McCarty at third. 3B Beau Brewer then tried to hose Robertis at second, but the throw went into right field, allowing the tying run to score as Robertis advanced to third on the error. Hernandez took advantage of the runner 90 feet away by lifting a SAC-fly to center field, providing Dunedin with a one-run lead.
Tampa answered right back in the home half of the sixth. C Jesus Rodriguez started the inning with a 106 MPH rocket double to left field. Rodriguez tagged up to third on a flyout, and Barrera grounded out to short to plate the tying run.
After McCarty opened the eighth with his second double of the night, he advanced to third on a wild pitch. With runners on the corners after a walk, Hernandez came up clutch for the Blue Jays, knocking in the go-ahead run with a base hit to center field.
The Tarpons will be back at it tomorrow for a doubleheader against the Blue Jays. RHP Sean Hermann will take the mound for the first game, with first pitch at 4:00 p.m. RHP Justin Lange is slated to start the nightcap, which will begin 30 minutes after the conclusion of game one.