Familia homers twice – Tarpons pummel Threshers, 9-4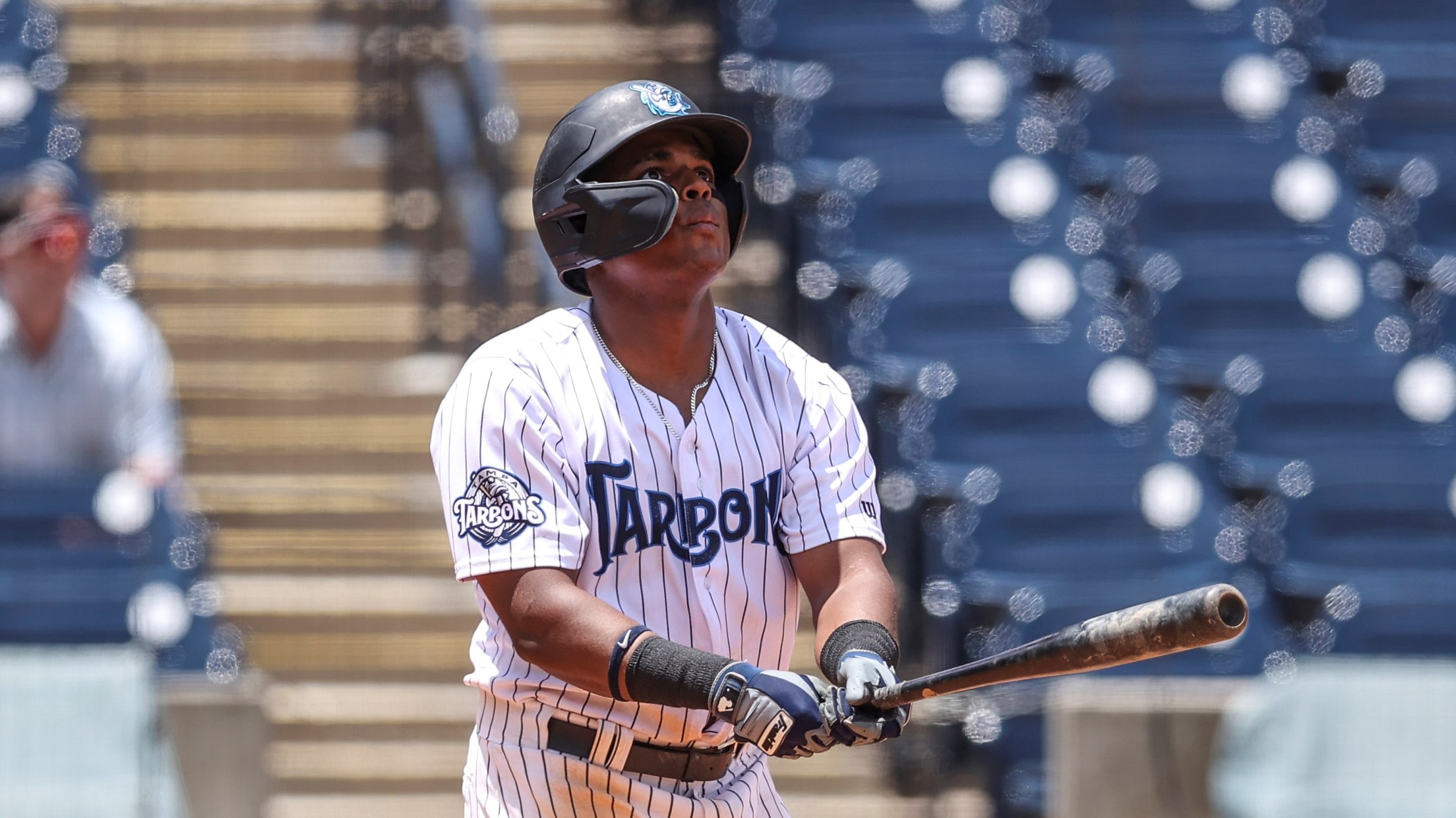 Christopher Familia watches his second home run of the day land in the RF seats. (Mark LoMoglio)
TAMPA, Fla. – The Tampa Tarpons (22-12) ended the week on a high note, defeating the Clearwater Threshers (12-24) at George M. Steinbrenner Field, 9-4. The Tarpons capitalized on some freebies gifted by the Threshers early on and rode their bats the rest of the way. LF Christopher Familia packed
TAMPA, Fla. – The Tampa Tarpons (22-12) ended the week on a high note, defeating the Clearwater Threshers (12-24) at George M. Steinbrenner Field, 9-4. The Tarpons capitalized on some freebies gifted by the Threshers early on and rode their bats the rest of the way. LF Christopher Familia packed his power stroke Sunday afternoon, launching two home runs in the winning effort.
LHP Joel Valdez (3.2IP, 4H, 2ER, BB, 7K) made his first start in a Tarpons uniform shortly after being activated from the FCL Yankees. It was a solid start for the left-hander, who compiled seven strikeouts over 3.2 innings pitched. Valdez was acquired last year from the Philadelphia Phillies in a deal that sent Donny Sands and Nick Nelson to the City of Brotherly Love.
Clearwater greeted the newly promoted Valdez to Single-A ball rather immediately. Two batters in, the Threshers took a 1-0 lead. Cade Fergus singled to lead off the game, followed by McCarthy Tatum who cracked a line-drive RBI-double to right field.
The Threshers tacked on another run in the top of the third. Hao Yu Lee found a hole on the left side of the infield to drive in Tatum. His seeing-eye single increased Clearwater's advantage to 2-0.
C Antonio Gomez tied the game at two apiece the following frame with an RBI-double that split the gap in left-centerfield.
Clearwater seemingly handed Tampa the lead in the bottom of the fourth with a couple of freebies. With one out, CF Madison Santos lined a double to Wilfredo Flores in left field. On the base path, Santos was able to get a massive jump and stole third base with ease. The throw from Caleb Ricketts behind the plate short-hopped Lee at third and bounced into left, allowing Santos to cross the plate and take the lead. Next, Gunner Mayer walked DH Ben Rice and Familia before Clearwater relieved of his duties. Jared Wetherbee took over to stop the bleeding but did not fare much better. The lefty reliever walked SS Alexander Vargas to load the bases, then walked 1B Connor Cannon to plate another run. To add insult to injury, Wetherbee spiked a wild pitch in the dirt and Familia scurried to the plate for an extra insurance run.
Speaking of Familia and insurance runs – the Tarpons' leftfielder blasted a two-run homer in the seventh, boosting Tampa's lead to 7-2.
Familia had such a blast that he did it again in the eighth! Sorry for the pun…it's the end of the week.
The Threshers scratched a couple runs across the board in the ninth but were unable to make up all the lost ground before the final out.
The Tampa Tarpons will face off against the Dunedin Blue Jays this upcoming week and return to action Tuesday night – first pitch is scheduled for 6:30 PM EST.