Blue Jays pour it on early to sink Tarpons, 9-4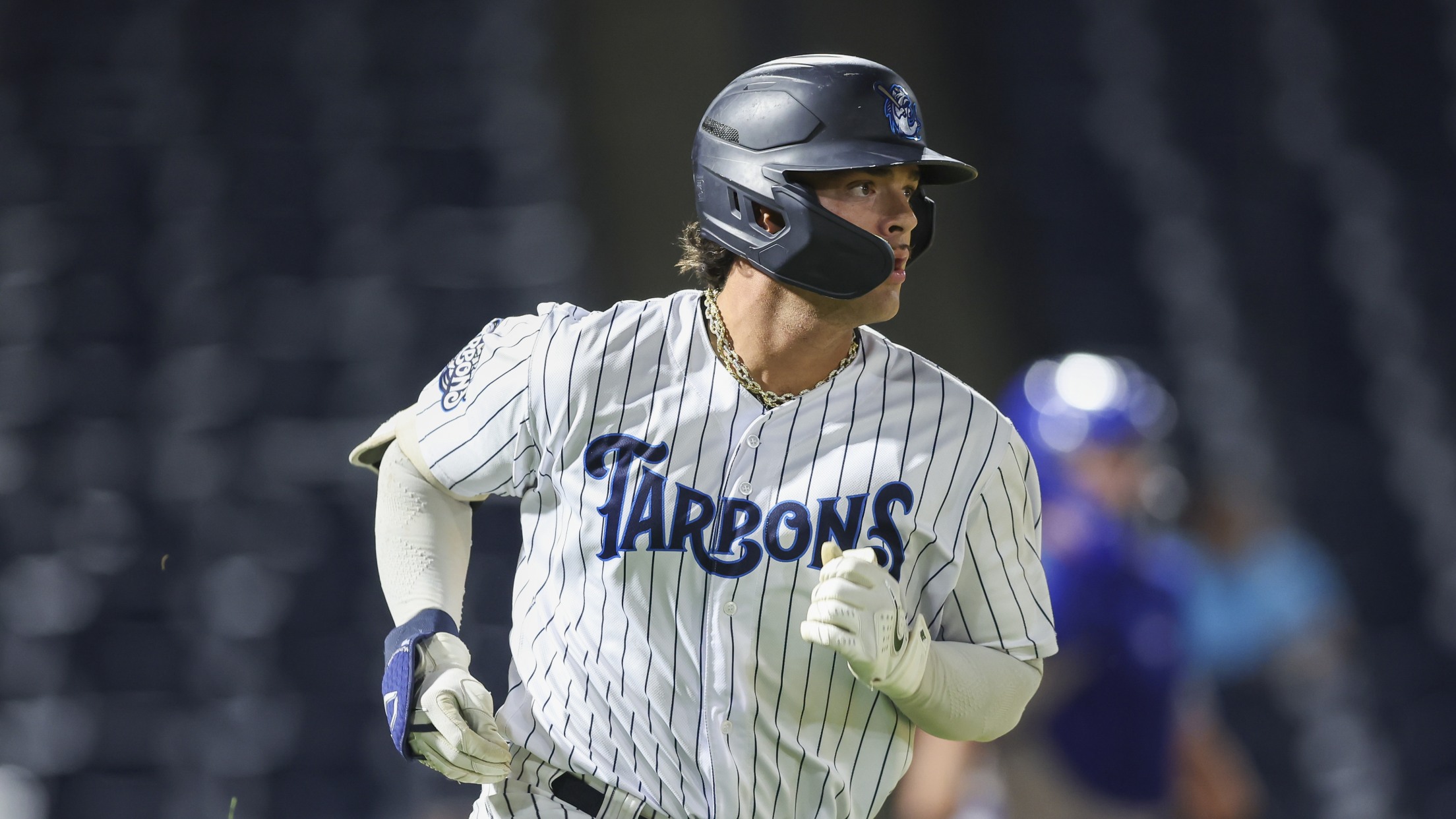 Tayler Aguilar admires his ground rule double which one hopped over the wall and scored two runners at GMS Field. (Mark LoMoglio)
TAMPA, Fla. - The Dunedin Blue Jays (19-16) scored nine runs in the first three innings against the Tampa Tarpons (12-23) and that's all they needed. Dunedin was led by Manuel Beltre, who racked up three hits in as many innings while driving in three runs on the night. Tampa
TAMPA, Fla. - The Dunedin Blue Jays (19-16) scored nine runs in the first three innings against the Tampa Tarpons (12-23) and that's all they needed. Dunedin was led by Manuel Beltre, who racked up three hits in as many innings while driving in three runs on the night. Tampa tried to claw back as the night went on but only mustered four runs.
RHP Kris Bow (1.0IP, 5H, 7R, 6ER, 2BB, K, HR) made his first appearance of the 2023 season and did not bring his A game. He was constantly falling behind in the count, which caused him to rely on his sinker. Bow's sinker accounted for 75% of his total pitches, which allowed Blue Jay hitters to keyhole it.
With one away in the first, Manuel Beltre grounded a single back up the middle and swiped second base to get in scoring position. After another out, Peyton Williams knocked an RBI single to left field to put Dunedin on the board first. The Blue Jays added a second run when LF Felix Negueis could not handle a line drive in left, allowing Williams to cross the plate.
Between a fourteen-minute sprinkler delay and six runs given up, the second inning was one Tampa would like to forget. Jalen Rudd led off the frame with a bang. He blasted a solo shot that landed on the roof of the outfield bar in right field. After the home run, Dunedin worked two walks on eight pitches. Adrian Pinto then lined a double down the right field line that brought in one more run, giving Dunedin a four-run lead. Beltre blew the game open with a 2 RBI single to grow the lead to six. Williams demolished Dunedin's second homer of the inning, picking up his 28th and 29th RBI of the season.
Tampa was able to chip into the lead in their half of the second. After SS Brenny Escanio singled, CF Nelson Medina rocked a 106 MPH double into the left-center gap. Escanio scored, but Medina was out trying to stretch the hit into a triple. RF Tayler Aguilar worked a walk and advanced to second on a wild pitch. He came around to score when 3B Beau Brewer legged out an infield single, and Aguilar scored as he hustled around third for another run.
The Blue Jays added yet another run in the third. Their ninth run came via a two-out rally. Pinto walked, and Beltre picked up his third hit to extend the lead.
The Tarpons loaded the bases in the sixth thanks to three walks. With two outs, Dunedin called on Kelvin Perez to work out of the jam. Aguilar welcomed him with a 104 MPH ground-rule double which bounced over the wall in right-center field, bringing in two runs.
RHP Alex Bustamante came in for the seventh and was unable to find his control. He walked the first two batters. A passed ball allowed both runners to advance, and a diving play by Brewer kept both runners anchored at their respective bases while recording the second out. Bustamante settled down and struck out Masson to escape the inning without giving up a run.
One positive on the night was C Agustin Ramirez. In the eighth inning, he hosed Pinto, trying to steal third base. This was the second runner of the night that Ramirez was able to gun down, which gives him twelve on the season.
The Tarpons will try to bounce back tomorrow night against the Blue Jays. LHP Brock Selvidge will toe the slab, with first pitch set for 6:30 p.m. at George M. Steinbrenner Field.