Rainiers continue reeling on Thursday
Tacoma is 0-6 on Thursdays (0-4 road) | 3B Jake Scheiner: 2-for-4, run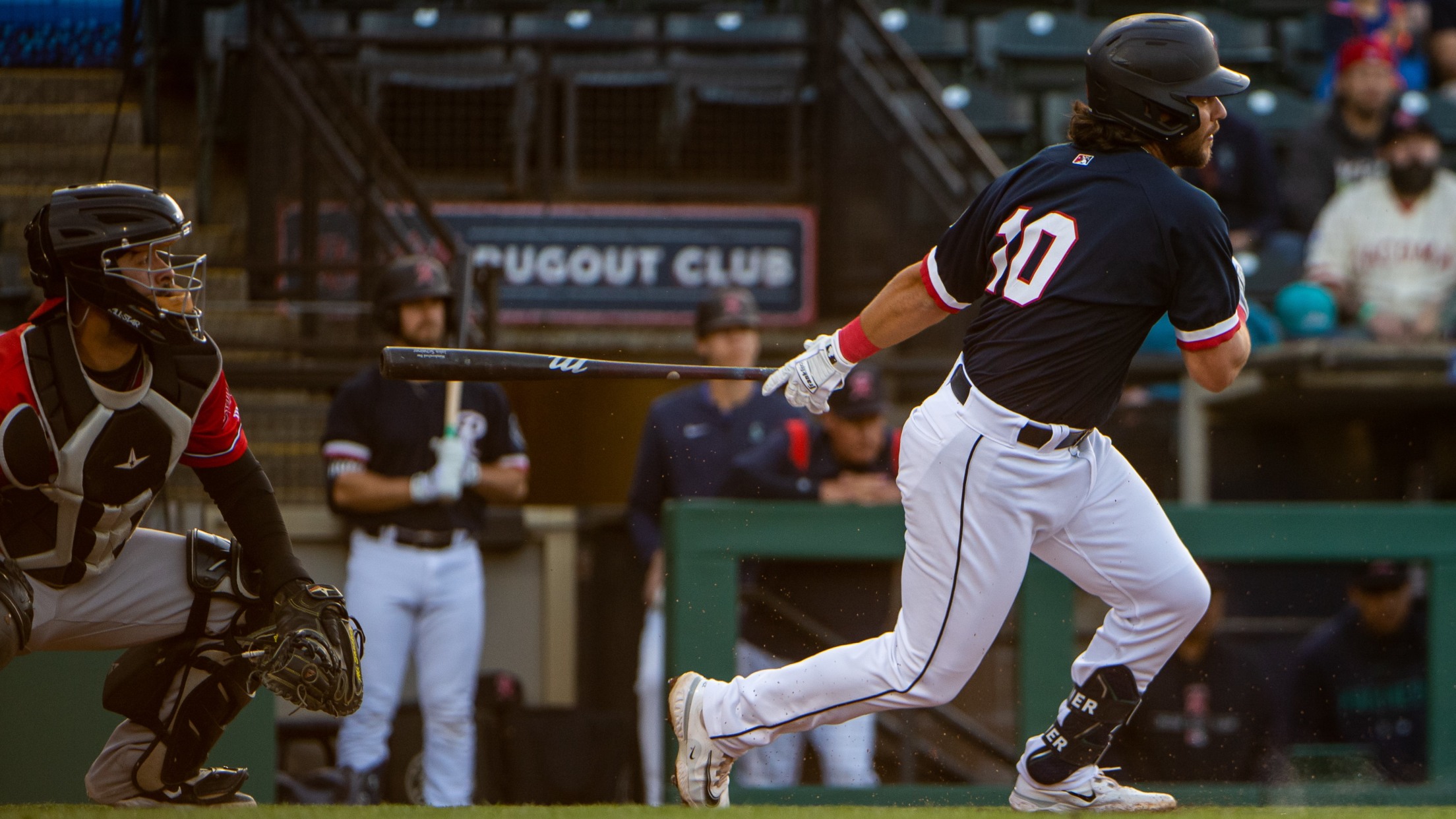 Albuquerque, NM (5/18/23) – The Tacoma Rainiers (19-23) fell behind 2-1 in their road series with the Albuquerque Isotopes (18-24), losing 5-2 on Thursday evening. The Rainiers fell to 8-16 on the road. Albuquerque took a 1-0 lead in the third inning. Daniel Cope and Yonathan Daza led off with
Albuquerque, NM (5/18/23) – The Tacoma Rainiers (19-23) fell behind 2-1 in their road series with the Albuquerque Isotopes (18-24), losing 5-2 on Thursday evening. The Rainiers fell to 8-16 on the road.
Albuquerque took a 1-0 lead in the third inning. Daniel Cope and Yonathan Daza led off with singles, and Cope scored on a Coco Montes RBI fielder's choice. It was 3-0 in the fifth after Cope drew a leadoff walk, and scored from first base on a Daza double to right field. Daza (3 hits) later scored on a Nolan Jones RBI single.
A pair of double play balls helped Isotopes starter Ty Blach to 5.0 scoreless IP. The lefty scattered six hits, walked one and struck out two on 69 pitches.
Tacoma took two runs back in the sixth. Jake Scheiner singled to begin the inning, later scoring from third on a heads-up base running play; when Pat Valaika flew out in foul ground down the line in right it resulted in an RBI, as Scheiner sprinted home and beat the late throw. The second Rainiers run was scored on a Mike Ford (walk) steal of home, aided by an ABQ error. A Cooper Hummel walk (2 SB) helped move things along; he worked three free passes.
The 'Topes put a bow on it with two insurance runs in the eighth. Jimmy Herron led the frame by rattling an inside-the-park home run into the right field corner, his fifth homer of the season and the only homer of the game. The fifth and final run for the home side scored on a Cope sac fly (Trevor Boone ground rule double, sac bunt).
The weeklong series will continue on Friday at Isotopes Park, with a 5:35 PT/6:35 MT first pitch. RHP Konner Wade (Tacoma) vs. LHP Josh Rogers (Albuquerque) is the scheduled starting pitching matchup.
Rainiers broadcaster Mike Curto will have full coverage on TacomaRainiers.com. All 2023 Rainiers games, home and away, can also be heard for free on the MiLB First Pitch app. HD video broadcasts of every home game can be viewed with a MiLB.TV subscription.
About the Tacoma Rainiers
The Tacoma Rainiers are the Triple-A affiliate of the Seattle Mariners. The Rainiers are a member of the Pacific Coast League and have been a Mariners affiliate since establishing the Rainiers moniker in 1995.
The most up-to-date news and notes about the Tacoma Rainiers and Cheney Stadium can be found by following the Rainiers on Twitter (@RainiersLand), Instagram (@tacomarainiers) and liking the team on Facebook.