Slow and Steady: Toglia's Adjustments Pay Off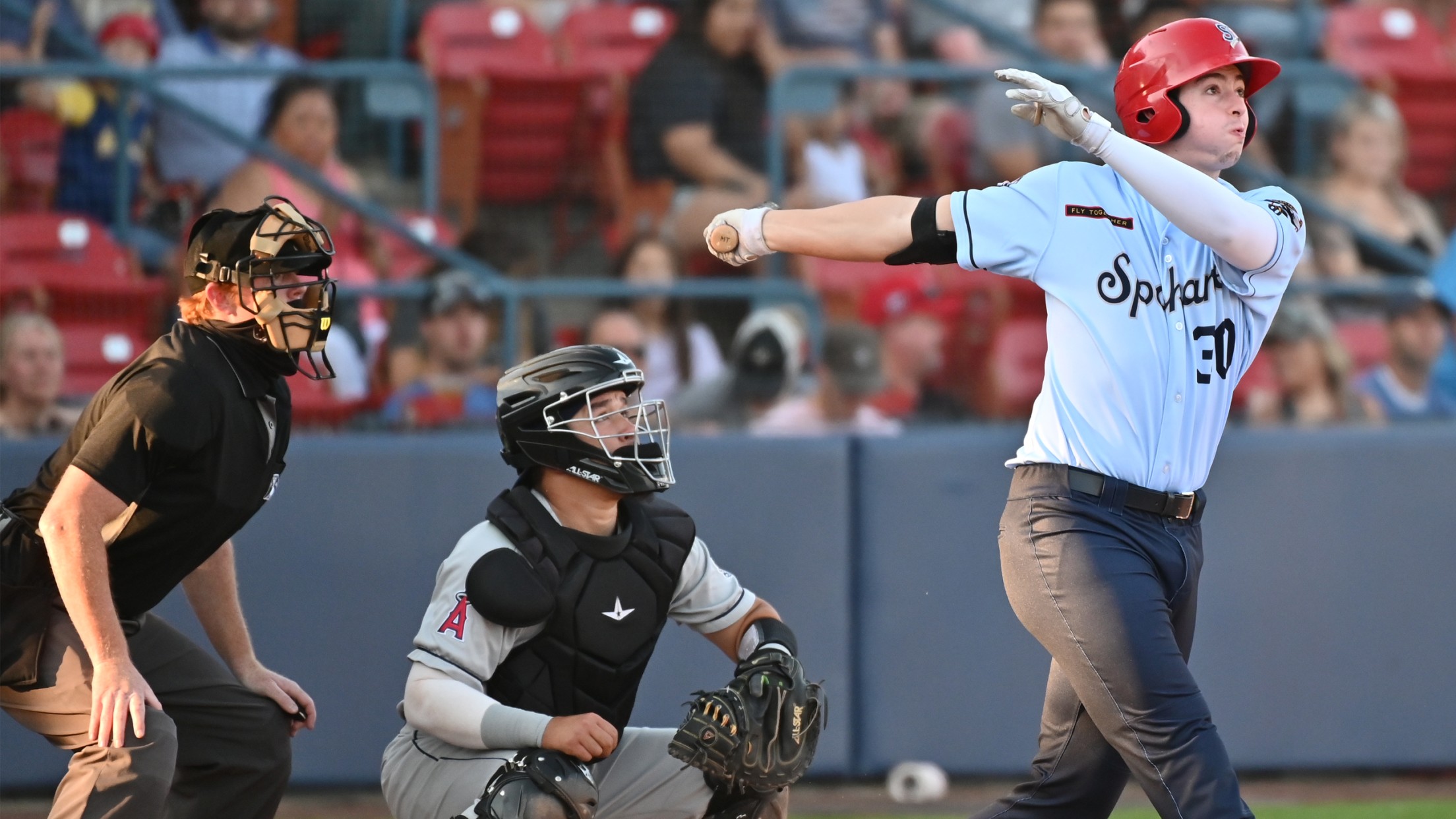 The exuberant text began with six words. Michael Toglia had just gone hitless in five at-bats for Double-A Hartford on July 14. He had struck out twice and hit the ball out of the infield once. On his final at-bat, Toglia hit a hard ground ball to shortstop. But that's
The exuberant text began with six words. Michael Toglia had just gone hitless in five at-bats for Double-A Hartford on July 14. He had struck out twice and hit the ball out of the infield once. On his final at-bat, Toglia hit a hard ground ball to shortstop.
But that's the swing that produced the eureka moment, the breakthrough that took Toglia two weeks to find. When the game ended, Toglia fired off a text to Rockies Minor League Hitting Coordinator Darin Everson. The text began: I finally felt that direction piece.
Toglia mentioned the grounder was clocked at 97 mph. The grounder happily ended Toglia's search and started his ascent.
First baseman and right fielder Toglia, a switch-hitter, made his Major League debut Aug. 30. He has been playing regularly, trying to find his footing with the Rockies. What propelled him out of Hartford to a brief stop with Triple-A Albuquerque and then to the big leagues was a minute shift with his back foot while batting left-handed. Opening the foot or pointing it ever so slightly toward the catcher resulted in a directional change that led to that hard grounder to shortstop on July 14.
"It felt like from then on, every single at-bat, I just had the confidence like, 'I'm going to do damage." Toglia said. "I have a chance to be productive, move a runner, get a hit.' Like I had a chance to do all of that whereas before at the beginning of the year, I was really grinding just to scrap something out rather than every at-bat felt like I was dangerous."
Toglia carried that supremely confident mindset to Albuquerque, where he made his debut Aug. 9, and then on to the big leagues.
"Here, too, I feel the same way," Toglia said. "I feel it hasn't changed. Pitching's obviously better now, but I'm still producing, taking good at-bats, hitting the ball hard, controlling the strike zone. So that gives me even more confidence that it works, the adjustment that I made."
The origin of that adjustment dates back to late June. For the better part of three months, Toglia had struggled. The Yard Goats on June 26 finished the first half one game behind Somerset. Toglia was hitting .213 with a .750 OPS. He did have 14 home runs and 44 RBI along with 97 strikeouts.
After moving up from High-A Spokane at the beginning of August, Toglia hit .217 with a .737 OPS, five home runs and 18 RBI in 41 games with the Yard Goats in 2021. He struck out 51 times in 169 plate appearances.
Ideally, Toglia would have returned to Hartford to start the 2022 season, settled in and quickly found a comfort level. Certainly there would have been some weeks better than others. But he would have been on an undeniable trajectory toward Albuquerque. That was the best-case developmental scenario. Instead, Toglia's average was last at .220 on May 20 when Everson came to Hartford on June 28.
"It's frustrating but you're there for a reason," Toglia said. "You can't sit there and complain, 'Why am I not getting moved up?' Because you're clearly struggling, and you'd probably struggle at the next level."
Everson has worked with Toglia his entire career, which began in 2019 after the Rockies selected Toglia in the first round, 23rd overall, out of UCLA. They have developed a good rapport. When they got together on June 28, Toglia said they both "agreed there was a much better hitter in there that wasn't coming out for whatever reason."
Prior to arriving in Hartford, Everson watched recent video of Toglia. He saw Toglia swing at pitches that were practically down the middle, fastballs. And it wasn't a matter of Toglia swinging late.
"He just ran out of barrel because of his direction," Everson said. "His direction was taking him off the pitch line. His swing, mechanically, was fine. It was a matter of not allowing the barrel to stay down that pitch line, basically where the pitch was coming from.
"And it doesn't matter who you are as a hitter. If that's happening in your swing, you're going to have issues, number one, making contact, number two, driving the ball."
Toglia was having no problem covering the inner third of the plate. But his bat was on plane for the right field foul pole. He wanted it to be on plane for going up the middle and then come out of the strike zone.
Toglia was missing too many pitches in the zone. He wasn't chasing pitches out of the zone. That has never been a shortcoming.
"His eye is really good," Everson said. "It was more handling the zone, and 'are you covering that zone?', And that's what he was not doing."
They talked about the need for Toglia to get his direction going back up the middle longer and staying on line with the plane of the pitch an extra couple inches. How to accomplish that? Everson made some suggestions, ways to get the desired results that have worked with players the size of Toglia, who is listed at 6–5 and 226 pounds.
One suggestion was a pre-pitch squat move to try to get Toglia more into his legs and to better use them in his swing. Toglia called the squat move "too piecey." The pitcher would start his delivery. Toglia would sink slightly and go forward.
"And it didn't really work for me," Toglia said. "It wasn't smooth."
Everson gave Toglia a goal. Hit everything the other way, meaning to left field while batting left-handed, which the switch-hitting Toglia did three-quarters of the time. Everson suggests, he never imposes. He never tells a hitter: you have to do it this way. Or: that swing will never work. Better the hitter feels comfortable with any change and takes ownership of it.
Everson was with Toglia in Hartford for a six-game series from June 28-July 3 against Binghamton. Toglia, who didn't play June 28 after working extensively that day with Everson, went 1-for-4 and 2-for-5 with a double that was pulled to right field in the next two games. In the final three games of the series, Toglia went 1-for-10, albeit with only two strikeouts. After telling Toglia he wanted him to hit the ball the other way, Toglia remembers Everson saying, "And how you do that is on your own."
From July 1–14, Toglia went 8-for-51 (.157) with one home run, three RBI and 17 strikeouts in 12 games. At the end of that stretch, he was hitting .203 with a .717 OPS.
Toglia was patient. Better to trust the process and believe it would work over time than focus on results. Hartford hitting coach Tom Sutaris gave Toglia a memorable analogy about putting faith in the process.
"Sutaris always kept calling it novocaine," Toglia said. "It always works. It just takes time. So that's how I approached it."
On July 14 against Harrisburg, Toglia went 0-for-5, his third hitless at-bat in four games. But during that game, Toglia opened his back foot, moving the toe just slightly toward the catcher. He struck out swinging on his first at-bat, then grounded to third, struck out looking and flied to center. On his final at-bat, Toglia scalded a ball to shortstop. He had struck paydirt. He texted his father after the game with the good news. And he sent off that euphoric text to Everson.
"I grounded out to the shortstop on a sharp ground ball," Toglia said. "I hadn't done that in months. I was like, 'That's it. Even though I was out, that's it right there.' It took off from there."
In his next game, which was on July 16 against Harrisburg, Toglia went 4-for-4 with a double, home run and three RBI. The home run was a three-run shot. The four-hit game was the start of a nine-game hitting streak.
Toglia hit safely in 14 of 16 games from July 16-Aug. 7. In those 16 games, he went 25-for-68 (.368) with eight home runs, 19 RBI and just 13 strikeouts. The very small move had paid very large dividends.
"I just set my body line better," Toglia said. "And then it was amazing, because it immediately cleaned up my line. And all of a sudden, I would take my normal swing and a fastball would go to left-center. And then offspeed, I would pull it."
He played his final game with Hartford on Aug. 7 before moving up to Albuquerque. Toglia left Hartford with a .234 average and a .795 OPS. He then played 17 games at Albuquerque, hitting .333 (22-for-66) with a 1.171 OPS, seven home runs and 17 RBI. He struck out 22 times, a higher rate than during his final 16 games at Hartford but with considerably more production against pitchers at Triple-A who were more experienced and accomplished than those he faced at Hartford.
"My job isn't to go out there and never strike out and collect as many cheap singles as I can," Toglia said.
He profiles in the Majors as a hitter capable of slugging 35 home runs in a season with 100 RBI while batting in the .240-.250 range, striking out often as sluggers do, and playing first base or right field. Toglia had played the latter position at UCLA but never professionally until this season. He began playing occasionally in right field after first baseman Grant Lavigne was promoted from High-A Spokane to Hartford on July 6.
First base is Lavigne's only position. To get him time there, allow him to work on his defense and not relegate him to being the designated hitter, Toglia eagerly went to right field. He made six starts at the position with Hartford and three with Albuquerque. And he has played right field with the Rockies.
Being able to play multiple positions means more chances to be in the lineup and more chances to hit.
At Hartford, where he set a franchise record with 23 home runs in 97 games (Brenton Doyle hit his 23rd home run in the Yard Goats' final game of the season and tied Toglia) before moving up to Albuquerque, Everson said Toglia, being a middle-of-the-order slugger, "got a ton of changeups" that would break away from him as did curveballs. But once Toglia opened his back foot, Everson said it "enabled him to cover pitches on the outer portion of the plate better, which in turn enabled him to be more aggressive early in the count and not take all those early offspeed pitches he was getting fed and fire on them earlier."
To be sure, Toglia is now facing pitchers with better stuff and better command. He is storing information in a data bank that is still largely empty. He is climbing the steep portion of the learning curve in his early days with the Rockies. The seeds of that rise came nearly three months ago. Back when Everson went to Hartford in late June and told Toglia to try to hit everything to left field. Back when Toglia, whom Everson called "kind of a tinkerer anyway," kept his faith in the process for two fallow weeks while he kept searching.
Then in the midst of another hitless game, it happened. Toglia opened his back foot, producing better direction, better coverage of the outer portion of the plate. All that came into sharp focus for Toglia with the distinctively different feeling on that hard ground ball to shortstop followed by his celebratory text to Everson.
"It was a team effort," Toglia said. "He gave me the lesson plan, and I did the homework."