Ezequiel Tovar Makes Historic Debut with Rockies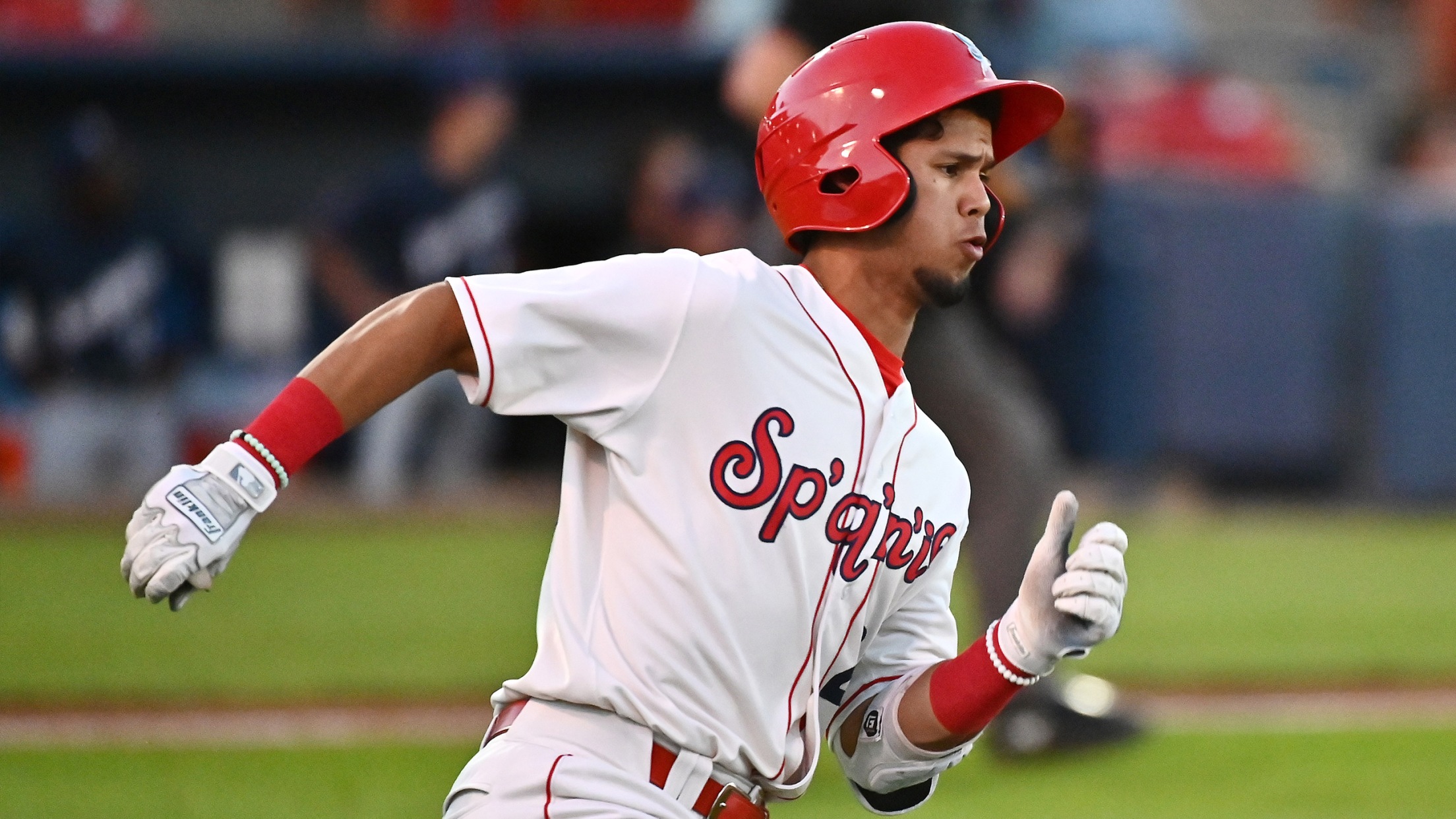 The two baseballs were in separate plastic cases on a shelf behind Ezequiel Tovar, keepsakes that came in sudden succesion. He stood at his locker Friday night, describing his historically memorable Major League debut with the Rockies. There would be no searching for his first Major League hit or his
The two baseballs were in separate plastic cases on a shelf behind Ezequiel Tovar, keepsakes that came in sudden succesion. He stood at his locker Friday night, describing his historically memorable Major League debut with the Rockies.
There would be no searching for his first Major League hit or his second. No waiting a few at-bats, and then a few more, and maybe getting a little anxious. Tovar made sure of that. One hit and then another, both on first pitches.
"I wanted to go out there and just have fun and playing the game the way I do, but I couldn't imagine it going the way it did," Tovar said with bullpen catcher Aaron Muñoz interpreting.
Batting eighth and one of five rookies in the Rockies' lineup, Tovar helped them beat the Padres 4–3 in 10 innings. His first at-bat came in the second inning. One out, runner on first. Padres left-hander Sean Manea threw a first-pitch 91.1 mph sinker. Tovar drove the ball to the right of diving second baseman Jake Cronenworth for a single.
Two innings later, Tovar came up with two outs and the bases empty. Manea threw an 83.7 mph changeup. Tovar lined a single to left, again on the first pitch.
He became the first player in franchise history to get two hits on the first two Major League pitches thrown to him.
"I had no idea until they told me," Tovar said. "But that's part of my game to be aggressive and be ready to swing at the first pitch."
Pitcher Peter Lambert was the last Rockies player to get a hit on the first Major League pitch he saw. That was on June 6, 2019, at Wrigley Field when he took the mound against the Cubs. The last Rockies position player to get a hit on the first pitch thrown to him was catcher Alvin Colina on Sept. 19, 2006. It was a pinch-hit single, Colina's lone hit in five at-bats in his two career games. Colina was an obscure Rockies player from Venezuela. Tovar is also from Venezuela but is hardly obscure, having signed for $800,000 on Aug. 1, 2017 — his 16th birthday.
Tovar and White Sox pitcher Dylan Cease are the only Major Leaguers since 2000 to record hits on the first two pitches thrown to them. Cease, who is 3-for-8 lifetime in the three games in which he batted, accomplished that feat on May 4, 2021, at Cincinnati. Cease's first hit, a single, came against former Rockies pitcher Jeff Hoffman.
After Tovar's second single, Sean Bouchrd walked, and Yonathan Daza tripled both runners home to give the Rockies a 3–2 lead. Tovar grounded to shortstop in the sixth with one out and the bases empty against Pierce Johnson, swinging at the third pitch a 1–2 curveball that registered 82.4 mph. And on his final at-bat in the eighth, Tovar grounded to second on the first pitch from Robert Suárez, a 97.4 mph four-seam fastball.
Tovar saw six pitches in his four at-bats. He was on deck in the 10th when Alan Trejo lined a game-winning single to left with one out. In his fourth stint with the Rockies this season, Trejo, who made his Major League debut April 10, 2021 and who has shifted to second base from shortstop with the arrival of Tovar, said he didn't sense Tovar was nervous when they took the field to start the game.
"No, absolutely not," Trejo said. "He was super confident and I think that speaks volumes to the kind of player he's going to be."
At 21 years, 53 days as of Friday, Tovar is the second-youngest position player in franchise history to make his Major League debut. It didn't come in a mid-week day game in June before a sparse gathering. No, Tovar made his debut against a Padres team eyeing the postseason — after Friday's loss they have a two-game lead in the race for the third National League Wild-Card spot — and in front of a crowd far larger than any he had played before on his way to the Rockies.
Indeed, as the game went on, fans filled Coors Field. Drawn by a post-game fireworks display, the announced crowd of 48,321 was the seventh sell-out of the season. During pitching changes in the eighth and ninth innings, Light Em Up was the message on the scoreboard in darkened Coors Field.
"Lights were off, and the fans were lighting up their phones," Tovar said. "I thought, 'Wow.' It just looked pretty cool."
The Rockies see Tovar as their next shortstop, a position where Troy Tulowitzki and then Trevor Story set a high standard dating back to Tulowitzki's Major League debut in August of 2006.
After Bill Schmidt became interim general manager in May 2021, he dispatched Ty Coslow and Jack Gillis, veteran members of the Rockies' professional scouting staff, to assess the team's farm system. At the end of that month, Coslow saw Tovar, then 19 and playing for Low-A Fresno.
What Coslow saw was a marvelous defensive player, given more to metronomic consistency than middle-infield wizardry. To be sure, the spectacular was well within reach because of his athleticism. But his artistry then was more subtle.
"There is not one shred of flash to him," Coslow said in June 2021. "He knows where he's supposed to be. He reads hops. He does all the things you're hoping a 24- or a 25-year-old figures out. He's 19 and plays the game like he's 30. He's really comfortable out there."
The Rockies were confident Tovar would hit but how much and how soon were unknowns. He did well that year at Fresno but faltered after moving up to High-A Spokane during the 2021 season and then struggled offensively in the Arizona Fall League.
Added to the Rockies' 40-man roster in November, Tovar performed well in Spring Training, hitting .550 (11-for-20) in 10 Cactus League games with two doubles, three homers and seven RBI. That showing enabled Tovar to go to Double-A Hartford rather than going back to Spokane to start this season.
In 66 games at Hartford, Tovar slashed .318/.386/.545 before suffering a severe groin injury June 29. After a lengthy rehab, Tovar was able to resume his season at Triple-A Albuquerque on Sept. 15. In five games there, Tovar went 7-for-21 with one home run and two RBI before being recalled Thursday.
He arrived that morning at Coors Field before the Rockies concluded a series with the Giants, took ground balls on the field but didn't play.
Manager Bud Black wrote Tovar's name in his lineup for Friday's game with the Padres. Black met with Tovar when he joined the Rockies on Thursday but said he didn't speak with Tovar on Friday.
"I think a lot of times less is more," Black said.
That certainly was sound reasoning Friday night in Tovar's historic debut. First two pitches, first two hits. And not just one, but in the wink of an eye two baseballs in plastic cases.
"It's a blessing," Tovar said. "Words can't explain. But I really feel like a bada**. I feel really confident the way I did it."