South Bend Cubs Begin Accepting Submissions for 2023 National Anthem Performances
Groups and individuals are invited to submit audition videos to be considered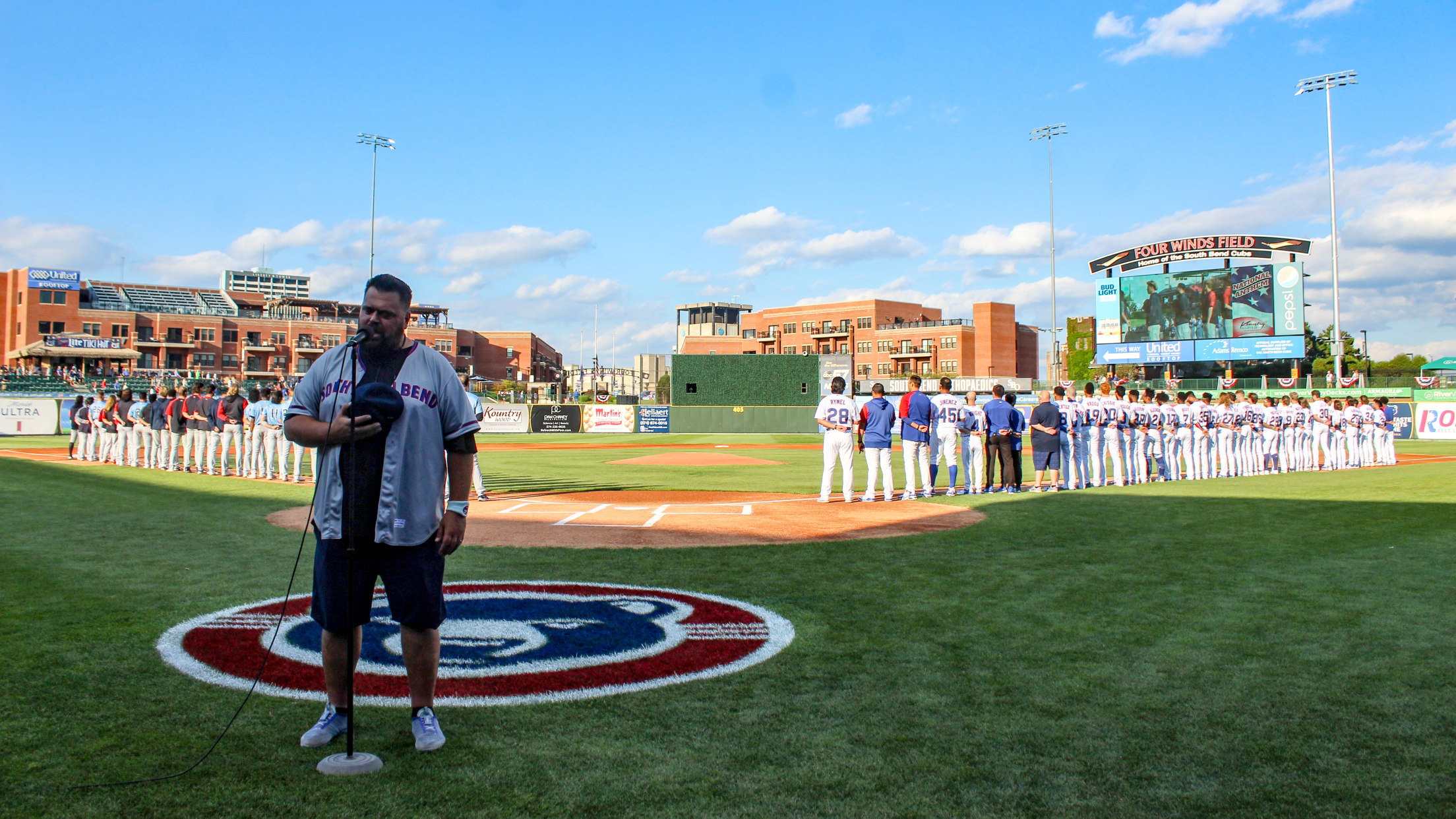 (Casey McDonald)
For Immediate Release SOUTH BEND, IN – Starting today the South Bend Cubs are accepting auditions to perform "The Star-Spangled Banner" prior to home games at Four Winds Field for the 2023 season, presented by Kountry Cabinets & Home Furnishings. Individuals, bands, choirs, and groups are invited to participate. CLICK
For Immediate Release
SOUTH BEND, IN – Starting today the South Bend Cubs are accepting auditions to perform "The Star-Spangled Banner" prior to home games at Four Winds Field for the 2023 season, presented by Kountry Cabinets & Home Furnishings. Individuals, bands, choirs, and groups are invited to participate.
CLICK HERE TO SUBMIT YOUR NATIONAL ANTHEM AUDITION
As in years past, all auditions shall be submitted in video form. Videos must be submitted through the upload link provided in the audition application. All applications must be submitted through the digital form, no paper applications will be accepted. Auditions recorded via mobile devices or professional performances are acceptable. There will not be any in-person auditions for 2023.
Please reach out to [email protected] with any questions regarding performing the National Anthem at a South Bend Cubs game this year.
Performances of "The Star-Spangled Banner" are not to exceed two minutes. All vocal auditions must be performed a cappella (no musical accompaniment). Instrumental performances will be accepted. Those who audition in groups must include all members in the audition video.
The deadline to submit National Anthem auditions is 5 p.m. ET on Thursday, March 30, 2023. Once submitted, auditions will go through a thorough judging process. National Anthem performance opportunities are extremely limited and not guaranteed. Due to the high volume of submissions, the South Bend Cubs do not guarantee a response. All submissions will be carefully reviewed. Should your submission be accepted by the Cubs, you will be contacted via e-mail.
About the South Bend Cubs
The South Bend Cubs are the High-A affiliate of the 2016 World Series Champion Chicago Cubs. Over the past 34 seasons, the team has won five Midwest League titles, most recently in 2022, and has captured nine division titles. In 2022, Four Winds Field, home of the South Bend Cubs, was voted Best High-A ballpark in the country by Ballpark Digest, having also won the award as a Low-A ballpark in 2017. In 2019, the South Bend Cubs hosted the final Midwest League All-Star Game. In 2015 the team was named Ballpark Digest's Team of the Year and received the John H. Johnson President's Award, the highest award in minor league baseball. The team is owned and operated by Swing-Batter-Swing, LLC whose principal shareholder is Andrew T. Berlin of Chicago, Ill. More information is available at SouthBendCubs.com.