23 Former South Bend Cubs to Play in World Baseball Classic
Nine current Chicago Cubs organization players and 14 others in WBC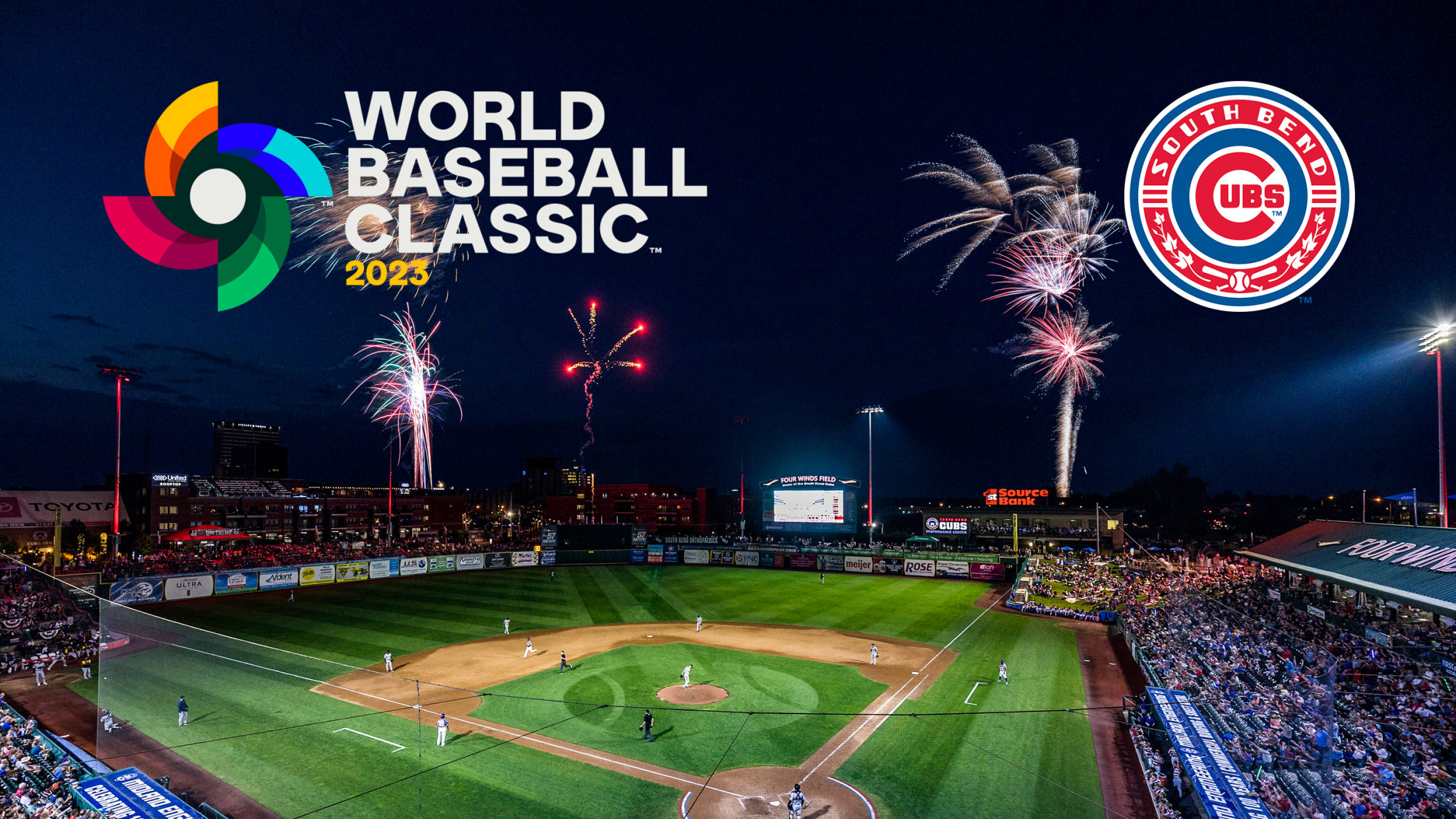 When the World Baseball Classic kicks off this evening in Taiwan and beyond around the world, 23 former South Bend Cubs will suit up for their respective countries of heritage in baseball's global experience. Nine players who currently compete in the Chicago Cubs organization will be in action for the
When the World Baseball Classic kicks off this evening in Taiwan and beyond around the world, 23 former South Bend Cubs will suit up for their respective countries of heritage in baseball's global experience.
Nine players who currently compete in the Chicago Cubs organization will be in action for the WBC, but 14 former South Bend Cubs who took their talents to other organizations will also be on the field.
Infielder Liam Spence, Australia
Outfielder Owen Caissie, Canada
Infielder Jared Young, Canada
Right-handed pitcher Danis Correa, Colombia
Infielder Fabian Pertuz, Colombia
Infielder J. Murray, Great Britain
Infielder Matt Mervis, Israel
Right-handed pitcher Javier Assad, Mexico
Outfielder Nelson Velázquez, Puerto Rico
The lone Cub to appear for Team Australia during this WBC, Spence's time in South Bend was short, playing just 16 games and getting on base 10 times in that span. A former fifth-round pick by the Cubs out of the University of Tennessee, Spence has already appeared at every level in Chicago's minor league system besides Double-A Tennessee during his two years as a professional.
For Caissie, a 2022 Midwest League Champion, making Team Canada's roster is just another stepping stone on what has been a remarkable start to the career of the prized piece that the Cubs acquired from the San Diego Padres in the Yu Darvish trade. Caissie was a key part of South Bend's 2022 championship run, and had the game winning RBI's in Game 3 of the Midwest League Championship Series in Lake County with a massive home run over the right field wall.
As the 2018 Chicago Cubs Minor League Player of the Year, Young has put his fingerprint on the Cubs organization in huge fashion since he played in South Bend that same year. The Old Dominion product joined the list of Cubs draft picks who were selected late, and blossomed into something special. The native of Vancouver, B.C. made his MLB debut in 2022 and picked up his first big-league hit at Wrigley Field.
At just 23-years-old, Correa has developed into a key bullpen option for the Cubs as a non-roster invitee at big-league Camp in 2022. With South Bend in 2021, Correa finished the campaign at Four Winds Field pitching in eight games and posting a 2.45 ERA with 16 strikeouts. Last season, he capped off the year making it all the way to Triple-A Iowa.
Another 2022 Midwest League champ, Pertuz hit the first home run of the 2022 season on Opening Day at Four Winds Field, and that began what was the best season to date for the 22-year-old. Pertuz began the year playing either second base or third base everyday, but was called upon to perform in a massive role as the everyday shortstop following Ed Howard's injury. Pertuz not only stepped up, but he led South Bend to the playoffs, and ultimately, a Midwest League title.
The Midwest League Champion list continues with one of the most consistent performers down the stretch for the Cubs in 2022. Murray was called up to South Bend during the middle of the summer, and when he arrived, he immediately showed his patience and collected approach at the plate. Murray had the best foresight and eye on the team in working the zone, while reaching on base on balls 36 times in 56 games. A switch-hitter at the plate, Murray also showed power on both sides while hitting in the middle of Lance Rymel's order everyday.
Mash Mervis hits the WBC. Literally. As part of South Bend's opening day roster in 2022, Mervis' legendary campaign that now goes down in the history books all began at Four Winds Field. While hitting a smoking .350 with the South Bend Cubs, Mervis had multiple special moments in pinstripes which included a walk-off home run against the Fort Wayne TinCaps. Mervis was ultimately named the 2022 Chicago Cubs Minor League Player of the Year, and looks to be the next big thing at Wrigley Field when his MLB debut will surely come in short order. One thing that is for sure is that his 2022 Minor League campaign will be remembered for years to come, as his 119 total RBI was the most by a Minor Leaguer since Pete Alonso coming up in the New York Mets system.
Way back in 2018 on a cold, snowy, and windy night in Grand Rapids, Michigan, the opening day starter for the South Bend Cubs was a young, talented man from Mexico named Javier Assad. With his career just beginning, Assad showed a keen approach on the mound mixing speeds, and fooling hitters with a vanishing changeup and a mid-90s fastball. Assad started 21 games with South Bend that season, and posted a very respectable 4.40 ERA with 89 strikeouts. Since that point, Assad has gotten the call-up to Wrigley Field, making his MLB debut with the Chicago Cubs against the St. Louis Cardinals on August 23, 2022, tossing four shutout innings.
Last but not least, we go back to the 2019 Midwest League Championship team and a young outfielder at the time Nelson Velázquez. It was the second season that Velázquez had played in a South Bend uniform, after getting to Four Winds Field in 2018 as a 19-year-old. In 2019, Velázquez came back to the 574 stronger, faster, more powerful, and more dangerous. He was a huge part of that title run when the Cubs defeated the Clinton LumberKings for the organization's first championship as a Cub affiliate. Velázquez has also gone on to represent South Bend alumni in the Big Leagues with the Chicago Cubs, making his MLB debut on May 30, 2022. The big man hit his first Major League home run with the Cubs in Milwaukee on the Fourth of July.
As mentioned, 13 other former South Bend Cubs players who went on to play for other organizations will play in the World Baseball Classic.
Team Colombia: Yapson Gomez (2017 and 2018 South Bend Cubs, Free Agent) and Jhon Romero (2017 South Bend Cubs, Free Agent)
Team Dominican Republic: Eloy Jimenez (2016 South Bend Cubs, Chicago White Sox)
Team Israel: Alex Katz (2021 South Bend Cubs, Free Agent)
Team Italy: Matteo Bocchi (2021 South Bend Cubs, Free Agent), Alberto Mineo (2016 and 2017 South Bend Cubs, Free Agent), and Jeff Passantino (2018 and 2019 South Bend Cubs, Pittsburgh Pirates)
New Chicago Cubs infielder *Miles Mastrobuoni* will also play for Team Italy. His brother, *Marcus Mastrobuoni**, was the starting catcher for the 2019 Midwest League Champion South Bend Cubs.
Team Japan: Yu Darvish (2018 South Bend Cubs Rehab, San Diego Padres)
Team Mexico: Isaac Paredes (2016 and 2017 South Bend Cubs, Tampa Bay Rays)
Arizona Diamondbacks outfielder *Alek Thomas** will also play for Team Mexico. While with the Kane County Cougars in 2019, Thomas competed in the Home Run Derby at Four Winds Field as part of All-Star Week in South Bend that summer.
Team Puerto Rico: Vimael Machin (2015, 2016, and 2017 South Bend Cubs, Philadelphia Phillies), Nicholas Padilla (2021 and 2022 South Bend Cubs, Chicago White Sox), and Duane Underwood Jr. (2016 South Bend Cubs, Pittsburgh Pirates)
Team USA: Kendall Graveman (2019 South Bend Cubs and Midwest League Champion, Chicago White Sox)
Team Venezuela: Gleyber Torres (2015 South Bend Cubs, New York Yankees)