Toolshed: Recent noteworthy SAL seasons
Martinez, Gallo showed slugging ways; Edwards, Corry shoved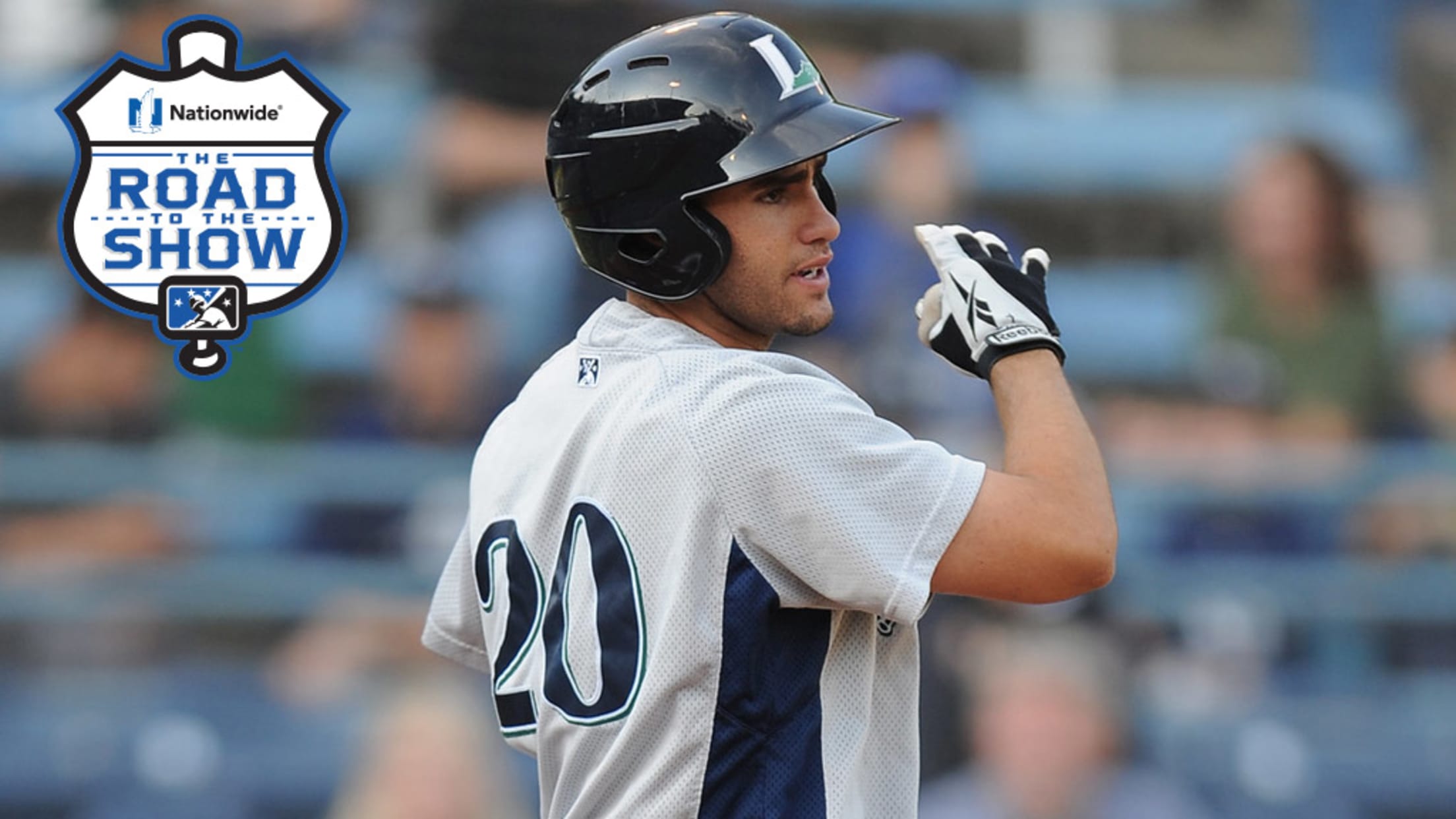 J.D. Martinez was one of two qualified SAL hitters to produce an OPS above 1.000 in the 2010s. (Tony Farlow/MiLB.com)
This space started honoring the short-season leagues after their respective campaigns were delayed in June. Now, following the cancellation of all Minor League Baseball in 2020, we've turned it into an appreciation of the full-season circuits as well. So Toolshed has been revisiting the 10 most notable individual seasons put
This space started honoring the short-season leagues after their respective campaigns were delayed in June. Now, following the cancellation of all Minor League Baseball in 2020, we've turned it into an appreciation of the full-season circuits as well.
So Toolshed has been revisiting the 10 most notable individual seasons put together across the 10 Triple-A, Double-A, Class A Advanced and Class A leagues from the last decade (2010-19). Previous editions covered the New York-Penn League, Northwest League, Appalachian League, Pioneer League, International League, Pacific Coast League, Eastern League, Southern League, Texas League, California League**, **Carolina League, Florida State League and Midwest League. The last in the series, this column focuses on the Class A South Atlantic League.
10. Matt Skole, Hagerstown, 2012: Skole hasn't become as big a name as others on this list, and the Georgia Tech product was 21 when he started his first full campaign at the Class A level. Yet his 2012 was too good to overlook for this list. The left-handed slugger hit .286/.438/.574 with 27 homers and 18 doubles in 101 games. That .438 OBP would be the highest by a South Atlantic League qualifier in the 2010s, while his 1.013 OPS ranked second. In fact, he was one of only two SAL qualifers with an OPS in the quadruple digits during the decade. Skole also walked 94 times, second-most by a hitter on the circuit over this time. He was named 2012 Sally League MVP because of the impression he left before getting promoted in mid-August. Skole's 27 homers have been the most he's hit with any club over a season since. The former National made his Major League debut with the White Sox two years ago and played 31 games for Chicago between 2018-19 before getting released this past June.
9. Jurickson Profar, Hickory, 2011: The Curacao native was a Top-100 prospect headed into the 2011 season because of his five-tool potential. Once he showed that off over a full season, his stock absolutely skyrocketed. To wit, the switch-hitting shortstop was the South Atlantic League's only 18-year-old to walk more than he struck out (65 walks, 63 strikeouts) and to get enough at-bats to qualify for the single-season batting title during the 2010s. He finished with a .286/.390/.493 line, 12 homers and 23 stolen bases, showing off a little bit of all things offensively and claiming Sally League MVP honors. Combined with his defensive potential at a premium position, Profar stood out enough with the Crawdads to enter the following season as MLB.com's No. 7 overall prospect. He eventually climbed all the way to the top spot, but shoulder injuries robbed him of much of his 2014 and 2015 seasons. Looking back on his 2011 award-winning season is an exercise in wondering what could have been if not for those trips to the IL.
8. Tyler Glasnow, West Virginia, 2013: A 6-foot-8 right-hander, Glasnow always stood out on a mound. In 2013, the 2011 fifth-rounder stood out for more than just his size, namely his stuff and results. The then-Pirates hurler broke out in a big way with the Power, posting a 2.18 ERA and a 1.03 WHIP with 164 strikeouts over 111 1/3 innings. Glasnow struggled some with control -- he averaged 4.9 BB/9 -- but armed with a mid-90s fastball and plus curve, he was downright unhittable in the Sally League. His 36.3 percent strikeout rate and .141 average-against were tops among SAL pitchers in the decade with at least 70 innings. (He cleared that bar by 40 frames.) The perfect example of a Glasnow outing in 2013 came at Charleston on Aug. 22 when he struck out 13 and didn't allow a hit over five innings. He did, however, walk five and hit one batter. The lanky righty fanned at least 10 batters on five occasions in 24 starts that summer. He jumped into the top half of the Top-100 rankings for the first time heading into the 2014 season as a result.
7. Bryce Harper, Hagerstown, 2011: There simply wasn't a more hyped player to reach the league in the last decade. You know the story, even if it happened nine years ago. Harper was taken with the No. 1 overall pick in 2010, won a Golden Spikes award at College of Southern Nevada (a junior college) and appeared on the cover of Sports Illustrated -- all before his 18th birthday. His power was already the stuff of legend, and his arm, which worked well as a catcher, was about to get a new test in the outfield. The Nationals kept the Las Vegas native from the Minors in his Draft year -- though they did get him time in the Arizona Fall League as a taxi-squad player -- so his move to Hagerstown in 2011 constituted his official debut. Harper looked more like an established vet than a young player getting acclimated. He hit .318/.423/.554 with 14 homers and 19 stolen bases. (One of those homers became instantly notorious when he blew a kiss toward Greensboro pitcher Zach Neal after a moonshot on June 6.) Harper was the only 18-year-old to get at least 200 plate appearances and put up a line of at least .300/.400/.500 in the South Atlantic League, a sign of just how good he was for his age. Washington agreed and bumped him two levels to Double-A Harrisburg on July 4 to end his first full season. He was up in the Majors the following April as a 19-year-old.
6. Jarred Kelenic, West Virginia, 2019: Before Kelenic played for a single full-season team, he had joined his second organization, moving from the Mets to the Mariners in his first offseason. He made an incredibly strong first impression. The 2018 first-rounder batted .309/.394/.586 with 11 homers, 28 total extra-base hits and seven stolen bases over 50 games with the Power. His 181 wRC+ was the best by a Sally League teenager with at least 200 plate appearances in the 2010s, and it wasn't particularly close; Harper was second at 164. How high those numbers could have gone remains anyone's guess. Seattle promoted Kelenic to Class A Advanced Modesto after less than two months in West Virginia and moved him up again to Double-A Arkansas to complete his age-19 season. By all indications, the No. 10 overall prospect brought his hot bat with him to the alternate site in Triple-A Tacoma this year, and his potential Major League debut should be one of the most highly anticipated of 2021.
5. José Fernández, Greensboro, 2012: Nowhere was Fernández more dominant in pro ball than at Greensboro. Not in the Majors when he was Rookie of the Year in 2013 or an All-Star in 2016. This is where he put up his best numbers, which were even more incredible considering they came when he was 19 and after only two previous professional appearances in 2011. Those numbers: a 1.59 ERA, .189 average-against, 99 strikeouts, only 18 walks in 79 1/3 innings. Fernández's 0.87 WHIP was second-lowest among the SAL pitchers with at least 70 innings in the decade, his 2.16 FIP was third-lowest and his 33.6 percent K rate was fourth-highest. He allowed more than two earned runs in only one of his 14 starts with the Grasshoppers as well. Despite the fact that it was his first year out of high school, the Marlins promoted the right-hander -- who possessed two early plus pitches in his fastball and slider -- to Class A Advanced Jupiter in late June, only to have him dominate there as well. (More on that in the Florida State League list.) Just another reminder on how much fun it was to watch the Miami ace before he tragically died in a 2016 boating crash.
4. Seth Corry, Augusta, 2019: The highlights of the Giants system these days are on the position-player side -- Joey Bart, Heliot Ramos, Marco Luciano, Hunter Bishop -- but Corry gave fans by the Bay an arm to get excited about last season. The 2017 third-rounder climbed to full-season ball for the first time and took off with the GreenJackets, posting a 1.76 ERA (second) and 33.9 percent strikeout rate (fourth) that ranked among the top five among all Minor League qualifiers. By the way, both those numbers were best among Sally League qualifiers in the 2010s, showing how much the left-hander stood out among his Class A peers in the decade. His 172 total K's were also the most by any South Atlantic League pitcher in the 2010s. Corry thrives on using a plus curveball while his low-90s fastball also earns above-average grades. His changeup might have the biggest development of 2019, leading to the jump in strikeouts, and with that arsenal, he jumped into the Top 100 ranks at No. 99. How that package of pitches plays at the upper levels is very much yet to be seen after San Francisco chose not to promote the then-20-year-old in his big year, but for now, we can still admire the dominance he showed the last time he was on a Minor League mound.
3. Carl Edwards Jr., Hickory, 2013: This was the definition of a breakout. Edwards was a 48th-round pick out of a South Carolina high school in 2011. That round didn't exist in 2019, to say nothing of the unique five-round Draft in 2020. After Edwards' time in the South Atlantic League, he wasn't just a nice story; he was a top-50 prospect. The 6-foot-3 right-hander, nicknamed The String Bean Slinger, posted a 1.83 ERA and a 1.03 WHIP with 122 strikeouts over 93 1/3 innings with Hickory. He didn't allow a homer in any of his 18 starts -- making him the only Sally League pitcher in the decade to throw at least 90 innings and keep the ball in the yard the whole time -- and he struck out at least eight batters in seven of those appearances, including 12 K's in only five frames against Delmarva on June 14. His 2.06 FIP was the lowest by any SAL hurler in the decade (minimum 70 innings). That's how Edwards went from organizational arm to big piece in a deadline deal that netted the Rangers Matt Garza from the Cubs. Chicago thought it'd seen enough of Edwards' Class A dominance to push its new acquisition to Class A Advanced Daytona. (He put up a 1.96 ERA there and finished the season with a Minor League-best 33.1 percent K rate.) Edwards, who is currently on the 60-day injured list with the Mariners, has become a bit of journeyman reliever in recent years, but he's best remembered in the Majors for being a part of the Cubs' 2016 World Series team.
2. Joey Gallo, Hickory, 2013: Gallo claimed the top spot in the Carolina League list earlier this month, and it's only right that the man with 154 career Minor League homers also features here one league below. The 2012 39th overall pick made a name for himself in his Draft year by slugging .733 with 18 homers in 43 games in the Rookie-level Arizona League. One year later, he proved that pop came with him off the complex. Gallo went deep 38 times in 106 games for Hickory in 2013, giving him the highest single-season total of the decade. Added with two more dingers during a rehab stint in the AZL, Gallo's 40 total that season were the most in the Minors, giving the left-handed hitter the only Joe Bauman Home Run Award of his career (though he was also competitive in 2014 when he went deep 42 times). The Rangers slugger finished with a .245/.334/.610 line and 163 wRC+, underlying just how dependent he was on his elite power to bring value to the plate. He entered the following season as a Top-100 prospect for the first time and remained a fixture of such lists, even reaching the top five, before graduating in 2016.
1. J.D. Martinez, Lexington, 2010: If anyone in the past decade proved that development continues in the Major Leagues, it was Martinez, who went from a below-league-average bat in his first few years with Houston to one of the game's best right-handed sluggers in Detroit, Arizona and Boston. (At least before 2020, but we digress.) But even before that breakthrough, the 2009 20th-rounder out of Nova Southeast had to put himself on the Major League map first. He accomplished that in the Sally League at the top of the decade in his run at the Class A level. Martinez hit .362 and put up a 1.030 OPS and 188 wRC+, each of which were the highest among SAL qualifiers for the entire 10 years. He also produced a .433 OBP, .598 slugging percentage, 15 homers and 49 extra-base hits over his 88 games with the Legends -- incredible numbers across the board. It deserves mentioning that Martinez was a college performer dominating the lowest level of full-season Minor League ball, but it also that 20th-rounders -- no matter where they come from -- don't typically take off quite this well. In any event, the Astros acknowledged Martinez was too good for Class A by promoting him to Double-A Corpus Christi in mid-July. Martinez wouldn't hit 15 homers for a single club again until 2014 in his first season with the Tigers.
Sam Dykstra is a reporter for MiLB.com. Follow and interact with him on Twitter, @SamDykstraMiLB.