Rave turns up late-inning heat for Legends
Royals No. 22 prospect caps Sally Finals Game 1 rally in ninth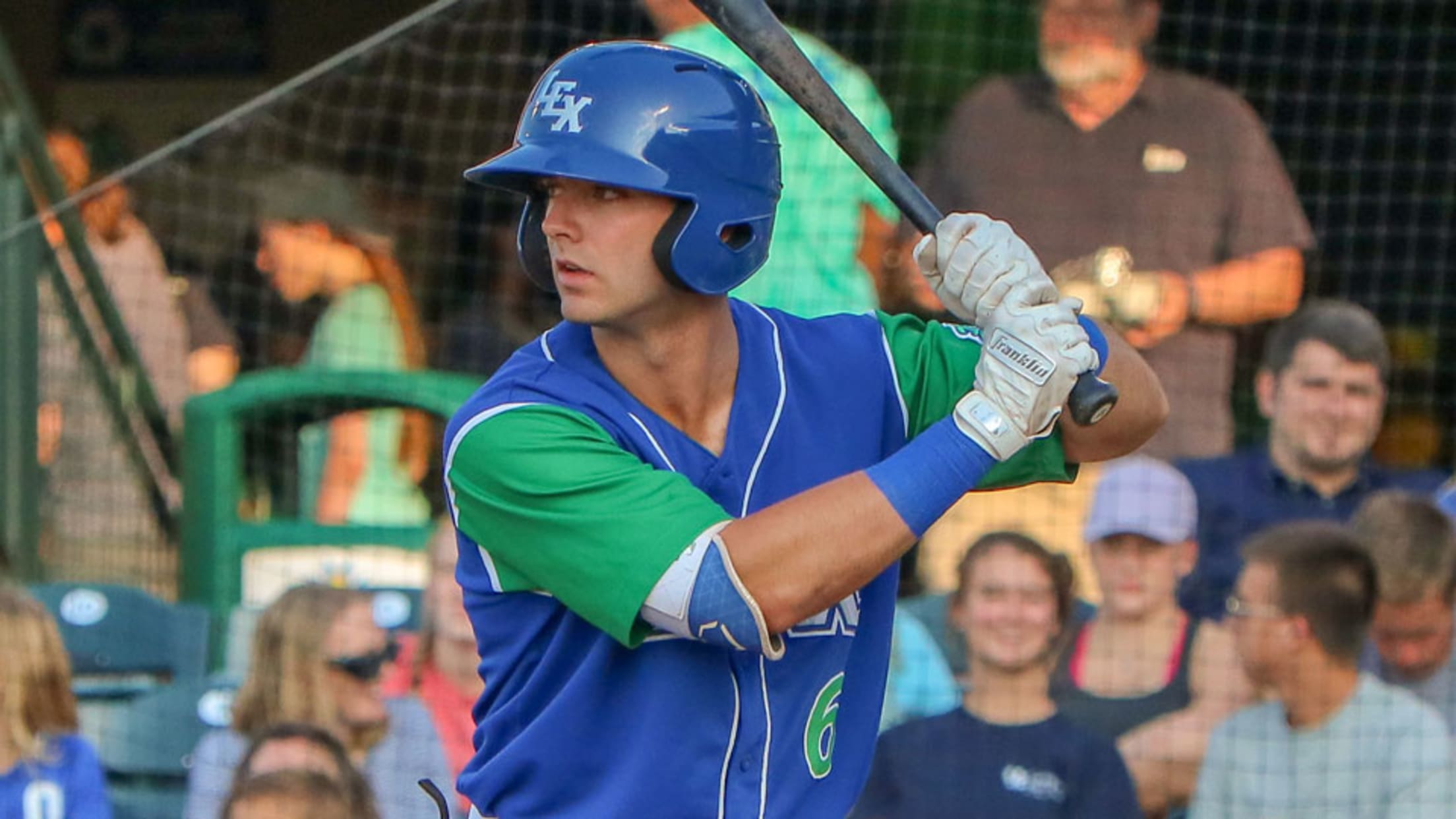 Illinois State product John Rave was a fifth-round pick by the Royals in this year's First-Year Player Draft. (Clinton Riddle)
Kids dream about ninth-inning postseason heroics. Few, however, get to experience it -- especially only three months after being drafted.But John Rave, a fifth-round pick by Kansas City this year, was able to keep the Class A Legends' undefeated postseason rolling with some Monday night.Kansas City's No. 22 prospect delivered
Kids dream about ninth-inning postseason heroics. Few, however, get to experience it -- especially only three months after being drafted.
But John Rave, a fifth-round pick by Kansas City this year, was able to keep the Class A Legends' undefeated postseason rolling with some Monday night.
Kansas City's No. 22 prospect delivered a two-run single to cap a ninth-inning rally as Lexington downed Hickory, 6-4, at L.P. Frans Stadium in Game 1 of the best-of-5 South Atlantic League Championship Series.
Gameday box score
With one out in a tie game, Nick Hutchins roped an RBI double into left field off right-hander Kelvin Gonzalez to set up Rave's base knock.
"I felt like I'd put together a couple good at-bats, but had nothing to show for it," said Rave, who was 0-for-3 entering the ninth. "Nick smoked a ball to left field, and I was just looking to put the ball in play. I wanted to get those insurance runs. Fortunately, I was able to sneak one up the middle. It was a cool feeling."
Lexington -- 3-0 in the postseason -- got on the board first. Jeison Guzman stroked a two-run homer over the wall in right-center field off Rangers No. 19 prospectRonny Henriquez in the third inning. The 19-year-old righty yielded two runs on three hits and a walk with seven strikeouts over six innings. He tossed 74 pitches, 51 for strikes.
Hickory answered with a three-spot in the fifth, highlighted by a run-scoring double by Kole Enright off Legends starter Jon Heasley. The right-hander allowed three runs -- two earned -- on five hits and a pair of walks while whiffing three across five frames.
Complete playoff coverage
The Legends knotted the game, 3-3, in the eighth against righty Nick Snyder with back-to-back two-out doubles by Rubendy Jaquez and Guzman.
"It was a great baseball game," Rave added. "The whole game, back and forth ... we knew it was going to be a tough series.
"Taking Game 1 is a big step. We have confidence in the guys on the mound; we have some studs on the mound. I have faith in our pitching to hold them down and then for our offense to have a chance."
The Crawdads added a run in the ninth when Miguel Aparicio raced home on a fielding error by second baseman Jaquez on a grounder by Jax Biggers.
Kyle Hinton picked up the win. The right-hander gave up a walk and struck out a pair in two innings. Brandon Marklund earned the save after allowing the unearned run on a walk in the final frame.
The Illinois State product "had no idea what to expect" when the Royals called his name in June, but he has embraced the adjustments to a long year of playing baseball.
"I couldn't ask for a better organization than the Royals," the 21-year-old outfielder said. "To be able to play with Lexington, they've made it a super-easy transition. You dream of nights like this as a kid. I'm having a lot of fun."
The teams stay in Hickory for Game 2 at 7 p.m. ET on Tuesday.
Duane Cross is a contributor to MiLB.com. Follow him on Twitter @DuaneCrossMiLB.