TD Bank Ballpark's 25 Seasons Celebrated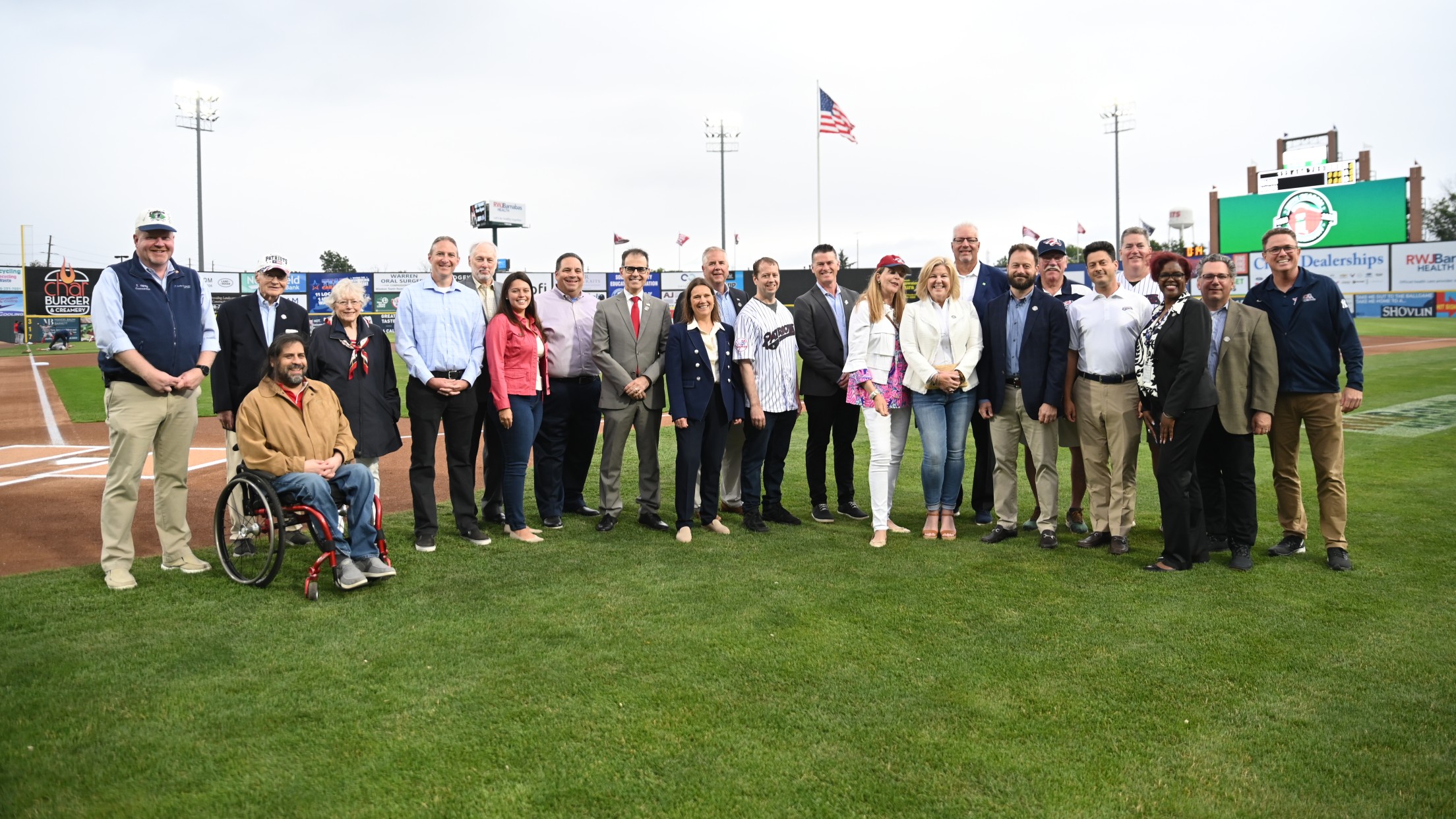 Bridgewater, New Jersey – On Saturday, June 3, the Somerset Patriots celebrated the 25th season of TD Bank Ballpark before a season-high 7,403 fans in attendance. The team welcomed Somerset County elected officials from previous and current terms, along with representatives from Bridgewater Township and TD Bank for a pre-game
Bridgewater, New Jersey – On Saturday, June 3, the Somerset Patriots celebrated the 25th season of TD Bank Ballpark before a season-high 7,403 fans in attendance.
The team welcomed Somerset County elected officials from previous and current terms, along with representatives from Bridgewater Township and TD Bank for a pre-game ceremony to commemorate the milestone.
Season 2️⃣5️⃣ and this view never gets old pic.twitter.com/U3fitSt3Vr

— Somerset Patriots (@SOMPatriots) June 4, 2023
"We have new friends and old friends. Some of our old friends are here with us now; they are incredible partners. I'd like to thank you from everyone at the Somerset Patriots and our family, thank you to Bridgewater Township, Somerset County, and you, our incredible fans in our community," said Patriots Co-Chairman Josh Kalafer, who was joined on the field by Co-Chairman Jonathan Kalafer, Manager Emeritus Sparky Lyle and President/General Manager Patrick McVerry.
Since opening on June 7, 1999, TD Bank Ballpark has been the home for Patriots baseball. Now in the third season as the New York Yankees Double-A affiliate, the Patriots previously played 21 seasons as an independent team and also a season of a team-run professional league during the pandemic.
TD Bank Ballpark, located in Bridgewater Township in the heart of Somerset County, is one of the premier entertainment destinations in Central New Jersey.
Commissioner Director Shanel Robinson, Deputy Director Douglas Singleterry, Commissioners Melonie Marano, Sara Sooy and Paul Drake, Administrator Colleen Mahr, Counsel Joe Demarco and Engineer Matt Loper represented Somerset County. Past Freeholders Peter Palmer, Denise Coyle, Patrick Scaglione and Brian Gallagher joined them on the field during the pre-game program.
"I would like to thank the Patriots and Kalafer family, for the past 25 years of baseball partnership in Central Jersey. It's been a great partnership in building healthy, family recreation like we have here at TD Bank Ballpark," said Robinson. "Three years ago they embarked a new partnership with the New York Yankees, and brought home an Eastern League Championship that speaks to the pride and spirit of the game here in Central Jersey!"
Bridgewater Township Mayor Matt Moench was in attendance with his Township Councilmembers Michael Kirsch (President), Timothy Ring (Vice President), Allen Kurdyla, Howard Norgalis and Filipe Pedroso.
"For 25 years, the Somerset Patriots have been an integral part of our community, providing joy and memories for more than a generation," said Moench. "We look forward to supporting the Patriots and the New York Yankees for the next 25 years, inspiring the next generation of baseball fans and creating family memories lasting a life time."
The 6,100-fixed seat ballpark originally opened as Somerset Ballpark, changed to Commerce Bank Ballpark in 2000 and has been named TD Bank Ballpark since 2009.
TD Bank Ballpark is a two-time winner of Ballpark Digest's "Best of the Ballparks" competition (2015 & 2016), as well as a recipient of multiple economic development and good neighbor awards.
"At TD Bank, we work to create strong relationships with organizations to support and connect our communities, just like the Patriots organization," said Pete Mania, TD Bank Regional Vice President. "We are honored to be part of the 25th anniversary of the TD Bank Ballpark and are proud to be aligned with the Somerset Patriots since the beginning!"
In addition to welcoming over 8,000,000 fans to Patriots home games, TD Bank Ballpark is a multi-use facility that most recently hosted over 80 events to provide affordable and safe community entertainment during the pandemic in 2020.
The first 2,000 fans in attendance received 25th Season Anniversary commemorative pins and were treated to a postgame fireworks show at the conclusion of the Eastern League match up against team rival, the Portland Sea Dogs (Boston Red Sox).