Rivalry Series Preview: Portland at Somerset 5/30 – 6/4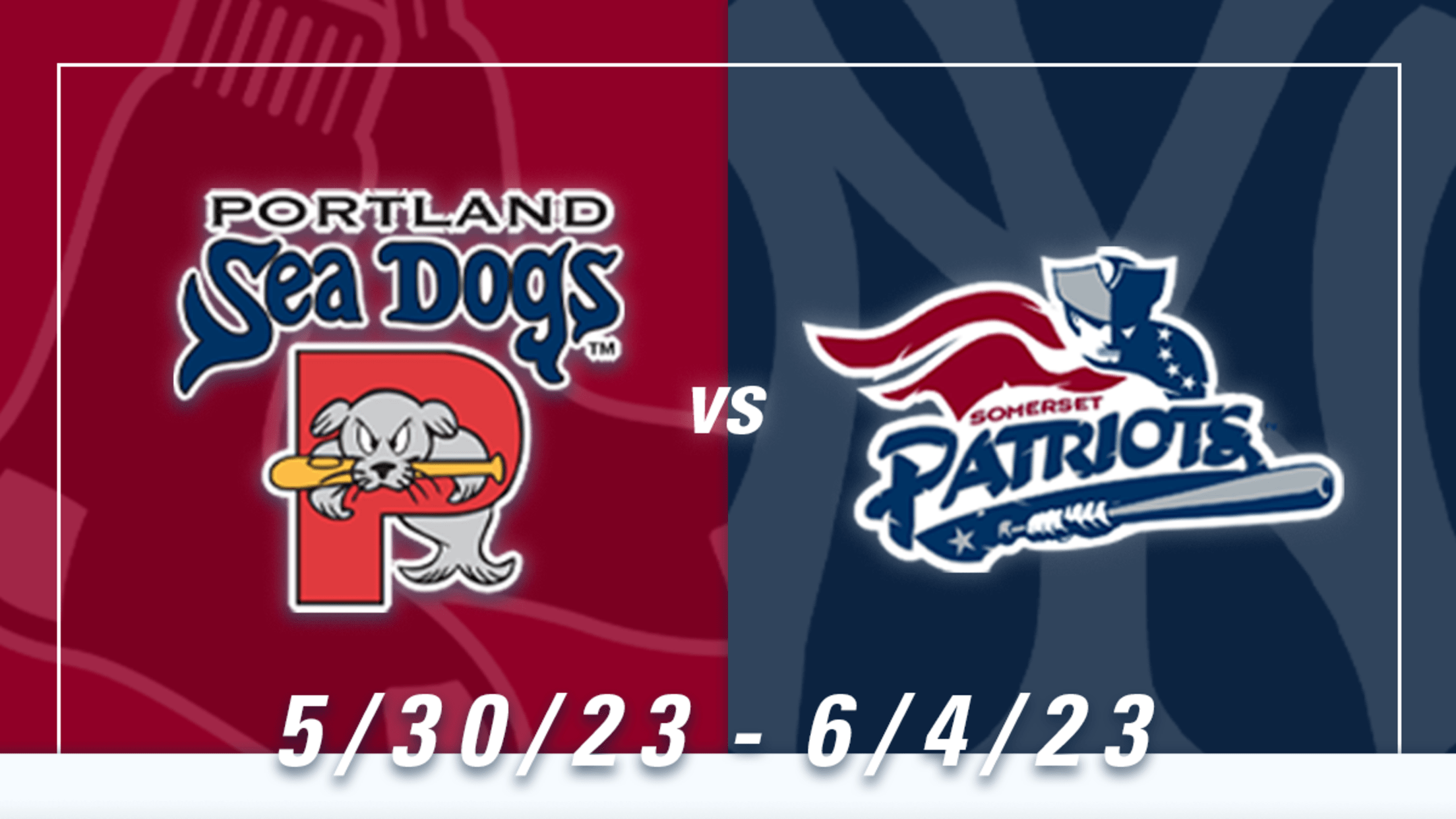 Bridgewater, New Jersey - After dropping four-of-six ball games on the road in Erie last week, the second place Somerset Patriots (25-19) return home this week to welcome in the first place Portland Sea Dogs (30-15) to TD Bank Ballpark in a key first half battle. Just 21 games remain
Bridgewater, New Jersey - After dropping four-of-six ball games on the road in Erie last week, the second place Somerset Patriots (25-19) return home this week to welcome in the first place Portland Sea Dogs (30-15) to TD Bank Ballpark in a key first half battle. Just 21 games remain in the Eastern League's first half and a finish atop the Northeast division would ensure a postseason berth against the second half division winner. Somerset currently trails Portland by 4.5 games in the standings and this will be their final meeting of the first half after the two clubs split a six-game series at Hadlock Field just three weeks ago.
Here are some news, notes and tidbits you should know heading into this week's pivotal matchup.
The @Yankees have announced that OF Giancarlo Stanton is currently scheduled for an MLB rehab assignment with the Somerset Patriots on Tuesday, May 30. #RepBX pic.twitter.com/lGCu6ZdGwE

— Somerset Patriots (@SOMPatriots) May 30, 2023
Triple Rehab Alert: There are still tickets available to the series opener between Portland and Somerset later tonight. By the time you walk through the turnstiles and get to your seat, you might just think you're in the Bronx watching the Yankees once you take a look at your scorecard. The Patriots are currently scheduled to play host to a trio of MLB rehab assignments on Tuesday night in outfielder Giancarlo Stanton, infielder Josh Donaldson and pitcher Tommy Kahnle.
Stanton landed on the IL back on April 16 with a left hamstring strain after slashing .269/.296/.558 with four homers and 11 RBI in 13 games and this will be the first live game action that the 2017 National League MVP has seen since. The five-time All-Star has slowly been building up and working out and the Yankees are eager to get his explosive bat back into their big-league lineup.
Donaldson, a former MVP in his own right, is actually making a return trip to Somerset after rehabbing the same right hamstring injury on April 18 that brings him back tonight. The three-time All-Star went 1-for-3 in that game with the Patriots before the organization shut him down for five weeks after reporting some discomfort. The Yankees re-started Donaldson's rehab clock last week with Triple-A Scranton where he went a combined 3-for-9 with a homer, a double, two RBI and four walks drawn in three games of action with the RailRiders.
Kahnle has been on the IL since March 27 with right bicep tendonitis after re-signing with the Yankees as a free agent over the winter. The 33-year-old right-hander continues his rehab tour of the system after beginning that process back on May 18 with two appearances for Tampa before making an additional two appearances at Scranton last week. In all, Kahnle has tossed four scoreless innings and has allowed just one hit and one walk while striking out five.
Got Yo Back: The Patriots got a much-needed boost to their starting rotation last Sunday when right-hander Yoendrys Gomez was activated off the IL to make his season debut at Erie. The 23-year-old right-hander, ranked ninth on the MLB Pipeline top-prospect list, tossed three scoreless, hitless frames with a walk and three strikeouts in his 38-pitch outing.
TJ Streaking: After drawing a walk in Sunday's 3-2 win over Erie, infielder TJ Rumfield has extended his on-base streak to 19 games, which began back on April 29. The 23-year-old has hit .299 over that extended stretch to raise his batting average from .163 to .241 and continues to be one of the most productive hitters in the Somerset lineup with seven homers (2nd on team) and 23 RBI (2nd on team).
Knowing the Opponent: Portland has sat atop the division for what feels like a majority of this 2023 campaign, and they have been able to evade any kind of push Somerset has made to catch them thus far. They hit well, having tallied the second most runs in the Eastern League (227), and they pitch well – their 3.53 team ERA is a league best mark. If that were not impressive enough, it seems like they are about to get a whole lot stronger this week.
You Mayer May Not Know: Multiple reports over the weekend indicate that Boston has promoted their top-prospect, Marcelo Mayer, to Portland. The 20-year-old shortstop is the fifth ranked prospect in all of baseball according to MLB Pipeline and earned a promotion after slashing .290/.366/.524 with Greenville while leading the South Atlantic League in homers (6) and RBI (23) through action last Sunday.
Red Sox 19th ranked prospect Niko Kavadas has blasted a team-high eight homers and driven home a team-best 26 runs all while posting a .400 on-base percentage. The Notre Dame product's 34 walks trail only Jasson Dominguez (36) for the league lead in walks. Top-10 prospects Ceddanne Rafaela (3) and Nick Yorke (5) have both provided a unique combination of speed, on-base ability and bat-to-ball skills that make Portland one of the scarier lineups around minor league baseball.
Series Probable Pitchers:
5/30: RHP Grant Gambrel (0-0, 1.69 ERA) vs. RHP Richard Fitts (2-3, 5.26 ERA)
5/31: RHP Brian Van Belle (2-2, 2.80 ERA) vs. RHP Clayton Beeter (2-2, 3.03 ERA)
6/1: TBD vs. RHP Gray Fenter (2-2, 3.64 ERA)
6/2: TBD vs. RHP Blane Abeyta (2-3, 6.75 ERA)
6/3: RHP CJ Liu ( 4-3, 3.92 ERA) vs. RHP Yoendrys Gomez (0-0, 0.00 ERA)
6/4: RHP Grant Gambrel (0-0, 1.69 ERA) vs. RHP Richard Fitts (2-3, 5.26 ERA)
Matt Kardos | SomersetPatriots.com Beat Writer
Matt Kardos has covered the Yankees minor league system for over a decade and will spend his 11th season on the beat covering the Patriots for SomersetPatriots.com. Throughout his career, Matt has contributed to MLB.com, YES Network and Pinstriped Prospects. When he's not at the ballpark, Matt enjoys traveling with his wife Kimberly, watching Jets football and collecting sports cards.