Patriots Return Home With Chance To Clinch Playoff Berth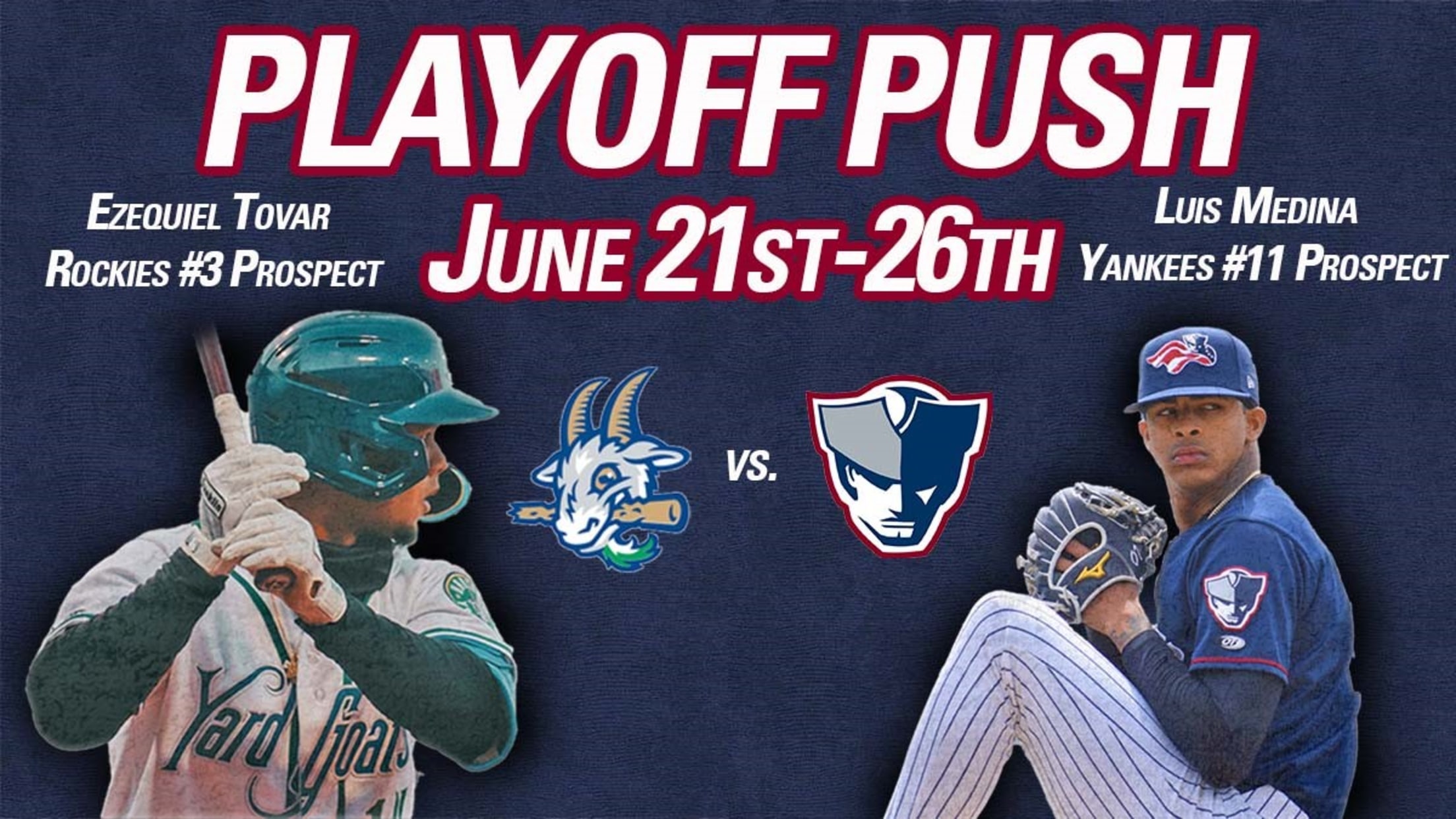 Bridgewater, New Jersey - After winning the first six games of their road trip in New Hampshire, the Somerset Patriots return to Bridgewater with an Eastern League best record of 41-22, leading the Hartford Yard Goats by one game for first place in the Eastern League's Northeast Division with one
Bridgewater, New Jersey - After winning the first six games of their road trip in New Hampshire, the Somerset Patriots return to Bridgewater with an Eastern League best record of 41-22, leading the Hartford Yard Goats by one game for first place in the Eastern League's Northeast Division with one week to play in the half.
The Patriots host the Yard Goats from June 21-26 at TD Bank Ballpark in a series that will determine a playoff berth. The postseason consists of the four teams that finish with the best record in each half. In the event that the same team wins both halves, the club with the next best full-season winning percentage will advance.
After spending 40 consecutive days in sole possession of first place between April 28 to June 7, the Patriots entered their road trip in New Hampshire trailing Hartford by 2.5 games. Somerset swept its double header on Wednesday, June 15 to move back into a tie for first, before overtaking the Yard Goats on Thursday, June 16.
With the Patriots hosting second-place Hartford at TD Bank Ballpark for their final series of the half, they control their own destiny in terms of clinching the first half playoff berth.
After coming up a half-game shy of qualifying for the postseason in their inaugural 2021 season as the New York Yankees Double-A affiliate, the Patriots are seeking their first playoff appearance since their MLB partnership began.
In order to win the first half, the Patriots must split the series against Hartford.
During the second week of the 2022 season, the Patriots and Yard Goats split their series in Connecticut, each winning three games from April 19-24.
The Patriots have yet to lose a series this season, after winning or splitting each of their first 11 series of the first half. Somerset won six of its first seven series to begin this season, with the only exception being their series split in Hartford. After that, the Patriots split three straight series vs. Portland, Binghamton and Akron, before winning six of seven games in New Hampshire during their final road trip of the first half.
If the Patriots were to lose their first series of the season this week vs. Hartford, the two teams would end the first half with equal records of 43-26, bringing a head-to-head tiebreaker into play. With both teams having split their first series against one another, the winner of this week's series would hold the tiebreaker.
The probable starting pitchers for the series are as follows.
Tuesday, June 21, 7:05 p.m.:
SOM: RHP Luis Medina (2-2, 3.38 ERA)
HFD: RHP Noah Davis (4-4, 7.75 ERA)
Wednesday, June 22, 7:05 p.m.:
SOM: RHP Mitch Spence (2-3, 5.50 ERA)
HFD: RHP Karl Kauffmann (4-3, 3.77 ERA)
Thursday, June 23, 7:05 p.m.:
SOM: RHP Sean Boyle (3-3, 5.79 ERA)
HFD: RHP Mitch Kilkenny (1-5, 7.15 ERA)
Friday, June 24, 7:05 p.m.:
SOM: RHP Randy Vasquez (0-1, 2.22 ERA)
HFD: RHP Michael Baird (0-1, 7.15 ERA)
Saturday, June 25, 7:05 p.m.:
SOM: RHP Will Warren (2-1, 3.45 ERA)
HFD: LHP Nick Bush (5-4, 3.55 ERA)
Sunday, June 26, 7:05 p.m.:
SOM: RHP Luis Medina (2-2, 3.38 ERA)
HFD: RHP Noah Davis (4-4, 7.75 ERA)