NASCAR Drivers Joe Graf Jr. and Sage Karam to Appear at TD Bank Ballpark on Racing Night, Wednesday, June 21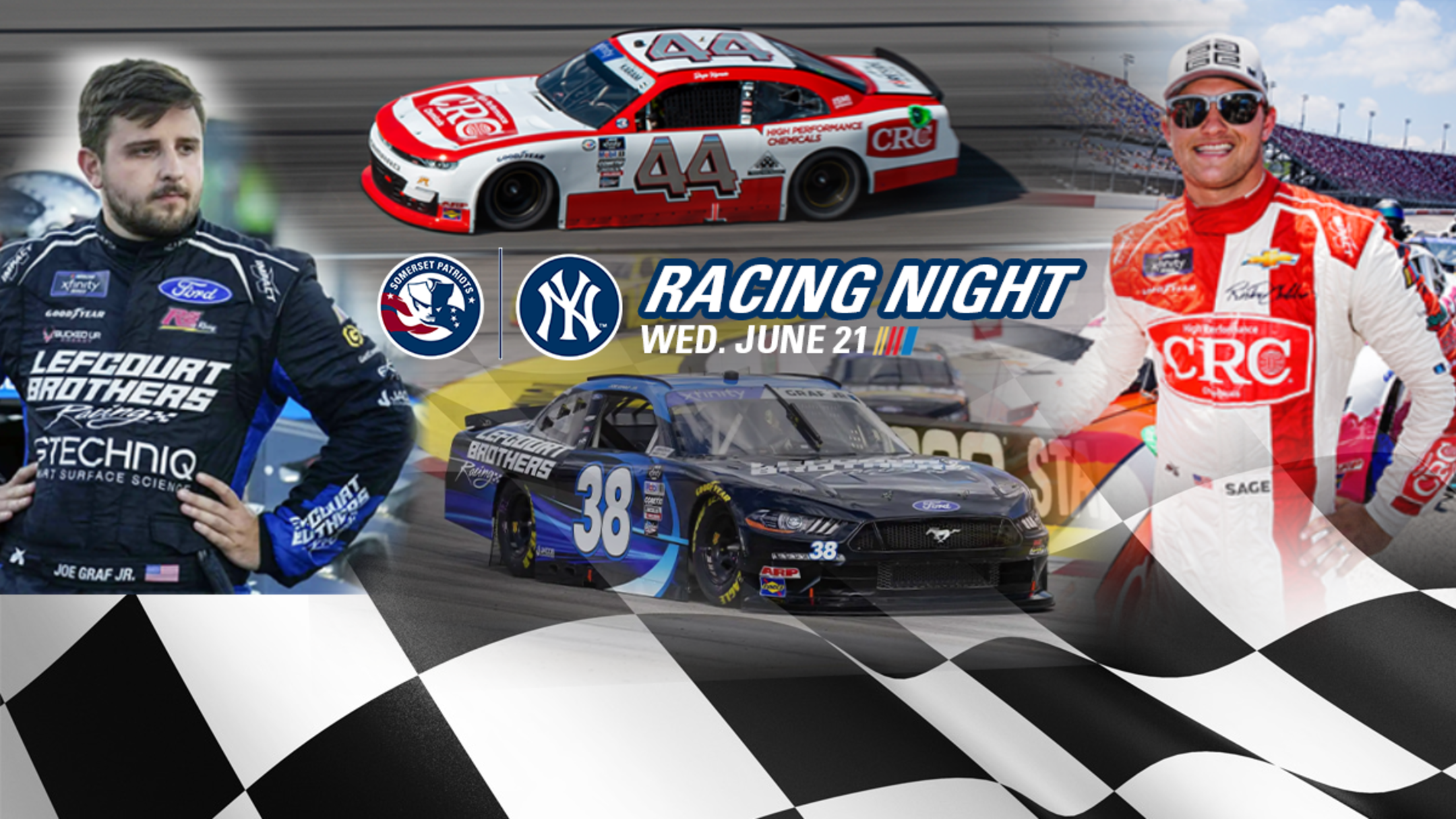 Bridgewater, New Jersey – The Somerset Patriots, the New York Yankees Double-A affiliate, have announced that NASCAR XFINITY Series drivers Joe Graf Jr. and Sage Karam will appear for the team's Wednesday, June 21 game at TD Bank Ballpark as part of Racing Night. The Patriots take on the New
Bridgewater, New Jersey – The Somerset Patriots, the New York Yankees Double-A affiliate, have announced that NASCAR XFINITY Series drivers Joe Graf Jr. and Sage Karam will appear for the team's Wednesday, June 21 game at TD Bank Ballpark as part of Racing Night. The Patriots take on the New Hampshire Fisher Cats (Toronto Blue Jays) at 7:05 p.m.
Graf and Karam will each throw out a ceremonial first pitch ahead of game, as well as sign autographs and meet fans on the main concourse.
The newly added theme night will also include a visit from Pocono Raceway's 2023 pace car, several other show car appearances from short track racers who are local to the community, as well as racing related giveaways and promotions throughout the night.
Mahwah, New Jersey's Joe Graf Jr., 24, drives full-time in the NASCAR XFINITY Series for two teams. He is currently entering his fourth season with RSS Racing, piloting the No. 38 Ford Mustang for the majority of the 2023.
Prior to the start of the 2023 season, the Garden State native also inked a five-race deal with NASCAR powerhouse Joe Gibbs Racing, which has won five NASCAR Cup Series Championships and three NASCAR XFINITY Series Championships.
"I am super excited to be a part of Racing Night with the Somerset Patriots. The Patriots play close to my hometown, so it was a privilege and an honor to be asked to participate in Racing Night alongside my fellow competitor Sage Karam," Graf said.
"I look forward to attending the game and meeting a lot of great people and make this event one of the highlights of my 2023 season."
Graf will accompany fellow NASCAR XFINITY Series driver Sage Karam, 28, who hails from Easton, Pennsylvania—an hour west of TD Bank Ballpark in Bridgewater.
He currently competes in the NASCAR Xfinity Series for Alpha Prime Racing. In his 10 starts with the team, Karam holds the team record for best finish position—a fifth place finish at Daytona in August of 2022.
"I am honored to be representing NASCAR at TD Bank Ballpark in June," said Karam.
"As an athlete from the northeast, it's exciting to be sharing the night with fans and other athletes who share my passion for sports. I look forward to a great Racing Night at the park and go Patriots!"
In addition to his efforts in NASCAR, Karam has 25 career IndyCar starts, including nine in the world-famous Indianapolis 500.
Graf and Karam will each throw out a ceremonial first pitch ahead of the Patriots' game on Wednesday, June 21st and they will have a presence in the ballpark throughout Racing Night.
Tickets for the June 21st game, featuring appearances by NASCAR drivers Joe Graf Jr. and Sage Karam are available here, by calling (908)-252-0700, or by stopping by the box office located at TD Bank Ballpark.
About the Somerset Patriots
The Somerset Patriots are the New York Yankees Double-A Affiliate and develop today's top minor league talent into the pinstriped superstars of tomorrow for MLB's winningest team. The Patriots are the reigning Eastern League Champions and play their home games at TD Bank Ballpark in Bridgewater, NJ, where fans of all ages and levels of baseball fandom get to enjoy the unique experience that is minor league baseball. To learn more, visit: somersetpatriots.com.