Villar Scores Three, Drives in Three During Loss to Reno 
Walker, Waites Work Scoreless Innings in Latter Stages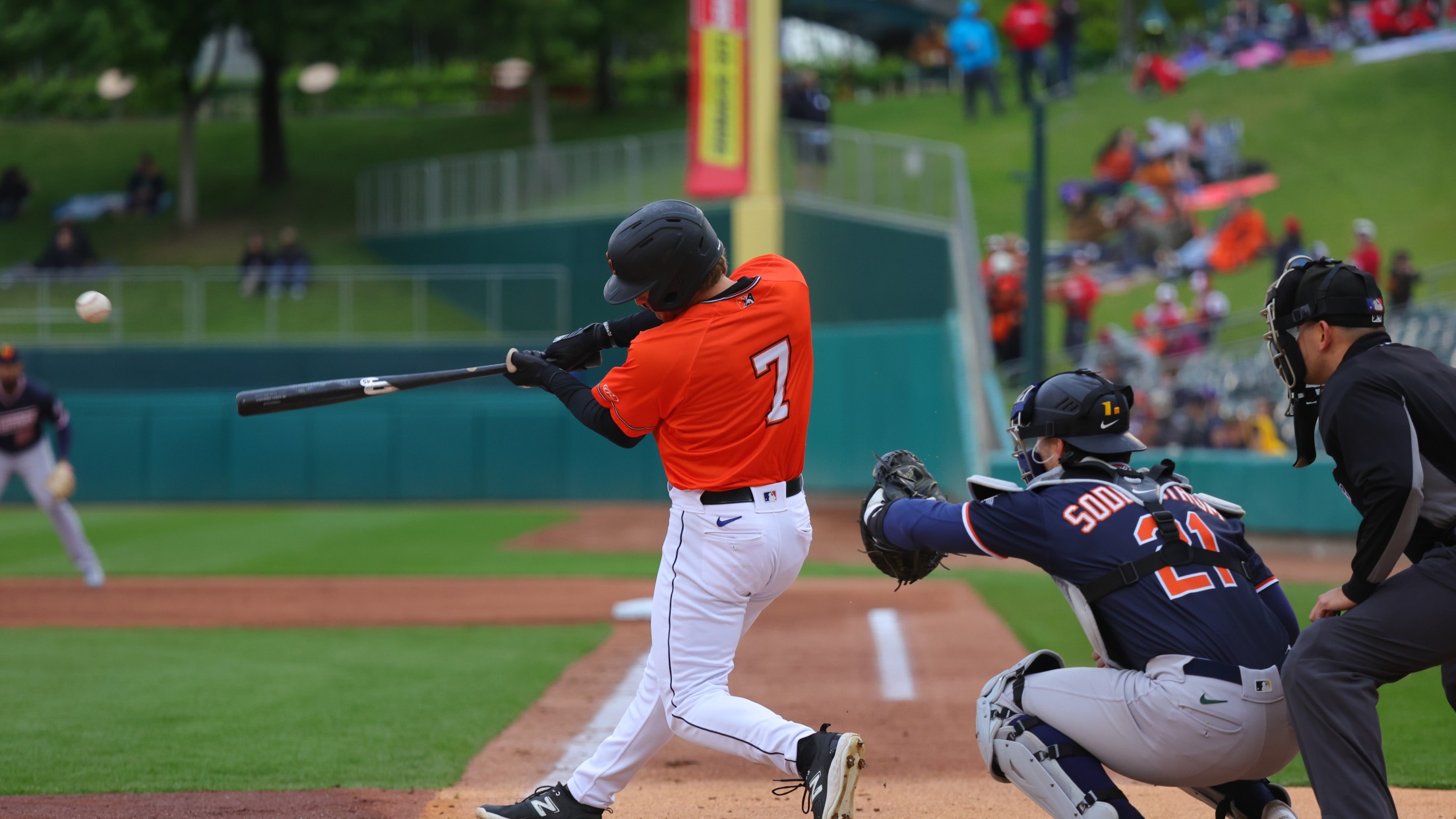 Ford Proctor connects with a ball during Sacramento's game against Las Vegas on May 5. (Ralph Thompson Photo)
RENO, Nev. – Entering their first road series in the month of May after closing out their longest homestand of the year with a 9-3 record, the Sacramento River Cats could not keep up with the bats of the Reno Aces on Tuesday as Reno jumped out to a large
RENO, Nev. – Entering their first road series in the month of May after closing out their longest homestand of the year with a 9-3 record, the Sacramento River Cats could not keep up with the bats of the Reno Aces on Tuesday as Reno jumped out to a large lead early before finishing off a 13-5 victory.
Looking for his fourth consecutive scoreless outing, River Cats' (20-20) opener Daniel Tillo (1-3) logged two quick outs to begin the bottom of the first but then yielded a trio of hits and a pair of walks. Two of the knocks drove in runs, with Tristan English and Dominic Miroglio both producing two RBI for the Aces (24-16) to take an early 4-0 lead.
Following a pair of scoreless innings with three punchouts for Jorge Guzman, right-hander Clay Helvey had a tough time locking down the Reno bats as the Aces went for six runs on five hits in the fourth, exiting after just a third of an inning. For Sacramento, both marks represented new highs allowed in a single frame this year.
Sacramento finally collected its first hit of the contest in their trip to the dish during the third against Reno starter Slade Cecconi (1-3), a one-out single from Ricardo Genoves to left field. Despite the following walk to Michael Gigliotti, as well as the River Cats loading the bases with a pair of walks and a hit batter in the fourth, they were still kept from the scoreboard.
Reno added on to its advantage with a run thanks to a two-out rally in the fifth, as English came up big again by putting himself in scoring position with a double to right before scoring two batters later on a single through the middle by Miroglio.
In the sixth was when the River Cats finally broke through thanks to familiar Sacramento face David Villar, making his first appearance this season with the River Cats, as he walked to lead off the inning while Colton Welker singled to put a pair on with one out. For Welker, it extended his active hitting streak to seven games, now tied with Tyler Fitzgerald for the longest active streak on the squad. Later in the inning with two outs, Ford Proctor came up clutch with a single into center to score Villar.
Suddenly it became back-to-back innings scoring runs for Sacramento as Villar, the 2022 Pacific Coast League MVP, smacked his only hit of the day over the fence for a no-doubt three-run homer to left center on a 1-2 pitch. That trimmed the deficit to 11-4 as it also scored Cal Stevenson, who reached with on a Diego Castillo error, along with Will Wilson who had singled after Stevenson.
However, the Aces extinguished any thoughts of a Sacramento comeback when they added two runs in the eighth off Joey Marciano. A leadoff walk was the first to cross the plate, as Jorge Barrosa ended up scoring from first on a triple to right center by Buddy Kennedy. Meanwhile, a P.J. Higgins double later drove home Kennedy for Reno's final run of the day.
To start the top of the ninth, Villar drew his second walk of the game (both started an inning) and then advanced to second when Welker worked his own free pass. That set up Shane Matheny, bringing Villar home on a single to center that brought the game's final to its end point at 13-5.
Even though he had just one hit, the two walks by Villar helped him close his first game back with Sacramento with a 1-for-3 effort, scoring three times while driving three others in on his dinger. That made him just the second River Cat to accomplish the feat this season (also: Michael Gigliotti, 4/16 vs. RNO).
Overall, the six Sacramento hits all came from different bats, with the duo of Matheny and Proctor generating an RBI apiece while respectively going 1-for-4. Wilson was another River Cat with a hit, going 1-for-5 with a run scored.
Throwing efficiently in his one inning of work was Ryan Walker, as he did not allow a hit and punched out two while facing the minimum three batters in the eighth. Walker's appearance came after Cole Waites worked the seventh and allowed one hit and one walk, his first action with Sacramento since pitching on April 30.
These two teams will be back in action just over 24 hours from now, as the first pitch of game two in this six-game series gets tossed at 6:35 p.m. from Greater Nevada Field on Wednesday.