Sacramento Comes Within One but Reno Rallies
Bailey Hits Second Homer While Harrison Strikes Out Five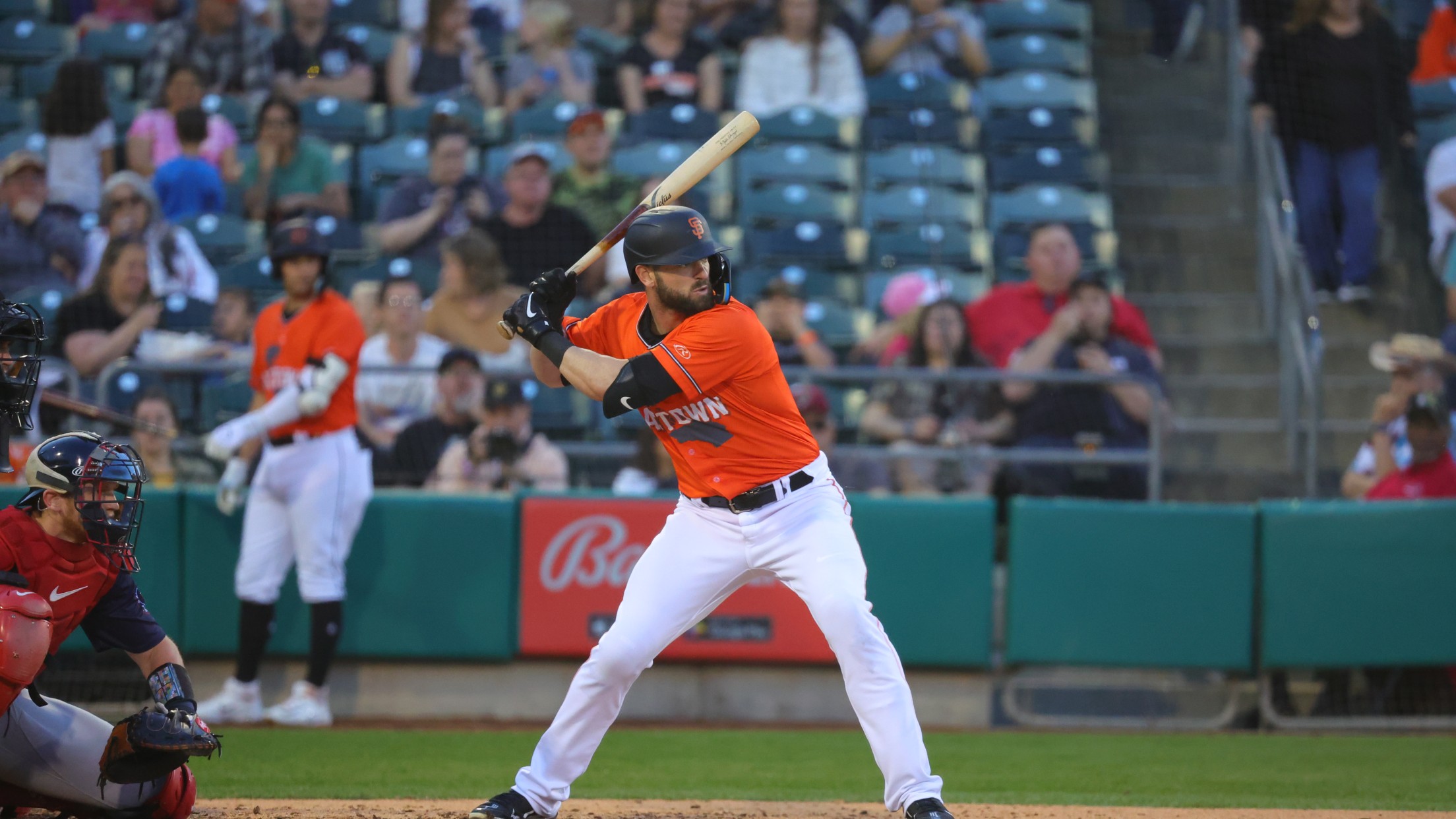 Patrick Bailey prepares to swing during Sacramento's contest on April 21. (Ralph Thompson Photo)
RENO, Nev. – The Sacramento River Cats came within a run in their effort to overcome an early three-run home run by the Reno Aces, but Reno added insurance with runs in the fourth and fifth to take game two of the series by a 9-4 final on Wednesday. Both
RENO, Nev. – The Sacramento River Cats came within a run in their effort to overcome an early three-run home run by the Reno Aces, but Reno added insurance with runs in the fourth and fifth to take game two of the series by a 9-4 final on Wednesday.
Both starters were dealing early for their respective squads, as Aces' (25-16) righty Drey Jameson (3-0) retired his first six straight while Kyle Harrison (0-2) punched out two of his three hitters faced for the River Cats (20-21).
That streak came to an end as Reno recorded the game's first base runner, using a leadoff double and a walk to put a pair on just prior to a three-run homer for Tristan English. It was the first home run that Harrison has allowed this season, putting the Aces on top 3-0.
Breaking through for the first time in the top of the third was Sacramento thanks to Shane Matheny, beginning the frame with a single on a tough play between first and second. He later scored on an RBI double down the right field line by Michael Gigliotti, representing Gigliotti's 16th RBI of the season.
The River Cats made it consecutive innings with a run scored during the away half of the fourth, jumping the yard on a solo shot by Patrick Bailey to bring Sacramento within a run, 3-2. This was Bailey's second home run thus far with Sacramento, the other coming on May 10, both of which have been solo dingers.
Returning to the mound for the bottom of the frame, Harrison again was plagued by the bat of English as he launched his second homer of the game courtesy a solo shot to center. Harrison's outing came to an end soon after, and following a later RBI double by Jake McCarthy, his final line rested at five earned runs on four hits in 3.1 innings with five strikeouts.
Reno continued to add on in the bottom of the fifth, which started with a Diego Castillo sacrifice fly before Yairo Munoz drove home two with a double. Munoz later joined the scoring party just before the inning ended on the second RBI knock from McCarthy on a single that deflected off of the freshly inserted Melvin Adon, with the score moving to 9-2.
Continuing to swing away, the River Cats tacked on two more in the top of the seventh as a one-out walk by Will Wilson and two-out single from Cal Stevenson both resulted in runs. Those runs scored just after Stevenson's single when the newly promoted Luis Matos drove a ball to the warning track in right field that was dropped by McCarthy, with Matos also moving to third on the play while the score moved to its conclusion of 9-4.
Batting in three consecutive spots in the order (fifth through seventh), the trio of Bailey, Welker and Matheny were each 1-for-4, while posting his fifth multi-hit contest of the year was Michael Gigliotti by ending 2-for-4 with a double and RBI. Bailey also scored once and drove one in thanks to his big fly, while Welker's hit extended his team-leading active hitting streak to eight games.
Though they combined for four walks and four strikeouts, the trio of Adon, Luke Jackson and Erik Miller were not responsible for any runs while working the final 3.1 innings. For Jackson, it was his Sacramento debut.
Sacramento will look for their first win of the series when the two teams meet for game three at 6:35 p.m. from Greater Nevada Field.