Express Fall 11-9 in 12 Innings to Space Cowboys
Round Rock Can't Overcome Four-Run 12th Inning from Sugar Land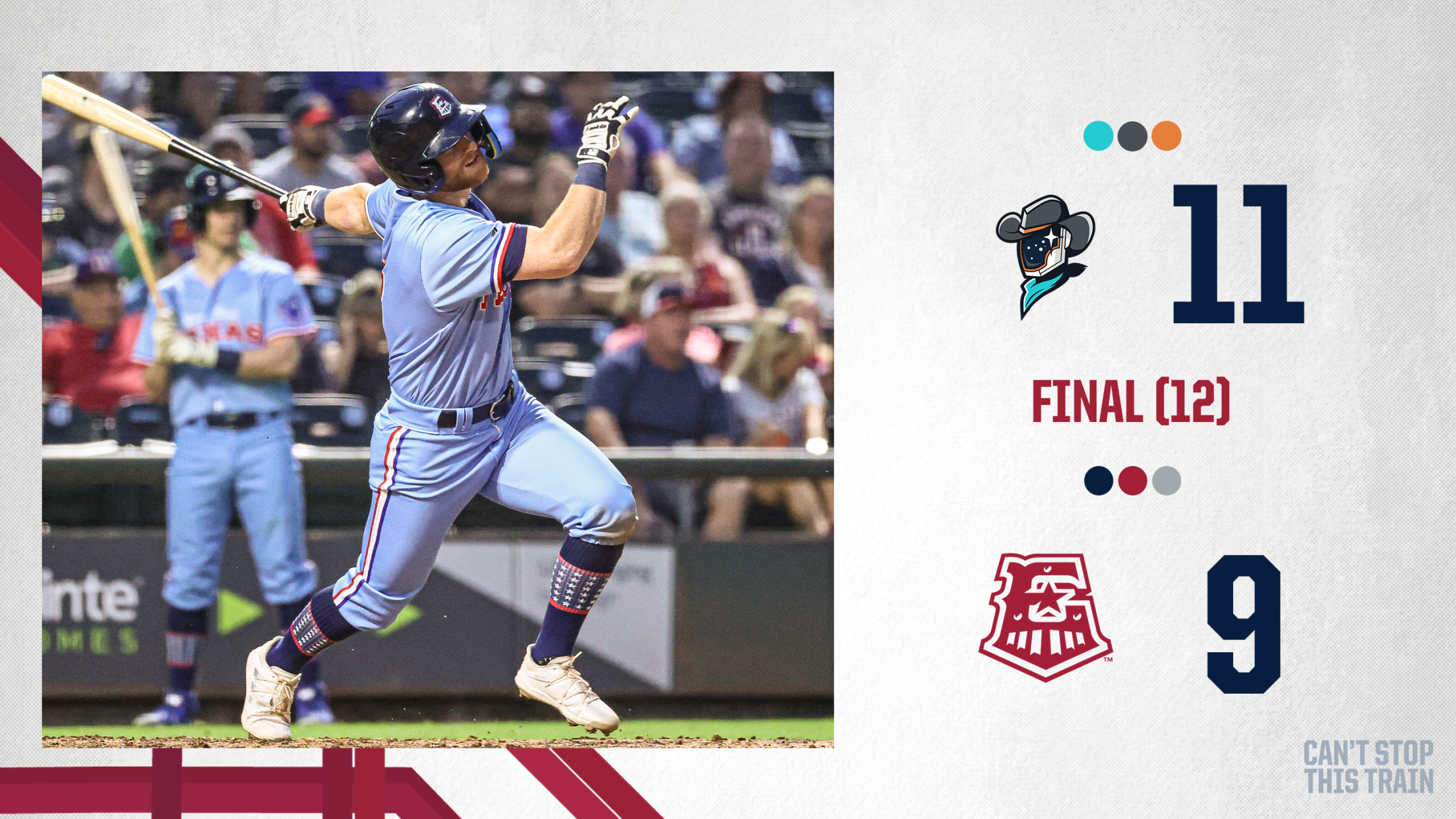 (Andy Nietupski / TTL Sports Media)
ROUND ROCK, Texas – The Round Rock Express (73-60) fell short on Friday night by a final score of 11-9 against the Sugar Land Space Cowboys (62-69) in 12 innings at Dell Diamond. Express RHP Daniel Robert (3-4, 6.17) was tagged with the loss after his 1.0-inning outing included four
ROUND ROCK, Texas – The Round Rock Express (73-60) fell short on Friday night by a final score of 11-9 against the Sugar Land Space Cowboys (62-69) in 12 innings at Dell Diamond.
Express RHP Daniel Robert (3-4, 6.17) was tagged with the loss after his 1.0-inning outing included four runs and three earned runs on two hits, one walk and one strikeout. Space Cowboys RHP Nick Hernandez (5-5, 4.44) walked away with the win after 1.0 inning and two runs with only one earned run on zero walks and two strikeouts.
Along the Train Tracks:
Sugar Land needed only four seconds to take the lead as C Korey Lee banged the first pitch of the game 356 feet and gave the Space Cowboys a 1-0 advantage.
The Express rumbled back with a three-spot in the second inning. Back-to-back one-out singles for C Meibrys Viloria and 2B Diosbel Arias put runners on first and second base. With two outs, 1B Nick Tanielu doubled down the left field line and scored two runs. SS Ryan Dorow added one more on a single to right field to score Viloria and the E-Train led 3-1.
The Space Cowboys grabbed another long ball in the third inning. A solo home run from 3B Corey Julks traveled 418 feet to left field as Sugar Land trailed 3-2.
Three straight singles from Space Cowboys SS Edwin Diaz, C Korey Lee and 3B Corey Julks tied the game at three. With Lee on third base and Julks on first, a wild pitch allowed Lee to trot home and give Sugar Land a 4-3 lead.
Round Rock took back the lead in the fifth inning. CF J.P. Martinez walked before a one-out double for LF Elier Hernandez scored Martinez and tied the game at four. C Yohel Pozo tacked on another run when he doubled to bring home Hernandez and the Express led 5-4.
A double play tied the game at five in the eighth frame. Julks and 1B Taylor Jones singled to start the inning and put men on the corners. CF Jake Meyers hit into a double play and scored Julks from third.
With Diaz on second base to start the 10th inning, Express RHP Chase Lee recorded two quick outs. Round Rock intentionally walked Jones when Lee fell behind 2-0. With runners on first and second base, Meyers scored two runs on a triple to deep center field and the E-Train trailed 7-5.
The Express loaded the bases in the bottom of the 10th inning. Hernandez started on second base and Pozo singled before a walk to Viloria loaded them up. After back-to-back strikeouts, Tanielu walked to tighten the score at 7-6. An infield single for Dorow allowed PR Sandro Fabian to score and tie the game at seven apiece.
After both pitchers worked a scoreless 11th inning, Sugar Land took the lead in the 12th. Costes started on second base and advanced to third on a fielder's choice, sacrifice bunt from Diaz. Lee singled to drive in a run and make it 8-7. With two outs, Meyers walked to load the bases. A Justin Dirden double cleared the bases and extend the lead to 11-7.
Fabian started on second base to begin the home-half of the 12th inning. Whatley singled and moved to second himself on a wild pitch. Arias brought both runners home on a single into right field and the lead was cut to 11-9, but the Express couldn't come all the way back and the score stood final.
E-Train Excerpts:
Round Rock LF Elier Hernandez posted a three-hit night including an RBI and a run scored. It was his second three-hit performance in his last six games. SS Ryan Dorow also posted three hits and had two RBI. 1B Nick Tanielu, DH Yohel Pozo and 2B Diosbel Arias each had two hits. Tanielu had three RBI while Arias added two.
LHP Kolby Allard went 5.0 innings to start the game and allowed four earned runs on five hits with one walk and seven strikeouts. Allard has tossed 5.0 innings or more in each of his last three starts.
Next up: Round Rock and Sugar Land meet in game five of the series on Saturday night. Express RHP Cole Winn (8-6, 6.24) is slated to make the start up against Space Cowboys RHP Forrest Whitley (0-1, 7.61). First pitch at Dell Diamond is scheduled for 6:05 p.m.
Single game tickets are available for purchase or bring your group to Dell Diamond. For more information on the Express, visit RRExpress.com or call (512) 255-2255. Subscribe to the E-Train email newsletter and keep up with the Express on Facebook, Instagram and Twitter!