Express Split Doubleheader with Space Cowboys on Wednesday
Round Rock Comes Back in Game One for Walk-Off Win but Drops Game Two, 6-4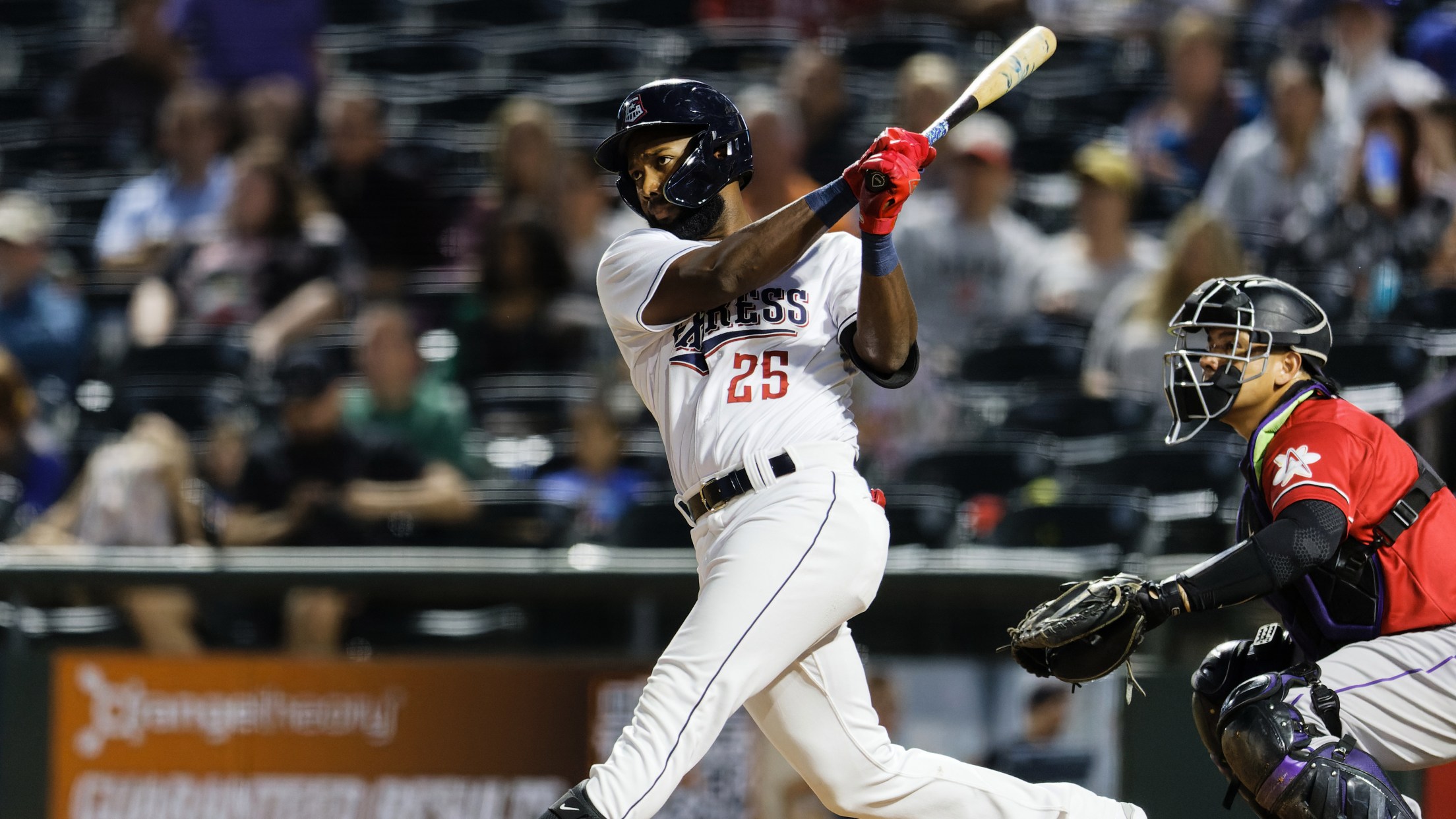 (Eddie Kelly / ProLook Photos)
ROUND ROCK, Texas – The Round Rock Express (28-25) split their doubleheader with the Sugar Land Space Cowboys (24-29) on Wednesday night at Dell Diamond. The Express took game one, 7-6, thanks to a walk-off double from DH Jordan Procyshen. The Space Cowboys came back with a 6-4 victory in
ROUND ROCK, Texas – The Round Rock Express (28-25) split their doubleheader with the Sugar Land Space Cowboys (24-29) on Wednesday night at Dell Diamond. The Express took game one, 7-6, thanks to a walk-off double from DH Jordan Procyshen. The Space Cowboys came back with a 6-4 victory in game two.
Along the Train Tracks – Game 1:
Round Rock reliever LHP Taylor Hearn (1-1, 3.36) earned the win after 2.0 innings while issuing two walks and collecting three strikeouts. The loss was tagged to Sugar Land reliever RHP Enoli Paredes (1-2, 7.36) after he allowed one run on one hit with one walk in his 0.1-inning outing.
It took the Space Cowboys four pitches in the first inning to take a 2-0 lead after a two-run home run from SS Grae Kessinger also scored RF Bligh Madris. Doubles from 1B JJ Matijevic and CF Justin Dirden each scored a run and extended the lead to four.
In the second inning, Express LF Josh Sale singled then scored when a single from 2B Dio Arias was mishandled, resulting in a Space Cowboys error. A sacrifice fly from RF Rafael Ortega cut the deficit to 4-2.
Sugar Land scored a run in both the third and fourth innings. Both runs came on RBI singles from Dirden and Matijevic, respectively, as the Space Cowboys led 6-2.
Express CF Elier Hernandez singled home C Mitch Garver and Ortega in the fourth inning, which brought Round Rock back within two runs.
After Express LHP Taylor Hearn kept the sixth inning scoreless, the offense loaded the bases with no outs. Hernandez sent a game-tying two-RBI double down the left-field line to make it 6-6.
In the bottom of the seventh, Sale drew a walk and advanced to second base on a sacrifice bunt from Arias. DH Jordan Procyshen walked it off with an RBI double to secure the 7-6 win.
Along the Train Tracks – Game 2:
Space Cowboys starter LHP Nick Allgeyer (0-1, 7.11) collected the victory after 5.0 innings of two-run baseball which included five hits, three walks and six strikeouts. Express LHP Lucas Jacobsen (3-0, 6.00) took home the loss after his 0.1-inning performance saw three earned runs on one hit with three walks. RHP Joe Record came in and tossed a three-up, three-down ninth inning with two strikeouts to earn his sixth save of the year.
Express LF Sandro Fabian got the party started in the second inning when his 405-foot home run to left field put Round Rock ahead, 1-0.
In the third inning, the Space Cowboys loaded the bases. SS Grae Kessinger wasn't feeling so gray and smacked a sacrifice fly to tie the game at one.
Fabian cranked his second solo bomb of the day in the fourth inning. This time it traveled 421 feet to left field and put Round Rock back in front at 2-1.
The Space Cowboys offense produced two runs in the fourth inning. Express pitchers issued three walks and a hit batsman to tie the game at two. RF Justin Dirden singled home two more and increased the lead to 4-2.
Sugar Land kept the scoring going on a two-run bomb from CF Pedro León in the fifth inning. The home run pushed the Space Cowboys lead to 6-2.
Round Rock 2B Dio Arias pummeled his second home run of the season in the sixth inning. After Fabian singled and stole a base, Arias cut the lead to 6-4 with his dinger but the E-Train offense couldn't manufacture another run.
E-Train Excerpts:
In the first game of the doubleheader, CF Elier Hernandez posted a 4-for-4 game with four RBI. He leads the E-Train with 14 multi-hit games this season.
Round Rock did not hit a home run in game one against the Space Cowboys, which snapped a 15-game homer streak. Over those 15 games, the E-Train belted 23 home runs.
Texas Rangers rehabber DH Mitch Garver led off at catcher for the Express in Wednesday's first game and finished 1-for-2 with two runs, two walks, one strikeout and six putouts.
Express starter LHP Jake Latz struck out six batters over 2.0 innings during his game-two outing. The six straight Ks marks the most consecutive strikeouts in a single outing since RHP Hever Bueno struck out six in a row on April 17, 2021 in Sugar Land.
LF Sandro Fabian collected his first multi-home run game since August 14, 2021 while playing for Double-A Richmond. It was the fifth multi-homer game of his career. Fabian went 3-for-3 with two home runs, two RBI and three runs scored.
Next up: Round Rock will play game four against Sugar Land at Dell Diamond on Thursday night with first pitch slated for 7:05 p.m. CDT. While an Express pitcher has not yet been announced, the Space Cowboys will have RHP Ronel Blanco (2-0, 0.56) take the mound.
Single game tickets as well as full season and mini season membership plans are on sale now. For more information about the Express, visit RRExpress.com or call (512) 255-2255. Subscribe to the E-Train email newsletter and keep up with the Express on Facebook, Instagram and Twitter!