Express Even Series With 11-9 Win Over Bees
Round Rock Uses Seven-Run Fifth Inning to Top Salt Lake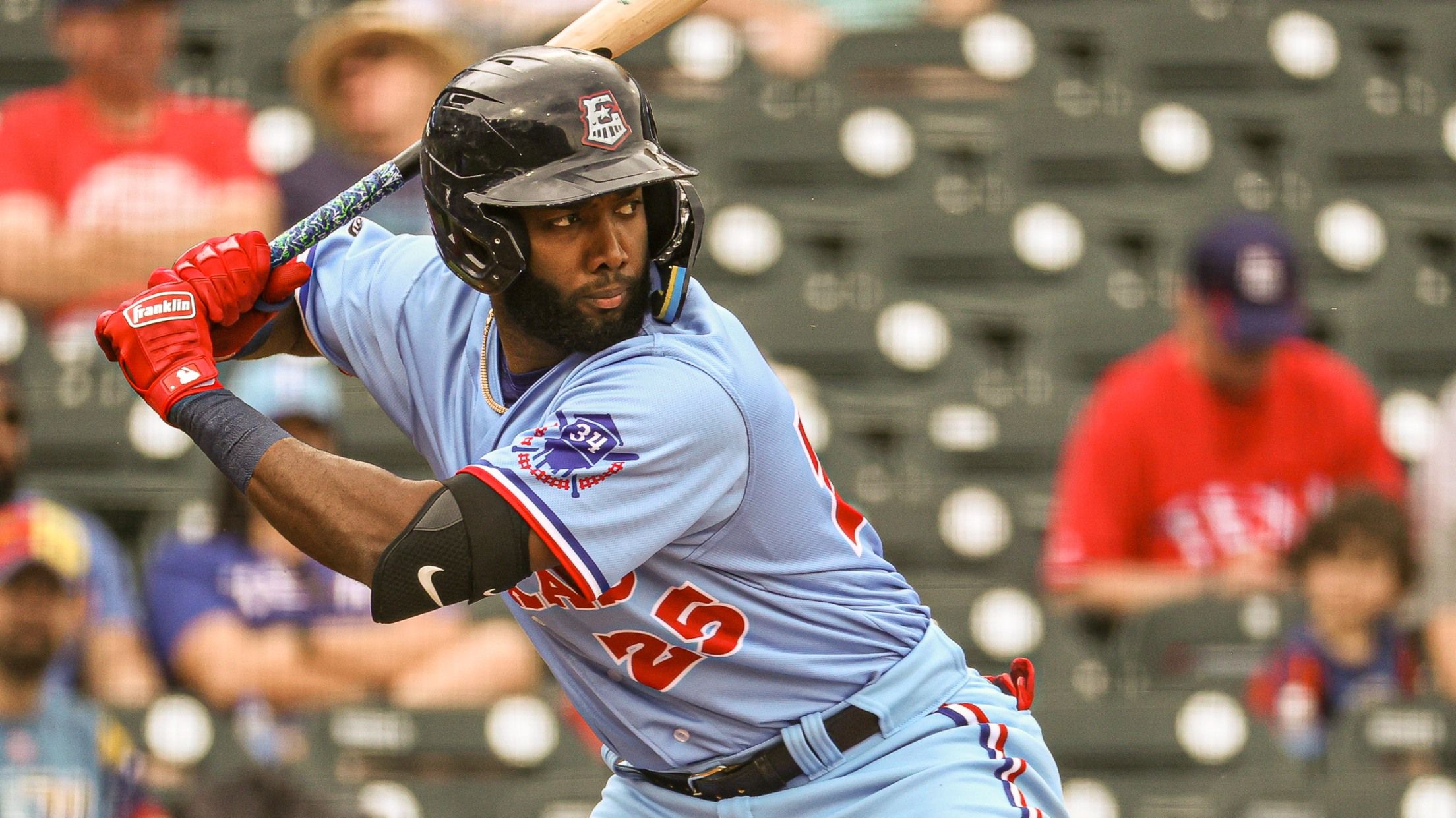 (Andy Neitupski/TTL Sports Media)
SALT LAKE, Utah – The Round Rock Express (33-26) took game two from the Salt Lake Bees (28-31) by a final score of 11-9 on Wednesday afternoon at Smith's Ballpark. The Express scored seven runs in the fifth inning to break the game open. Round Rock reliever RHP Edwar Colina
SALT LAKE, Utah – The Round Rock Express (33-26) took game two from the Salt Lake Bees (28-31) by a final score of 11-9 on Wednesday afternoon at Smith's Ballpark. The Express scored seven runs in the fifth inning to break the game open.
Round Rock reliever RHP Edwar Colina (1-0, 0.00) earned the win after 1.2 scoreless innings while holding the Bees hitless. He walked one and tallied one strikeout. Salt Lake starter RHP Mason Erla (0-2, 8.20) was dubbed with the loss after giving up six hits, five runs, two walks and three strikeouts in 4.0 innings. E-Train RHP Yerry Rodriguez collected his second save of the season after giving up one hit and one run in 1.1 innings of work.
Along the Train Tracks
Salt Lake jumped on the board early with a two-run home run from 2B Michael Stefanic in the first inning.
Express 3B Davis Wenzdel smacked a home run of his own in the top of the third to cut the deficit in half at 2-1.
In the home-half of the inning, a walk for Bees DH Jake Lamb allowed SS Jack Lopez to double him in and make it a 3-1 Salt Lake lead.
Round Rock pushed the lead to 8-3 after the fifth inning with the help of two Salt Lake errors, two walks and four hits. RF Sandro Fabian doubled home two runs to cap off the scoring.
DH Blaine Crim kept the runs coming in the sixth inning with a two-run home run to put the E-Train in double digits and increase the lead to 10-3.
The Bees tacked on a run in the sixth inning as LF Jordyn Adams singled to score RF Jared Oliva and Salt Lake trailed, 10-4.
The home team tallied four more runs in the seventh inning. After Oliva drove in a run on a single, 1B Trey Cabbage doubled to score two more. Stefanic capped off the inning with one more run on another single and Round Rock watched their lead dwindle to 10-8.
Three straight two-out singles in the eighth inning extended the Express lead to 11-8. CF Elier Hernandez collected the third single to bring home the 11th run for the E-Train.
In the ninth inning, Bees 1B Trey Cabbage belted a solo home run and cut the lead to two. RHP Yerry Rodriguez held on to earn the save.
E-Train Excerpts:
Express 3B Davis Wendzel hit his 12th home run of the season and his third home run in his last four games. The righty is one of 10 players in the PCL with 12 or more home runs.
Round Rock DH Blaine Crim has five extra-base hits in his last three games after he hit a two-run homer on Wednesday.
The Express have scored 10 or more runs in three of their last four games.
CF Elier Hernandez extended his hitting streak to 12 games. Hernandez went 1-for-4 with two RBI, a run scored and a walk. Over this 12-game hitting streak, Hernandez has 24 hits and 18 RBI.
Next up: Round Rock will play game three of the series on Thursday night in Salt Lake. First pitch is slated for 7:35 p.m. CT with Bees RHP Chase Silseth (2-0, 0.90) taking the mound against Express LHP Taylor Hearn (1-1, 3.42).
Single game tickets as well as full season and mini season membership plans are on sale now. For more information about the Express, visit RRExpress.com or call (512) 255-2255. Subscribe to the E-Train email newsletter and keep up with the Express on Facebook, Instagram and Twitter!