Round Rock Claims Game Five Victory Over Oklahoma City
Early Seven-Run Frame Pushes Express Ahead of Dodgers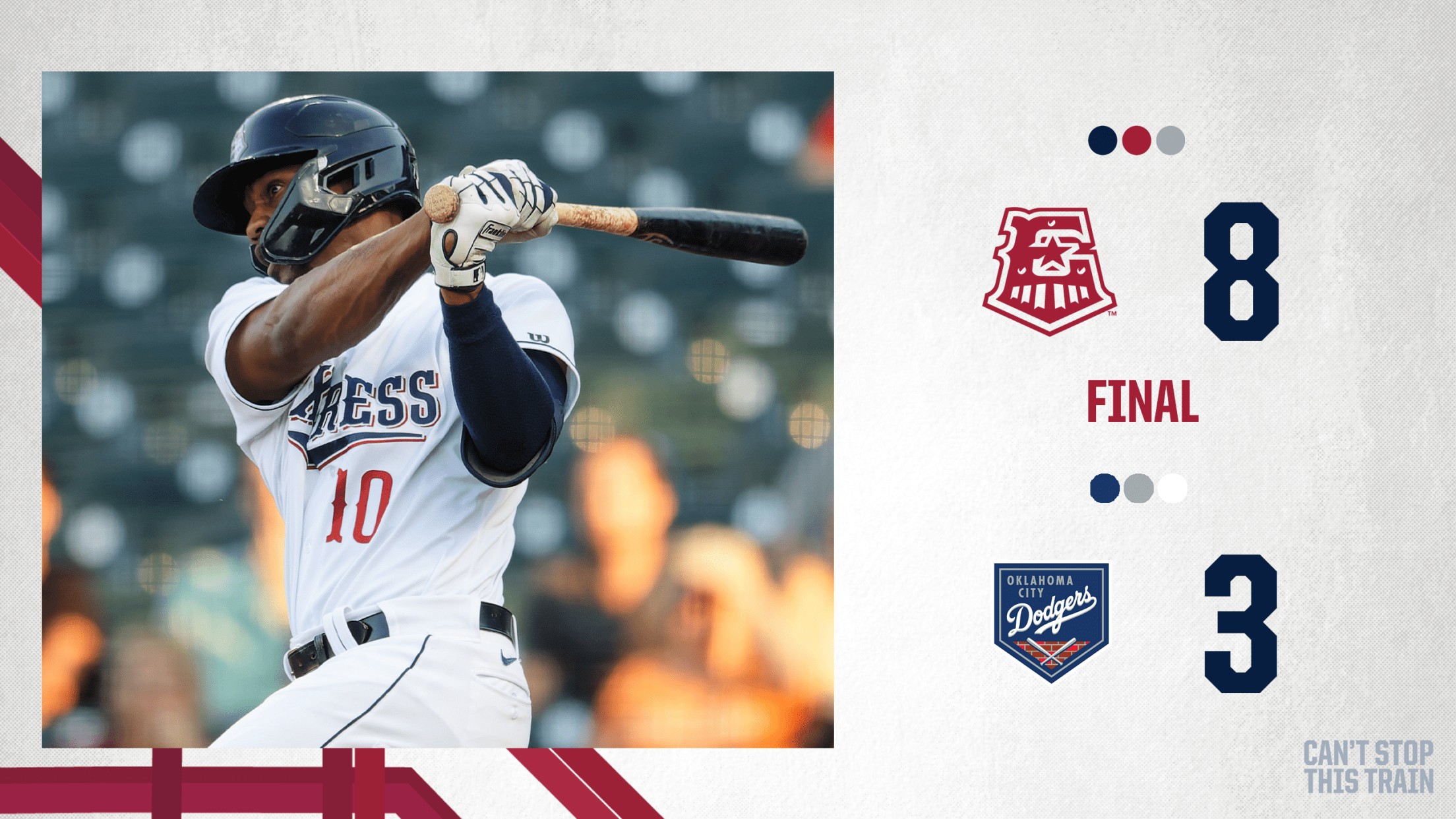 OKLAHOMA CITY, Okla. – A seven-run inning helped the Round Rock Express (37-34) defeat the Oklahoma City Dodgers (44-27) by a final score of 8-3 on Saturday night at Chickasaw Bricktown Ballpark. The win cut the Dodgers' series lead to 3-2 heading into Sunday's series finale. Round Rock RHP Spencer
OKLAHOMA CITY, Okla. – A seven-run inning helped the Round Rock Express (37-34) defeat the Oklahoma City Dodgers (44-27) by a final score of 8-3 on Saturday night at Chickasaw Bricktown Ballpark. The win cut the Dodgers' series lead to 3-2 heading into Sunday's series finale.
Round Rock RHP Spencer Howard (2-2, 4.35) earned the win after a 5.0-inning start that saw two runs, two hits, two walks and five strikeouts. Oklahoma City RHP Beau Burrows (4-4, 5.82) went home with the loss after allowing five runs on three hits and four walks during his start that went 1.2 innings.
Along the Train Tracks:
Round Rock posted a seven-run second inning to create a large gap early on. 1B Elier Hernandez hit a solo home run with one out to start the frame's scoring. 2B Nash Knight followed with a triple before C Jack Kruger flew out and the rest of the inning's action went on with two outs recorded.
Back-to-back walks from SS Ryan Dorow and CF Bubba Thompson loaded the bases before a third straight walk from LF Steele Walker scored Knight. After a Dodgers pitching change, 3B Diosbel Arias knocked a single to send Dorow and Thompson across home plate for a 4-0 lead.
Express DH Sam Huff closed the inning out after blasting a home run of his own that cleared the boundaries of Chickasaw Bricktown Ballpark. The three-run dinger also scored Walker and Arias, increasing the gap to 7-0, before RF Josh Sale grounded out to end the frame.
Oklahoma City put their first runner across in the fourth inning as RF Jason Martin knocked a homer.
The Dodgers scored in the next two innings to trim the gap to 7-3 when 2B Ty Kelly tripled then scored on a wild pitch in the fifth frame and DH Michael Busch hit a home run in the sixth.
The E-Train added an insurance run in the ninth inning to go up 8-3. After working a leadoff walk, Huff moved to third base on a Sale single before Hernandez sent Huff home on a sacrifice fly. RHP Yerry Rodriguez allowed one Oklahoma City hit during the bottom of the frame, but retired the final batter via groundout to secure the victory.
E-Train Excerpts:
Both 1B Elier Hernandez and DH Sam Huff blasted home runs for the second consecutive game after going yard on both Friday and Saturday nights.
Four Express batters recorded multiple hits with Hernandez, 3B Diosbel Arias, RF Josh Sale and C Jack Kruger all tallying two. Three earned multiple RBI as Huff lead the way with three and Hernandez and Arias each earned two.
Round Rock drew multi-digit walks for the sixth time this season as all but one starter earned a free base. 2B Nash Knight and SS Ryan Dorow both worked two walks, contributing to the E-Train's total of 10.
Next up: Round Rock and Oklahoma City close out their six-game series at Chickasaw Bricktown Ballpark on Sunday afternoon with first pitch scheduled for 2:05 p.m. Express RHP A.J. Alexy (3-3, 7.31) is slated for the start against RHP Justin Hagenman (3-1, 7.25).
Single game tickets as well as full season and mini season membership plans are on sale now. For more information about the Express, visit RRExpress.com or call (512) 255-2255. Subscribe to the E-Train email newsletter and keep up with the Express on Facebook, Instagram and Twitter!