Express Drop Series Finale Against Chihuahuas 6-5 in 10 Innings
Round Rock Now Sits 5.0 Games Behind First-Place El Paso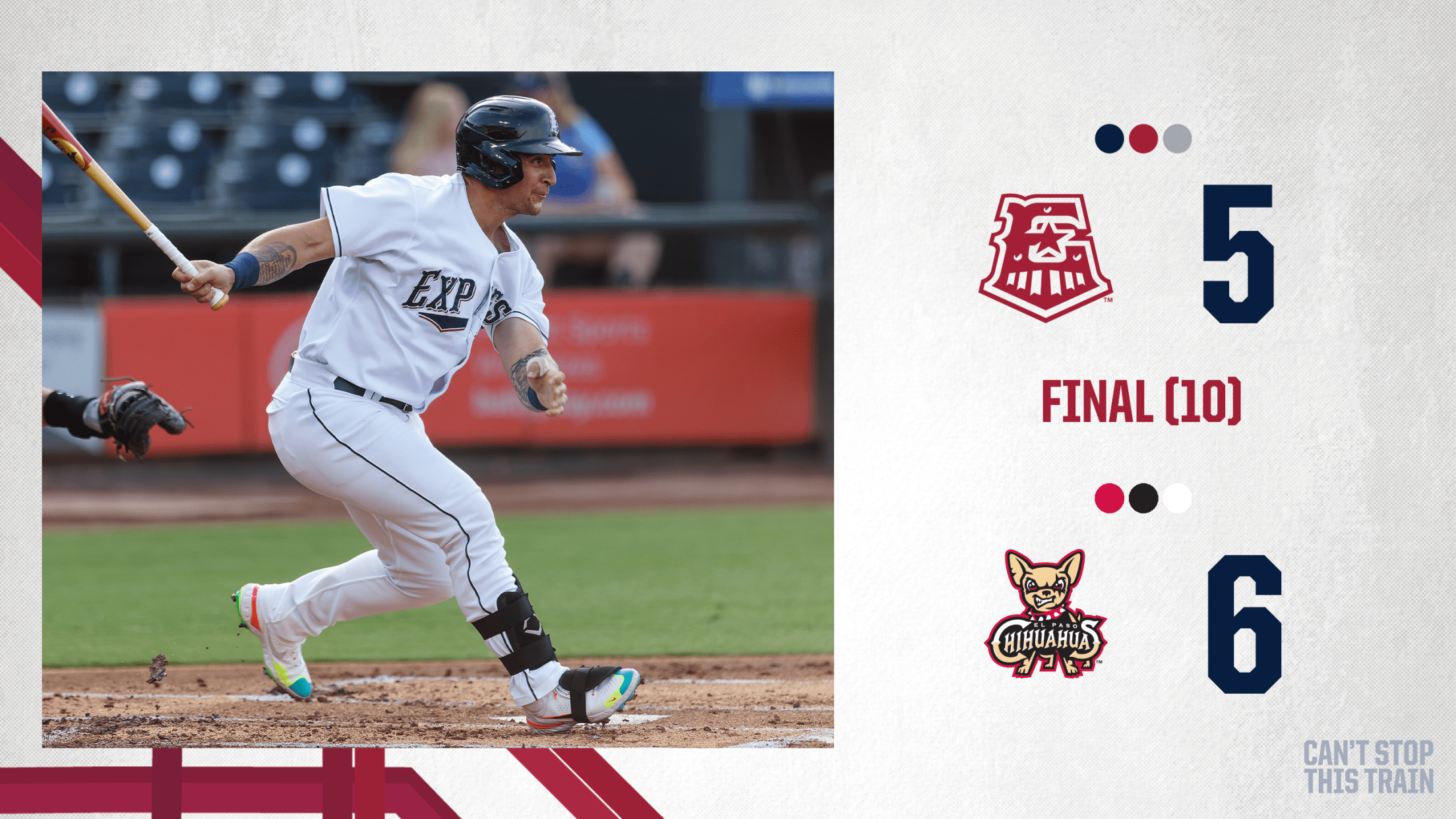 (Eddie Kelly / ProLook Photos)
EL PASO, Texas – The Round Rock Express (75-66) fell in the final game of their six-game series against the El Paso Chihuahuas (80-61) by a final score of 6-5 on Sunday afternoon at Southwest University Park. Express RHP Nick Snyder (2-1, 4.50) threw to a blown-save loss after spending
EL PASO, Texas – The Round Rock Express (75-66) fell in the final game of their six-game series against the El Paso Chihuahuas (80-61) by a final score of 6-5 on Sunday afternoon at Southwest University Park.
Express RHP Nick Snyder (2-1, 4.50) threw to a blown-save loss after spending 1.2 innings on the mound that saw three runs, two of which were earned, on four hits and one walk. Chihuahuas reliever RHP Moises Lugo (2-0, 3.12) went home with the win after allowing one unearned run and one hit during 1.0 inning.
Along the Train Tracks:
The Express jumped on the board first when CF Elier Hernandez blasted a solo home run off the first pitch of the game.
Round Rock doubled its lead to 2-0 in the second when RF Josh Sale knocked the second home run of the game into center field to start the inning.
The good guys added a third run in the third inning. Hernandez hit a leadoff triple before scoring as C Meibrys Viloria grounded out to first base.
El Paso put their first run on the board when 2B C.J. Hinojosa hit a home run in the fifth inning. The Chihuahuas tied the contest at 3-3 in the seventh after the bases were loaded on a Taylor Kohlwey single, Hinojosa hit-by-pitch and Kyle Martin walk. After Kohlwey was tagged out at home when LF Jarryd Dale grounded into a force out, CF Thomas Milone walked to score Hinojosa and Martin scored thanks to a sacrifice fly from SS Matthew Batten.
The two teams headed into the ninth inning tied at three apiece before Round Rock PR J.P. Martinez scored on a double from LF Sandro Fabian for a 4-3 lead.
El Paso responded with a run in the bottom of the frame when Milone rounded the bases on a single, wild pitch, Batten single and sacrifice fly from DH Brandon Dixon to send the game into extra innings.
With Fabian on second base for the Express in the 10th inning, a wild pitch and single from Hernandez brought the runner home to put Round Rock ahead 5-4.
Sullivan started at second for the Chihuahuas in the bottom of the frame and was joined on base when Kohlwey was hit by a pitch. Hinojosa singled to score Batten while Kohlwey found third on the throw. After an intentional walk of Martin, Dale reached on a fielder's choice that caught Kohlwey out at home. PH Reinaldo Ilarraza replaced Martin on second then scored the winning run on a single from Milone.
E-Train Excerpts:
Sunday marked the seventh time that Round Rock has played to extra innings during the 2022 season and third time they have done so on the road. The Express is now 4-3 when playing to extras this year.
E-Train CF Elier Hernandez led the way with three hits on Sunday afternoon. The outfielder finished 3-for-5 with one triple, one home run, two RBI and two runs scored. RF Josh Sale and LF Sandro Fabian both recorded two hits as Sale went 2-for-3 with a home run, one RBI and one run scored and Fabian hit 2-for-4 with one double, one RBI and one run scored.
Round Rock RHP Tyson Miller tossed 5.0 innings in his start and allowed just one run on four hits while striking out three El Paso batters.
Next up: Round Rock continues its road trip with a six-game series against the Tacoma Rainiers at Cheney Stadium. Both starting pitchers are set to be announced prior to Tuesday's first pitch, which is scheduled for 8:05 p.m. CT.
Single game tickets are available for purchase or bring your group to Dell Diamond. For more information on the Express, visit RRExpress.com or call (512) 255-2255. Subscribe to the E-Train email newsletter and keep up with the Express on Facebook, Instagram and Twitter!