Isotopes Use Big Eighth Inning to Top Express 10-6
Round Rock Falls Behind 2-0 in Series Against Albuquerque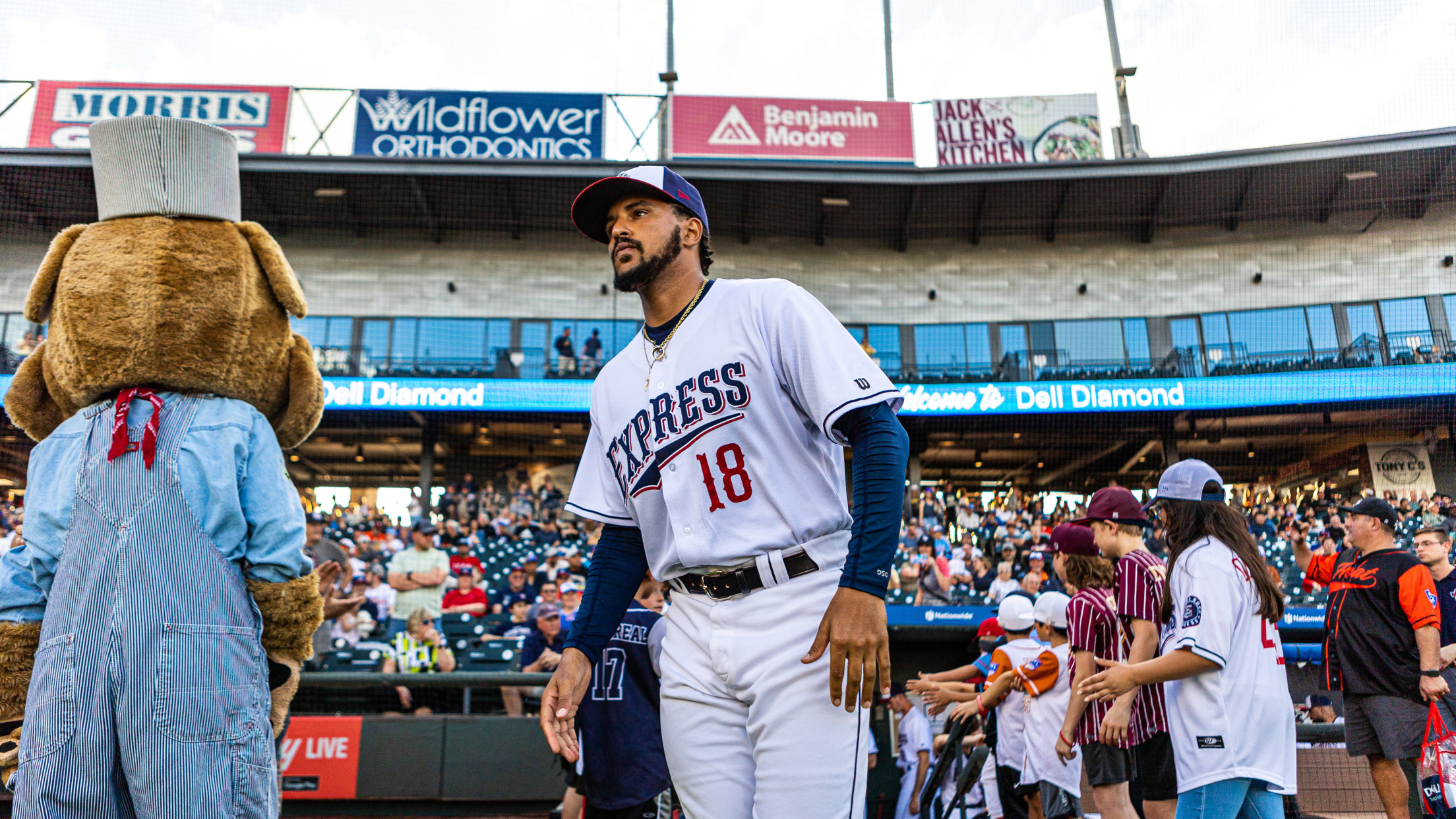 ALBUQUERQUE, N.M. – The Albuquerque Isotopes (21-26) used a late-inning surge to defeat the Round Rock Express (24-22) by a score of 10-6 on Wednesday night's game two at Isotopes Park. Round Rock reliever LHP Taylor Hearn (0-1, 3.93) was tagged with a blown-save loss after allowing six runs on
ALBUQUERQUE, N.M. – The Albuquerque Isotopes (21-26) used a late-inning surge to defeat the Round Rock Express (24-22) by a score of 10-6 on Wednesday night's game two at Isotopes Park.
Round Rock reliever LHP Taylor Hearn (0-1, 3.93) was tagged with a blown-save loss after allowing six runs on four hits and two walks during the game's eighth inning. The lefty struck out two batters. Albuquerque RHP Tommy Doyle (3-0, 1.42) earned the win with two shutout innings that saw two punchouts.
Along the Train Tracks
Albuquerque took a quick 4-0 lead after hitting two-run home runs in both the first and second innings. 3B Elehuris Montero went yard in the first before SS Connor Kaiser hit a two-run shot in the second.
Round Rock SS Davis Wendzel hit a double before scoring on a single from 3B Diosbel Arias in the fourth inning to make it a 4-1 game.
Four runs in the top of the fifth inning gave the Express a 5-4 lead. Texas Rangers rehabber DH Mitch Garver led off the frame with a solo home run before 2B Justin Foscue and C Sam Huff both scored thanks to a double from 1B Blaine Crim. Crim rounded out the scoring after finding home plate when RF Sandro Fabian
Wendzel scored again in the seventh on an Elier Hernandez single after reaching base on a two-out double.
Albuquerque roared back with six runs in the eighth inning to take a 10-6 advantage. The Isotopes loaded the bases on two singles and a walk before a ground-rule double from CF Jimmy Herron scored two. A hit batter put runners on the corners and a balk scored RF Trevor Boone. LF Yonathan Daza cleared the bases with a double then scored when Montero hit a single for the eventual 10-6 final.
E-Train Excerpts:
In their second rehab appearances with Round Rock, Texas Rangers DH Mitch Garver hit 2-for-4 with one home run, one walk and two strikeouts while LF Travis Jankowski finished the contest 0-for-3 with one walk, one strikeout and one putout.
Express SS Davis Wendzel led the team's offense with a 3-for-5 night at the plate that included two doubles and two runs scored. In his last five outings, Wendzel has hit 9-for-20 with three doubles, two home runs, seven RBI and four runs.
Next up: Round Rock and Albuquerque will play for game three on Thursday night at Isotopes Park. Express RHP James Marvel (1-1, 3.77) is scheduled to start against Isotopes RHP Luis Cessa (--, --). First pitch is scheduled for 7:35 p.m. CT.
Single game tickets as well as full season and mini season membership plans are on sale now. For more information about the Express, visit RRExpress.com or call (512) 255-2255. Subscribe to the E-Train email newsletter and keep up with the Express on Facebook, Instagram and Twitter!