Round Rock Drops Series Opener In Albuquerque
Isotopes Offense Breaks Out For 13-4 Victory On Tuesday Evening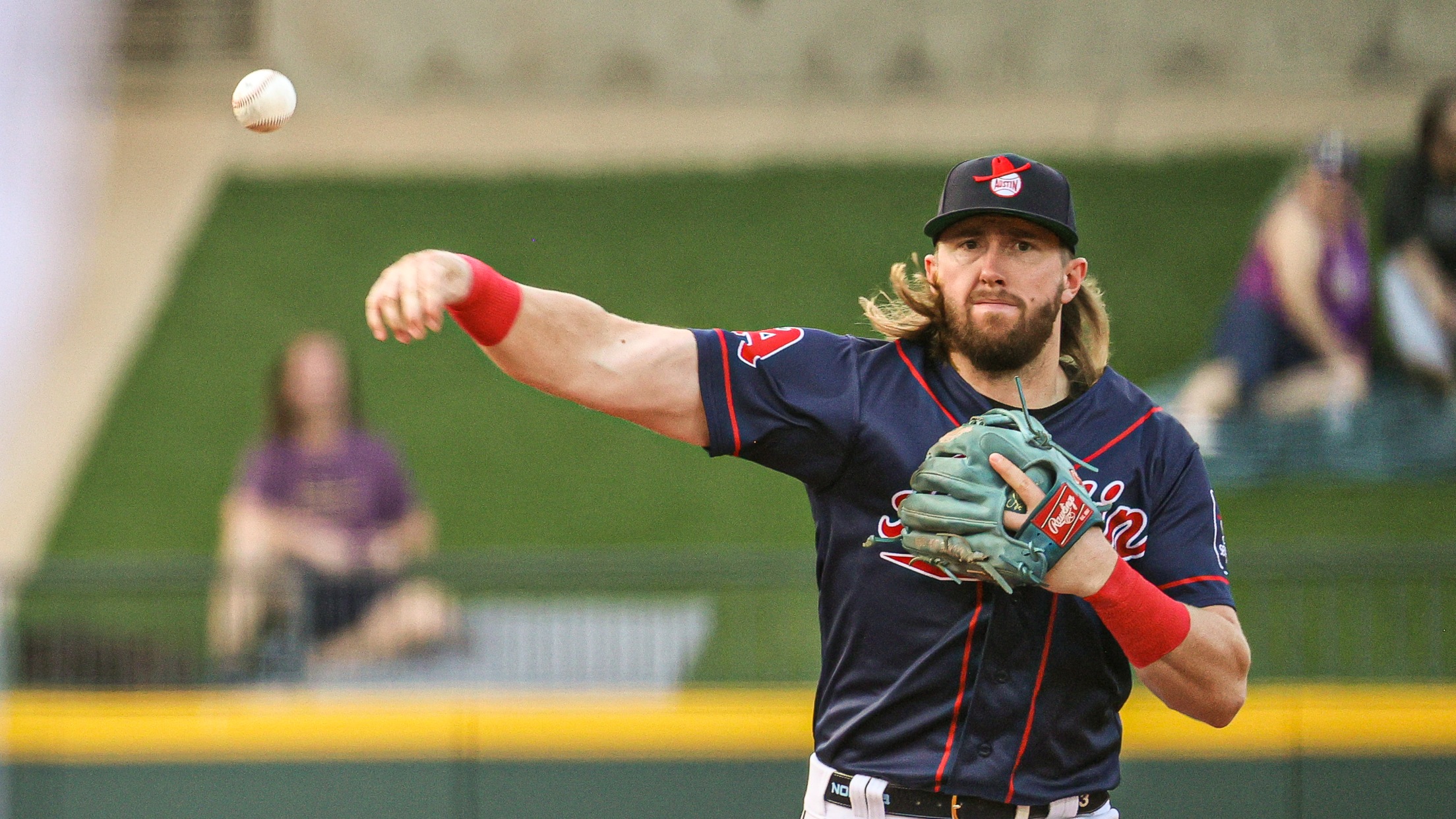 (Andy Neitupski/TTL Sports Media)
ALBUQUERQUE, N.M. – The Round Rock Express (24-21) dropped the series opener against the Albuquerque Isotopes (20-26) on Tuesday night by a final score of 13-4 from Isotopes Park. Express RHP Kyle Cody (0-4, 7.84) collected the loss after allowing six earned runs on eight hits in 3.1 innings of
ALBUQUERQUE, N.M. – The Round Rock Express (24-21) dropped the series opener against the Albuquerque Isotopes (20-26) on Tuesday night by a final score of 13-4 from Isotopes Park.
Express RHP Kyle Cody (0-4, 7.84) collected the loss after allowing six earned runs on eight hits in 3.1 innings of work. He walked one and struck out two. Isotopes RHP Jeff Criswell (2-4, 7.65) managed to throw 5.1 frames while allowing three runs, but only two were earned. Criswell surrendered five hits with one walk and five strikeouts.
Along the Train Tracks
C Sam Huff and SS Davis Wendzel drove home the first two runs of the game. After a one-out double from Texas Rangers rehabber DH Mitch Garver, Huff singled to give the Express a 1-0 advantage in the first inning. In the second, Wendzel celebrated his 26th birthday in style with a solo homer off the foul pole in left field to make it 2-0.
Following a solo home run in the second inning from Albuquerque CF Trevor Boone, the Isotopes tied the game in the third with a run scoring single off the bat of RF Yonathan Daza. Albuquerque broke the game open with a four-spot in the fourth inning. 1B Elehuris Montero and Boone each had singles that brought home a run while DH Jonathan Morales drove home two runs with a single and extended the lead to 6-2.
It was another RBI for Wendzel in the sixth as he scored Huff with a single to cut the lead at 6-3. It was Boone answering in the home-half on a solo home run for Albuquerque. Round Rock got their last run of the night in the seventh when Garver touched home for the second time in the game as 3B Justin Foscue knocked him in with a single to make it 7-4.
The Isotopes called game in the bottom of the seventh. The first eight batters that came to the plate reached base and the Isotopes plated six runs on seven hits and a walk. The crooked number included five singles and two doubles as Albuquerque bashed their way to a 13-4 win.
E-Train Excerpts:
Texas Rangers DH Mitch Garver and CF Travis Jankowski began their rehab assignments on Tuesday. Garver, a native of Albuquerque, went 2-for-4 with two doubles and two runs scored. Jankowski went 0-for-3 with two strikeouts.
SS Davis Wendzel played in a game on his birthday for the first time in his professional career on Tuesday. He went 2-for-3 with two RBI, a run scored and a walk. The last time he played on his birthday came May 23, 2019 while playing for Baylor in the Big 12 Tournament. He went 1-for-3 with a strikeout as the Bears fell to Oklahoma State, 5-0.
RHP Tyler Zombro delivered a scoreless outing in his Express debut. Zombro went 1.2 innings and did not allow a hit while walking one and collecting a strikeout. The righty signed with the Rangers to a minor league contract on May 21 and was assigned to Round Rock on Sunday. He last pitched in a game on April 26, 2022 with Triple-A Durham. Zombro underwent thoracic outlet syndrome surgery in June 2022 which ended his season. On June 3, 2021 he was struck in the head by a line drive and fractured his skull resulting in five days in the intensive care unit. He went on to miss the remainder of the 2021 campaign as well.
Next up: Round Rock returns to Isotopes Park on Wednesday. Express RHP Robert Dugger (1-3, 4.15) will make the start against Albuquerque LHP Ty Blach (1-0, 3.18). First pitch is slated for 7:35 p.m. CT.
Single game tickets as well as full season and mini season membership plans are on sale now. For more information about the Express, visit RRExpress.com or call (512) 255-2255. Subscribe to the E-Train email newsletter and keep up with the Express on Facebook, Instagram and Twitter!
RR