Henry Spins Seven Scoreless, Garrett Plates Four in Reno's 5-3 Win Over Sacramento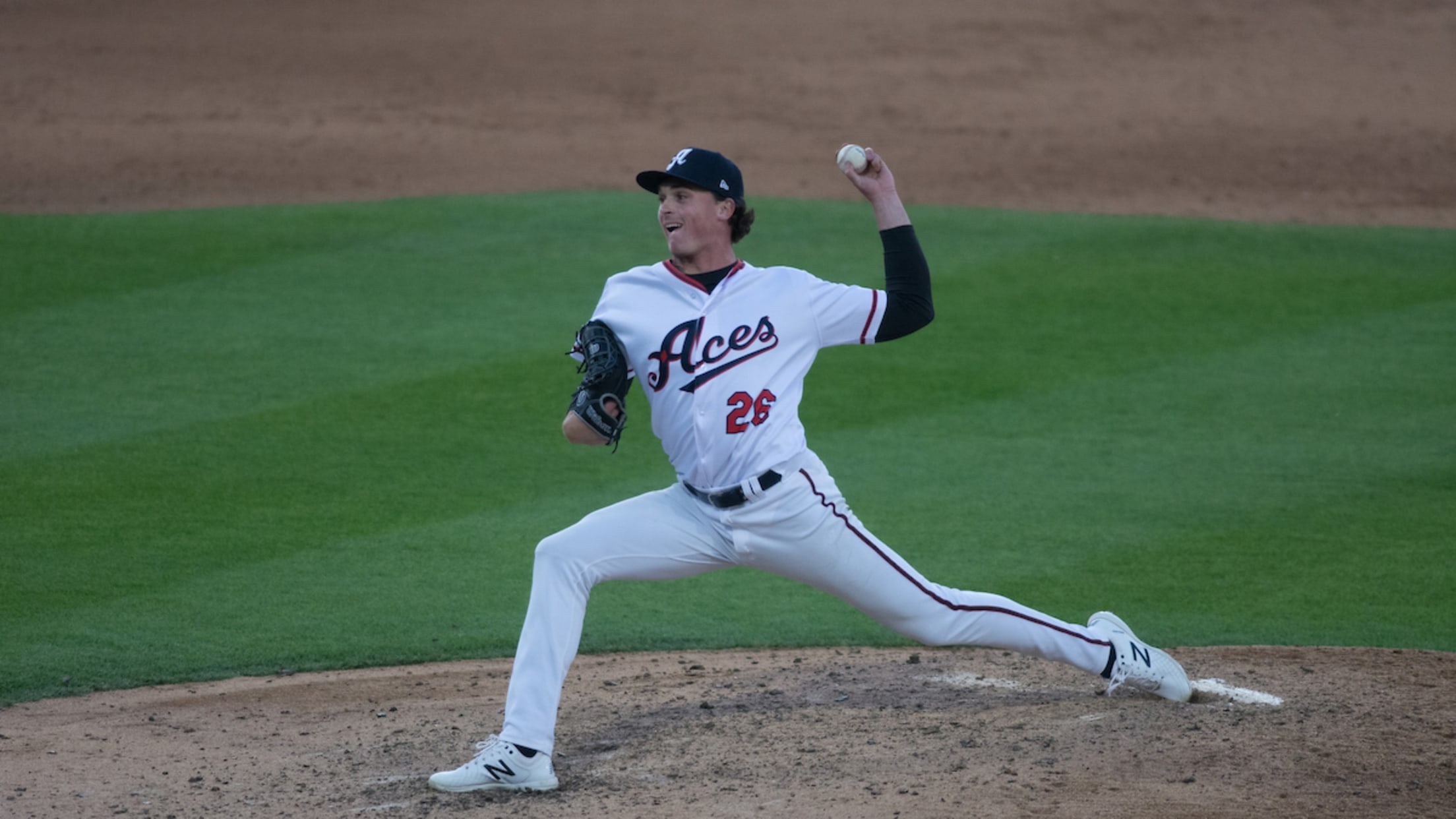 Reno Aces 5, Sacramento River Cats 3 W: Henry (4-3) L: Espinal (5-3) S: None First pitch: 12:06 p.m. PST | Attendance: 4,035 | Time: 2:28 Reno, Nevada – Greater Nevada Field Click Here for Video Highlights Next time out: vs. Sacramento, 6/30/22 (RNO) RHP Drey Jameson (2-5, 7.05 ERA)
Reno Aces 5, Sacramento River Cats 3
W: Henry (4-3) L: Espinal (5-3) S: None
First pitch: 12:06 p.m. PST | Attendance: 4,035 | Time: 2:28
Reno, Nevada – Greater Nevada Field
Click Here for Video Highlights
Next time out: vs. Sacramento, 6/30/22
(RNO) RHP Drey Jameson (2-5, 7.05 ERA) vs. (SAC) RHP Tristan Beck (1-5, 7.71 ERA)
RENO, Nev. – Tommy Henry dominated on the mound and fired seven scoreless innings as the Reno Aces (39-35) defeated the Sacramento River Cats (31-43), 5-3, Wednesday afternoon in front of 4,035 fans at Greater Nevada Field.
The University of Michigan product's final line included seven scoreless innings on five hits and eight strikeouts with no walks allowed resulting in his fourth win of the season. In Henry's last two starts, the southpaw has allowed two earned runs in 13 innings pitched.
Tommy Henry deserves this graphic 💯@MiLB | @MLBPipeline pic.twitter.com/O7jgYHy2w3

— Reno Aces (@Aces) June 29, 2022
Stone Garrett went 2-for-4 with four RBI, including a three-run, bases-clearing double in the bottom of the eighth inning.
Also in the eighth inning, Cole Tucker collected his first home run in an Aces uniform with a solo blast into the right-field bullpens.
Luis Frias replaced Henry on the mound in the eighth, tossed a scoreless inning, allowed just one hit, and struck out two batters.
Sacramento threatened with a three-run ninth but could not come any closer in the 5-3 decision.
Aces Notables:
Tommy Henry: W, 7.0 IP, 0 ER, 5 H, 0 BB, and 8 K's.

Stone Garrett: 2-for-4, 1 2B, 4 RBI.

Cole Tucker: 1-for-3, HR, RBI.

Cooper Hummel: 2-for-3, R, BB, SB, and extended his hitting streak to eight games.

Luis Frias: H, 1.0 IP, 0 ER, H, 2 K's.
The Reno Aces continue its three-game homestand at Greater Nevada Field through Thursday, June 30th, against the Sacramento River Cats, Triple-A affiliate of the San Francisco Giants, before completing the home-and-home split series in Sacramento over the weekend. Tickets for the entire 2022 season are available at RenoAces.com or Text 21003.
-- ACES --