Fletcher's Bat & Glove Continues to Shine in Championship-Winning Season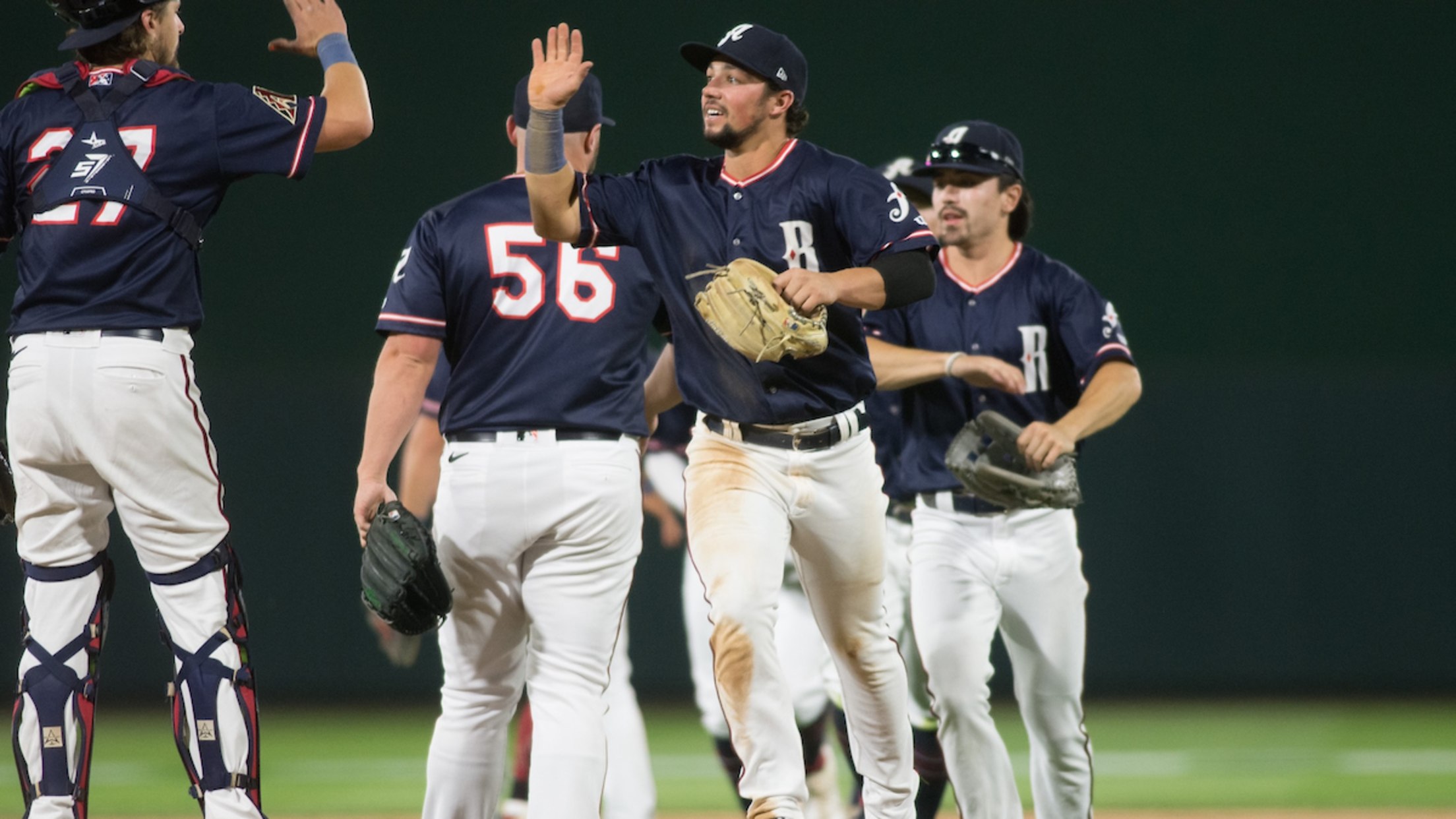 Reno, Nev. – The Arizona Diamondbacks' young outfield talent has become the true jewel of the farm system, and one of the gems of the position is Dominic Fletcher. He continued to establish himself as an elite member of a gifted group with his impressive 2022 season between Reno and
Reno, Nev. – The Arizona Diamondbacks' young outfield talent has become the true jewel of the farm system, and one of the gems of the position is Dominic Fletcher. He continued to establish himself as an elite member of a gifted group with his impressive 2022 season between Reno and Amarillo.
The Arkansas product joined the Aces on May 19 amid a 30-game hitting streak and a 40-game on-base streak that ended on May 28. This impressive start to the 2022 season culminated with being selected as the Arizona Diamondbacks Organizational Player of the Month for May after he produced an offensive slash line that included a .402 (37-for-92) batting average/.466 OBP/.728 SLG. He also amassed five doubles, a pair of triples, seven home runs, 17 RBI, 25 runs scored, and ten walks across 23 games with the Sod Poodles and Aces.
Fletcher's defensive prowess is as elite as his offensive skills, which were on full display at both levels as the 5-foot-9, 185-pound lefty made difficult catches look routine and the "uncatchable catch" always within his range with any ball hit in his direction. One of his best catches this season achieved Top 10 status (No. 6) on ESPN's SportsCenter on July 8, when he made a diving catch to the right-center field gap at Greater Nevada Field vs. Tacoma.
Dominic Fletcher hit over .300 on the year and at one point had a 3️⃣ 0️⃣ game hitting streak, but his dazzling defense stole the show this year ⚡@MiLB | @MLBPipeline | @Dbacks pic.twitter.com/cJ4QExxNw1

— Reno Aces (@Aces) November 7, 2022
In 101 games with the Aces, the Orange, Calif. native notched a team-leading .301 batting average in addition to 29 doubles, five home runs, 38 RBI, and 70 runs. His eight triples ranked in Pacific Coast League's Top Five.
Arizona's No. 13 Top Prospect by MLB Pipeline led the D-backs system. It was a key contributor down the stretch in the Aces Pacific Coast League championship run, including a run-scoring base knock in the PCL Championship Game in Las Vegas.
His 2022 season proved to be one of the best in the D-backs organization after he led in five different offensive categories: hits (163), singles (106), doubles (35), triples (10), and runs scored (98).
Fletcher left his mark in the 101 games played with Reno this season, as the 25-year-old notched a team-leading .301 batting average along with 29 doubles, five home runs, 38 RBI, 70 runs, and eight triples (ranked in the Top 5 in PCL).
The Reno Aces are slated to open the 2023 season at Greater Nevada Field on Friday, March 31st, against the Las Vegas Aviators, Triple-A affiliate of the Oakland Athletics. Season Memberships are available via RenoAces.com, texting "MEMBER" to 21003, or calling 775-334-7000.
-ACES-