Aces Split Series with Bees in Divisional Road Tilt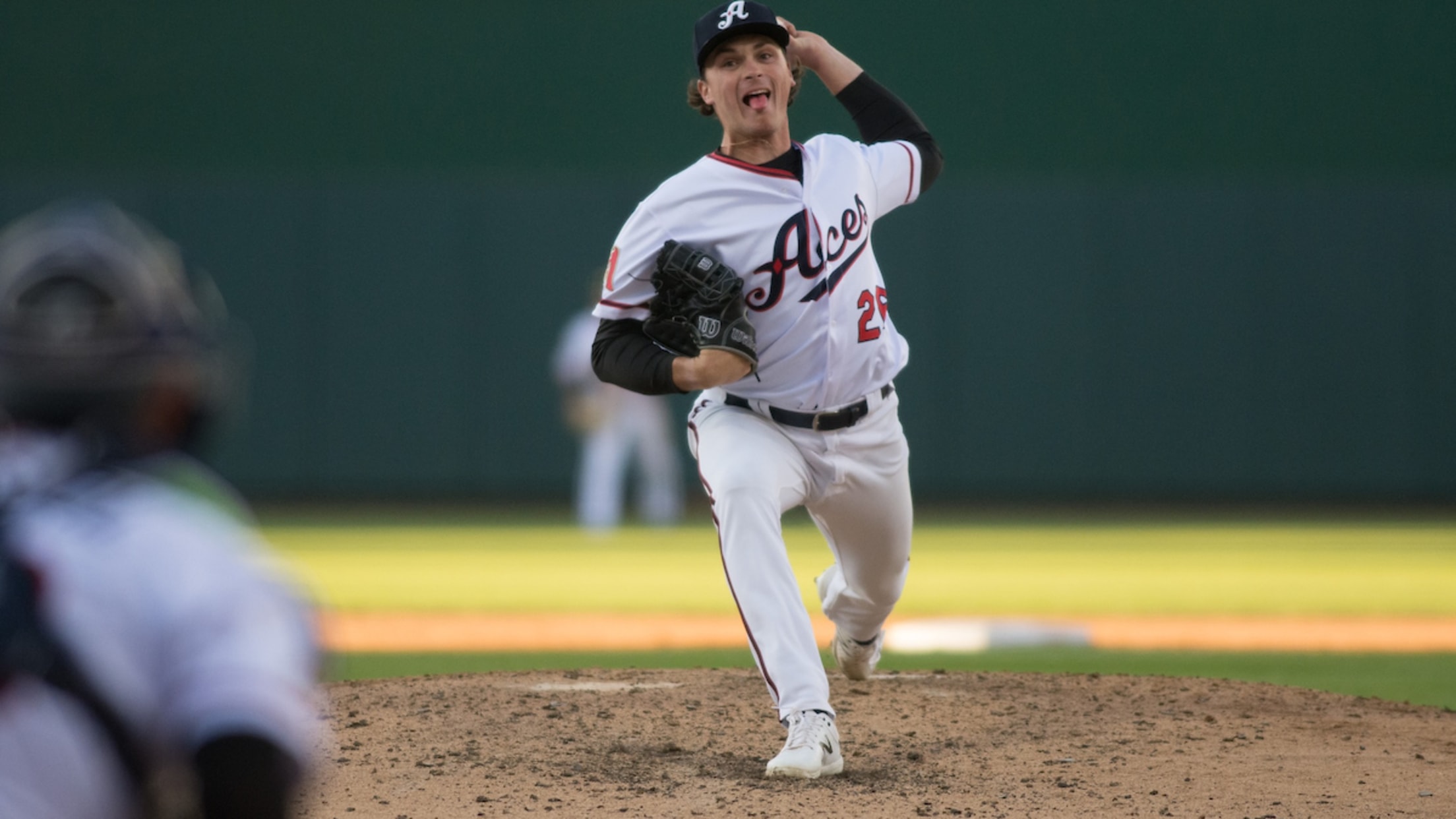 The Reno Aces finished a six-game road series against the Salt Lake Bees, Triple-A affiliate of the Los Angeles Angels. Out of the six games, the Aces left Salt Lake Sunday afternoon with three wins. Ryne Nelson dealt 5.1 innings of one-run ball and matched a season-high eight strikeouts in
The Reno Aces finished a six-game road series against the Salt Lake Bees, Triple-A affiliate of the Los Angeles Angels. Out of the six games, the Aces left Salt Lake Sunday afternoon with three wins.
Ryne Nelson dealt 5.1 innings of one-run ball and matched a season-high eight strikeouts in Reno's 5-1 win Wednesday against the Bees. At the plate, Grayson Greiner supplied the power for the Aces lineup with a solo shot in the second frame for a 1-0 lead. Reno's batters were able to string together four unanswered runs throughout the game for a 5-0 lead. The relief trio of Miguel Aguilar, Kevin Ginkel and Caleb Baragar silenced Salt Lake's bats with 3.2 scoreless innings of relief and fanned five batters to cement the win.
The trend of stellar starting pitching continued Thursday night when Tommy Henry spun his third quality start of the season with six innings of two-run ball on eight hits and two strikes for a 9-3 Aces win. The Aces' bats heated up quickly with seven unanswered runs in the second and third innings, highlighted by a bases-clearing triple from Yonny Hernandez in the top of the second. Dominic Miroglio put a stamp on the game when the catcher tattooed a ball over the left-field wall in the third inning for a two-run shot and a 7-1 lead.
Drey Jameson recorded his most impressive performance on the mound against Salt Lake Friday in Reno's 2-1 win. The Ball State product tossed six innings of one-run ball on three hits and eight strikeouts to earn his first Triple-A win in a starter's role. Cooper Hummel opened the game with a bang when the outfielder hit a leadoff homer for a 1-0 lead in the top of the first. The Aces added an insurance run in the fourth when Cole Tucker lined an RBI single to center for the 2-0 advantage. The Bees could scratch across a run in the sixth, but the Aces' relief pair of Ryan Weiss and Justin Lewis limited Salt Lake to just two hits in two shutout innings. Keynan Middleton slammed the door in the ninth with a scoreless frame and two strikeouts for his first save as an Ace.
Top Performers
Cooper Hummel: Hit .450 (9-for-20) in five games with a homer and five RBI, two doubles and three runs scored.
Seth Beer: Started all six games and hit .380 (8-for-21) with a homer, five RBI and seven runs scored.
Camden Duzenack: Batted .353 (6-for-17) in four games with two homers, two RBI, a double and three runs scored.
Jake McCarthy: Hit .286 (6-for-21) in five games with an RBI, one double and three runs scored. The University of Virginia product also extended his on-base streak to a team-high 26 games.
Wilmer Difo: Batted .333 (5-for-15) in five games with four RBI, two stolen bases and a run scored.
Ryne Nelson: W, 5.1 IP, 1 ER, 5 H, 8 K's.
Tommy Henry: W, 6.0 IP, 2 ER, 8 H, 3 K's.
Drey Jameson: W, 6.0 IP, 1 ER, 3 H, 8 K's.
Corbin Martin: Tossed 5.2 innings of two-run ball on five hits and tied a Reno Aces franchise record along with a career-high in strikeouts with 13 in a tough-luck loss against Salt Lake Tuesday.
Keynan Middleton: S, 1.0 IP, 0 ER, 0 H, 2 K's. He extended his scoreless outing streak to 11 games.