Aces Rally Late, Fall Short in 9-7 Loss to River Cats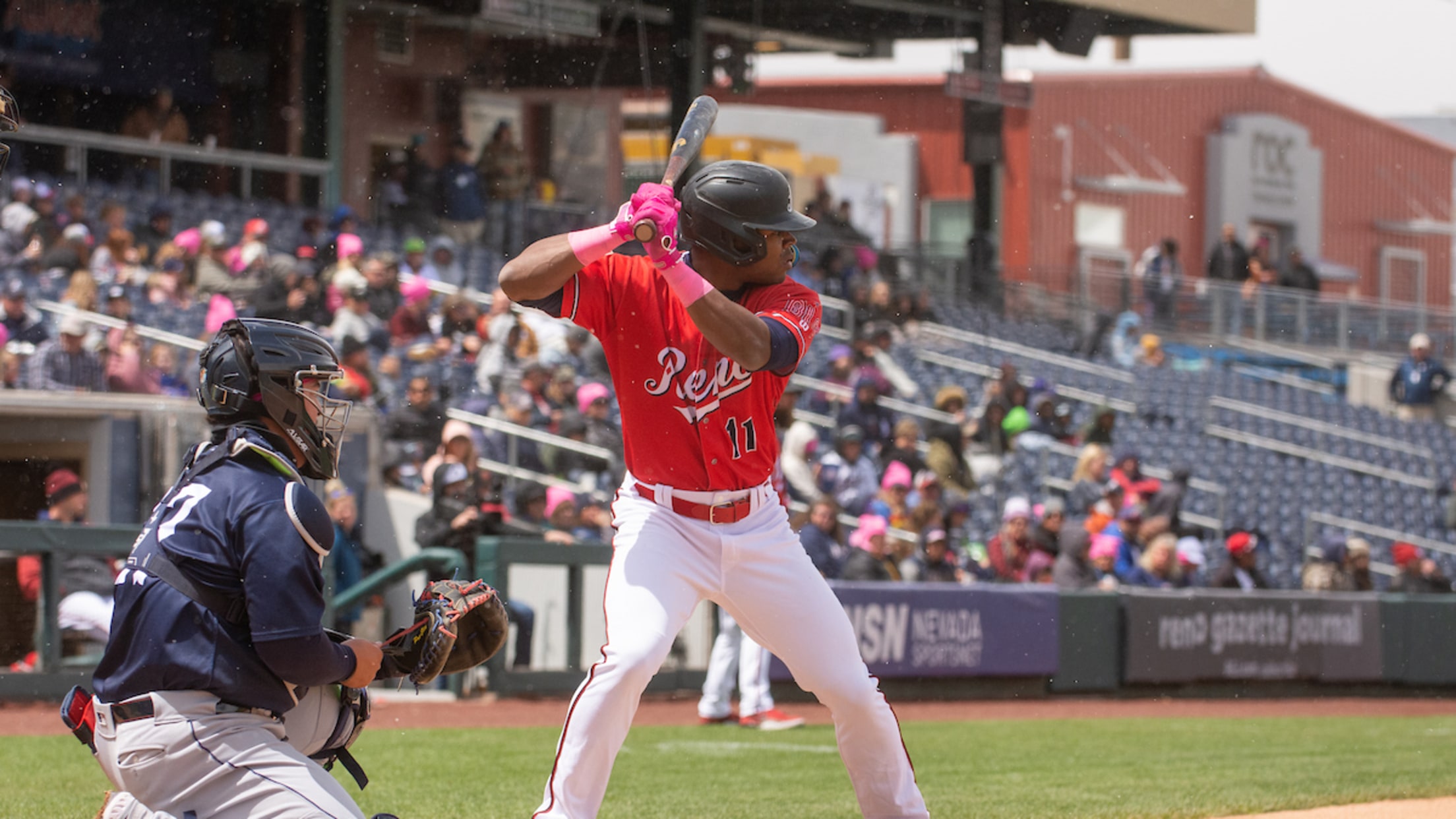 Reno Aces 9, Sacramento River Cats 7 W: Alvarez (1-0) L: Stumpo (0-2) S: None First pitch: 6:35 p.m. PST | Attendance: 4,886 | Time: 2:44 Reno, Nevada – Greater Nevada Field Click Here for Video Highlights Next time out: vs. Sacramento, 6/29/22 (RNO) LHP Tommy Henry (3-3, 3.59 ERA)
Reno Aces 9, Sacramento River Cats 7
W: Alvarez (1-0) L: Stumpo (0-2) S: None
First pitch: 6:35 p.m. PST | Attendance: 4,886 | Time: 2:44
Reno, Nevada – Greater Nevada Field
Click Here for Video Highlights
Next time out: vs. Sacramento, 6/29/22
(RNO) LHP Tommy Henry (3-3, 3.59 ERA) vs. (SAC) RHP Raynel Espinal (5-2, 4.58 ERA)
RENO, Nev. – Despite four unanswered runs in the final two innings, the Reno Aces (38-35) fell short in a 9-7 loss to the Sacramento River Cats (31-42) Tuesday night in front of 4,886 fans at Greater Nevada Field.
Safe to say Stone Garrett got all of that one 😱

That home run left Garrett's bat at 1️⃣0️⃣5️⃣ mph and traveled 4️⃣4️⃣2️⃣ feet 💪@stonetx_ | #Aceball pic.twitter.com/Hc6OSy3sJf

— Reno Aces (@Aces) June 29, 2022
Trailing 1-0 in the bottom of the first, Stone Garrett erased the deficit with one swing of the bat by blasting a ball off the batter's eye in center field for a two-run homer and the 2-1 lead. Garrett's homer marked his 19th of the year and he sits one home run behind the Pacific Coast League leader.
The River Cats claimed a 3-2 lead in the top of the fifth and the Aces quickly countered in the bottom half when Jancarlos Cintron scored on a fielder's choice to tie the game at three apiece.
Sacramento began to pull away with a four-run seventh and added two more in the eighth for a 9-3 advantage.
Reno's starting nine continued to grind out at-bats and scored four runs in the final two innings to pull within three, but the deficit loomed too large in a 9-7 loss.
The loss was charged to Mitchell Stumpo after the right-hander tossed 0.2 innings of four-run ball on three hits and struck out two batters.
Ryne Nelson made his 15th start of the season for the Aces Tuesday night, allowed three earned runs on five hits, and struck out six batters. The Henderson, Nev. native has struck out 14 batters in 11.1 innings pitched in his past two starts.
In their final frame, Kevin Ginkel spun a scoreless ninth on two hits and fanned a pair of batters.
Cintron (2-for-4, 2B, R) and Cooper Hummel (2-for-3, BB, R) recorded multi-hit games for the Aces. After his 1-for-4 performance Tuesday, Jake McCarthy extended his on-base streak to a team-high 27 games.
Aces Notables:
Stone Garrett: 1-for-4, HR, 2 RBI, R.

Jancarlos Cintron: 2-for-4, 2B, R and extended hitting streak to five games.

Jake McCarthy: 1-for-4, 2B, 2 RBI, R and extended on-base streak to 27 games.

Seth Beer: 1-for-4, RBI, BB.

Ryne Nelson: ND, 6.0 IP, 3 ER, 5 H, 6 K's.

Kevin Ginkel: 1.0 IP, 0 ER, 2 H, 2 K's.
The Reno Aces continue its three-game homestand at Greater Nevada Field through Thursday, June 30th, against the Sacramento River Cats, Triple-A affiliate of the San Francisco Giants, before completing the home-and-home split series in Sacramento over the weekend. Tickets for the entire 2022 season are available at RenoAces.com or Text 21003.
-- ACES --