R-Phils to Play as Los Luchadores on Savage Auto Group Fiesta Friday's
Team Will Pay Tribute to Local Hispanic/Latino Culture During 12 Friday Home Games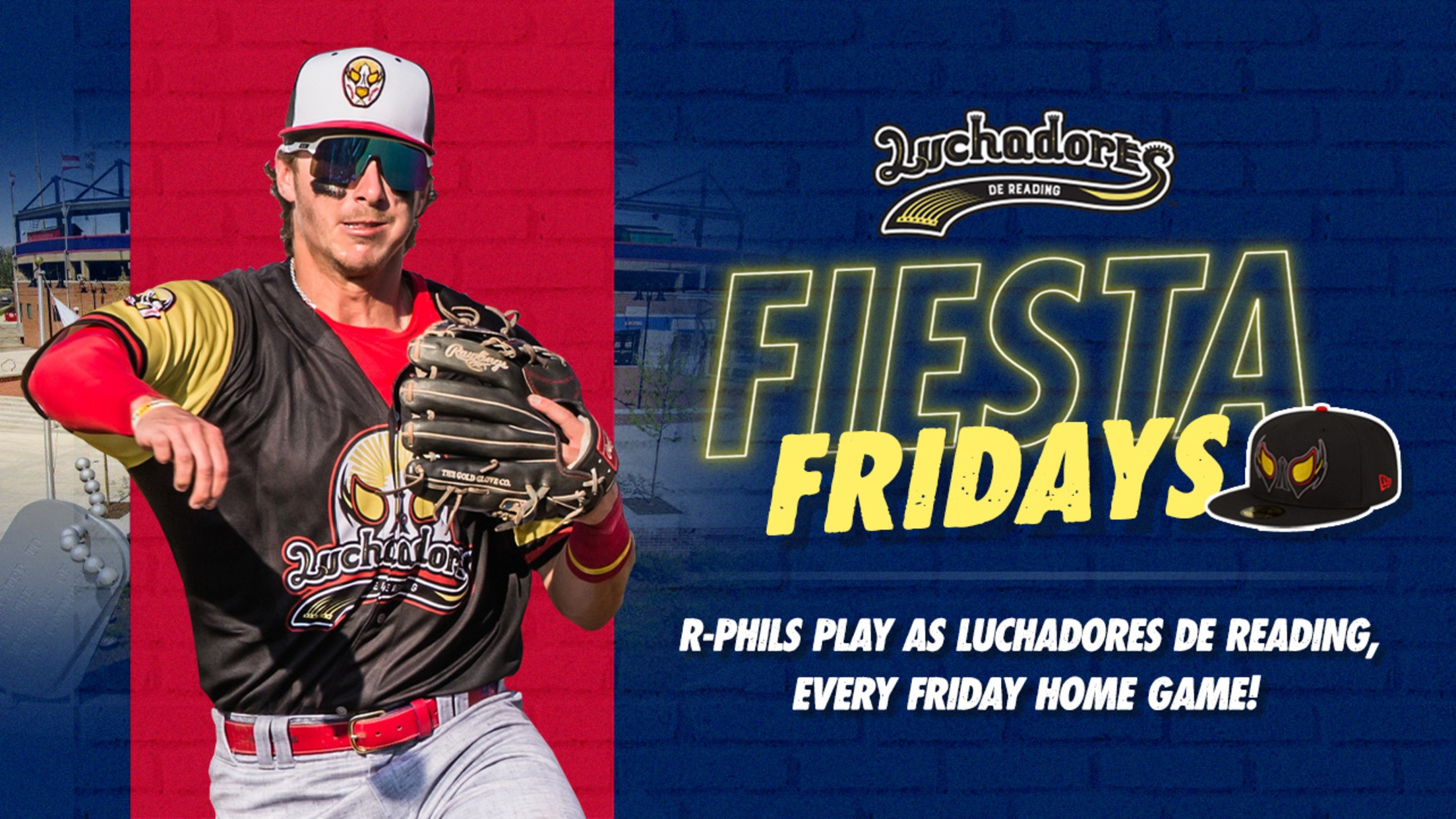 (Reading, PA) – In connection with Minor League Baseball's "Copa de la Diversion" initiative, the Reading Fightin Phils are once again excited to play as "Los Luchadores," during Friday home games throughout the 2023 season, also known as Savage Auto Group "Fiesta Friday" at FirstEnergy Stadium. Reading first introduced Los
(Reading, PA) – In connection with Minor League Baseball's "Copa de la Diversion" initiative, the Reading Fightin Phils are once again excited to play as "Los Luchadores," during Friday home games throughout the 2023 season, also known as Savage Auto Group "Fiesta Friday" at FirstEnergy Stadium.
Reading first introduced Los Luchadores jerseys prior to the planned 2020 season. It came a part of Minor League Baseball's Copa de la Diversión, or "Fun Cup." It was designed to embrace the culture and values that resonate most with participating teams' local U.S. Hispanic/Latino communities.
The R-Phils are excited to welcome back Savage Auto Group as the sponsor of Fiesta Friday. Additional sponsors include, Kitay Law Offices, Suburban Brewing Company, Carl's Cards and Collectibles, Humane Pennsylvania, Star City Boxing, Supportive Concepts for Families Children's Home of Reading, High Noon Sun Sips, Tito's Hand Made Vodka, Apis Services and Affordable Home Care.
Fiesta Friday's will feature the R-Phils wearing their "Los Luchadores" jerseys, Hispanic/Latino food, and music, in addition to other cultural elements around the ballpark. The "Los Luchadores" logo was introduced by the R-Phils in November of 2019.
In 2023, the R-Phils, also known on Fridays as Los Luchadores de Reading, will host 12 Savage Auto Group Fiesta Friday's this season. The dates are as follows:
Apr. 14, Apr. 28, May 12, May 26, June 9, June 16, June 30, July 14, July 28, Aug. 18, Sept. 1 and Sept. 8.
Many of our Fiesta Fridays also include exciting promotions, such as fireworks, giveaways and much more. You can see our full promotional schedule on rphils.com.
The Luchador mask logo pays tribute to some of the most notable elements of the city of Reading. Embodied in the Luchador's mask is Reading's Pagoda, surrounded by 23 sun rays representing the Latin American countries and Puerto Rico. Down the bridge of the nose is Reading's Fire Tower. Home plate serves as the Luchador's mouth, with FirstEnergy Stadium's facade creating the upper lip. Below the chin are train tracks, symbolic of the historic Reading Railroad, and along the side are baseball seams, a nod to Baseballtown's rich history.
Fans can also purchase "Los Luchadores" apparel at the R-Phils Brentwood Industries Team Store or by going online to rphils.com/shop.
Single-game tickets for the 2023 season are now on sale. Fans can purchase tickets from the Customers Bank Ticket Office by calling 610-370-BALL, going to rphils.com or in-person at the ballpark!