Chiefs Bats Explode in Thursday Rout of Wisconsin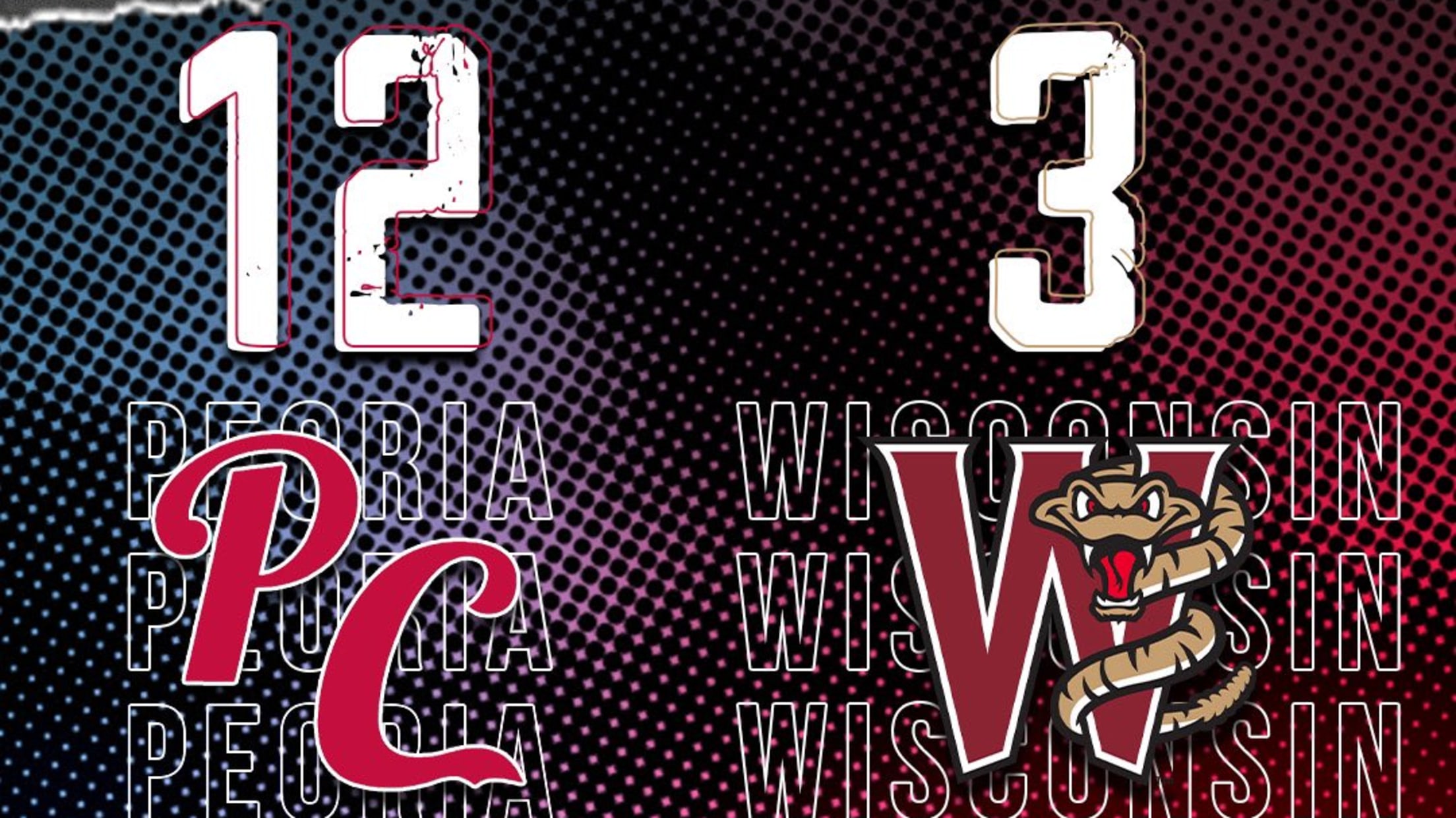 PEORIA, IL - The Chiefs used an offensive barrage to capture a 12-3 victory over the Wisconsin Timber Rattlers in game three of the series on Thursday night. A complete effort from top to bottom, the Chiefs scored the final 10 runs of the contest to improve to 52-71 on
PEORIA, IL - The Chiefs used an offensive barrage to capture a 12-3 victory over the Wisconsin Timber Rattlers in game three of the series on Thursday night. A complete effort from top to bottom, the Chiefs scored the final 10 runs of the contest to improve to 52-71 on the year.
Despite the outpouring from the Chiefs, Wisconsin scored first on a lead-off blast from Darrien Miller put the visitors up quickly, 1-0. However, Peoria answered back in a hurry thanks to Tyler Reichenborn, who launched his eighth home run of the season to push the Chiefs ahead 2-1 in the bottom of the second.
The T-Rats evened the score in the third when Jeferson Quero stepped in against Peoria starter Inohan Paniagua. On the first pitch of the AB, Quero launched a line drive over the wall in left to tie the game. In the fourth, it was again Quero at the plate who knocked a bloop single into center field to plate the go-ahead run and make it 3-2 Wisconsin. Paniagua, who logged 83 pitches over four innings, was lifted following the inning.
In the Peoria fourth, the Chiefs jumped back in front of a seesaw affair. A Mack Chambers triple chased Aaron McKeithan to the plate to once again tie the score at 3-3. Later, Reichenborn climbed in and smacked a liner into the outfield that plated Chambers and put Peoria ahead 4-3.
Two innings later, the Chiefs broke it wide open. A safety squeeze attempt from Ramon Mendoza yielded a throwing error from T-Rats reliever Miguel Guerrero that allowed Chambers to score another Peoria run and make it a 5-3 game. Next, it was Tommy Jew who laced a single into center to plate Peoria's sixth run of the evening. Then, Noah Mendlinger punched a bleeder up the middle to chase in two more for the Chiefs as the lead bellowed to 8-3.
In the seventh, Peoria added insult to injury, as a Chambers double scored LJ Jones for a 9-3 lead. Chambers finished the night with three hits and came up a homer shy of the cycle. Later in the frame, it was again Mendoza who punched a single through the left side to bring in two more and the lead swelled to 11-3. Jacob Buchberger capped off the scoring for the night on an RBI groundout to push the score to 12-3, the final margin.
The Peoria bullpen limited Wisconsin the rest of the way as Nathanael Heredia, Jack Ralston and Levi Prater combined for five shutout innings while punching out seven Wisconsin batters.
Game four of the series is set for tomorrow at 6:35 p.m. from Dozer Park. The Chiefs will turn to Wilfredo Pereira while Wisconsin features Carlos Rodriguez.