Second Half Storylines: What Fans Should Be Watching For At Blue Wahoos Stadium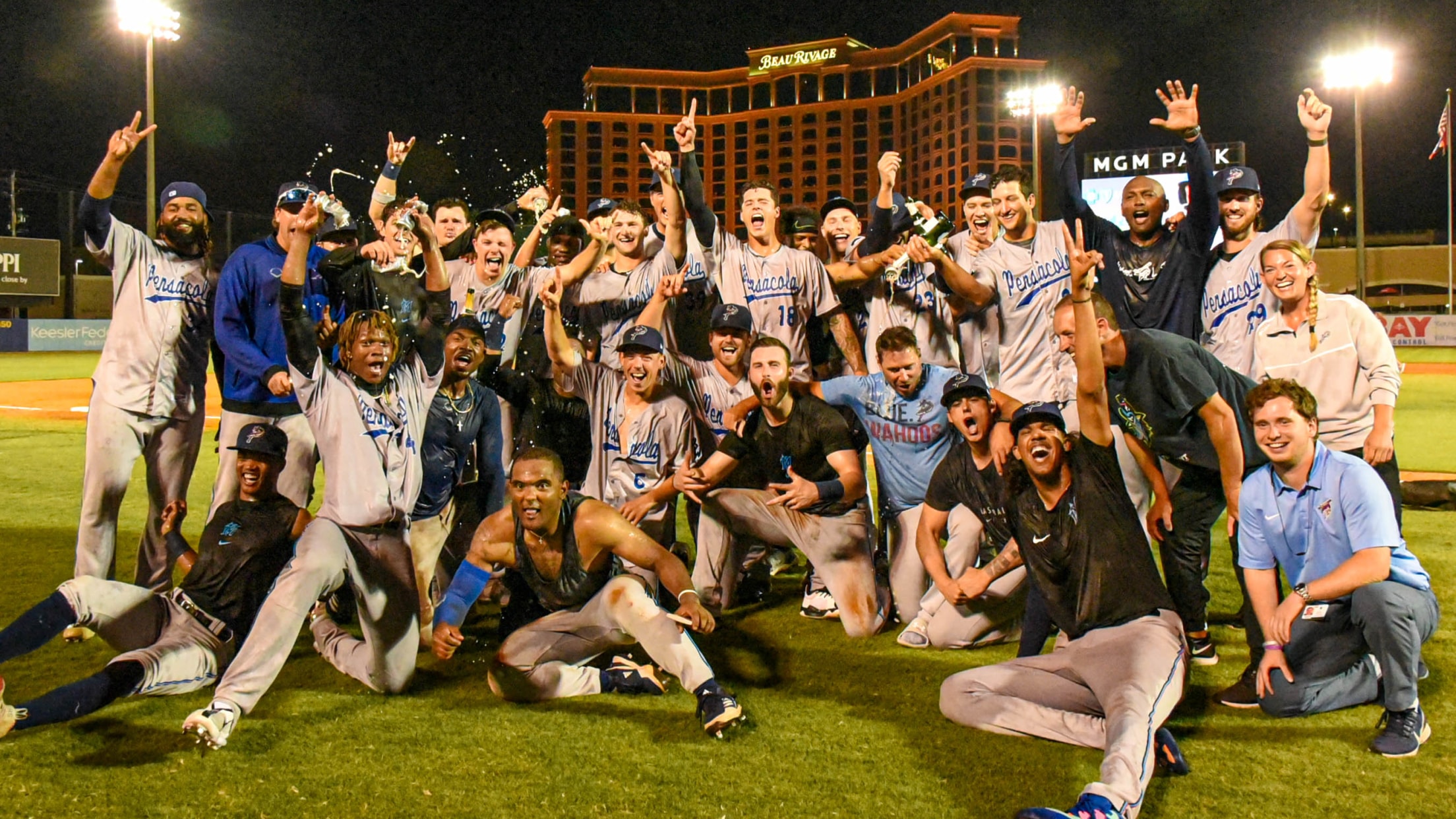 The Blue Wahoos celebrate their first half title on Thursday, June 23 in Biloxi. (Daniel Venn)
The Blue Wahoos finished the first half leading the Southern League South Division in both team record and attendance, clinching home field advantage in the opening round of the playoffs before the season's second half even begins on Tuesday. As the team looks forward to the second half starting at
The Blue Wahoos finished the first half leading the Southern League South Division in both team record and attendance, clinching home field advantage in the opening round of the playoffs before the season's second half even begins on Tuesday.
As the team looks forward to the second half starting at Blue Wahoos Stadium tomorrow, some key storylines have emerged for fans to keep an eye on down the stretch in Pensacola.
Will Eury Be The #1 Pitching Prospect In Baseball?
🚨 CAREER HIGH 🚨

Eury Perez strikes out a career high 12 batters through 5.0 one-hit innings! pic.twitter.com/m3bXNPCucP

— Pensacola Blue Wahoos (@BlueWahoosBBall) April 30, 2022
It's hard to overstate just how good Eury Pérez has been for the Blue Wahoos. Despite being the youngest player (19) in the Southern League, the towering pitcher teammates jokingly call "La Cabra" - Spanish for "The GOAT" - leads Southern League pitchers (50+ IP) in strikeouts per nine (12.2) and strikeout percentage (34.2%) while showing incredible control for a pitcher his age (or a pitcher of any age) by holding the lowest walks per nine (1.94) and walk percentage (5.4%) in the league. Pérez is currently ranked as the #7 overall pitching prospect in the game by MLB Pipeline, but his near-unprecedented blend of swing-and-miss stuff and pinpoint control could have him continuing to shoot up rankings by the end of the season.
Late Inning Fireworks
The weirdest walk-off you'll ever see!

The Blue Wahoos score three in the 9th on an error, a walk, and four consecutive hit by pitches! pic.twitter.com/NpMwfh3BmY

— Pensacola Blue Wahoos (@BlueWahoosBBall) June 6, 2022
Through the end of the first half, no bullpen in the high minors has struck out batters as frequently as Pensacola's. The team's loaded relief corps holds a 11.98 K/9, leading all Double-A and Triple-A pens, and has held opponents to just a .213 AVG, the best clip in the Southern League. Among Southern League leaders, Pensacola pitchers hold four of the top six spots in total strikeouts by relievers with Josh Simpson leading the league (52), Jefry Yan ranking 2nd (52), Eli Villalobos sitting fourth (49), and Anthony Maldonado ranking sixth (47). Combining the Blue Wahoos dominant bullpen with the team's propensity to score lots and lots of runs late (they've scored 155 runs in the seventh inning or later, most in the league by a considerable margin) gives fans reason to never leave a game early.
How Hot Can Troy Johnston Get?
No brainer.

Troy Johnston takes home Southern League Player of the Week after leading the league in average, runs, hits, total bases, homers, on-base, slugging, and OPS! pic.twitter.com/6ndfoWBA50

— Pensacola Blue Wahoos (@BlueWahoosBBall) June 6, 2022
Despite hitting .300 and leading the Marlins organization with 132 hits last season, Troy Johnston entered the 2022 unranked by Baseball America on the Marlins Top 30 Prospects list. That snub almost started to make sense through the first month of the season, as Johnston - a self-described slow starter - hit just .213 through May 7th. Since then though, Johnston has been the hottest hitter in the Southern League, leading the league in batting average (.342) by knocking 51 hits (and seven homers) in 36 games since May 7. Johnston has shown just how dominant he can be when he catches fire, hitting .545 (24-for-44) over a two week stretch from May 20-June 3. The second half of the season will be a showcase for Johnston, as one of the best pure hitters in the Marlins system chases the Southern League batting title.
Will The Home Run Record Fall (Again)?
Two curveballs, two home runs.@Marlins No. 24 prospect Griffin Conine tees off twice for @BlueWahoosBBall! pic.twitter.com/2KHP5r9yyi

— Minor League Baseball (@MiLB) June 27, 2022
Last season, fan favorite outfielder Peyton Burdick set the Blue Wahoos single season home run record, drilling 23 home runs despite the shortened 120-game season. That record may not last long, as slugger Griffin Conine (13 homers in the first half) is currently on pace to best that mark if he remains in Pensacola for the full second half. The homers record might not be the only record to fall, as Conine (42 RBI) is also on pace to eclipse the team's RBI record, set at 69 by Travis Mattair in 2014. Conine might also be coming for Aristides Aquino's franchise career home run record of 37, having hit 26 in parts of two seasons with the Blue Wahoos, tied for second-most in team history with Mattair.
Break-Out Season For McIntosh
111 miles per hour off the bat of Paul McIntosh. One hundred eleven. pic.twitter.com/9sIpos7IJi

— Pensacola Blue Wahoos (@BlueWahoosBBall) June 11, 2022
Undrafted out of West Virginia, the Marlins signed catcher Paul McIntosh as a free agent out of the Major League Draft League last July. Since, he's established himself as one of the most intriguing hitting catching prospects in the Marlins system. In his first taste of Double-A ball, McIntosh sits in the top 10 among all Double-A catchers (100+ PA) this season in doubles (17, 1st), slugging (.511, 6th), runs (33, 6th), OPS (.898, 8th), homers (8, 8th), RBI (35, 8th), and hits (50, 10th). While MLB Pipeline and Baseball America both have yet to place McIntosh on an organizational Top 30 Prospects list, McIntosh will be impossible to ignore if he continues to hit for a high average (.275 in the first half), drive the ball with authority, and show off sneaky speed (9 stolen bases) down the stretch.
Lindgren Leading In Quality Starts
Quality and quantity!

Jeff Lindgren provides his sixth quality start in eight appearances with Pensacola this season!

6.0+ IP, 2 R, 1 BB, 6 K pic.twitter.com/HhzhInUUKq

— Pensacola Blue Wahoos (@BlueWahoosBBall) June 26, 2022
While Eury Pérez deservedly gets the headlines among the Pensacola starting pitchers, Jeff Lindgren has quietly established himself as one of the league's most dependable starters. Since returning to Pensacola from Triple-A Jacksonville on May 3, Lindgren has provided six quality starts in eight appearances for the Blue Wahoos. Lindgren has gone at least five innings in every start but one this year, and the one outing he fell short featured a near-three-hour rain delay that ended his night early. A valuable part of Pensacola's rotation last season (106.0 IP, 3.82 ERA), Lindgren has been even better for the Blue Wahoos this year, dropping his ERA to 3.13 and his opponent average to .236 (.252 last season) while striking out batters more frequently (8.0 K/9 in 2022 compared to 7.2 last year). With a combination of top prospects like Pérez and Marlins #14 prospect Zach McCambley and unsung heroes like Lindgren, the Blue Wahoos will look to continue to lead the Southern League in starting pitcher ERA (3.86 in the first half).
What Reinforcements Might Come?
Zach King (@Zach22Lee) dominated today with another gem.

7 IP, 3 H, 1 BB, 11 K, 91/66 P/S

An extremely quick worker with a deep four pitch mix and size from the left side, the 6'6" specimen has been very impressive when he's had his command.#Marlins | @beloitskycarp pic.twitter.com/bH5ZbnQFkd

— Fish on the Farm (@marlinsminors) June 26, 2022
With Pensacola's success in the first half, it's inevitable that some of the team's stars will be promoted to Triple-A Jacksonville in the second half. But reinforcements could be on the way from High-A Beloit, which features a top-prospect packed roster with eight of Miami's Top 30. Infielder Ynmanol Marinez ranks second in the Midwest League in batting average (.307), has slugged eight homers this year, and has slashed .376/.414/.505 in the month of June. Superstar shortstop defender Nasim Nunez has also been hot, hitting .290/.437/.435 this month, and Cody Morissette has hit six homers in June, giving the Marlins a trio of intriguing options for a possible call-up to fill the vacancy left by Luis Aviles Jr.'s promotion to Triple-A.
Beloit also offers potential starting pitching additions to Pensacola, as their rotation holds two of the top three starters in the Midwest League in ERA in Zach King (2.77, 2nd) and M.D. Johnson (2.95, 3rd). Although he doesn't have the innings to qualify for the league leaderboard yet, lefty Pat Monteverde has been stellar as well, holding a 2.36 ERA across 10 starts with the Sky Carp.
Many of Pensacola's bullpen arms look ready for a promotion to Triple-A, and Beloit isn't lacking in possible replacements. Converted infielder Sean Reynolds has racked up 39 strikeouts in 25.2 innings for Beloit while flashing triple digits heat on the radar gun. Jackson Rose (1.88 ERA), Justin Evans (2.37 ERA), and Tyler Mitzel (3.06 ERA) all spent time with Pensacola in 2021 and are having strong seasons in Beloit.
Can't-Miss Promotions
"Can you make this photo into a bobblehead?"

Assignment understood.

2022 Promo Schedule: https://t.co/Yw5Wws5gO1 pic.twitter.com/LMPVUxase6

— Pensacola Blue Wahoos (@BlueWahoosBBall) March 14, 2022
As always, the Blue Wahoos have packed their promotional schedule with nights you simply won't want to miss in the second half.
Giveaways: Pensacola's Giveaway Friday schedule is loaded in the second half with the fan favorite Hawaiian Shirt giveaway (July 1) and Beach Towel Giveaway (July 29) returning to prepare fans for beach season. Three bobbleheads remain on the schedule with local news legend Sue Straughn receiving a bobblehead on July 15 and Blue Wahoos co-owners Derrick Brooks (August 26) and Bubba Watson (September 16) each getting a bobblehead of their own.
Specialty Jerseys: The Blue Wahoos will take the field in style throughout the second half. One ultra-popular Navy Baseball Night remains on July 2, Stars & Stripes jerseys are back on July 3, Captain America jerseys will take the field on Marvel's Defenders of the Diamond on July 16, and the Blue Wahoos will become the first team ever to let fans design every jersey on DIY Jersey Night on August 13.
Check out the full promotional schedule and get tickets by CLICKING HERE.