World Baseball Classic To Feature 15 Former Blue Wahoos, 2 coaches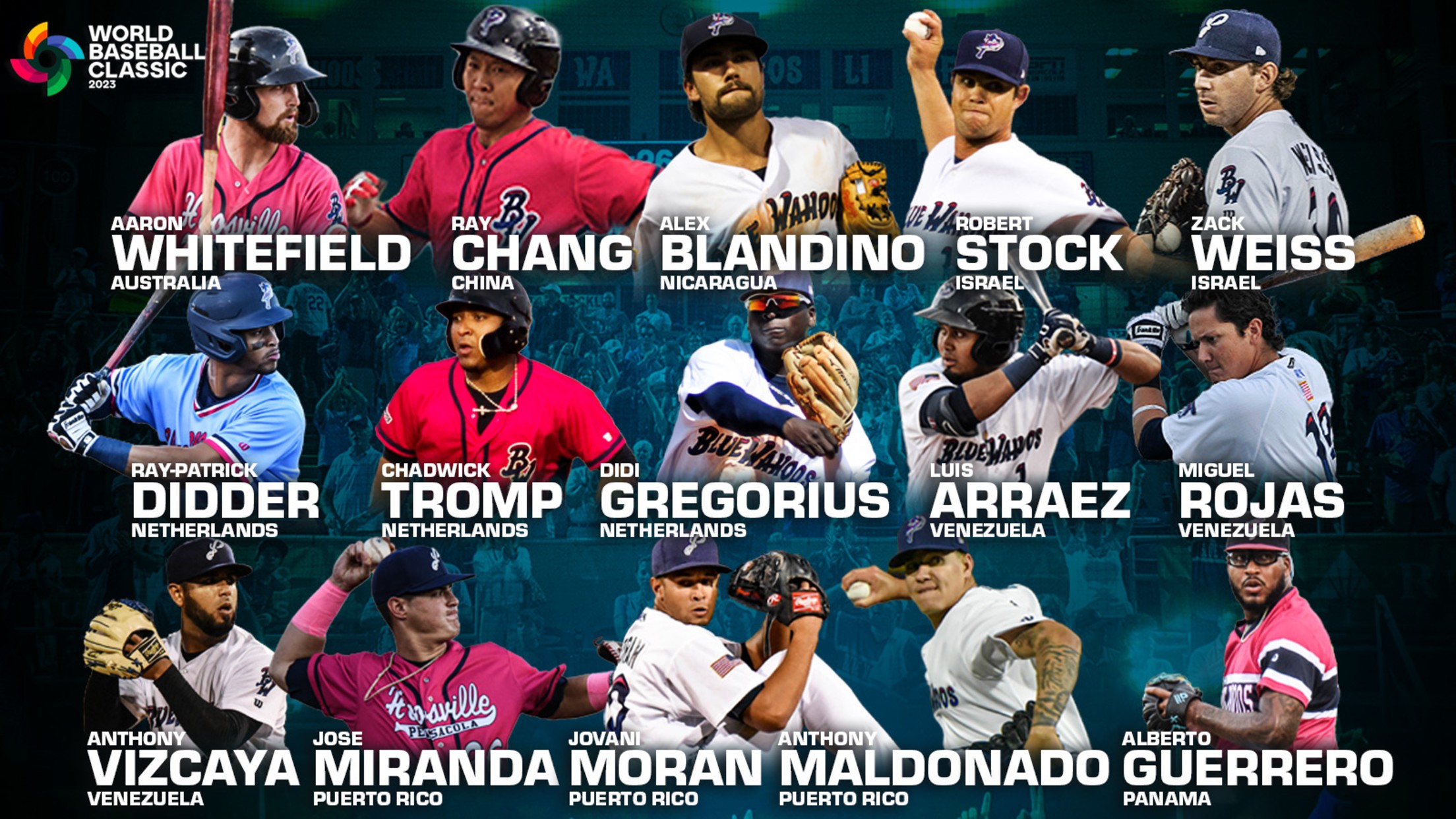 The Blue Wahoos will have 15 former players representing eight different countries in the upcoming World Baseball Classic in mid-March. (Graphic Design By Daniel Venn)
The first World Baseball Classic in six years will have a significant Blue Wahoos connection with former players representing eight different countries and every year of Pensacola's 10-year franchise history. There will be 15 former Blue Wahoos players, ranging from current MLB veterans Didi Gregorius and Miguel Rojas from the
The first World Baseball Classic in six years will have a significant Blue Wahoos connection with former players representing eight different countries and every year of Pensacola's 10-year franchise history.
There will be 15 former Blue Wahoos players, ranging from current MLB veterans Didi Gregorius and Miguel Rojas from the Blue Wahoos inaugural 2012 season, all the way to Ray Patrick Didder and Anthony Maldonado from Pensacola's 2022 Southern League championship team.
In addition, former Blue Wahoos manager Ramon Borrego, who led the Blue Wahoos to a 2019 playoff appearance in the team's only year as a Minnesota Twins affiliate, will be the third base coach for his native Venezuela team. Borrego is entering his third season as manager for the Wichita (Kan) Wind Surge, the Twins' current Double-A affiliate in the Midwest League.
Joining Borrego on that Team Venezuela staff will be New York Yankees bench coach Carlos Mendoza, who played for the Pensacola Pelicans in 2005 during the Independent League team's impact in the community. He will be Venezuela's bench coach during the March tournament.
The World Baseball Classic will be March 8-21, featuring 20 different nations and playing games in three different countries, leading into the semifinals (March 19-20) and championship game March 21 at Miami's LoanDepot Park, home of the Miami Marlins, the Blue Wahoos big-league affiliate.
The 20 teams will be split into five-team pools and playing during a one-week period March 8-15 before the single-elimination quarterfinal round March 15-18. The U.S. won the last WBC event in 2017.
The 2023 event will begins March 8 in Taichung, Taiwan with pool play among five teams: Chinese Taipei, Netherlands, Cuba, Italy and Panama.
Gregorius, who captivated Pensacola' baseball fans during that first half of the 2012 season, is one of three former Blue Wahoos on the Netherlands squad. Catcher Chadwick Tromp, who played for the Blue Wahoos in 2017-18 and outfielder Ray Patrick Didder, an Aruba native, who played in 77 games for the Blue Wahoos last season, are also playing for that team.
After leading efforts to grow baseball in China as an MLB operations director, 39-year-old Ray Chang will play for China in his fourth World Baseball Classic. He played 253 games in four seasons for the Blue Wahoos and became one of the franchise's most popular players.
Chang will be one of the oldest, most intriguing players in the event when Pool B play begins In Toyko, Japan on March 8-13. The two U.S. sites are in spring training areas. Pool C features the USA, Mexico, Canada, Colombia and Great Britain at Chase Field in Phoenix, Arizona.
LoanDepot Park in Miami will host Pool D and feature Puerto Rico, Venezuela, Dominican Republic, Israel and Nicaragua. There will be a combined eight former Blue Wahoos players at this venue, including Luis Arraez, the 2022 American League batting champion, who was traded to the Miami Marlins from the Twins during the off-season.
Also playing in Miami will be Anthony Maldonado, a reliever for the Blue Wahoos last season and one of three former Blue Wahoos players on the Puerto Rico team.
The World Baseball Classic will be televised on five different world television outlets: Fox Sports, Fox Sports1, Fox Sports2, Tubi, and Fox Deportes.
Here is a look at the Blue Wahoos' well represented connections to the big event.
AUSTRALIA – Aaron Whitefield, outfielder. Played for the Blue Wahoos in 2019 as Twins organization member.
CHINA – Ray Chang, utility player. Chang played for the Blue Wahoos in parts of the 2013-2016 seasons. His 253 games played are fourth most in Blue Wahoos history.
ISRAEL – Zack Weiss, pitcher and Robert Stock, pitcher – Weiss played parts of four seasons for the Blue Wahoos. His 25 saves in 2015 are second-best for a single-season in team history and his 34 saves are second-most for a career. Stock compiled an 8-2 record as reliever in 2017.
NICARAGUA -- Alex Blandino, infielder. – The former Cincinnati Reds player, now with the San Francisco Giants, played parts of three seasons (2015-17). His 47 doubles are second-best, career mark in club history.
PANAMA – Alberto Guerrero, pitcher – Pitched in 21 games as reliever in 2021, the Blue Wahoos first season as Marlins affiliate.
PUERTO RICO – Anthony Maldonado pitcher, Jovani Moran pitcher, Jose Miranda infielder. Maldonado pitched in 26 games for the Blue Wahoos as reliever in 2021 and last season. Moran and Miranda were part of the 2019 Blue Wahoos team with Miranda promoted to Pensacola late that season. Miranda was selected as the Twins' Sherry Roberston Award winner following the 2021 season as the club's minor league player of the year.
NETHERLANDS – Didi Gregorius infielder, Chadwick Tromp, catcher, Ray Patrick Didder outfielder. Gregorius hit eight triples in the first half of the 2012 season, which remains second-best, single-season mark in club history. Didder played parts of the 2021 and 2022 seasons with Blue Wahoos and is now a free agent.
VENEZUELA – Luis Arraez, Miguel Rojas, Anthony Vizcaya. – The trio combined has connections to all three of the Blue Wahoos affiliations in franchise history. Arraez was a Twins touted prospect in 2019, who played six weeks in Pensacola before eventually rising to make his MLB debut with Twins. He's now with Marlins. Rojas was a Reds prospect in 2012, who became the Marlins veteran leader and team captain before being traded to the Los Angeles Dodgers in the offseason. Vizcaya played in 2019 as Twins prospect before signing with the New York Mets last year.
VENEZUELA COACHES – Roman Borrego (Venezuela third base coach, Carlos Mendoza bench coach). Borrego led the Blue Wahoos to a 76-63 record in 2019 and was set to return in 2020 before the coronavirus knocked out the season. Mendoza played for the Pensacola Pelicans in the final years of his playing career, before transitioning to bench coach for the New York Yankees.