Welcome Back! Blue Wahoos Usher Next Decade As Spring Training Begins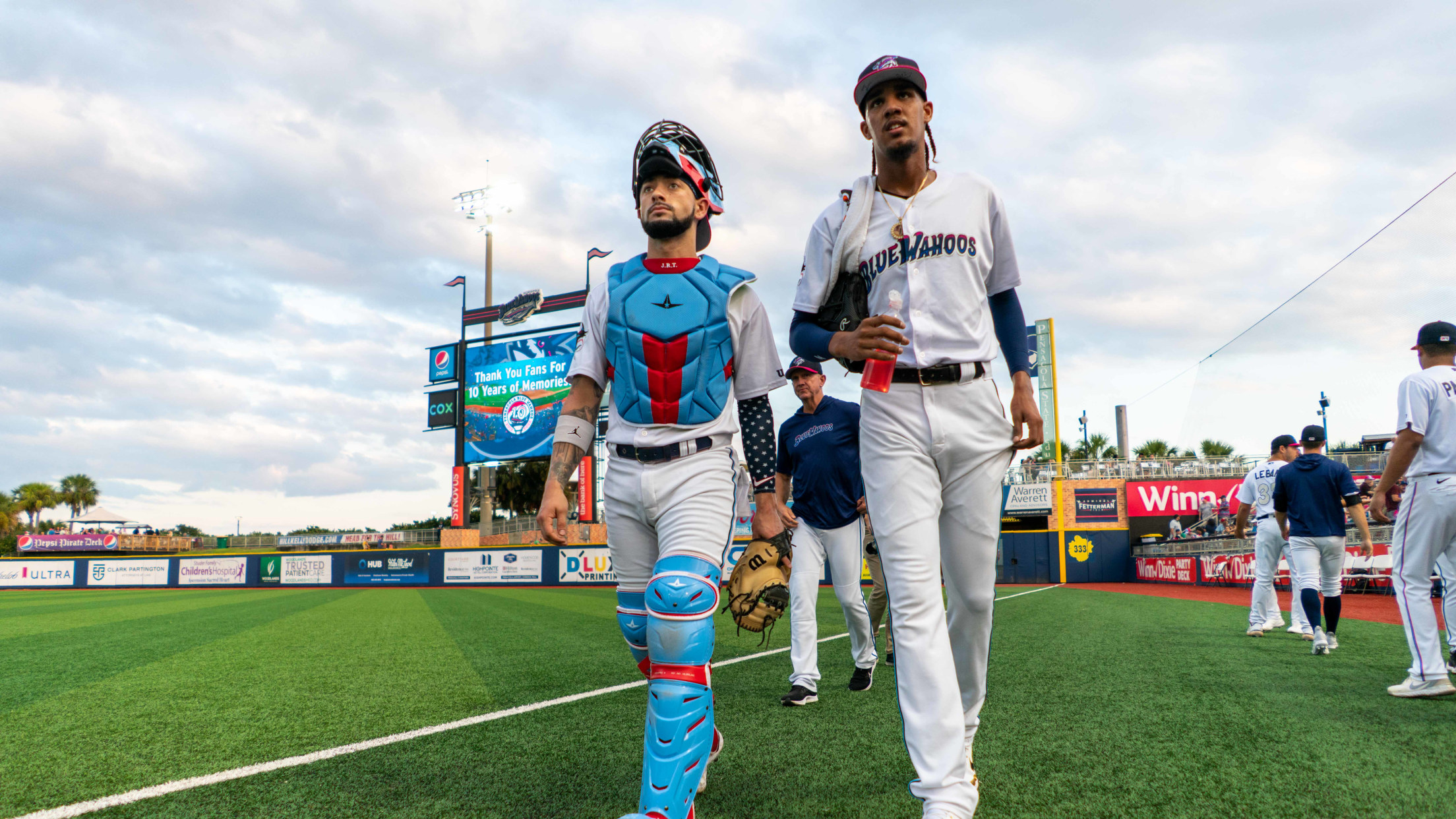 Top prospect, pitcher Eury Perez and catcher Will Banfield were on the field Feb.16 when the Miami Marlins opened training camp in Jupiter with pitchers and catchers reporting. They are among 27 Blue Wahoos players from past two years in the big league camp. (Dan Venn/Blue Wahoos)
The wait is over. Spring Training is officially here. The next six weeks will begin to usher a new decade for the Blue Wahoos as they begin their third season as the Miami Marlins Double-A affiliate and newly-minted, ring wearers from winning the 2022 Southern League championship in their 10th
The wait is over. Spring Training is officially here.
The next six weeks will begin to usher a new decade for the Blue Wahoos as they begin their third season as the Miami Marlins Double-A affiliate and newly-minted, ring wearers from winning the 2022 Southern League championship in their 10th anniversary season.
Thursday was the official report date for the Marlins pitchers and catchers on the 40-man roster as well as non-roster invitees. They were together for a morning workout at the team's spring training complex in Jupiter.
The Blue Wahoos will have 20 former or probable 2023 opening day members in this group, including 19-year-old Eury Perez, the Marlins' consensus No. 1 rated prospect, who dazzled in Pensacola last season, and former Minnesota Twins pitcher Devin Smeltzer, whose incredible journey from a cancer battle, pitched in 2019 for the Blue Wahoos.
Also part of the intrigue will be pitchers Dax Fulton, who will pitch for the Marlins and spring training games, but is likely to start the season in Pensacola and Jefry Yan, whose 100-plus mph fastball wowed last year and earned a non-roster invite.
Fulton was rated as high as the Marlins' No. 2 prospect by The Athletic and No. 7 by MLB Pipeline.
Among the catchers on the field for the first workout Thursday (Feb. 16) was five former Blue Wahoos: Nick Fortes, Will Banfield, Santiago Chavez, Paul McIntosh and Jan Mercado.
Seven more former Blue Wahoos players will report later with position players when the full squad workouts begin on Feb. 21.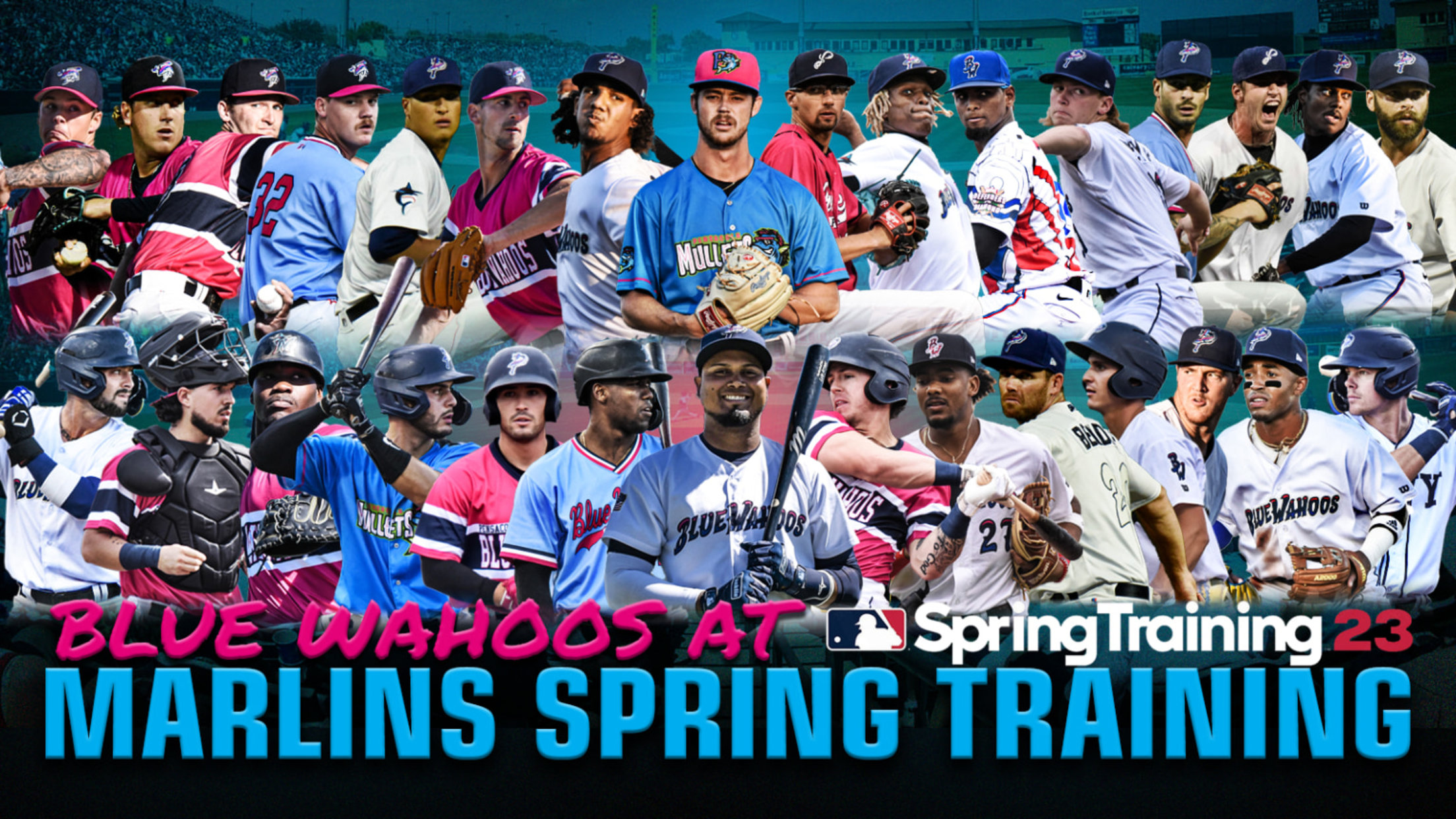 This begins the countdown for the Blue Wahoos to their season-opener on April 7 against the Montgomery Biscuits, the team they beat in the league divisional series in late September to reach the Southern League championship series.
Here is a "Spring Training Primer" as the training camp opens for the Marlins and across with the other 29 teams in Major League Baseball.
Where Do The Miami Marlins Train?
The Marlins and the St. Louis Cardinals share a dual complex at Roger Dean Chevrolet Stadium in Jupiter. It is located a short drive from Interstate-95 at the Donald Ross Road exit. It is positioned 14 miles north of West Palm Beach, 19 miles south of Stuart off I-95.
Each team has its own training complex headquarters and separate fields. They both play Grapefruit League games at Roger Dean Stadium, which means the ballpark is rarely unoccupied during the exhibition game schedule. The ballpark is situated on the Florida Atlantic University-Jupiter campus, an auxiliary location from FAU's main campus in Boca Raton. There is a golf course within walking distance of the ballpark.
How Much Are Exhibition Game Tickets?
It ranges depending on the day and the opponent. Weekend games are more expensive and the games against the New York Mets, Houston Astros and Marlins' lone game against the Boston Red Sox on Feb. 28. Prices range from $14 (standing room only) and $23 (bleachers) for games, all the way to $92 for a box seat at the Red Sox game.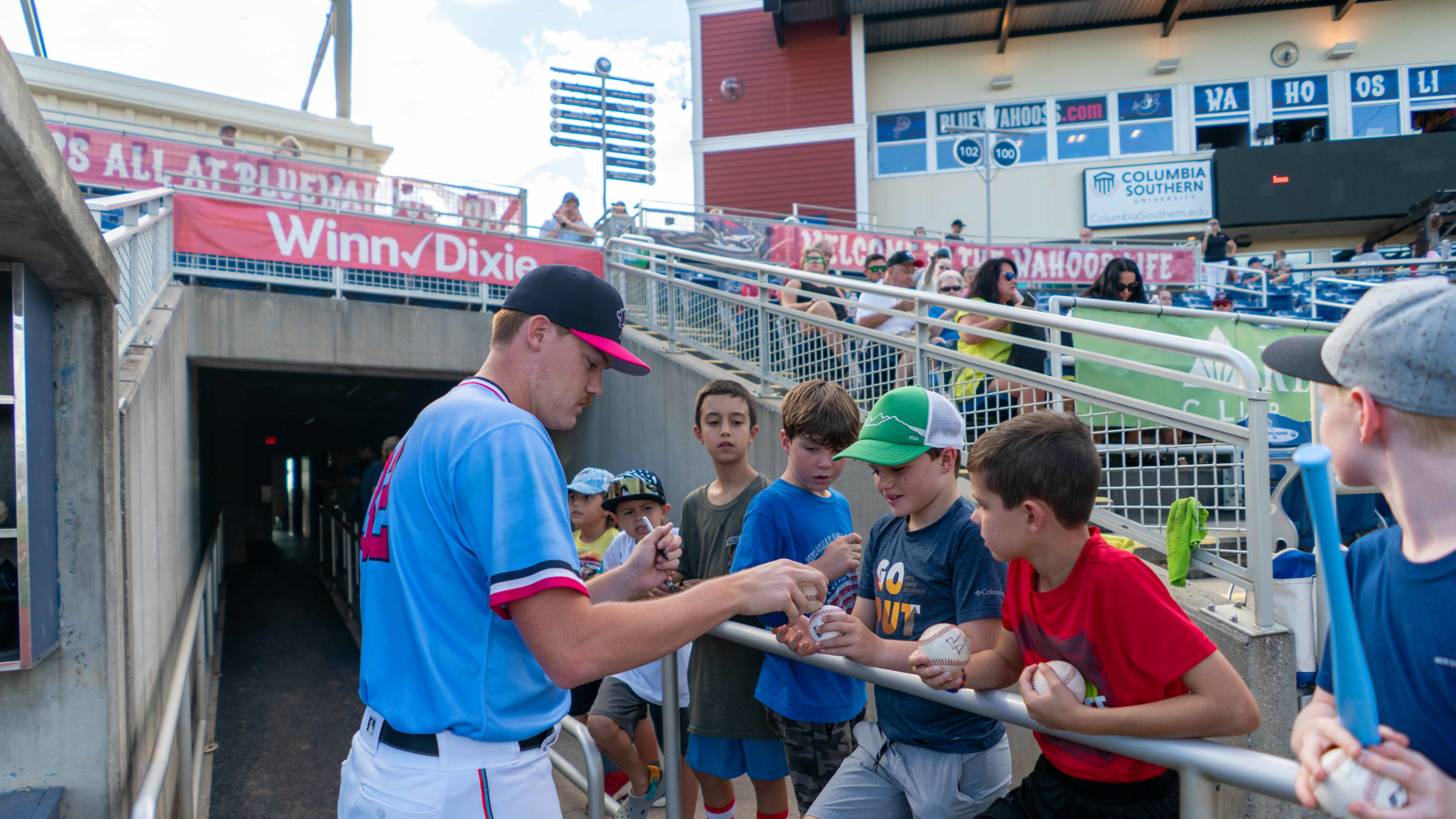 When Is The Marlins Spring Training Opener?
It is Feb. 25 against the New York Mets in Port St. Lucie. The Mets, of course, are managed by Century native Buck Showalter, who played in his youth league baseball in this region, led Century High to a state title, and maintains close ties to our area.
The Marlins will play games on 26 dates, including split-squad games against different teams, different venues.
When Is The Marlins Regular-Season Opener?
March 30 against the Mets at LoanDepot Park in Miami.
How Many Blue Wahoos Connections Are In Marlins Camp?
Right now, 27 former players across the first two seasons are part of the Marlins' 40-man and non-roster invitees to the big league camp. All are expected to get playing time in spring training games, especially after the fourth or fifth innings when the Marlins' big-league players are removed.
Who Are Former Blue Wahoos Players Who Will Be On Marlins Opening Day Roster?
The certainty is infielder Luis Arraez, who won the American League batting title in 2022 with the Minnesota Twins. He was traded to the Marlins in the off-season. Arraez shined in his brief time in Pensacola during the 2019 season as a Twins prospect before getting called up in May to Triple-A, then quickly to the Twins. He can play multiple infield positions.
Pitcher Edward Cabrera, who was in Pensacola to start last season, will get long look at spring training as a backup starter and reliever. Catcher Nick Fortes will battle for one of the catching spots.
Whenever Eury Perez pitches in spring training, he will command plenty of attention. Still only 19-years-old, the Marlins would be open to seeing him rise from Triple-A to a big league debut sometime this season if he merits.
In the outfield, Jerar Encarnacion and Peyton Burdick will get plenty of playing time in Grapefruit League games to prove if they can challenge for one of the Marlins' few open roster spots.
When Will The Blue Wahoos Roster Be Announced?
Not until April 1 or 2, after spring training officially closes and minor league, exhibition games are completed.
When Will The Blue Wahoos Players Arrive In Pensacola?
Some will begin traveling April 1 and the entire team is expected in town by the end of day on April 2. If following the same plan as last year, the players will likely have April 3 (Monday) off to secure housing and unpack. workouts will be at Blue Wahoos Stadium on April 4-6 before the season-opener April 7 against the Montgomery Biscuits.
Former Blue Wahoos On Marlins 40-Man Roster?
Edward Cabrera, Max Meyer, Andrew Nardi, Sean Reynolds, Josh Simpson, George Soriano, Eli Villalobos. Catcher – Nick Fortes. Infielders – Luis Arraez,. Outfielders – Peyton Burdick, Jerar Encarnacion.
Aside from Arraez, who doesn't need to prove himself, these other players will get plenty of opportunities during Grapefruit League games, both in starting and backup roles during the games.
Former Blue Wahoos Among The Marlins' Non-Roster Invitees
Pitchers – Dylan Bice, Dax Fulton, Robert Garcia, Bryan Hoeing, Eury Perez, Devin Smeltzer, Will Stewart, Jefry Yan.
Catchers -- Will Banfield, Santiago Chavez, Paul McIntosh, Jan Mercado. Infielders – Troy Johnston, Nasim Nunez.
Marlins Players Who Had Injury Rehab Starts For Blue Wahoos
Anthony Bender, Tommy Nance, Trevor Rogers, Jorge Soler.