Road To The Show: Morrow Learns Hockey, Connects With Panthers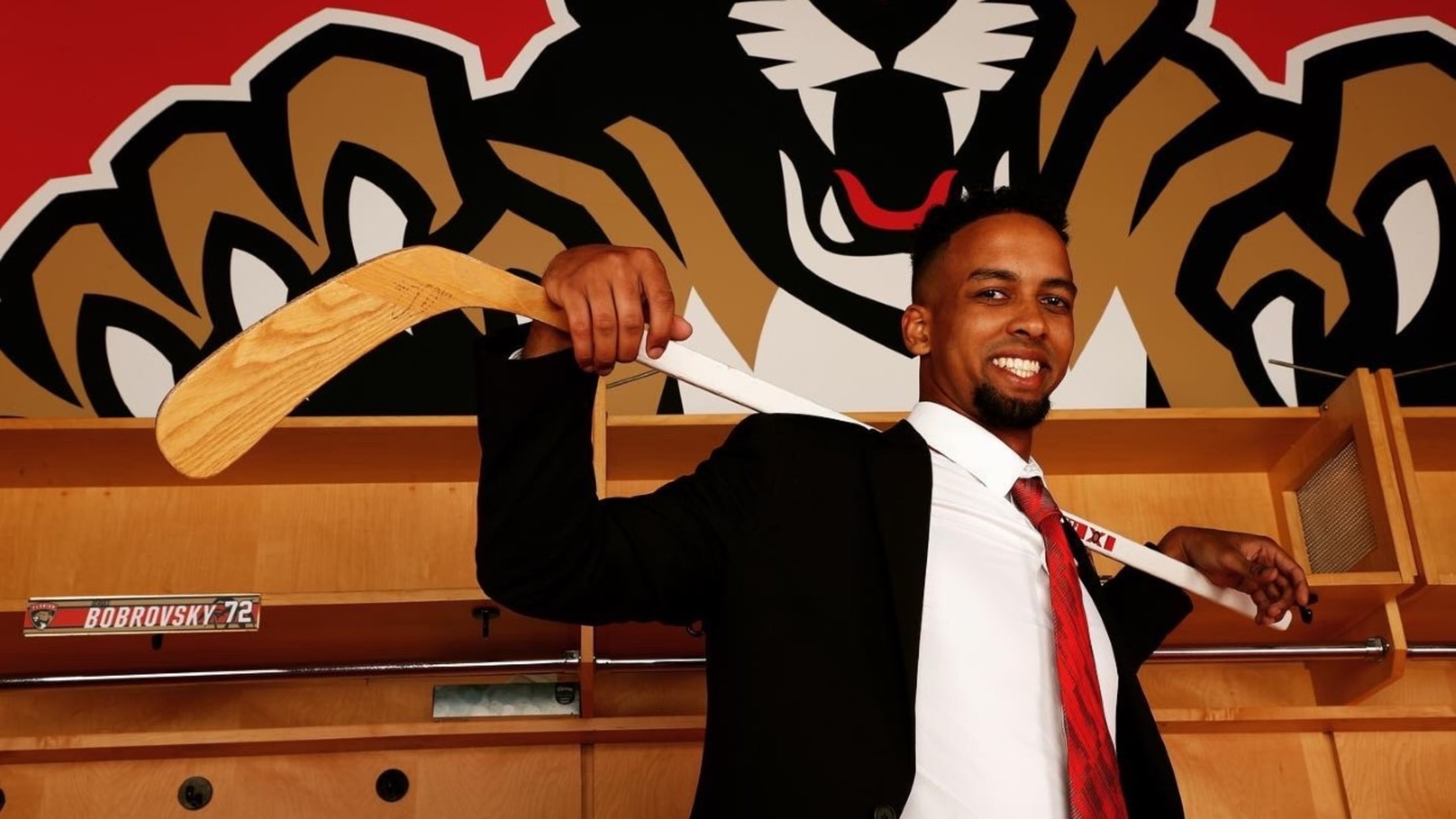 Former Blue Wahoos front office staffer Jordan Morrow held a variety of roles, including managing the team's Airbnb experience and selling group outings, which have easily transferred into his new role with the NHL's Florida Panthers. (Photo Courtesy of Jordan Morrow/Florida Panthers)
Jordan Morrow had to quickly learn more than just a new role in a new job when he joined the Florida Panthers front office staff in October, following three years working with the Blue Wahoos. "I didn't know a whole lot about hockey, to be honest," he said, laughing. And
Jordan Morrow had to quickly learn more than just a new role in a new job when he joined the Florida Panthers front office staff in October, following three years working with the Blue Wahoos.
"I didn't know a whole lot about hockey, to be honest," he said, laughing.
And now?
"Hockey has become one of my favorite sports," he said.
Since joining the Panthers when their season began, he has become hooked on hockey. But he's also thankful for the preparation he received in a variety of roles with the Blue Wahoos.
While a student-athlete at UWF – a pitcher on the baseball team – he began in 2020 as a summer intern. He then transitioned into a paid trainee, then moved into group sales, where he became part of a team in 2022 that enabled the Blue Wahoos to surpass $1 million in group sales for the first time in team history. He also handled the Blue Wahoos' Airbnb experience inside the home team clubhouse and booked nights for people wishing to enjoy that aspect of fan experience.
He's now an account manager on the Florida Panthers' membership services team, working directly with season-ticket holders and corporate partners within the team's massive reach in the South Florida market. The Panthers are celebrating their 30th since joining the National Hockey League as an expansion franchise.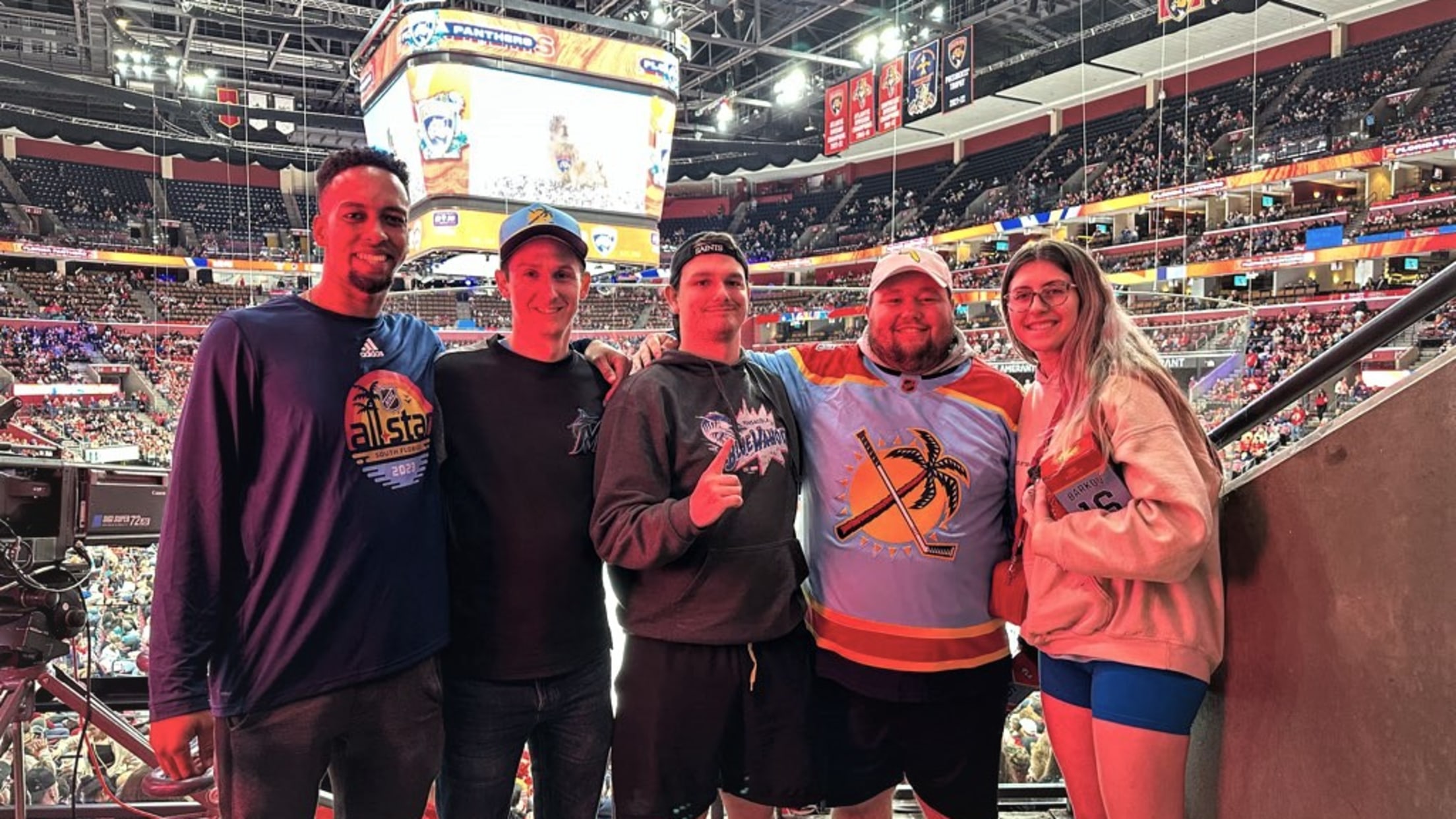 In a non-traditional hockey market, an area full of entertainment options and year-round, warm weather enticement, the Panthers have become a model NHL franchise for fan experience.
"I think everybody who wants to be in the sports business and get involved in sports operations should definitely start off in minor league baseball, because of the many different hats you are wearing during that time," Morrow said. "Being with the Blue Wahoos, I definitely got to branch out in different departments and see how each one was run and how they cross-promoted and worked together.
"So being able to get that kind of perspective and experience from the minor league side, then coming here to the NHL.. I am able to pull things around different department and help people out. And create the best experience for what fans want."
Morrow, an Orlando-Olympia High graduate, who earned his sports management degree at UWF, begins a series of profiles the Blue Wahoos are providing on former employees who have made transitions into elevated positions within the business world.
Five questions with Jordan.
How Meaningful Was Your Time With The Blue Wahoos In Preparing You For This Job?
"I am extremely grateful. I didn't know where Pensacola was when I chose to play at UWF from junior college (in central Florida). When I moved there, that is how I got connected with the Blue Wahoos. That is how I got into the sports business. And I didn't realize how respected the Blue Wahoos were as an organization until I started working there. And they proved it. They surely do care about everyone's careers and they want to see you move on.
"I am truly thankful for all the preparation, all the seminars, the lessons you get while working there. It provides you the information and knowledge to make you want to succeed. I have definitely taken a lot from what I learned from the different speakers, a great mentor like (Blue Wahoos owner) Quint Studer, a great mentor like (team president) Jonathan (Griffith) and everyone who was around me in the front office there. It has made me the person I am today and helped me get to where I want to be."
What Is A Game Day Working Experience Like From Your Perspective?
"Game day we arrive about 9 to 10 a.m in the morning. That is when we are at the busiest, because that's when fans want to know what is going on that night. From say 10 a.m, till 5 p.m. it is constant phone calls getting ready for that game. About 30 minutes before gates open, we are situation at a table and area in the arena that is the central hub for all season ticket members.
"A big part of game day is that it's our time to shine and this is where we can actually make in person relationships. We are doing a bunch of visits and we want to get as much face to face interaction as possible. There will be times we will stay10-11..
"We have six members on our general memberships service team and we have 500 clients. Our goal is to use that time across the whole span of a season to try and get face to face interaction with everyone."
What Have You Learned About Florida Panthers' Fans In General?
"I've been learning about hockey a lot. Going from a minor league baseball team, I can definitely sell the experience on them, but when it comes to hockey, I've learned that people care about the team a lot. These are truly die-hard fans. They care a lot about their team. Our fans care a lot about all the trades that are happening, who is doing good and who is doing bad. They want to talk about hockey, hockey. That has been a big change for me."
What Are Similarities In Customer Service Between Blue Wahoos and Panthers?
"With the Blue Wahoos, I really learned from Donna Kirby (vice president) about treating every fan like it's their first game. And shortly after I got started here, I heard that same expression about how we needed to think about our fans as well.
"With my team, the service team, we are definitely the front lines for all of the fans. We have many members who want to renew tickets just because of our service reputation. Having that great customer service is essential. They bring it up here, they want to treat every fan like it's their first game and that's what we take pride on here with the Panthers as well.
What Are Some Similarities You See In Both Jobs That You Have Applied?
"With the Blue Wahoos, the weather in the summer In Pensacola was a constant issue with baseball obviously being played outside. So I had to prepare for every little thing that might gone wrong, every single adjustments that you may need to make. You had to worry about tarp pulls and things like that as well.
"In hockey, obviously, indoor sport, no delays expected, but we are drawing 13,000 to 15,000 fans a game and so with that many people, there will also be a fan issue somewhere. You have to adapt and think quickly, just like I did with the Blue Wahoos. You have to be able to accommodate someone as best as possible, just like we had to do with the Blue Wahoos when things go wrong. So it was a big help to have that kind of experience."
_First in series of profiles of former Blue Wahoos employees taking on higher-level positions with major pro franchises. _