Wins Continue With Blue Wahoos As Front Office Staff Part Of Two Community Event Trophies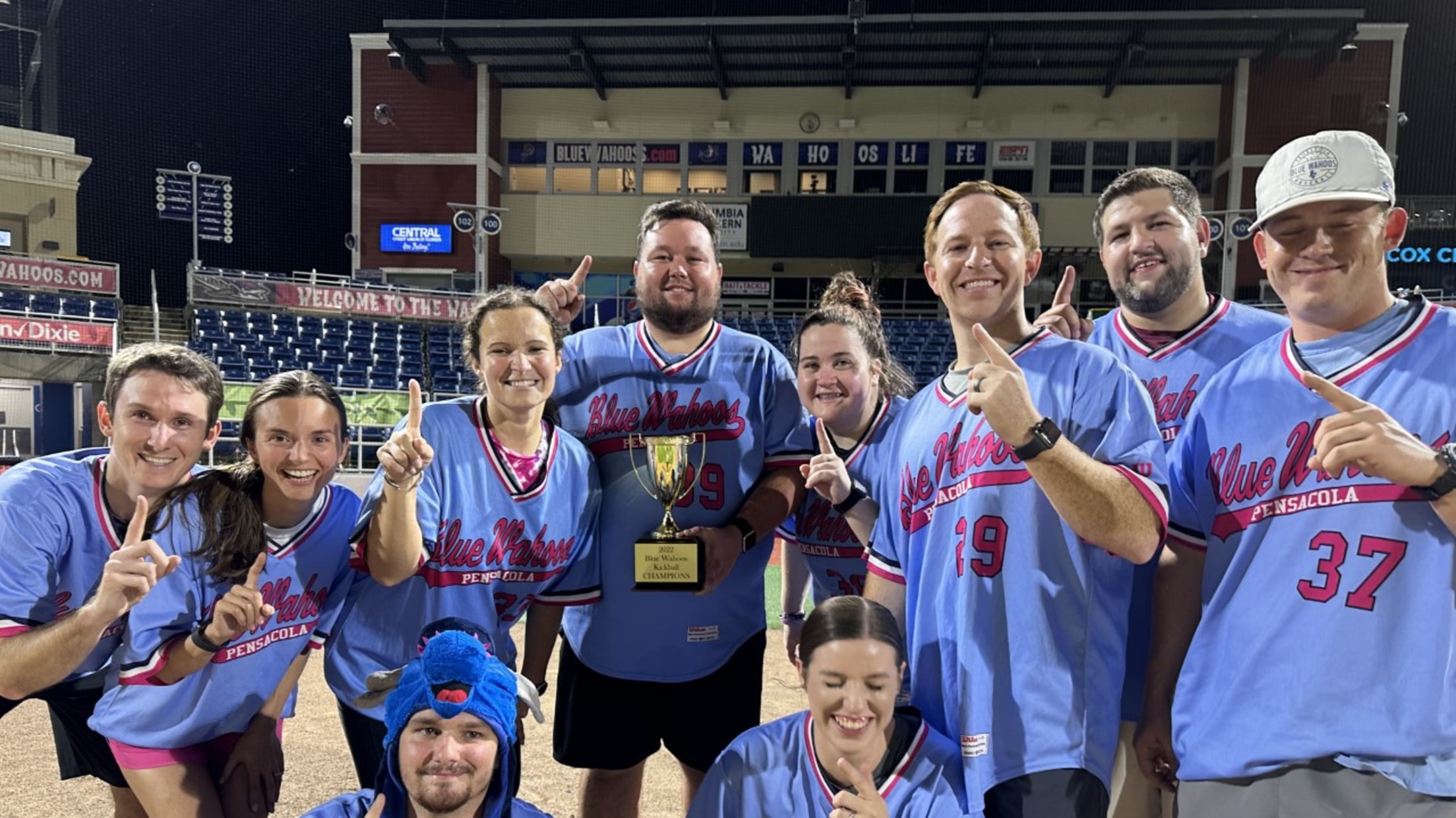 Members of the Blue Wahoos front office joined with members of other Studer Family of Companies entities to form Team SFOC, which won the Blue Wahoos organized Fall Kickball League against teams from other local businesses. (Blue Wahoos Staff)
The off-season from baseball has still brought the Blue Wahoos more wins. With front-office staff comprising half the lineup, the team of SFOC won the Blue Wahoos Co-Ed Fall Kickball League, which concluded this week at Blue Wahoos Stadium. The SFOC team represented the Studer Family of Companies and included
The off-season from baseball has still brought the Blue Wahoos more wins.
With front-office staff comprising half the lineup, the team of SFOC won the Blue Wahoos Co-Ed Fall Kickball League, which concluded this week at Blue Wahoos Stadium.
The SFOC team represented the Studer Family of Companies and included human resources manager Jessica Phillips, human resources coordinator Rebekah Wellborn and Noelle White, retail operations director.
The team won three playoff round games on the final day to take the first Fall Kickball League trophy. The season began in September with once-a-week games. It following the Blue Wahoos organizing the first Blue Wahoos Summer Kickball League, which featured 24 teams comprised of area business members, and competing in once-a-week games from June through August.
"It was a lot of fun. Our team in the fall was made up of people from different entities in SFOC," said Blue Wahoos ticket manager Brandon Miller, who played on the SFOC team. "In the summer, we did not have a team and were really just involved in organizing, scheduling and the operation side of putting this on.
"It's been a true team effort from our staff to make this all happen."
Several members of the Blue Wahoos staff worked as umpires in both the summer and fall leagues.
"I have to thank everyone on staff who worked to put these kickball leagues on and made it happen," Miller said. "We had four games going on at the same time on our field, so it was a long season for them as well."
The league requirements were that half of the players on the field must be female to make it a true coed league. Each team was able to design their own T-shirt and come up with their own name. Games were limited to one hour. Food and beverages, including alcoholic beverages were available for purchase during the games.
The Blue Wahoos will return with kickball leagues in 2023.
"I was able to see the how everything went from both the player side and being a coordinator," Miller said. "There are a lot of takeaways I have from different things we can improve on next year. "Both as player and spectator I was able to see ways of how we can do this and make everyone happy.
"It opened my eyes to see potential changes or improvements we can make to have it even better next year."
In claiming the fall title, the Blue Wahoos staff followed an earlier fall prize when being part of winning the small business division of the annual YMCA Corporate Cup Games on Oct. 1 at Pensacola State College.
In that annual event, sponsored by the Northwest Florida YMCA, members of the Blue Wahoos staff joined with SFOC employees for a team competition in a variety of skill and games of chance events at PSC that day. Among the team members included Blue Wahoos co-owner Rishy Studer, who competed and earned points in the hula hoop and egg toss competition.
It was the first time the SFOC had a team in the YMCA Corporate Cup.