Eury Perez Makes It Worth Wait, Leading Team On Pensacola Mullets Thursday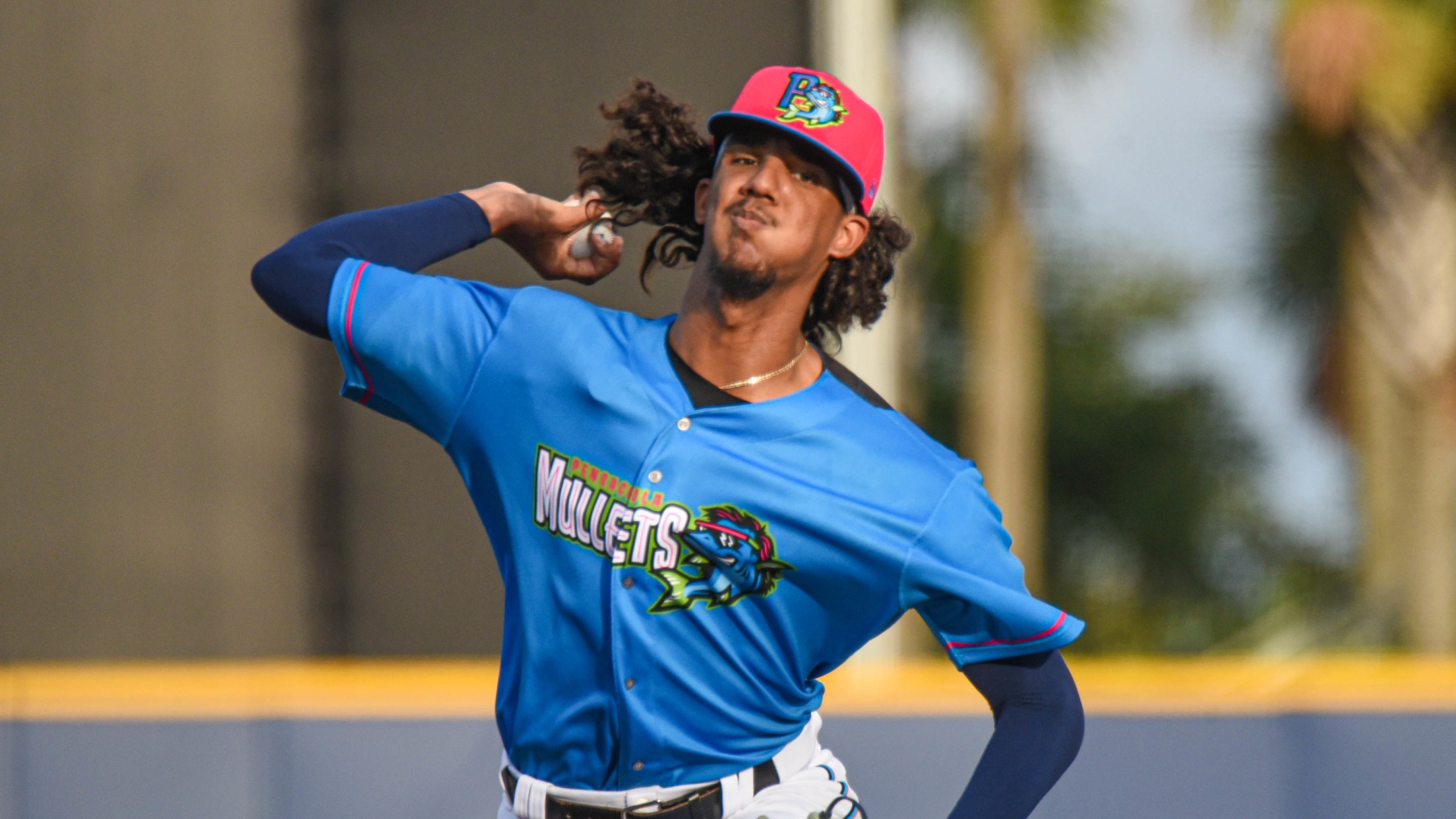 Wearing specialty uniform on Pensacola Mullets Night, Eury Perez worked five solid innings to help team to 5-1 win Thursday against Montgomery Biscuits. (Daniel Venn)
When the game Wednesday was postponed, Blue Wahoos pitching phenom Eury Perez still got in a needed workout from right field. He stopped several times to watch fireworks display the Blue Wahoos set off to help salvage the night. He then obliged the people waiting to get his autograph. One
When the game Wednesday was postponed, Blue Wahoos pitching phenom Eury Perez still got in a needed workout from right field.
He stopped several times to watch fireworks display the Blue Wahoos set off to help salvage the night. He then obliged the people waiting to get his autograph.
One bravo show led into another.
Perez produced his ninth consecutive start Thursday of allowing two or less runs, this time with the most pitches (87) he's thrown in any start this season, while relishing a lead role in the Pensacola's 5-1 win against the Montgomery Biscuits in a weather-delayed homestand at Blue Wahoos Stadium.
After his start Wednesday was pushed back, then further delayed a couple hours when a scheduled doubleheader was switched to a single-game to enable field conditions to improve, Perez was unfazed as usual.
"I just chilled out and stayed focused," said Perez, speaking through teammate interpreter Ray-Patrick Didder, who had his own big game with a pair of hits, including a solo homer in the sixth inning.
This is Eury to the core. He's a 19-year-old, who is not letting any moment or alteration in routine, change his style. In five innings of work Thursday, he overcame three walks by getting eight strikeouts and benefitting from some outstanding infield defense.
"The pitcher can't do everything," Didder said. "If we can help him get outs, it's going to be easier on him."
Pitching for the first time in a blue Pensacola Mullets uniform – the one the Blue Wahoos wear for each Thursday home game– Perez left with a 2-1 lead that his teammates expanded.
Two big moments for Perez occurred in the third and fourth innings. The Biscuits had two runners on, just one out in third inning, when Perez threw a changeup to strikeout one batter, then a wicked curveball to punch out the next batter to end the threat.
In the fourth, he gave up back-to-back hits for the Biscuits lone run, then ended that inning on a flyout. With reliever Josh Simpson warming up, Blue Wahoos manager Kevin Randel let Perez finish the fifth to qualify for his third win. And of course, he struck out the final batter he faced on a 97-mph fastball.
"I know I surpassed 80 pitches, but I felt great out there and I hope the following outing I can get even more pitches," he said. "Just believing in my pitches was big for me. I wanted that win and I was out there trying to just control what I could."
He has become friends with the Miami Marlins star pitcher, Sandy Alcantara, a fellow native of the Dominican Republic. The 26-year-old Alcantara has progressed into one of the most dependable starters in Major League Baseball.
"He has been a big help," Perez said. "We communicate weekly. We don't talk much about specific pitches, but we do talk about the how the game went."
How the game went Thursday enabled the Blue Wahoos to even the series against the Biscuits in first two games of the second half schedule in the Southern League.
They had lost three of their past four games, including a pair of weekend games in Biloxi after clinching the first half division win and playoff spot.
"It really felt like it was the last week of the season in Biloxi," Didder said. "After we won it, it just felt like wow, that was the week. But it's a good thing, now we can just go out and play baseball."
Pensacola jumped on Biscuits starter Caleb Sampen for two first inning runs. Catcher Paul McIntosh had an RBI single and Griffin Conine drove McIntosh home with a double off the centerfield wall.
Didder's homer in the sixth inning made it 3-1, then the Blue Wahoos got a pair of runs in the seventh with the bases loaded when Norel Gonzalez hit a tough chop grounded that bounced past infielders and allowed McIntosh and Troy Johnston to score.
GAME NOTABLES
--- Despite the schedule changes and continued weather uncertainty, the Blue Wahoos drew a crowd of 4,300 Thursday. Even bigger crowds are expected through the weekend with fireworks shows to follow games on Saturday and Sunday.
--- Two seven-inning games will be played Saturday, beginning at 4:05 p.m. to make up for the postponed Wednesday game. The Blue Wahoos used an option not to play a doubleheader Friday due to the Hawaiian-themed Blue Wahoos shirt giveaway that is sure to attract a massive crowd before gates open at 5:30 p.m. The first 1,000 people through the gates get the shirt.
--- The Blue Wahoos had 12 hits in Thursday's game including multiple hit games from Jose Devers, McIntosh, Didder and Gonzales. The only player not to reach base was outfielder Victor Victor Mesa.
BLUE WAHOOS HOLIDAY WEEKEND
WHO: Montgomery Biscuits vs. Blue Wahoos
WHEN: Friday Through Sunday.
WHERE: Blue Wahoos Stadium.
GAMETIMES: Friday;s game will start at 6:35 p.m., then 6:05 p.m. on Saturday and Sunday post-game fireworks both nights.
TICKETS: www.bluewahoos.com/tickets.
RADIO: : ESPN-Pensacola (99.1 FM and 1330 AM and WYCT 98.7 HD4).
TV: YurView (check provider) and MILB.tv (streaming) through www.milb.com/live-stream-games with subscription discount using BLUE WAHOOS.
PROMOTIONS –
Giveaway Friday, the first 1,000 fans on Friday will receive decorate, Hawaiian theme Blue Wahoos shirt. All sizes will be men's XL.
Saturday – Fireworks Saturday with post-game show. Plus team will wear the specialty Navy baseball uniforms for the final time and the auction for those jerseys will be completed.
Sunday – Special start time at 6:05 to allow for the annual Wahoos Fourth of July enhanced fireworks show. Team will wear stars and stripes Fourth of July uniforms and kids will run the bases following the game.