Blue Wahoos Begin Second Half In Rough Way With Home Loss To Biscuits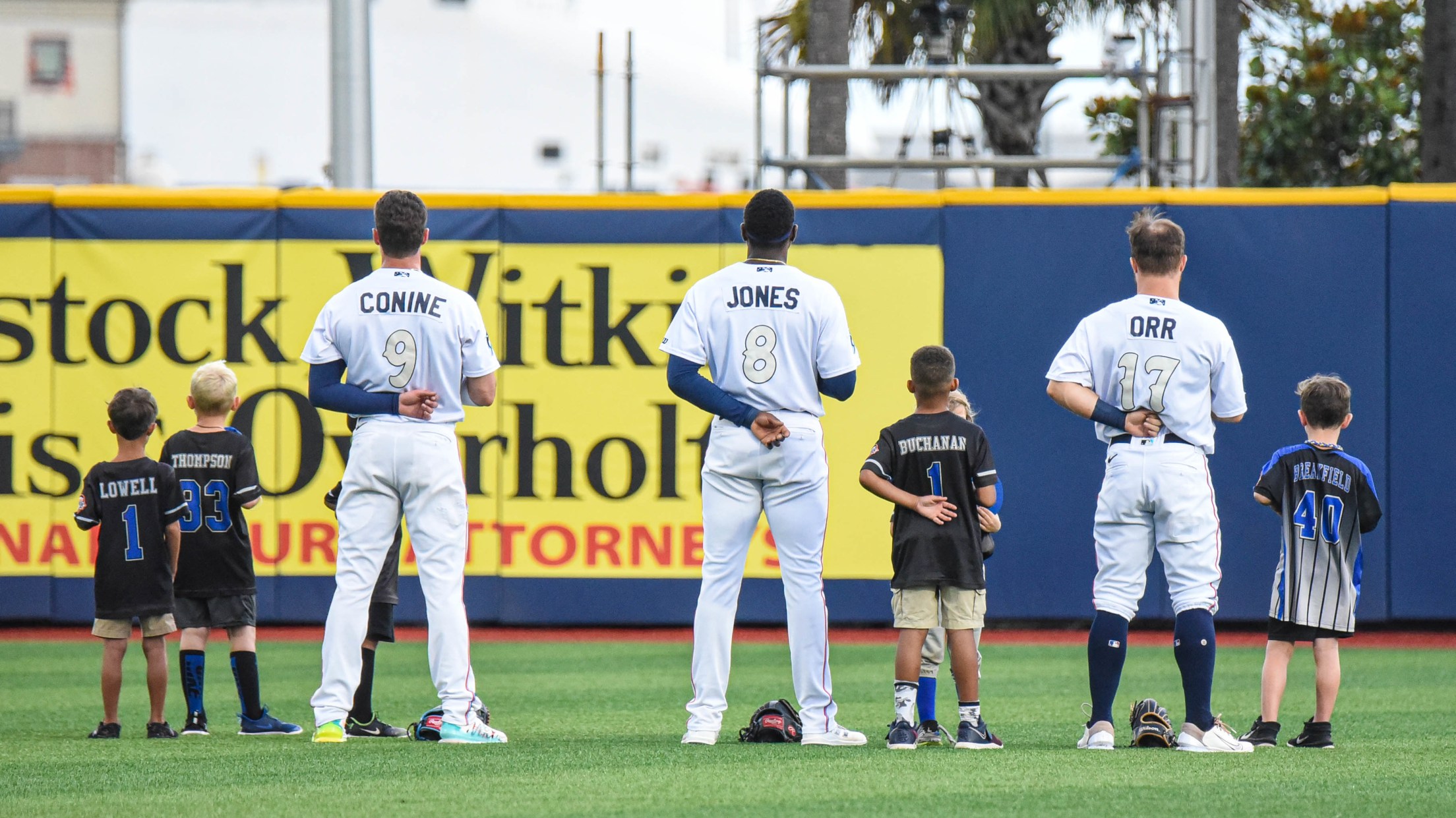 Blue Wahoos outfielders Griffin Conine, Thomas Jones and J.D. Orr stand with members of the Fairhope (Ala.) Youth All-Star teams Tuesday night during the National Anthem, prior to game against Montgomery Biscuits. (Daniel Venn)
A couple months ago, the Blue Wahoos started the first half of their season in a rough way. That same scenario unfolded Tuesday night when beginning the second half. The Montgomery Biscuits took advantage of Pensacola's uneven pitching and defense, spraying 10 hits on this night and gaining additional bases
A couple months ago, the Blue Wahoos started the first half of their season in a rough way.
That same scenario unfolded Tuesday night when beginning the second half.
The Montgomery Biscuits took advantage of Pensacola's uneven pitching and defense, spraying 10 hits on this night and gaining additional bases on miscues, to roll up a 10-5 win in the series opener at Blue Wahoos Stadium.
The teams combined for 18 hits and used nine pitchers. But as another nod to rule-changes in Minor League Baseball to speed up the game, this one was played in just 2 hours, 41 minutes despite all the base runners.
The game began 31 minutes late, following a rainstorm that hit soon after stadium gates opened at 5:30 p.m. It was the Blue Wahoos first game back home, after winning the first half in the Southern League South Division on June 22 in Biloxi to secure a post-season spot.
In the first half of the season, the Blue Wahoos lost their seasoon-opener at home 13-11 against the Shuckers and were swept in the three-game homestand April 8-10, but quickly recovered to become the top team in the South Division the rest of the half.
When Tuesday's game started, the Blue Wahoos had the crowd of 3,456 cheering an early lead on a two run homer from Norel Gonzalez in the second inning.
That momentum was short-lived.
The Biscuits answered with four runs in the third inning, then two runs each in three other innings that put the game out of reach.
Blue Wahoos starter A.J. Ladwig grinded his way through six complete innings, but yielded eight hits and five earned runs. The Biscuits had seven of eight batters reach base in the pivotal third inning.
A pair of errors provided extra at-bats.
The Blue Wahoos trailed 8-2 in the seventh, then rallied with three runs in the bottom of the inning on a force play, a double by J.D. Orr and a wild pitch. They had the first two batters in the eighth inning reach base, but couldn't extend the opportunity.
Gonzalez led the Blue Wahoos, going 3-for-4 with the two RBI. He was the team's only multiple hitter. Relievers Josh Simpson and Zach Leban couldn't prevent more Biscuits damage in their lone inning of relief.
The teams will continue their six-game series Wednesday in a game that will be followed by the first of four different fireworks events at the stadium through Monday's Fourth of July celebration downtown.
GAME NOTABLES
--- Former Northern Illinois star quarterback Jordan Lynch, who finished third in the 2013 Heisman Trophy balloting and was on the hometown Chicago Bears roster in 2014, was a guest of Mike Fitzpatrick, the Blue Wahoos operations director. Lynch threw out a ceremonial first pitch after being introduced on the field.
Lynch captivated the college football world for two seasons (2012-13) when passing for more than 6,000 yards and 49 touchdowns.
--- The Blue Wahoos will play an unbalanced home-road schedule in second half with 36 home games, 33 road games. They had a 20-13 home record in the first half, which ultimately provided the difference in winning the first half. They had four series wins, three series losses and five other series with a 3-3 record.
--- Two youth teams from Fairhope, Alabama, the 6-under and 7-under Fairhope All-Stars were recognized during pregame and ran out on the field with Blue Wahoos starters.
--- Blue Wahoos long-time partner Whataburger began a Manna Food Pantry Drive that will extend through all home series in July. Fans are being asked to donate different new canned items in exchange for a coupon providing a free item at the area Whataburger locations.
WANT TO GO?
WHO: Montgomery Biscuits vs. Blue Wahoos
WHEN: Wednesday Thru Sunday.
WHERE: Blue Wahoos Stadium.
GAMETIMES: Games on Wednesday through Friday will start at 6:35 p.m., then 6:05 p.m. on July 2-3 with post-game fireworks both nights.
TICKETS: www.bluewahoos.com/tickets.
RADIO: : ESPN-Pensacola (99.1 FM and 1330 AM and WYCT 98.7 HD4).
TV: YurView (check provider) and MILB.tv (streaming) through www.milb.com/live-stream-games with subscription discount using BLUE WAHOOS.
PROMOTIONS – Wednesday: One Price Wednesday with $18 that includes any of the available seats in stadium, plus hot dog, chips, soda. Plus post-game fireworks.
Thursday – Pensacola Mullet Thursday with the specialty uniforms, plus drink specials on the stadium concourse for those of legal age.
Friday – Giveaway Friday, the first 1,000 fans on Friday will receive decorate, Hawaiian theme Blue Wahoos shirt. All sizes will be men's XL.
Saturday – Fireworks Saturday with post-game show. Plus team will wear the specialty Navy baseball uniforms for the final time and the auction for those jerseys will be completed.
Sunday – Special start time at 6:05 to allow for the annual Wahoos Fourth of July enhanced fireworks show. Team will wear stars and stripes Fourth of July uniforms and kids will run the bases following the game.