More Walk-Off Wonders As Blue Wahoos Get Another Hit-By-Pitch Win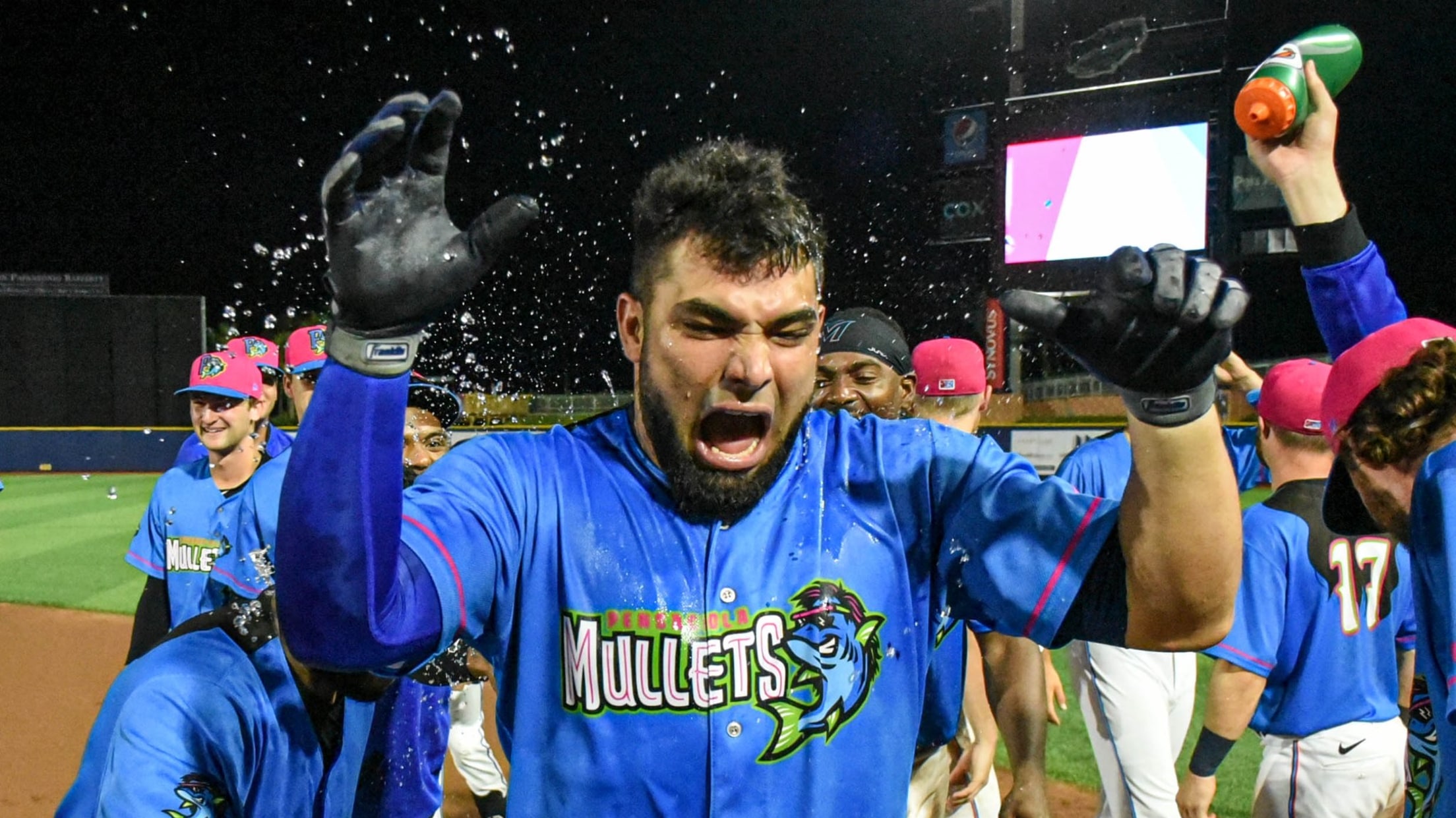 Blue Wahoos Norel Gonzalez, who had a 2-run single earlier in the game, celebrates with teammates after getting hit by a pitch with bases-loaded to produce another walk-off win Thursday against the Tennessee Smokies. (Daniel Venn)
Another wacky walk-off had the Blue Wahoos back in familiar party mode. And a first-half division win in closer focus. Following a script they seem to memorize, the Blue Wahoos took another game into extra innings, after clutch relief from Jefry Yan and Andrew McInvale, then loaded the bases on
Another wacky walk-off had the Blue Wahoos back in familiar party mode.
And a first-half division win in closer focus.
Following a script they seem to memorize, the Blue Wahoos took another game into extra innings, after clutch relief from Jefry Yan and Andrew McInvale, then loaded the bases on one hit and scored the game-winning run when Norel Gonzalez was plunked on the foot for a 6-5 victory against the Tennessee Smokies Thursday night at Blue Wahoos Stadium.
Wearing their Pensacola Mullets uniforms with it being a Thursday, Pensacola now has six walk-off wins in the past nine home games. Many teams don't get six walk-offs all season wearing any uniform. The Blue Wahoos have done this in 16 days.
"We are giving 100 percent effort every single game," said Yan, speaking through interpreter Colleen Mitchell, who directs the Miami Marlins education program for international players. "All we do is we trust in our manager, we trust in each other, all my teammates and if (opponents) give us an opportunity to win, we're going to do it and we're going to have fun doing it."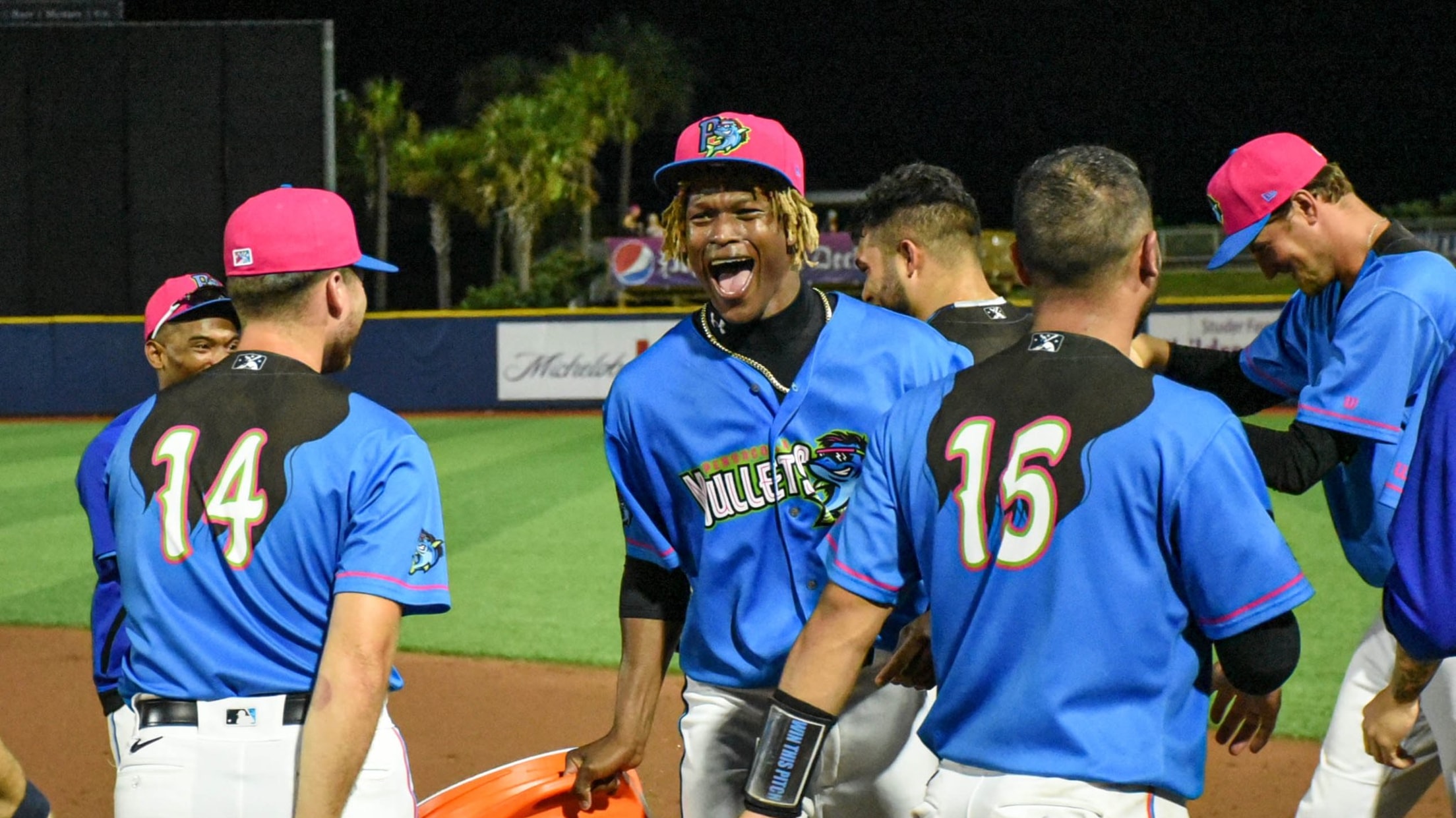 It got fun again after Yan threw three scoreless innings, then McInvale pitched out of a bases-loaded, one-out situation in the top of the 10th. In the bottom of the inning, placement runner Jan Mercado, who just joined the as a second catcher, scored the game-deciding run when Gonzalez was hit by the first pitch he saw from Smokies reliever Danis Correa.
Way back in the second inning, Gonzalez helped stake the Blue Wahoos to an early 5-1 lead with his two-run single.
In this case, after reaching base the hard way, out came another ice bucket dousing and on-field hugging from a second walk-off win on a hit-by-pitch.
"I mean, that's just pure luck," said Blue Wahoos first baseman Troy Johnston, who once again set things up with his 10th-inning single to move runners. "You don't see that too often. But (reliever) gets nervous, puts a tighter grip on the ball and all of a sudden yanks one."
The victory kept the Blue Wahoos (31-24) with a 4.5 game lead on the Biloxi Shuckers, who also won, then 6 games up on Montgomery and now 7.5 up on the Mississippi Braves. There are nine games left in the first half schedule to determine a post-season playoff berth.
Thursday's game began with the Blue Wahoos in early control. They built a 5-1 lead through three innings. Starter Zach McCambley breezed through those first three innings.
But in the fourth, the Smokes produced three runs after McCambley walked three batters and hit a fourth. The Smokies then tied the game in the fifth inning on top hitter Jake Slaughter's solo homer off McCambley.
It stayed that way through the ninth inning thanks to both teams' bullpens. The Blue Wahoos got a scoreless sixth inning from Zack Leban, who rejoined the Blue Wahoos after playing here last year.
Yan then followed on the mound with a dominating performance. He retired the first seven batters he faced.
"I feel great and I always have confidence in myself," Yan said. "I get that confidence from my manager and my team. We always have to believe in ourselves. You have to go into (pressure situation), know what you can do and just do our job. I think when you have a positive mindset that lets you win.
"And I come into every game ready to crush it."
Yan has a fastball that approaches 100 mph and his breaking pitches have 90-plus mph velocity. He also is very animated on the mound and celebrates getting the last out of innings, then cheering on teammates in the dugout.
Thursday was his longest relief outing, the first time he pitched three full innings in a game.
"I really don't care about the pressure. It doesn't bother me," he said. "I love adrenalin. I think when there's adrenalin, it helps me perform and situations like that give me a chance to shine. That confidence from the manager (Kevin Randel) to keep going is something I love. Because he believes in me and I believe in myself to do the job I need to do."
GAME NOTABLES
--- Troy University athletic department held its annual Pensacola stopover with a group outing at the ballpark. Head football coach Jon Sumrall, along with women's basketball coach Chanda Rigby, who took Pensacola State College to back to back national junior college tournament appearances, were part of the contingent meeting with Pensacola area Troy fans and local media members on the Dignity Memorial Party Deck.
Rigby tossed out a first pitch in addition to addressing the Troy supporters.
--- Long time Blue Wahoos employee Mike Crenshaw, the facilities manager, celebrated his birthday by throwing a strike on a ceremonial first pitch, then cutting a cake in his honor in the Cox Clubhouse area.
--- Zach Brockman, president of the Beloit Sky Carp, the Miami Marlins High-A affiliate in Beloit, Wisconsin and a team co-owned by Quint and Rishy Studer, spent three days in Pensacola visiting with Blue Wahoos staff. He also put on the roach costume Wednesday night and outran the kids in the popular "Roach Run."
--- After playing Tuesday's game in a record 1 hour, 55 minutes, the shortest home game length in Blue Wahoos history, the last two games have taken a combined 7 hours, 2 minutes to complete.
BLUE WAHOOS WEEKEND HOMESTAND
WHO: Tennessee Smokies vs. Blue Wahoos.
WHEN: Friday through Sunday.
WHERE: Blue Wahoos Stadium.
GAMETIMES: Friday at 6:35 p.m; ,Saturday at 6:05 p.m; Sunday at 4:05 p.m.
TICKETS: Online at www.bluewahoos.com/tickets. Box office opens at 10 am on Monday through Friday, 11 a.m on Saturday and Noon on Sunday.
RADIO: ESPN-Pensacola (99.1 FM and 1330 AM and WYCT 98.7 HD4).
TV: YurView (check provider) and MILB.tv (streaming) through www.milb.com/live-stream-games with subscription discount using BLUE WAHOOS.
PROMOTIONS: Friday is Giveaway Friday with this one being a souvenir Bobblehead of popular emcee "Downtown Dave."
On Saturday, post-game fireworks will follow and fans are encouraged to "Dress Like A Dad" in honor of Father's Day. The game will also include one of baseball's most famous entertainers with former Chicago White Sox organist Nancy Faust providing music.
On Father's Day Sunday, the Blue Wahoos will wear specialty uniforms in honor of Gen. Chappie James, a Pensacola native who became the first four-star general in U.S. Armed Forces history. There will also be Family Sunday with kids able to run the bases and family toss in outfield. Plus Nancy Faust returns for a second day as organist to entertain fans.