Johnston Jolts More Walk-off Heroics In Blue Wahoos 11-inning Win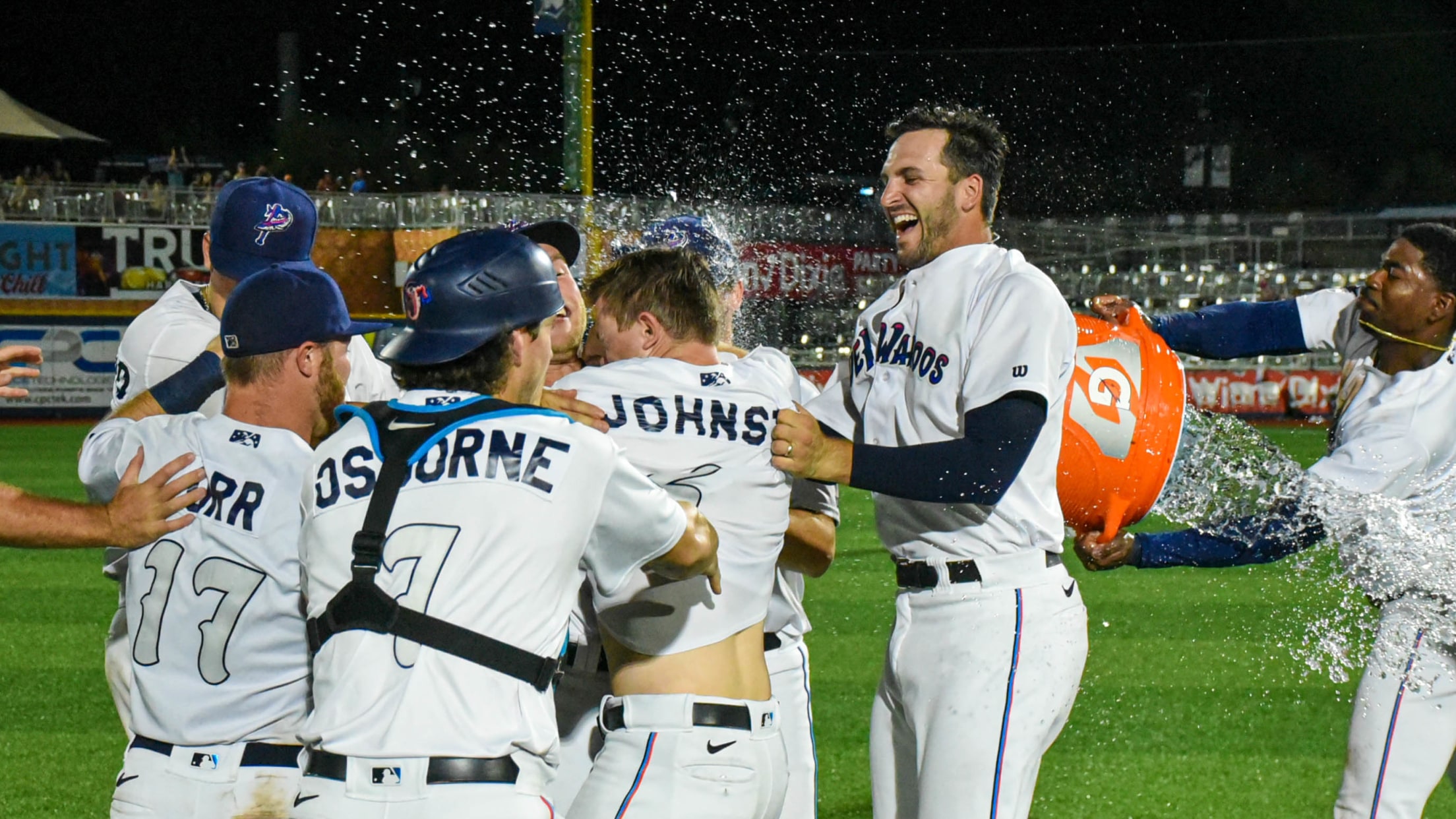 In what's becoming a familiar scene, Troy Johnston is corralled by Blue Wahoos teammates in celebration of his dramatic, 11th-inning double in team's 5-4 win. (Daniel Venn)
Troy Johnston began his Wednesday earlier than usual on a game day, after taking his wife at sunrise to the airport for her morning return flight home. He ended the day much later with another special memory to sh Johnston did it again, just like he's done for weeks and
Troy Johnston began his Wednesday earlier than usual on a game day, after taking his wife at sunrise to the airport for her morning return flight home.
He ended the day much later with another special memory to sh
Johnston did it again, just like he's done for weeks and weeks, connecting in the 11th inning with his on-fire bat for a no-doubt, walk-off, flare double to left field, driving home Bubba Hollins with the winning run in the Blue Wahoos dramatic 5-4 win against the Tennessee Smokies at Blue Wahoos Stadium.
"It was a long day. And I'm tired. And I was excited to end it," said Johnston, laughing, after another mob melee of teammates, complete with a bucket dousing and teammates dancing.
It was the Blue Wahoos fifth walkoff win in their last eight home games. Johnston has produced the walkoff hit or scored the winning run in three of those games.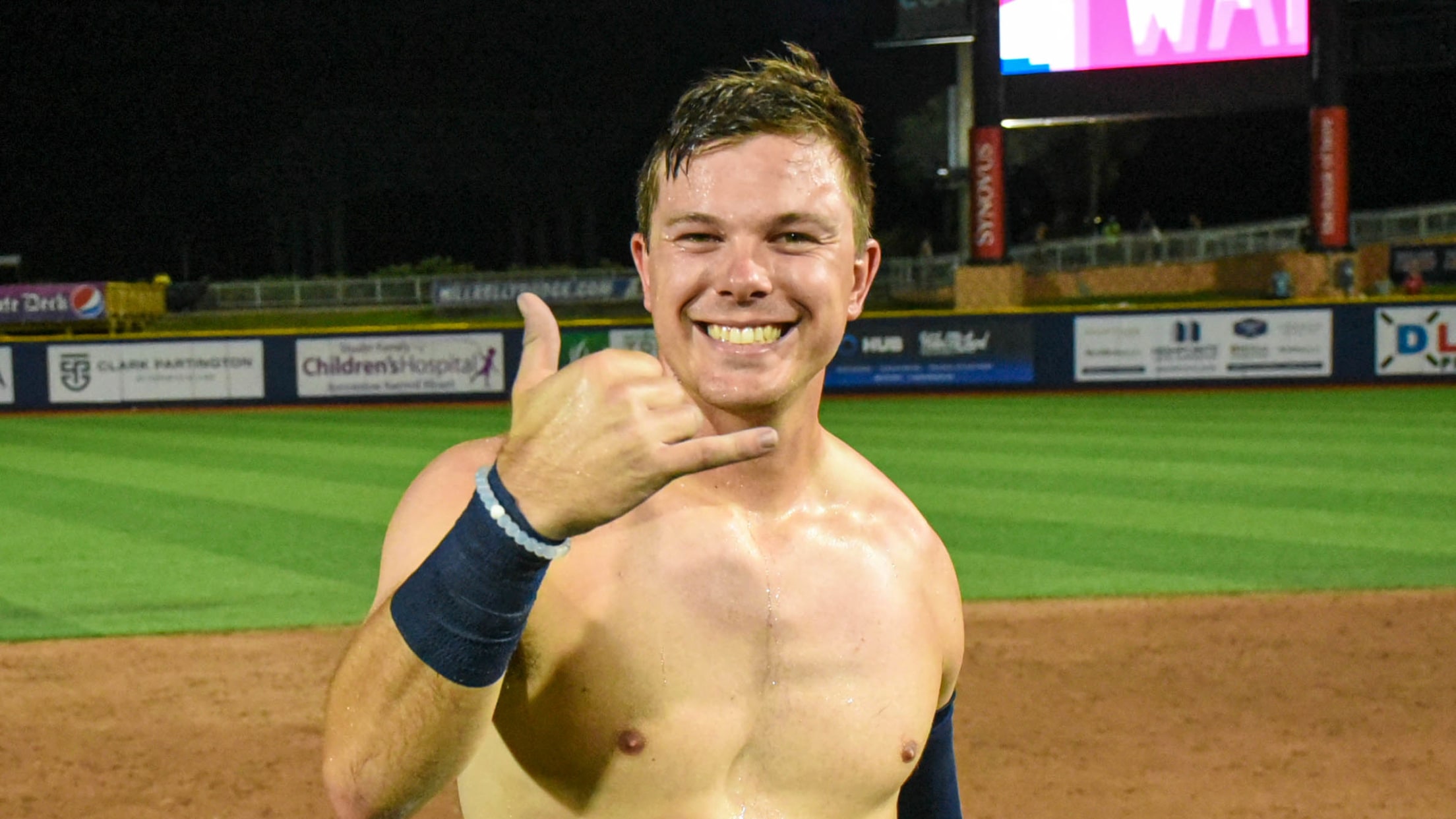 One day after playing their shortest home game in franchise history – a 3-0 win Tuesday that took less than two hours -- the Blue Wahoos played their longest game of the season with a 3-hour, 42 marathon.
But when it finally ended, euphoria ensued. It led right into the mid-week fireworks show that was staged as many of the players remained on the field or signed autographs.
"It's huge, especially going into the next day against a team like this (Smokies), who in my sense is one of the better ones we have played," Johnston said.
The 11th inning magic was set up by reliever Colton Hock, who was brilliant in delivering three hitless innings with two of those innings after a runner was placed on second base to begin the extra-inning format. Hock recorded four strikeouts, no walks in setting the stage for the bottom of the 11th walk-off hit.
After placement runner Thomas Jones was thrown out at third on Bubba Hollins' leadoff grounder, Ray-Patrick Didder had a big at-bat, fouling off several pitches before drawing a walk that moved Hollins into scoring position. Johnston jumped on the first pitch, cut fastball, from Smokies reliever Nicholas Padilla for the game-winner.
Earlier in the game, Jones staked the Blue Wahoos to a 3-0 lead on his 3-run bomb far over the left field walk and bounding toward the water. After Tennessee gained a 4-3 lead in the seventh inning, Griffin Conine tied the game with his booming blast to right field, his ninth HR of the season.
By winning, the Blue Wahoos (30-24) kept a 4.5 game lead over the Biloxi Shuckers in the Southern League South Division first-half race with 10 games to play. They extended separation over Montgomery (6 games) and Mississippi (6.5), both of whom lost Wednesday.
"To go 2-0 in the series against (Tennessee) sets us up huge in this first half pennant race," Johnston said. "To have those emotions and carry that out throughout this week will be a boost for us no matter what. I'm just really excited we got in done (Wednesday night) and it happened to be me time."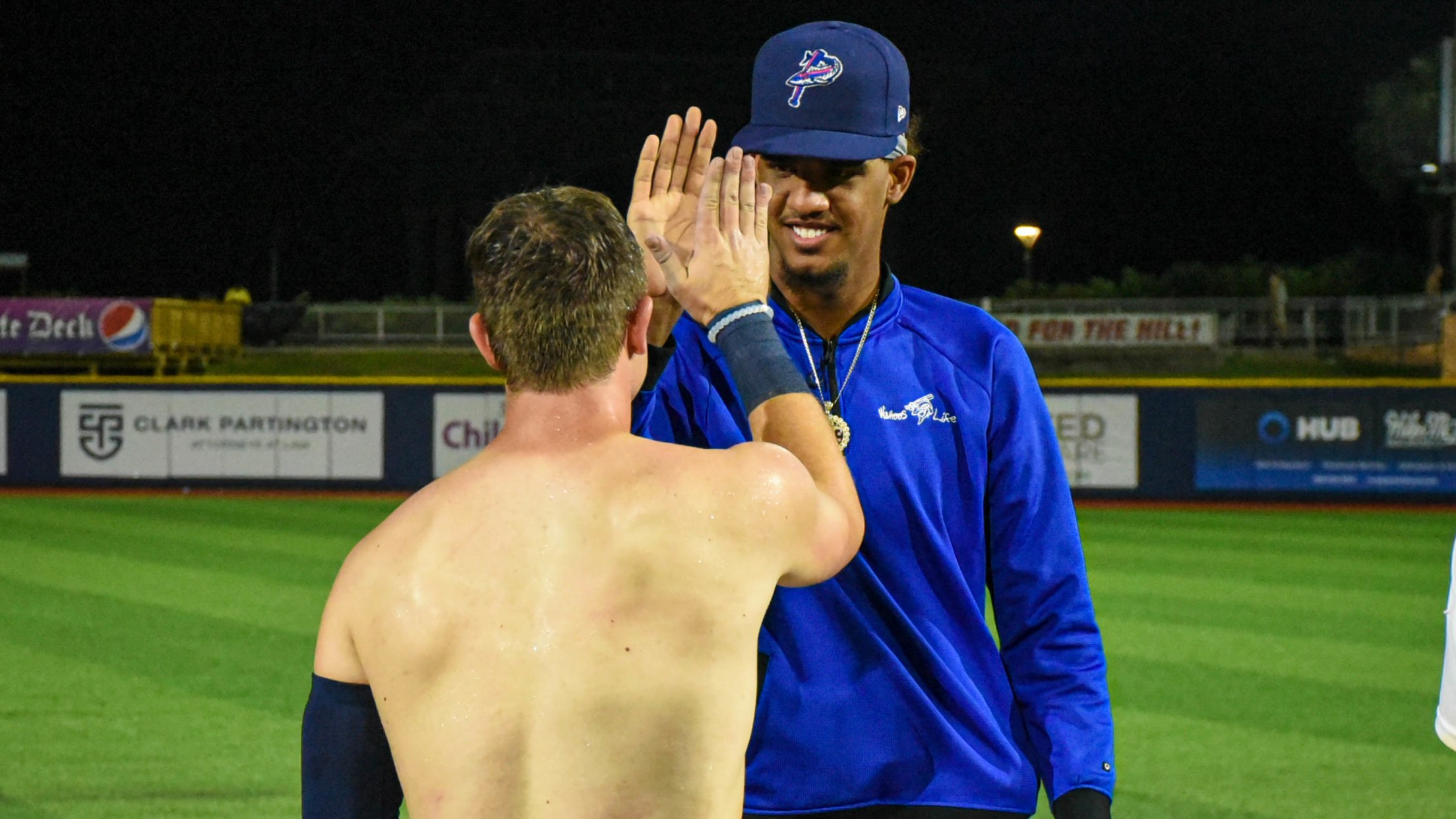 Hours earlier, Blue Wahoos starter Eury Perez produced another stellar outing, going five innings and allowing one run, no walks and five strikeouts. It became his longest start since May 25. The past times, Perez had one start cut short for precautionary reasons, then had his last start rained out after three innings.
He was among the players racing from the dugout to join the walk-off celebration.
"Obviously, the best team," Perez said, through translator Colleen Mitchell, who directs the Miami Marlins' education program for Spanish-speaking players. "Troy Johnston is incredible. You can't compare him to anybody. Any at-bat, any situation, he can make it happen. We know we can count on him to be there."
GAME NOTABLES
--- Pregame activities included four different region youth teams, including one from Panama City, the Bay County Bulldogs and another from Niceville with the Eglin Youth Center. In addition, the TSA Titans and Wave Baseball were represented.
--- Prior to the National Anthem, a moment of silence was held from two loyal Blue Wahoos supporters, charter season-ticket holder Frank Moore, and former game-day employee Sam Jones, both of whom passed away. Moore and his wife, Nancy, who attended Wednesday's game have been season-ticket holders since the inaugural 2012 season.
--- The game was designated as a small business night with five small businesses: Sam Summer Ale Sampling, Blackwell Heating & Air, Trek Bike Store, Scenic Hills Country Club and Marcus Pointe Golf Club all having tables set up on the home plate concourse. In addition, the UWF Alumni Association had a group outing at the Dignity Memorial Deck in left field.
BLUE WAHOOS HOMESTAND
WHO: Tennessee Smokies vs. Blue Wahoos.
WHEN: Thursday through Sunday.
WHERE: Blue Wahoos Stadium.
GAMETIMES: Games on Thursday and Friday will begin at 6:35 p.m., then Saturday at 6:05 p.m. and 4:05 p.m. on Sunday.
TICKETS: Online at www.bluewahoos.com/tickets. Box office opens at 10 am on Monday through Friday, 11 a.m on Saturday and Noon on Sunday.
RADIO: ESPN-Pensacola (99.1 FM and 1330 AM and WYCT 98.7 HD4).
TV: YurView (check provider) and MILB.tv (streaming) through www.milb.com/live-stream-games with subscription discount using BLUE WAHOOS.
PROMOTIONS: Thursday is Pensacola Mullets Thursday with team wearing specialty jerseys, along with Thirsty Thursday and drink specials throughout the night.
Friday is Giveaway Friday with this one being a souvenir Bobblehead of popular emcee "Downtown Dave."
On Saturday, post-game fireworks will follow the game and fans are encouraged to "Dress Like A Dad" in honor of Father's Day.
On Father's Day Sunday, the Blue Wahoos will wear specialty uniforms in honor of Gen. Chappie James, a Pensacola native who became the first four-star general in U.S. Armed Forces history. There will also be Family Sunday with kids able to run the bases and family toss in outfield.