The Nine: Nine Questions with Cobie Fletcher-Vance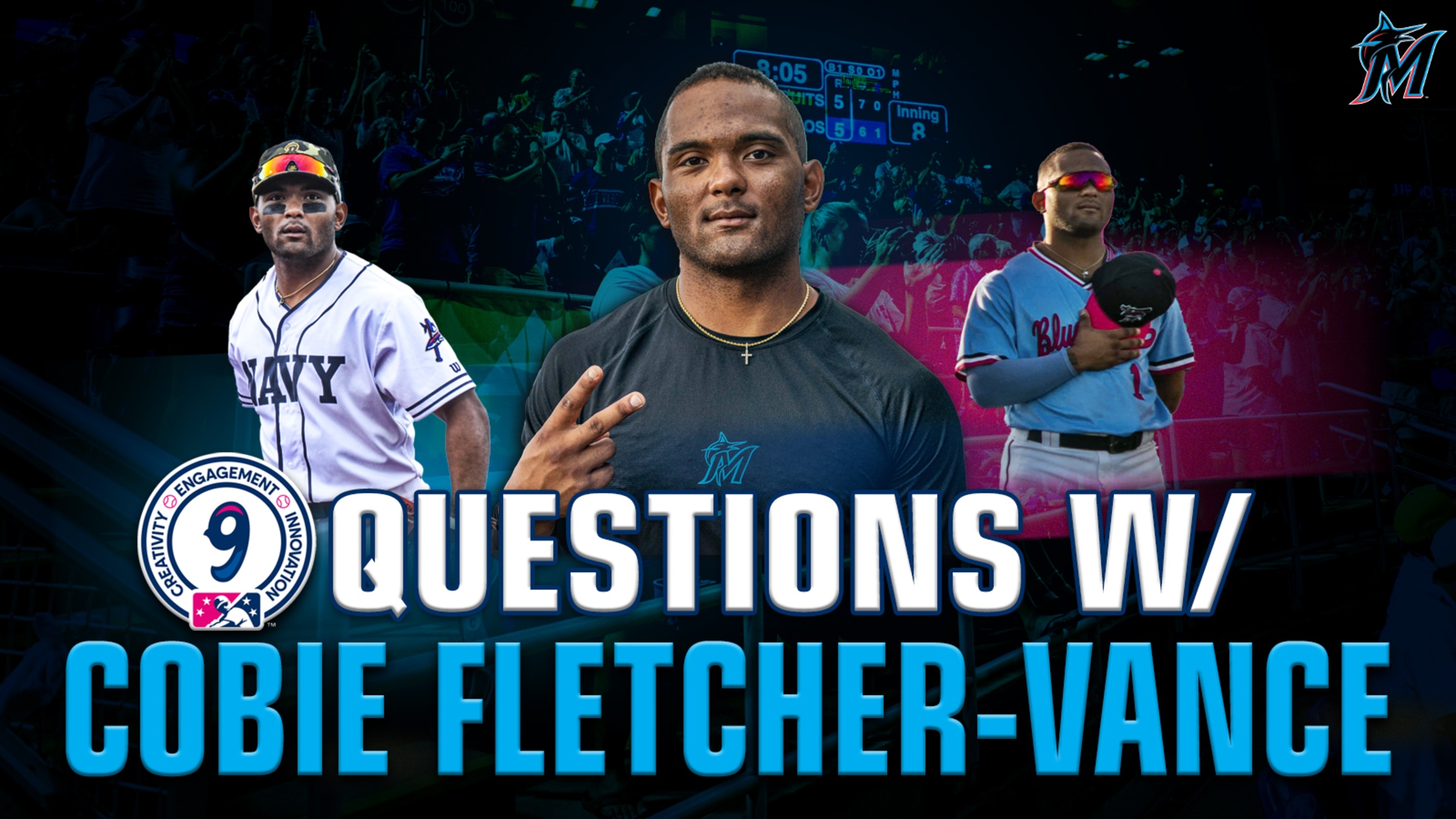 In his first year in the Marlins organization, Cobie Fletcher-Vance played a central role in Pensacola's 2022 Southern League championship season. Acquired in the minor league portion of the Rule 5 Draft, Fletcher-Vance played the entire season for the Blue Wahoos and provided a clutch go-ahead grand slam in the
In his first year in the Marlins organization, Cobie Fletcher-Vance played a central role in Pensacola's 2022 Southern League championship season. Acquired in the minor league portion of the Rule 5 Draft, Fletcher-Vance played the entire season for the Blue Wahoos and provided a clutch go-ahead grand slam in the decisive Game Three of the Southern League Championship Series.
As part of Minor League Baseball's "The Nine" initiative, Fletcher-Vance sat down with Blue Wahoos broadcaster Erik Bremer to talk about his big playoff moment, his work in the Black community, and his plans for 2023.
1. Cobie, the last time we talked we were outside a champagne-soaked clubhouse in Tennessee after your go-ahead grand slam helped give the Blue Wahoos a Southern League championship. In the months that have passed, how have you processed that moment in your 2022 season?
Man, I basically have looked at everything from the beginning of the game to the end of the game, just all angles of my failures and successes through that game. I don't remember what I did – I think I was, like, 2-for-4 or 2-for-5 – but those two [hits] were great, man. Looking back on it gave me more perspective on not really caring about what you did before or after. Because before I hit the go-ahead grand slam, I was, like, 0-for-2. And after that, I had a hit and in the last at-bat of the season I got out. It's all part of the game, you know what I mean? It's just using that and understanding that you never know when it's going to be your turn. You never know how it's going to happen, what it's going to be like. Just be there, be present where you are.
2. It's been a little more than a year since the Marlins picked you up in the minor league portion of the Rule 5 Draft. How did the Marlins' confidence in your abilities help you for your first season in a new organization?
It just gave me a sense of relief that they knew I could play, they knew that I bring something to the table. Obviously the Marlins want that. It gave me confidence, that I [already] had and built on, and gave me the freedom to go play, knowing that the Marlins liked what they saw.
3. There's a story behind this question, but I'll let you tell it. This past season you went by a hyphenated last name, Fletcher-Vance, for the first time in your professional career. How did that come about, and what did it mean to honor that part of your identity?
So, on media day I wrote my name down, and when it says "name" I always write my full name out, always. It's how I've always been; it's my name. I've always wanted to hyphenate it, and never have, but this year when I wrote it, we talked about "what do you want to do" and I thought about it. And I was like, "you know, it would be cool to have my mom's side of the family, the Fletchers, and then the Vance." I play for them anyway, so I think that having the ability to represent with both names on it … I didn't even wear it on the back of my jersey, which is crazy, I just had it on the [videoboard] and when I was announced. It's just cool to be able to represent both sides of my family.
And that follows the naming conventions of your mother's ethnic heritage, right?
Yep, in the Philippines. My mom, being the wife, takes her maiden name and then replaces her middle name with her former last name. She was Michelle Medina Fletcher – Medina was my grandma's name, Fletcher was my grandpa's name – and when she got married to my father she became Michelle Fletcher Vance. And they named me the same way.
4. Let's talk about your parents a little bit. You grew up in a military family – your dad, Randy is a retired Sergeant Major in the Army, and your mother, Michelle, served before you were born. How did that upbringing shape you as a person?
I'll tell you what, it made me follow rules. Just being disciplined with everything, to the smallest little detail. I remember my dad would come in and joke, sweeping his hand underneath something and say, "Oh, there's a little dust." I'm like, "Come on, man." Just being on top of little things, that was what they taught me. Just the discipline to be on top of stuff. It goes unnoticed often, but when it isn't it's very important.
5. The format for this interview is nine questions for "The Nine," which is Minor League Baseball's outreach into the Black community. February is Black History Month, so what does Black History Month mean to you?
For me, personally, my dad grew up in segregation. He didn't spend his whole childhood in it or anything, but I believe up until sixth grade, he was in segregation. So, that being part of Black history, and you can go farther and deeper, hundreds of years back. For me, just being where I am today, sitting here and talking to you, being able to go play … so many people, white, Black and other, fought for Black people to be free and to be able to just live. Just knowing that there are people who continuously still do fight, and are there for the community, is huge to me. That's what Black history means to me, just being there for each other. Community.
6. How does your sense of patriotism, perhaps influenced by your military upbringing, impact your identity as a Black American?
I think it goes back to that last point. We live in the greatest country in the world, where we're free [and] we have an Army that goes and does things that I can't even imagine. Knowing that they do that, and knowing that – back to the Black history part – there were a lot of people who fought for the freedom of Black people. That, to me, goes hand in hand with what our Army and Armed Forces stand for. Freedom. I do believe it goes hand in hand.
7. You mentioned your father … he played college baseball at Bethune-Cookman, an HBCU just a couple hours down the road here in Florida. And he was a big part of getting you involved in the game of baseball as a kid. What can be done to help grow the game of baseball among Black youth and get that next generation involved?
It really boils down to people like myself and all black players, man. Just bringing it back to our community. In the Black community, often you see Black basketball and football being played, and people play baseball, but it's not like you say, "Hey guys, let's go play baseball." It's just not happening. I think that's where it starts. Growing up, a lot of people just give the game up. People who are in positions of coaching or influencing kids have to come in and really push the game. "Hey, guys, baseball really is fun." I think that's the thing that people really don't realize, just how fun the game actually is when you understand it and you're actually playing it. It's the greatest game in the world, and that's what we need. Push the game more to those communities.
8. Well, you back those words up with action. I know you have a passion for helping elevate your community, and specifically your hometown of Fayetteville, North Carolina. What kind of work do you do in the offseason to help engage with the community?
I co-founded a non-profit called the Two Six Project with my best friend, Grant Bennett, and basically we call ourselves a vehicle for exposure. We like to expose kids from our hometown to what the world has to offer. Because Fayetteville's a small place. It's about 200,000 people and it's just, basically, the Army base. It's like a melting pot of people. But people really don't know outside of that. They know Raleigh or they know Charlotte, they know the state, [but] they don't really get to go out and see. Especially the people from inner city Fayetteville, they really never leave. There are people who have been there since their aunts, uncles, grandparents, great-grandparents, great-great-great grandparents have been living there. Just like anywhere else. But there have never been people who come back and do [this]. I think that's what we do best, show the kids that there is other stuff you can do outside of joining the Army or trying to play sports. We give scholarships, we do an annual give-back with our brother Vic Blends - he's a social media influencer – [and] our Christmas give-back is our biggest event. This past year we brought five kids and their families to a Hornets game with our brother, Dennis Smith, Jr. He's an athlete; he plays with the Hornets. We brought them to a game, brought them to shootaround, got them in the suites … we just do fun stuff that shows kids what's out there in the world. That's what we needed, and we were lucky to have that with our parents taking the chance and really sacrificing to bring us out there and show us what the world had to offer. That's all we want to do: Show kids that y'all can be like us or even better than us. You can go out there and really make real change.
9. My final question looks towards the future, whether it's here in Pensacola or beyond as you look to advance your professional baseball career. What are you looking forward to accomplishing in 2023?
I'm looking forward to just being myself, more than ever. I really found myself last year when it came to how to approach the game, and how to handle successes and failures, the highs and the lows. Being that we won the first half, our second half wasn't great. It was like we got to a certain point, we climaxed, and then we started to trend down a little. I think we kind of let off the gas, honestly. We knew we were in the playoffs. But when the time came around, everyone was ready to play and I think that, for me, it just showed me that whole up-down, playing through September, winning the championship … it all just showed me how to be myself more than ever. Just to be who I am instead of trying to do more than I can do.